Airbus Defence and Space Delivers MILSATCOM Support to Africa
Airbus Defence and Space is delivering satellite communications systems for EU military training missions in Somalia (EUTM Somalia) as well as for the EUCAP (European Union capacity-building mission) Sahel Niger and EUCAP Sahel Mali civilian missions.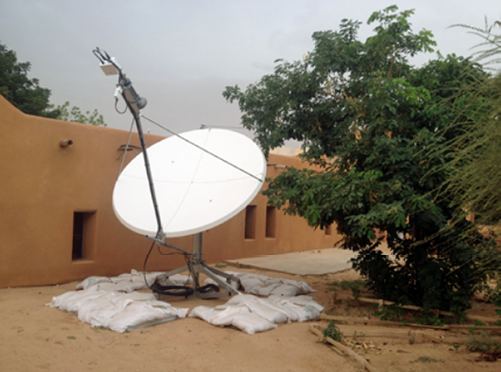 Initiated on behalf of the European Union, these missions aim to support the efforts of the respective governments to strengthen their stability and to respond to the security issues faced by their populations.
Airbus Defence and Space teams have deployed C-band SATCOM systems between Europe and Somalia, Niger and Mali, as well as satellite-based mobile phone terminals to enable communications in Malian and Nigerien territories. Airbus Defence and Space supplies the ground equipment, communications services and airtime.
Airbus Defence and Space has been providing SATCOM services for the European Defence Agency (EDA) since 2012. Recently, the organization renewed its framework contract for the provision of SATCOM for another four years in order to meet the military and civilian requirements of the European missions.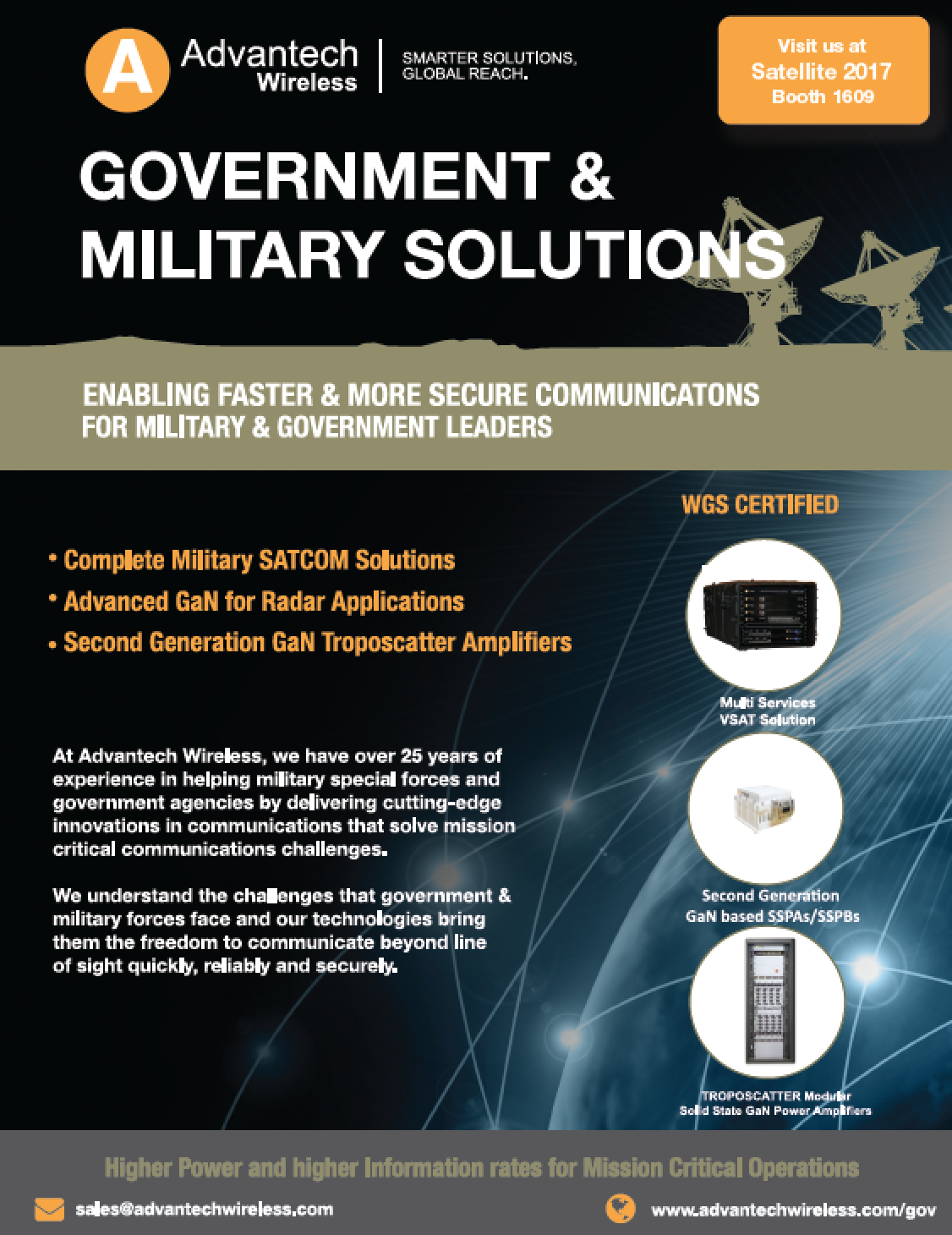 This new EU SatCom Market contract now encompasses X-band and UHF-band military SATCOM services, in addition to commercial C-, Ku-, Ka- and L-band SATCOM services.
The EU SatCom Market agreement allows EU member states to consolidate their requirements and purchase satellite communication capabilities in a coordinated manner, thus ensuring more economical and reliable access to SATCOM services.
Approximately 20 ministries of defence in Europe and EU organizations are taking part in this project, which allows them to equip themselves with SATCOM solutions and services across the globe.
Satellite communications are a mission-critical instrument for connecting command and control centers, as well as intelligence, surveillance and reconnaissance (ISR) tools.
In light of the increasingly common use of high-throughput applications, like RPAS on battlefields, a great amount of SATCOM is needed to enable the control and transmission of data acquired by sensors.
In addition to covering the complete range of frequency bands (L-, C-, Ku-, Ka-, X- and UHF), the company provides military satellite communications to some of the most high-tech armed forces in the world, including those of the UK, France, Germany, Canada, the US and NATO.
Roland Van Reybroeck, Director Cooperation Planning and Support at European Defence Agency, related that the EU SatCom Market project has successfully developed since 2009 as a solution for interested Members States and EU entities to access better quality satellite communications services, under better economic conditions, with less burden.
This is a perfect example of how EDA can combine its industry knowledge, technical expertise and experience in procurement to support EU operations/missions and Member States in their procurement procedures and save scarce resources at no additional cost.
airbusdefenceandspace.com
eda.europa.eu/
---
Boeing is In Good with USAF
A five year agreement has been signed between Boeing and the US Air Force for Global Positioning Systems (GPS).
The company and the military organization signed a GPS sustainment agreement that will ensure the navigation capabilities relied upon by millions of military and commercial users remain robust for years to come.
Under the agreement, Boeing will support GPS IIA and IIF satellites for the US Air Force that are currently on orbit for the next five years.
Boeing, which has been the prime GPS contractor for more than 40 years, is now part of the Air Force effort that may lead to the next generation of GPS satellites. The Block IIA satellites are not currently in service, but some are retained as back-ups just in case there is an issue with more updated additions to the constellation.
Block IIF is the newest component of the constellation, with the last satellite launched in 2016. It currently transmits the bulk of GPS signals used by the military and civilians across the globe.
Collectively, Boeing GPS satellites have accrued more than 550 years of on orbit operation. In March 2016, the company delivered its 50th GPS satellite on orbit to the Air Force and has built more than two-thirds of the GPS satellites that have entered service since 1978.
"This agreement continues Boeing's strong legacy of GPS innovation and mission support," said Dan Hart, vice president, Government Satellite Systems. "We are focused on delivering reliable, affordable and resilient GPS capability now and for generations to come."
---
GaN Gains for Advantech Wireless
Advantech Wireless has received a multi-million dollar contract from a NATO member country to provide their ruggedized military grade SATCOM terminals, including the new advanced line of GaN (Gallium Nitride) based Solid State Power Amplifiers.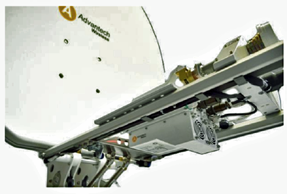 The Advantech Wireless solution is designed for the most stringent environmental military standards and offers state-of-the-art performance with minimal size weight and power (SWaP).
Advantech Wireless is providing complete terminals for the tactical environment based on its proprietary antenna control systems and fully integrated design.
The Second Generation GaN based SSPAs/BUCs from Advantech Wireless feature exceptional linearity and operating efficiency.
These advanced systems are the smallest fully integrated units on the market today. With built-in design features they are perfectly suited for harsh environments, Satcom-On-The-Move (SOTM) and man-pack terminal deployments.
advantechwireless.com/
---
Japan's SDF Obtains X-Band Defense Satellite
The Japan Aerospace Exploration Agency (JAXA) and Mitsubishi Heavy Industries, Ltd., have launched an X-band defense communications satellite aboard a H-2A Launch Vehicle No. 32 from JAXA's Tanegashima Space Center in Japan's southwestern Kagoshima prefecture.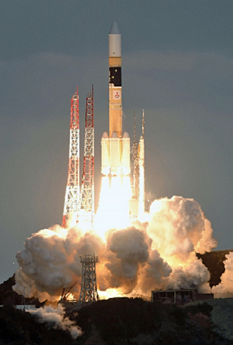 The Kirameki-2 satellite is the first communication satellite for the Japanese Ministry of Defense, which shoulders the mission to upgrade the Self-Defense Forces' (SDF) communications network. The Kirameki-2 satellite, operating with X-band technology, is one of three defense communications satellites which will replace three civilian satellites that are presently used by the Self-Defense Forces.
The new satellites will facilitate direct communication among units of the Ground, Maritime and Air Self-Defense Forces through a high-speed and high-capacity network and serve as a communication infrastructure, local media quoted Defense Ministry officials as saying on Tuesday.
The Kirameki-2 is designed to operate over the Indian Ocean and to serve the SDF personnel taking part in U.N. peacekeeping operations in South Sudan and the anti-piracy mission in waters off Somalia, said the officials. In 2008, Japan's Diet approved a law on general principles for the use of space, allowing non-aggressive defense use of space and overturning a decades-old policy of limiting space development to peaceful uses.
Under the law, the use and exploitation of space should be conducted to serve the security of Japan, relaxing the principle of nonmilitary use based on a parliamentary resolution in 1969 under the war-renouncing Constitution.
The new law changes Japan's policy of space use to "non-aggression" from "non-military" and would allow Japan's defense ministry to launch its own satellites, including surveillance satellites and an early-warning satellite.
global.jaxa.jp
h2a.mhi.co.jp/en/
---