The recent announcement that Viasat is developing a Low Earth Orbit (LEO) satellite for Link 16 military communications is a perfect illustration of how the company is able to connect core competencies. In this case, Viasat's expertise in satellite technology, tactical data links and network encryption will come together in the XVI program to vastly improve the ability of warfighters to communicate on the battlefield.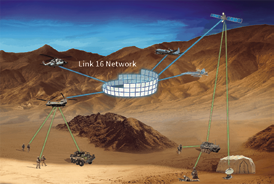 For the past five years, Viasat has been working to enhance the capabilities of Link 16 — a common and critical communications protocol for the U.S. military. Viasat has put more than 1,000 handheld Link 16 radios in service, enabling warfighters on the ground to better communicate with aircraft for close air support.
To make Link 16 even more effective with Viasat's expansive portfolio of Link 16 products, the company is looking to expand satellite connectivity for Beyond Line-Of-Sight (BLOS) missions. As Viasat's main fleet of satellites are in high geostationary orbit beyond the reach of traditional Link 16 terminals, the company's XVI prototype spacecraft sets the stage for a potential constellation of LEO military satellites within range of the Link 16 network.
"This is the first-ever Link 16-capable LEO satellite to be built," said Ken Peterman, President of Viasat's Government Systems business. "The primary goal of the XVI program is to prove the feasibility of Link 16 on a LEO satellite system—which has significant value and potential because Link 16 is a widely used system by the U.S. military and our allies."
Viasat's Craig Miller, Viasat's Vice President and Chief Technology officer for Government Services, described a simple scenario of how the XVI would work.
"Now, a soldier on the ground with a Link 16 radio can communicate with another person on the ground or with an aircraft they can 'see' — within a range of a few hundred miles. With XVI, the range is greatly extended, with the satellite connection enabling that warfighter on the ground to see someone or something, say, on the other side of a mountain."
Dissipating the Fog of War
The ability to have BLOS connectivity is a huge advance, but as Miller explained, it's just the beginning of what extending the range of Link 16 with satellite can accomplish. When Viasat's global constellation, ViaSat-3, is in place in a few years, it will be able to provide internet connectivity almost anywhere in the world. If a full constellation is developed, the XVI satellites in LEO could connect to the ViaSat-3 satellites in geostationary orbit (GEO) to link the warfighter on the ground to broadband.
"It's a powerful capability," Miller added. "Linking to broadband gives you the ability to access a common operational picture. There's an operations center with all of this intel, and that's sent up over the satellite network and finished over the Link 16. It tells that warfighter on the ground about threats or conditions they need to know — if there's a tank behind that bush or a group of adversaries on the other side of a mountain, for example."
The interoperability between LEO and GEO satellites is a capability Miller said Viasat is eager to explore. LEO satellites can only cover a small portion of the Earth, due to their low orbit, but connect them to a constellation of GEO satellites and that limitation vanishes. Meanwhile, the lower orbit enables connection to handheld terminals on the ground.
Testing in 2020
Viasat is at work building the first satellite to start testing in 2020. Ultimately, Viasat looks to develop a constellation of Link 16 LEO satellites that will enable coverage of most of the earth.
"These are really cool innovations to extend the range of Link 16," Miller said. "And the other important innovation is a modification we've already made to the satellite payload allowing the Link 16 signal to work at much longer distances."
This also enables the XVI system to work with all of the existing Link 16 devices already in the field — an important consideration both financially and for getting the system in place more quickly.
All of it adds up to the potential creation of a new system of communication that Viasat is uniquely positioned to implement.
"The XVI award highlights Viasat technology leadership in Link 16 and space-borne tactical communications," Peterman added. "Our innovative spacecraft design and development coupled with expertise in next-generation tactical data links and cybersecurity places Viasat in a unique position to address the Department of Defense's urgent need for a fast-to-market, cost-effective, space-based Link 16 solution to maintain a technological edge in contested environments."
---
Making MILCOM Better: The Link 16 evolution
By Kim Hampson, Marketing Director, Viasat
Link 16 is a secure system protocol that allows different military users to share data over the same network.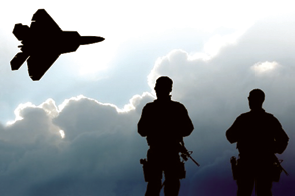 However, like any good thing, everybody wants a piece of the action. As the popularity of Link 16 grows to include more platforms (ships, aircraft, vehicles, drones, etc.) and individual users, it will be important to expand Link 16 capabilities to help U.S. and coalition military forces adjust to new mission needs, enhance situational awareness, adapt to new technologies and improve warfighter safety.
The U.S. military has expressed strong interest in expanding Link 16 capabilities to maintain the tactical advantage needed to succeed across today's data-driven, contested battlespace. One solution is Concurrent Multiple Reception (CMR) in which a radio can demodulate and decrypt multiple messages from multiple users simultaneously.
"Imagine that instead of a single FM or satellite radio station, your car radio could pick up three or four stations simultaneously," said Andy Kessler, Vice President and Business Area Director for Viasat's Next Generation Tactical Data Links (NGTDL) systems.
One example is with positional data, where CMR enables more frequent, secure updates on the location of friendly and enemy forces. The data from multiple messages received simultaneously is fused into a common picture.
"This picture that you are seeing on your tactical situational awareness display is more robust," Kessler said. "The tracks are getting updated more frequently due to reduced latency so the locations are more precise."
Multi-message capability also allows CMR devices to share data between specific users while still receiving information from the broader network, all in a single timeslot. This is expected to increase the overall network efficiency and capacity because multiple networks can operate in the same theater of operation. Seeing the need to enhance communications capabilities, the U.S. military recently identified CMR as an emerging need for Link 16 products.
Successful Integration
Viasat recently took a proactive approach to develop and implement CMR capabilities to fulfill a need from the U.S. military ahead of future requirements. In April, Viasat announced it successfully integrated CMR advancements into the company's extensive line of next-generation Link 16 products. CMR advancements are now available in the latest versions of Viasat's AN/PRC-161 Battlefield Awareness and Targeting System – Dismounted (BATS-D) handheld Link 16 radio, as well as its KOR-24A Small Tactical Terminal. One of the key attributes of Viasat's growing portfolio of NGTDL products is the forward compatibility that is built-in from day one.
Viasat's proactive approach to its NGTDL product portfolio has already generated significant interest from both U.S. and international customers. In fact, Viasat recently announced its Small Tactical Terminal (STT) has been fielded by more than 1,400 U.S. and international customers. In April, the company also announced over 1,000 of its BATS-D radios are now in use by U.S. military customers.
Ken Peterman, President of Viasat's Government Systems business. "The flexibility of our architectures allows Viasat to add new NGTDL capabilities, like CMR, in near real-time to keep pace with today's rapidly evolving digital battlespace and meet the unique needs of each mission."
A Real-World Solution
CMR strengthens modern military operations: the coordination of multiple land, sea and air platforms over vast distances.
"This leverages the more robust network infrastructure in a way that previously wasn't possible because of the limitations of communications," Kessler said and he recalled his military service as a Navy F/A-18 pilot, when "you spent your time looking out your cockpit to see where your wingman was. Now you look down at your situational display and see where he's showing up on your moving map."
CMR enables more frequent positional updates that enhance flight safety as well as air operations. That's also why CMR will be vital for manned-unmanned teaming, where manned platforms operate in conjunction with autonomous systems. More than ever, human operators will need to be in constant contact with drones and artificial intelligence-based systems at all times.
"We are proud to advance the industry in the tactical data link market," Peterman added. "Innovations like CMR are just one of the ways we're providing the connectivity needed to significantly enhance mission effectiveness and improve warfighter safety across today's battlespace. We're looking forward to making what's next."
---