The U.S. Air Force is targeting 2016 as the year to outsource the operation of its Wideband Global Satcom (WGS) constellation to commercial providers.

The Air Force has been developing a strategy for better managing its satellite operations for some time now. This satellite control network performs the telemetry, tracking and control (TT&C) for government satellites, so this is another element of the Air Force satellite control infrastructure under review. According to a WGS published in Space News, the Air Force found the results of these studies very compelling:
"We gained valuable information from the Commercial Provisioning study, which will be assimilated into our broader analysis on how to integrate operations across multiple satellite programs," Master Sgt. Kevin Williams, a spokesman for Air Force Space Command, told Intelsat General's SatCom Frontier in a March 5 email.
Recent comments from top officials are the strongest indication yet that the transfer of operations is moving quickly from review to actuality. General John Hyten, Commander of Air Force Space Command, has repeatedly made clear he wants Air Force operators to spend more time on battle management and other more difficult tasks and less time on routine, day-to-day satellite operations.
David Madden, executive director of the Air Force's Space and Missile Systems Center in Los Angeles, laid out an aggressive timetable for the transfer as quoted in the Space News article:
"I'm hoping 2016 is going to be the year we finally take the command and control for WGS and move it over to a commercial service," Madden said.
Madden continued by stating the program would be far more cost-effective to have commercial providers operate the satellites. By moving to commercialize the AFSCN mission, the Air Force will be able to maintain mission effectiveness, even in the face of potentially harmful sequestration cuts scheduled to take effect in 2016.
Intelsat General is gratified by the growing recognition that the commercial sector has the experience, knowledge and technical skills to operate and manage the Department of Defense's (DoD) constellation of wideband satellites.
Intelsat General and Intelsat currently support a global fleet of 75 spacecraft that represent the diverse technology of every major satellite manufacturer as well as a wide variety of customers requiring TT&C services.
The Air Force can be assured the company is well prepared to handle day-to-day operations for WGS, allowing Air Force personnel to pursue more specialized missions that commercial companies are not in a position to complete.
Intelsat General SatCom Frontier blog: www.intelsatgeneral.com/blog/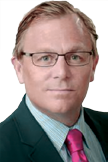 Skot Butler is responsible for managing an integrated sales, marketing, and business development organization which serves all of Intelsat General's customers, including the U.S. Department of Defense, NATO, various civil agencies and commercial enterprises within the United States and Europe.
Mr. Butler brings to the position two decades of experience in the commercial satellite communications and telecom industries. He joined IGC in 2006 as Director of Hosted Payload Business Development and was most recently Director of Solutions Development. Preceding IGC, Mr. Butler held sales, business development and strategy roles at satellite services companies DRS, Spacelink, and Verestar.
Mr. Butler recently completed his MBA at the Smith School of Business, UMD-College Park. He stays active in the industry, serving as the President of the Mid-Atlantic Chapter of SSPI in 2012. He will also represent IGC on the Commercial Space Engagement Forum (CSEF), the Satellite Industry Association Comsatcom Operations Working Group and other assignments.
Editor's note: Our thanks to Intelsat General for affording us permission to republish this article from their blog, SatCom Frontier
---