Full rate production by PacStar for U.S. Army's T2C2 Program
PacStar has announced that the firm's 400-Series small form factor (SFF) tactical and deployable communications modules will move to full rate production for the U.S. Army Transportable Tactical Command Communications (T2C2) program.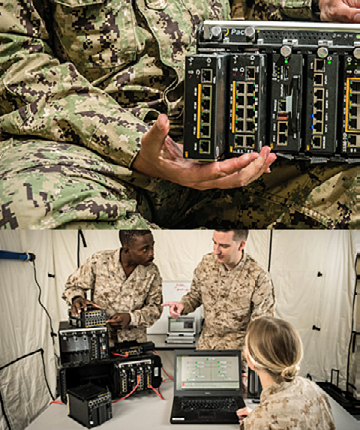 PacStar modules — which provide baseband networking for the T2C2 program's Lite and Heavy systems — satisfactorily completed operational testing with the 4th Brigade Combat Team, 25th Infantry Division at Joint Base Elmendorf-Richardson.
PacStar equipment, when paired with T2C2 satellite terminals, will enable early entry forces to access the Army's tactical communications network.
The program will field two variants: a soldier-portable T2C2 Lite for early entry forces and a T2C2 Heavy for company-level command post/forward operating base communications.
PacStar's baseband system consists of routing, switching and servers based on the patented and field-proven PacStar 400-Series solutions, incorporating Cisco networking and switching technologies and Intel advanced processors in rugged, small form factor modules.
A patented snap together design allows multiple modules to share power from a common set of rechargeable batteries. All components and modules are fully interchangeable across Lite and Heavy variants.
This interchangeability reduces training time, improves logistics, maximizes flexibility and supports ongoing program growth and development while protecting the investment.
During 2018, the U.S. Army plans to field T2C2 to 15 operational elements including seven brigade combat teams, four division headquarters, one corps headquarters, one military intelligence brigade and one expeditionary signal battalion.
The Army plans to procure T2C2 until early 2025.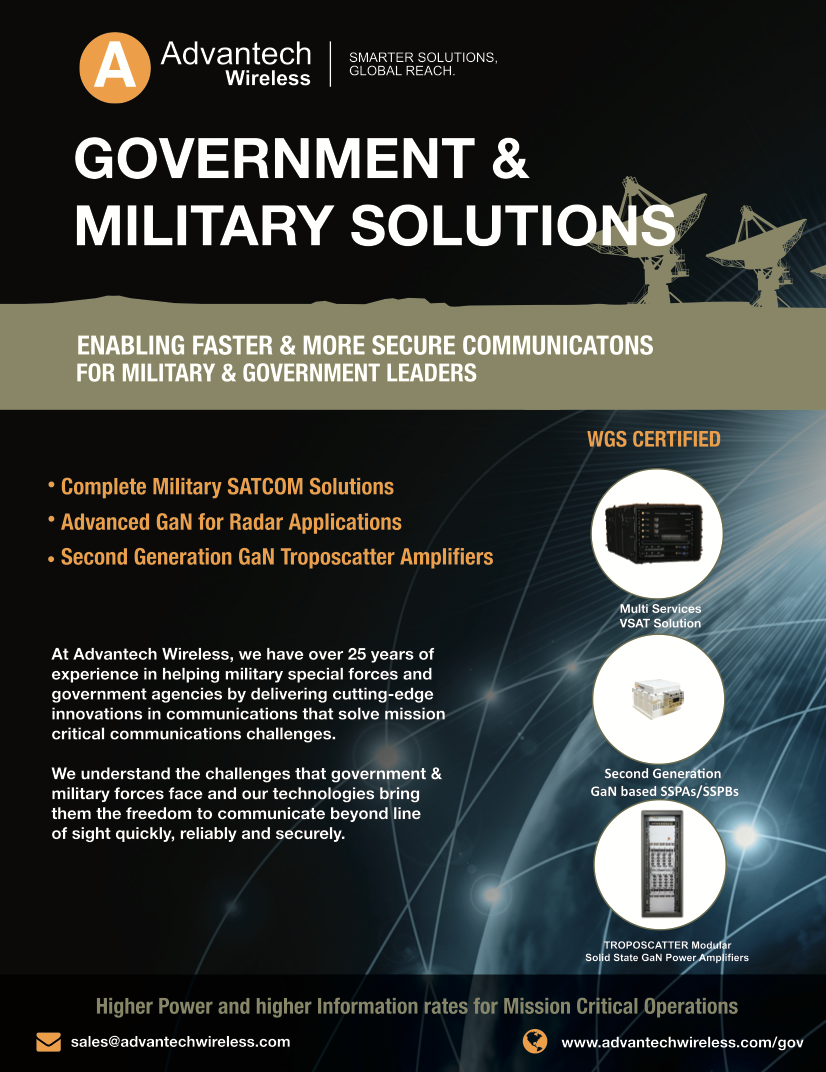 Peggy Miller, the CEO at PacStar, said that the company has a long and successful track record of delivering innovative, state-of-the-art tactical networking gear to military and civilian organizations.
She continued by stating that the U.S. Army's selection of PacStar for the T2C2 program validates the savings in SWaP and modularity of our designs and also underscores the firm's commitment to quality, responsive technical support and significant investment in ongoing product advancement.
pacstar.com/
---
DARPA has a new deputy director — Dr. Highnam
The director of the U.S. Defense Advanced Research Projects Agency (DARPA), Dr. Steven Walker, announced the appointment of Dr. Peter Highnam as deputy director of the Agency.
Highnam, a former DARPA program manager, is expected to help advance critical research in several fields including artificial intelligence, data analytics, communications, reconnaissance, electronic warfare, bio-security, and warfighter health.
Highnam succeeds Dr. Stefanie Tompkins, a ten-year veteran of DARPA, who has served as the acting deputy director of the Agency since January 2017..
Highnam comes to DARPA following an assignment from the Office of the Director of National Intelligence (ODNI) to the National Geospatial-Intelligence Agency (NGA) where he was responsible for the Agency's research organization for the past two and a half years.
Prior to this assignment, he served six years at the ODNI Intelligence Advanced Research Projects Activity (IARPA), initially as an office director, and then as director.
While at IARPA Highnam was also involved in government-wide high performance computing (HPC) activities, including the National Strategic Computing Initiative and the Department of Energy exascale initiative.
Before IARPA he worked for six years in the U.S. Department of Health and Human Services (HHS). As a senior advisor in the National Institutes of Health (NIH), Highnam had responsibilities in multiple areas where high performance computing intersects with biomedicine and public health, including computational epidemiology. From 1999 to 2003, Highnam was a DARPA program manager working in electronic warfare and airborne communications. His research in electronic warfare (Advanced Tactical Technology (AT3) program) focused on inexpensive approaches to rapidly and accurately target enemy air defense radars from greater standoff distances.
www.darpa.mil
---
NSR's Government and Military Markets: An Evolving Capacity Acquisition Paradigm
As the satellite industry and the U.S. Government start to kick things off for a New Year, planners continue the process of creating the next-generation of Government and Military network designs.
With a renewed focus on the importance of space to executing the national security missions of countries across the globe — and 'assured access' to space-based connectivity not a guarantee, where does that leave the role of industry and commercially-focused offerings?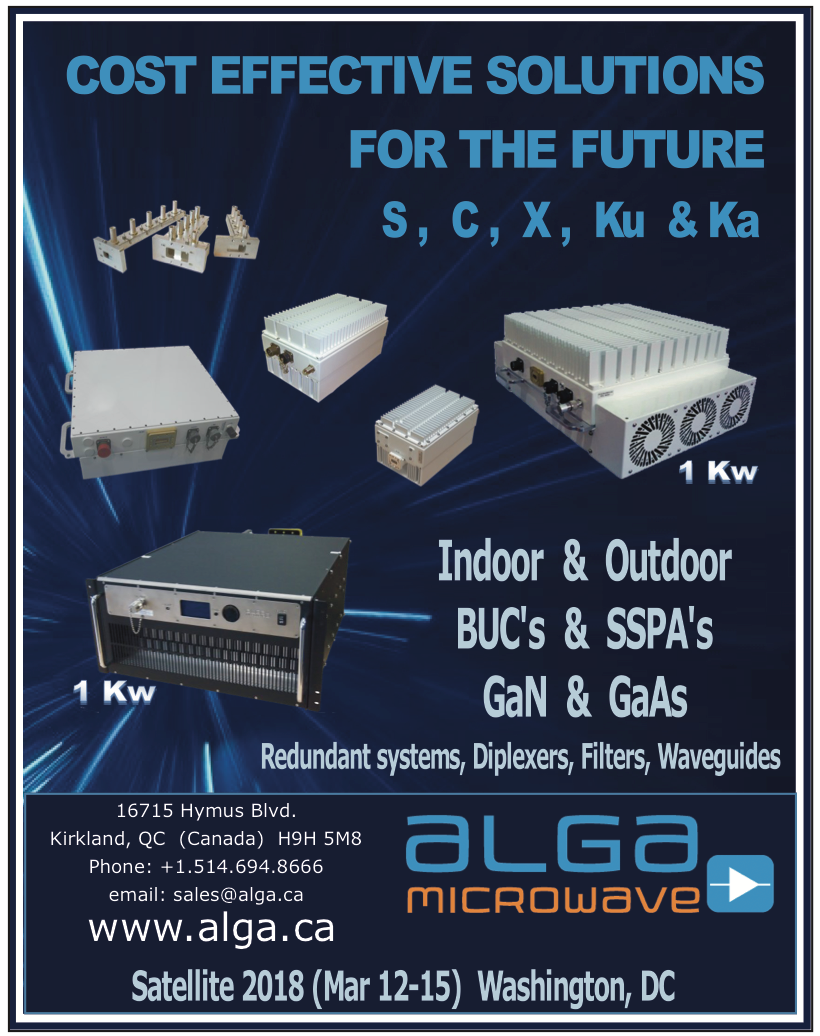 According to NSR's Government and Military Satellite Communications, 14th Edition report, the SATCOM industry is entering a period of renewed growth in the Government and Military markets.
Focused on 'connecting things that move', there is a clear path for commercial-sourced offerings to enable the missions of Government and Militaries across the world such as ViaSat's award for Air Force One and other Senior Leadership Airframes.
With VSAT Capacity Revenues expected to exceed $1 billion by 2026 for Government and Military markets, HTS on the horizon and an increasingly complex operations environment for these end-users, network designs and operational flexibility/complexity will only increase over the next ten years.
Following that growth, new connectivity technologies in GEO and Non-GEO will enter the supply picture and become a (slow) growth factor in an ever-shifting marketplace.
With HTS adoption lagging behind the commercially-equivalent markets, Government and Military end-users remain constrained in deploying new equipment to take advantage of new technologies available in the market today.
While those constraints will naturally solve themselves through the evolution of platforms, (especially in the UAS markets where new airframes will be 'HTS-ready' from day 1), Government and Military users will be strong consumers of legacy FSS capacity — just at a time when satellite operators continue to face monetization strategy questions around 'still good' legacy assets.
Just how much FSS capacity will be available to Government and Military markets remains to be seen, but as hot-spots such as the Korean Peninsula, Southern Africa, or ongoing struggles in the Middle East are any indication, bandwidth demand will continue to be limited almost entirely by budgets and compatibility issues.
Growth is on the horizon for Government and Military markets — especially bandwidth demand. Yet, just as FSS connectivity will still remain a core component of the market — acquisition through bulk-leasing of capacity remains a strong segment of the market.
Although declining capacity pricing will reduce its overall share in the capacity revenue mix, falling prices will allow end-users to continue to connect legacy or near end-of-life assets with greater capabilities and throughputs — enabling better lifecycle economics as military planners look to acquire next-gen manned and unmanned platforms.
Just as Government and Military planners in key markets settle on a future architecture for their own proprietary capacity, acquiring 'raw' or 'lightly managed' capacity from mostly satellite operators will continue to enable a sub-set of demand.
These applications will be varied across the spectrum of platforms and applications, whose connectivity requirements continue to increase.
With more spending on the horizon for proprietary capacity acquisition programs ('WGS 2.0', 'Skynet 6', etc.), bulk leasing will continue to fill an important middle ground between terminals and platforms that live within fully government-owned/managed/controlled environments and those fully-outsourced in a managed service model.
The near-future for Government and Military markets is transition — transition from FSS to HTS, legacy MILSATCOM systems to next-gen capabilities, and from 'business as usual' to commercial best-practices.
Overall, evolving threats are changing the operational landscape. New commercial and proprietary capabilities are helping to meet those challenges — and the acquisition framework linking bespoke military capacity with commercial capabilities continues to evolve.
www.nsr.com/research-reports/satellite-communications-1/government-and-military-satellite-communications-14th-edition/
Information authored by Brad Grady, Senior Analyst, NSR — USA
---
Atlas V sales and marketing moves to United Launch Alliance from Lockheed Martin
United Launch Alliance (ULA) has now assumed responsibility for the marketing and sales of Atlas V from Lockheed Martin Commercial Launch Services.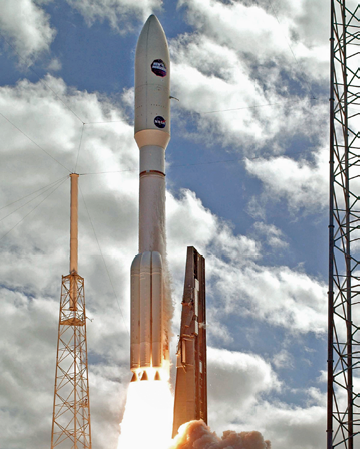 In addition to performing all of the operational activities related to Atlas V launch services, as ULA has done since the company's formation in 2006, ULA now has the full authority to market and sell Atlas V launch services to commercial customers.
ULA is an industry leader in mission and schedule reliability, building on a successful heritage of nearly six decades. ULA's Atlas V has flown 75 missions with 100 percent mission success, from numerous GPS satellites flying today to exploring the solar system and beyond, and has the highest reliability with the lowest insurance rates in the industry.
ULA offers extensive experience from a long heritage of launching communications and Earth imaging commercial missions for customers around the world.
Tom Tshudy, ULA's vice president and general counsel, will lead the new global commercial sales organization. Before joining ULA, Tshudy served as senior vice president and general counsel for International Launch Services (ILS) as well as Vice President and general counsel at Lockheed Martin while ILS was a subsidiary to sell and market launch services using the Atlas II, III and V launch vehicles.
Tory Bruno, ULA's president and CEO, noted that the company has undergone a tremendous transformation over the last two years. With ULA's innovative techniques, coupled with world-class reliability and schedule certainty, the company is well positioned to offer Atlas V launch services to current and potential commercial customers. ULA will serve as a business partner committed to building a launch strategy that maximizes the commercial provider's profits and positions them above their competition.
Bruno added that the value of a launch is a lot more than its price tag. ULA Atlas V launch services help customers capture savings and added value by delivering spacecraft to orbit earlier, extending mission life, and providing unsurpassed schedule certainty. Lockheed Martin's Commercial Launch Services organization served their customers well with a flawless record of mission success and strong customer partnerships for more than a decade. ULA looks forward to continuing that legacy of performance, service and precision.
www.ulalaunch.com
---
U.S. Army 'Dagger' brigade puts mission command systems to the test during exercise
U.S. Soldiers from 82nd Brigade Engineer Battalion, 2nd Armored Brigade Combat Team, 1st Infantry Division, continue to test the limits of their equipment with the deployment of a Secure Mobile Anti-Jam Reliable Tactical Terminal to Hohenfels, Germany, in support of multinational exercise Allied Spirit VIII running from January 15 through February 5 to validate their ability to communicate with the brigade's second SMART-T in Zagan, Poland.
The SMART-T is a satellite communications system that can provide voice and digital transmission in jamming, nuclear or chemical environments, and even remain operational through a high-altitude electromagnetic pulse incident.
The team responsible for operating the SMART-T is attached to the Polish 12th Mechanized Brigade, supporting their communications and mission command enabling operations for the duration of Allied Spirit.
The 82nd BEB is exercising the SMART-T to test a proof of concept, said 2nd Lt. Justin Horton, platoon leader, 44th Expeditionary Signal Battalion. "What they are going to do is put the SMART-T through our Single Shelter Switch to reach the SMART-T in Poland. The SMART-T is a very good piece of equipment, and very durable. It can even resist EMPs and a lot of countermeasures taken against it," Horton said.
The system's operators also appreciate the system's capabilities.
"It provides communications through the Milstar satellite," said Cpl. Koty Kennedy, SMART-T team leader, Company C, 82nd BEB.
The Milstar satellite provides the military with assured, survivable satellite communications with low probability of interception and detection, according to U.S. Air Force Space Command. "This system is older, but pretty reliable," Kennedy said. "It will allow you to have communications in some really adverse conditions."
The 82nd BEB additionally deployed two HCLOS operator teams and systems, also capable of both voice and digital transmissions, to Hohenfels to support their fellow battalion, 1st Combined Arms Battalion, 18th Infantry Regiment, 2nd ABCT, and 12th Mech. Bde. during Allied Spirit.
Horton explained the benefits of having a redundant system. "If our Phoenix (satellite system) goes down, 82nd BEB will still be able to provide a continuous connection between 1st Bn., 18th Inf. Regt., and 12th Mech. Bde. with the link provided by their HCLOS systems," Horton said. "The HCLOS is the back-up to a back-up, so we can still talk to the Polish brigade."
The Phoenix system is another capability that provides ESB units with high-capacity, inter- and intra-theater range extension for networked battle command and control information, including logistical, operational, intelligence and administrative data, according to Program Executive Office Command, Control, Communications-Tactical (PEO C3T).
Approximately 4,100 participants from 10 nations are taking part in Allied Spirit, providing its participants hands-on experience and opportunities to test secure communications between NATO allies and partners.
The 2nd ABCT is participating in the exercise as part of their deployment to Central Europe in support of Atlantic Resolve, a mission intended to provide a tangible expression of U.S. commitment to strengthening the defensive and deterrent capabilities of the NATO Alliance.
Story by Staff Sgt. Wallace Bonner 2nd Brigade Combat Team, 1st Infantry Division Public Affairs
---