Situational awareness is a vital requirement supporting U.S. homeland security and border control as well as military interests. In 2005, the Department of Homeland Security (DHS) established the Secure Border Initiative, a multi-year plan to help secure U.S. borders. The Initiative notes that the means to effectively secure the border is achieved through situational awareness and the ability to respond to potential issues immediately.
In the same year, the
Joint Functional Component Command for Intelligence, Surveillance and Reconnaissance
(
JFCC ISR
) was established under the
United States Strategic Command
. It serves as the control center for
ISR
(
Intelligence, Surveillance, and Reconnaissance
) operations and is vital in enabling global situational awareness for the U.S. military.
Over the past five years,
Hughes
has made significant progress in developing situational awareness technology and solutions. In Camarillo, California, the
Hughes Defense and Intelligence Systems Division
(
DISD
) demonstrated breakthrough technology to enhance situational awareness — the
Advanced Airborne Video Solution
. The demonstration took place on an
Albatross
aircraft and showcased live, uninterrupted, and highly-secure video transmissions with
D-1
video resolution and
pulse-code modulation
(
PCM
) audio at air-to-ground data rates of more than 2 Mbps.
Ground-breaking Results
The demonstration results were ground-breaking. The Hughes solution features two-way, Ku-band satellite connectivity, which performed at speeds much greater than what is currently available in the commercial market, while still maintaining or exceeding currently available quality and performance. Customers can view transmissions from any secure, IP-based network, allowing for continuous communication during deployment or at headquarters.
Users can also use a geotagging feature to easily help identify areas of concern. Other airborne video systems currently on the commercial market are limited to a 200 mile range. They also require
line-of-sight
(
LoS
) communications, making them inefficient in mountainous or urban terrains. They are also markedly slower with lesser quality, hindering the missions of those in the homeland security, defense, and government sectors.
The Hughes Advanced Airborne Video Solution meets the situational awareness needs of homeland security and defense missions, and is also a cost-effective and a proven,
commercial-off-the-shelf
(
COTS
) platform.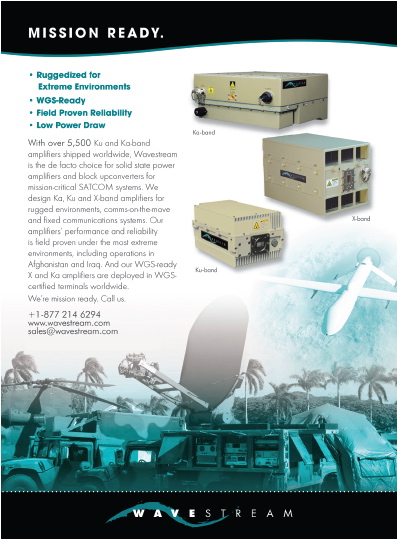 Hughes first developed its Advanced Airborne Video Solution to meet the needs of its partner,
Row44
and the commercial airline industry with on-board, broadband Internet services. To respond to the airline industry's need for situational awareness capability, Hughes developed a COTS platform for airborne use, employing its highly successful
HX
technology.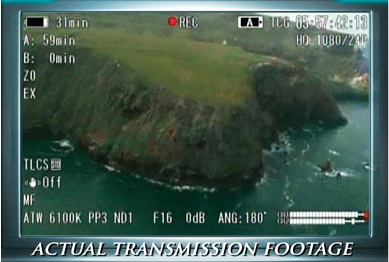 The developed platform became the Hughes Advanced Airborne Video Solution and it provides the speed, quality, and security necessary to meet the requirements of homeland security, defense, and
Command, Control, Communications, Computers, Intelligence, Surveillance and Reconnaissance
(
C4ISR
) customers.
The Advanced Airborne Video Solution uses Hughes HX technology and
Expert Network Management System
(
ExpertNMS
) capabilities. ExpertNMS provides superior usability and features a highly intuitive and interactive interface, with advanced diagnostics capable of monitoring an entire network to optimize performance.
Worldwide Coverage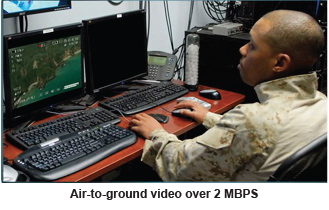 Currently, the Advanced Airborne Video Solution has global reach operating over Ku-band satellites. Hughes is continuing its research and development efforts increasing global Ka-band capability, which will enable customers to use smaller aircraft antennas and facilitate even greater data rates.
Hughes partnered with leading-edge technology providers for a demonstration of its Advanced Airborne Video Solution, including
Row
44's flying test-bed aircraft;
TECOM Industries, Inc.
KuStream
™ 1000 bi-directional Ku-band antenna;
Streambox
's highly secure video coding and viewing sub-system; and
Intelsat General
's communications link via its
Horizon-1
satellite located at
127 degrees West
.
Footage from the demonstration is available at: http://www.defense.hughes.com/resources/airborne-2-minutes.