With the raft of bad news from recent earning calls stating lower government revenues in the satellite industry, one has to ask the question: Is a pessimistic view of the market fair when the changes coming will grow the market pie and offer more bits-per-hertz at a cheaper unit price?
The truth is that pessimistic views overshadow many opportunities for solutions developed over the past ten years that address military requirements of lower budgets while at the same time offering more bandwidth.
The inventor of electricity Thomas Edison once said, "Opportunity is missed by most people because it is dressed in overalls and looks like work."
Well, these new opportunities for the government and military users are indeed a lot of work, with many still a work-in-progress. However, these will not only change the make-up of the off-the-shelf products available but will also jostle "who" is slated for the position at the top of this marketplace.
On top of everyone's agenda is meeting mandatory budget cuts, while at the same time addressing ballooning requirements for end-users, and to top it off, Communications On The Move (COTM).
With huge steps in capacity coming online via high-throughput satellites (HTS), there is some elbowing going on within the industry to meet the mandate of governments to 'do more with less,' in particular for high-potential, mobility applications.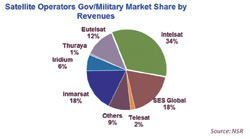 As the graph shows, when assessing satellite operators serving this market, the largest portion of the pie is captured by FSS operators who generated more than 75 percent of the revenues, while MSS operators garner the remainder. Intelsat, which expanded its off-network portfolio (MSS, X-band), has staved off competition and is far ahead in first place, taking in approximately one-third of total market revenues.
Interesting to note, however, is the two companies that are just behind in second place. SES, with a video-centric core, and Inmarsat, with a merchant marine base of users, will likely rub shoulders more often in this market as well as participate in steering changes to meet the new high-bandwidth, low-cost challenges of government users. Furthermore, their market position will likely be determined by how well they can add more value to users with broadband mobility requirements.
When looking at this chart, one would say that today Inmarsat is a strong contender and has a lot of room to grow its government business. In particular, its FSS offering has been met with far less success than the company would have hoped for...
– The pull-out of troops in the Middle-East
– The US Navy decommissioning of its terminals on a couple of hundred ships
– The U.S. Coast Guard's choice of Ku-band VSATs for its Cutter Class vessels' primary means of communications, instead of Fleet Broadband
These are all misfortunes that the operator has had to grapple with over the past five years.
For SES, their position as a more diversified operator worldwide, and its investment in the high-throughput market via O3b Networks, has lessened the hit. Several new Ku-band transponders over oceans are also taking the company on the path to address the market for bandwidth and mobile solutions.
For Intelsat, keeping its number one share also means the firm must capitalize on its HTS EPIC satellites and deploy more capacity over places where ships and airborne platforms where UAVs fly, to lessen the recent drop in revenues due to transponder price cuts offered to the U.S. Government.
Having said this, it is easier to see why Inmarsat, which will be the first out of the gate with a global fleet of satellites offering high-throughput capacity to government users, is still targeting this market.
A good portion of its revenue is expected to come from the agreement in place with Boeing, whereby the satellite manufacturer's take-or-pay of 10 percent of the fleet's capacity, aims at getting military users onto the military Ka-band part of the Global Xpress payload.
Specifically, these services will have advantages for troops, ships and airborne platforms with an 'almost-like' WGS connectivity on a global basis that is becoming a strategic communications infrastructure for many countries around the globe. With this key advantage, Inmarsat is hoping to forge itself a future expansion in the government FSS business in a market in that is in dire need of cheaper bits.
The increased efforts to reduce the cost of communications links by satellite operators will bring more benefits to government and military users as well as create a more dynamic market where both FSS and MSS services will increasingly collide into one another.
The work-in-progress sign is still up on the doors of many satellite operators targeting the higher bandwidth and mobility government SATCOM markets—however, the opportunities are likely to be just beyond the doorway.
For further information regarding NSR, access their infosite: http://www.nsr.com/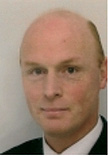 About the author
Mr. Rousseau has more than 20 years of experience in the space sector in various roles, including business and program management, consulting, research, administration and communications. Mr. Rousseau started his career in Ottawa, Canada as Special Assistant for space and science in the Office of the Minister of Industry, Science and Technology of Canada. He then joined the Canadian Space Agency in 1992 in Montreal, Canada where he was Assistant to the President, then successively Analyst for Industrial and Regional Development, Administrator for the RADARSAT program and Manager for Strategic Planning in the Long Term Space Plan Task Force.
In 1999, Mr. Rousseau became Manager, Professional Development Programs and Forum Activities at the International Space University (ISU) in Strasbourg, France where he was responsible for training and special events for various clients and created the University's Research Contract Service. Mr. Rousseau then co-founded Futuraspace, an international space consulting company specialized in space business and management located in California and France.
He serves as regional and applications expert on satellite communications for NSR and directs both multi-client research reports and consulting projects. He is a key element of NSR's presence in the European, Middle-East and Africa market. He develops research products in the ever changing mobile satellite services (MSS), government and military, oil and gas and Earth Observation markets. Mr. Rousseau currently lives in Strasbourg, France and holds a Bachelor of Science degree (B.Sc.) in Physics/Astrophysics from the University of Calgary, Canada and a Master of Space Sciences (MSS) from the International Space University in Strasbourg, France. He is also fluent in French.