Aerospace cubesats blaze a faster trail to space
The mission from the United States Air Force (USAF) and the challenge to Aerospace Corporation was to build and launch a pair of cube satellites on a tight budget and even tighter timeline of only 18 months.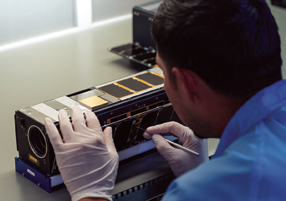 In a world where the threats facing orbiting satellites proliferate with each passing year, the ability to field an agile response and quickly restore lost functionality is a critical, but still developing, capability.
Aerospace's technical expertise put it in an unmatched position to chart a path forward, with staff using Commercial Off-The-Shelf (COTS) parts in their race against the clock.
On November 2, the team crossed the finish line with the successful launch of AeroCube-15, also known as the Aerospace Rogue Alpha/Beta CubeSats, launching aboard the Northrop Grumman Antares rocket.
"One of the keys to rapid reconstitution was to not stretch the technology limits too far with this one," said Dr. Jeff Emdee, General Manager in the Space Development Division. "It really wasn't about testing unknown capabilities. It was about integrating off-the-shelf capabilities, testing it and assembling it in time for the launch date."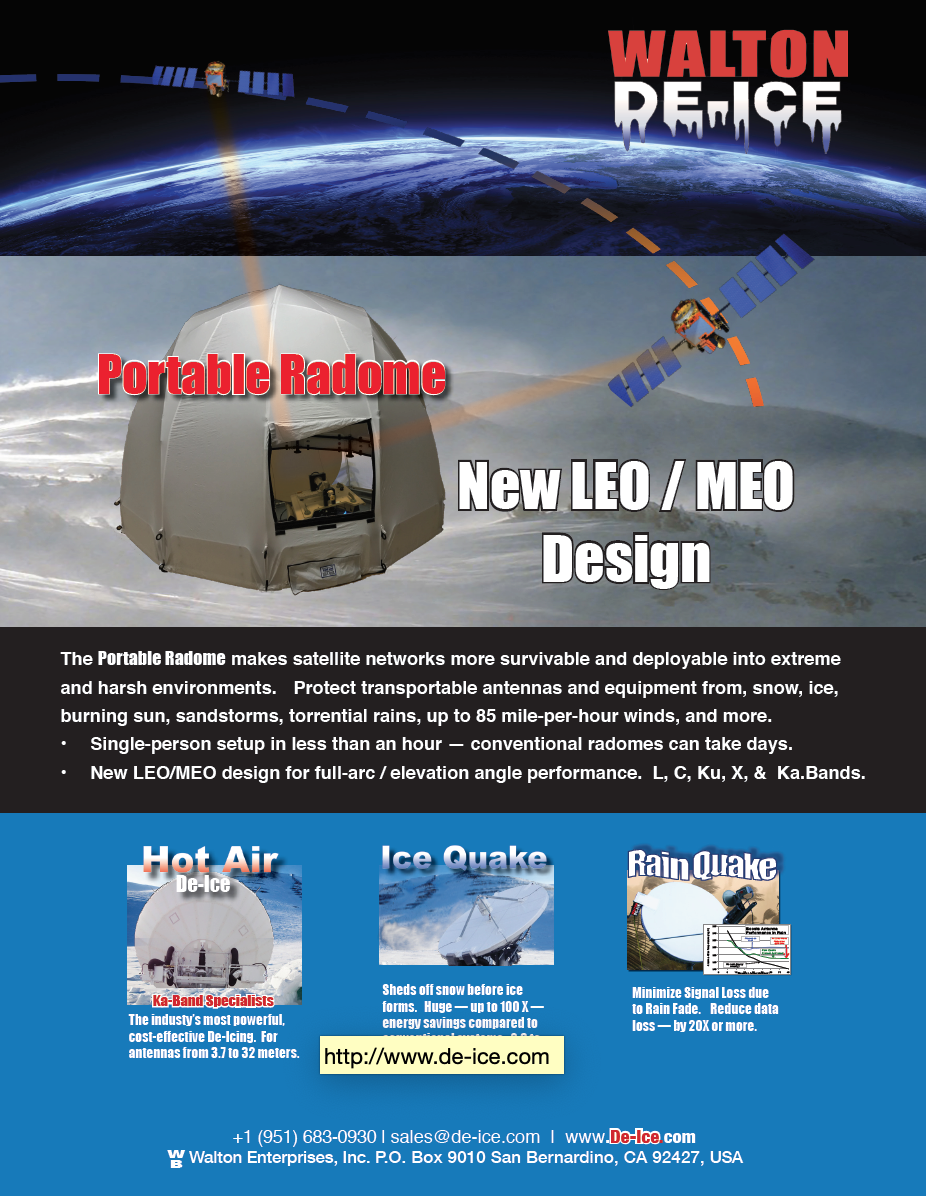 The accelerated development timeline positioned the Aerospace CubeSats as pathfinders for studying rapid reconstitution, a key component of Agile Mission Assurance, which seeks to ensure mission capabilities even if on-orbit satellites are compromised.
The Aerospace Rogue Alpha/Beta CubeSats consist of a pair of identical, 3-unit CubeSats designed, built and operated by Aerospace for the USAF's Space and Missile Systems Center.
They will be stored onboard the Cygnus vehicle at the International Space Station for several months, with a planned deployment to Low Earth Orbit (LEO) in early 2020.
The Aerospace CubeSats are planned for a 12-month mission. The mission experiment will consist of observing cloud backgrounds and ground targets to research the capabilities of commercially derived technology for space mission applications.
Developing the cubesats on such a tight timeline — a typical satellite takes several years or more to design, build and launch — required Aerospace employees to work collaboratively to reshape their approach in pursuit of maximum efficiency and reduced complexity.
"The great thing about The Aerospace Corporation is we have world class experts in every aspect of satellite and sensor design. It's really amazing what you can do when you put all that expertise together," said Dr. Dee Pack, Principal Investigator and Chief Scientist for the Aerospace Rogue Alpha/Beta CubeSats mission. "The challenge was the project management discipline to pull experts from every part of the company and marshal them in an organized manner, so you don't break the bank."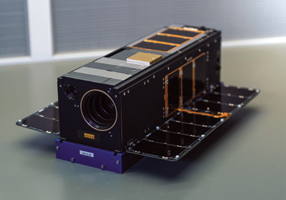 Their work started with proven technologies developed by Aerospace, including the spacecraft bus and laser communications system, and the expertise developed at xLab through prior AeroCube builds.
Perhaps most challenging aspect was the shift in mindset required at a company that since its inception has focused on mission assurance and the highest level of reliability.
A focus was placed on using as many COTS parts as possible, yielding valuable lessons about the parts' reliability and how long it takes to procure them.
For instance, obtaining a focal plane array of the desired size would take at least a year, forcing Aerospace engineers to alter the design in favor of a smaller array.
In other cases, Aerospace had to further modify commercial parts or design their own when off-the-shelf parts, like a commercial infrared lens, didn't meet performance needs.

The various components then had to be tested and calibrated to meet the compressed timeline.
Perhaps most challenging aspect was the shift in mindset required at a company that, since its inception, has focused on mission assurance and the highest level of reliability.
"We had to make sure we stayed focused on the requirements that were important to the system," said Dr. Sara Lampen, Engineering Specialist in the Visible and Infrared Systems Department and payload lead for the mission. "Making sure things are small, that they would be quick to manufacture — those all factored in to our decisions."

The successful launch of AeroCube-15, along with the concurrent launch on November 2 of AeroCube-14, will bring the total number of Aerospace CubeSats on orbit to 25.
Aerospace was an early pioneer in the development of small satellites and continues to conduct pathfinding research in the field as one of the world's leading private constellation operators.
---
Space Fence nearing operational acceptance by U.S. Air Force
When the U.S. Air Force declares operational acceptance of the Space Fence radar located on Kwajalein Atoll, it will play a critical role in providing a tactical advantage to the nation's warfighters in the space domain.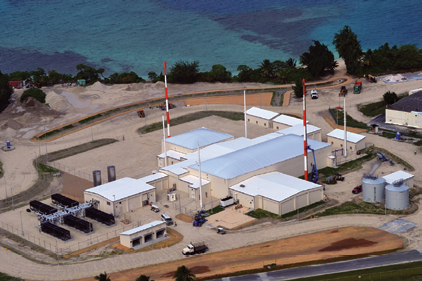 An aerial view of the Space Fence facility located on Kwajalein Atoll.
Image is courtesy of Lockheed Martin.
Space Fence will use its flexibility, coverage, and sensitivity to detect and accurately track significantly more objects than the current-day catalog.
This crucial capability is now one step closer to providing unprecedented space situational awareness with the system completing its developmental and operational testing phases and has entered a trial period - one of the last steps before achieving operational acceptance.
Beyond cataloging objects, Space Fence will detect closely-spaced objects, breakups, maneuvers, launches and conjunction assessments from LEO through GEO.
Frequent collisions and deterioration of assets, such as defunct satellites and rocket boosters, have increased the amount of space debris and raised the risk of future collisions in space.
According to NASA's most recent Orbital Debris Quarterly News, NASA calculates about 17.6 million pounds of objects are in earth orbit.
That number will only grow as more commercial space projects launch massive constellations with thousands of smallsats, presenting a huge problem for both U.S. government and commercial organizations.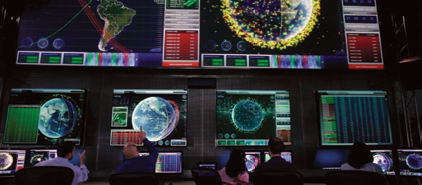 Space Fence Operations Center. Image is courtesy of Lockheed Martin.
That's where the U.S. Air Force's Space Fence will play a crucial role.
The radar system will also play a crucial role in the everyday lives of Americans who are becoming more dependent on space-based technologies for everything from weather forecasting, banking, global communications to GPS navigation.
Today, these critical services are being threatened by hundreds of thousands of objects and space debris orbiting the Earth.
Space Fence has already begun to prove its unmatched capabilities. During testing of the system in March, it detected the debris field from an anti-satellite test conducted by India. Space Fence observed a significant amount of debris tracks surrounding the time of the event, and the system proved its ability to automatically predict and correlate their next crossing times.
Space Fence uses advanced solid-state S-band radar technology. The technology includes element level digital beamforming, Gallium Nitride-based, software defined programmability that can be adapted over time to address emerging needs of the warfighter.
Dr. Rob Smith, VP and GM of Lockheed Martin's Radar and Sensor Systems, said Space Fence will revolutionize the way objects that threaten both manned and unmanned military and commercial space assets are tracked and classified, critical to the national defense and economy.
The Air Force Space Surveillance Network currently tracks about 25,000 objects.
When Space Fence comes online, the catalog will experience significant growth and when fully operational, Space Fence will be the world's largest and most advanced radar system, providing unprecedented space situational awareness.
In a 2019 interview with Breaking Defense, Gen. John Hyten, U.S Strategic Command commander, said of the Space Fence radar system, "I've been out there and the data is eye watering. It's better than we even thought it would be."
Once the Trial Period is successfully completed, operational acceptance of the radar will be declared by the U.S. Air Force.
---
Making a difference fuels retention in Space, Cyber Commands
More than anything, making a difference and staying on mission are the keys to retention in U.S. Space Command and U.S. Cyber Command, the senior enlisted leaders for those two organizations said.

Soldiers, airmen and industry partners conduct network surveillance
during Cyber Shield 19 training week at Camp Atterbury, Indiana,
earlier this year. Photo by U.S. Army Staff Sgt. George B. Davis.
"Retention is a challenge that we face in Cyber Command and with our cyber workforce," U.S. Marine Corps Master Gunnery Sgt. Scott H. Stalker, the senior enlisted leader for Cybercom, said during a briefing at the Pentagon. "What we've found is there are a lot of factors to keeping that talent in and keeping them on the mission."
One way Cybercom retains talent is that the military services offer certain bonuses, up to $90,000 in some cases, to those qualified, Stalker said.
Some offer special duty assignment pay as well, up to $1,500 a month in some cases, he added.
"But what we found is, with all of that, you are going to keep in manpower, but not necessarily talent," he said. "So we have go to look at our high-end talent, our top 25%. What are the things that keep them in? And more often when I talk to them, they want to have stability. They want to do something that is important and hard."
Stalker said there's no shortage of hard, challenging work at Cybercom and the National Security Agency, both at Fort Meade, Maryland.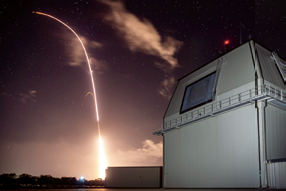 A long-exposure photograph of a night launch of a missile,
which leaves a trail of light.
"So we really focus on the job that they have to do — not so much 'Here's more money, we'll keep you in,'" he said. "We want them to know that what they are doing is relevant. ... When it comes to targets like China, Russia, Iran, North Korea and violent extremist organizations, on a daily basis they are employed. They are working hard. That's what they want to be doing. They want to be on mission doing their job. I'd say that's probably the same in most domains. They want to do the job they came in for."
U.S. Air Force Chief Master Sgt. Roger A. Towberman, the senior enlisted leader for Spacecom, said the command's work is so exciting that he's not really concerned about retention of the force — or even about recruitment.
"From a space perspective, there's never been a better time to be in this business," he said. "Getting people excited about space isn't one of our current challenges. People are really excited. They are asking all the time. They want in. They want to be a part of it. And so I am not too concerned with retention, certainly not in the short term."
He continued, "There is just so much work to do, and it's such an exciting business to be in right now. We've got lots of folks ready to step up and help us out."
Towberman said he sees first hand the new talent that's coming through the door — and he's impressed with what America has to offer.
"What's really interesting is [that] the raw material we're getting from America has never been more incredible," he said. "The digital natives that are coming into the military today are exactly the warfighters we need for the future. And it's more about figuring out how to unleash the talent and capability that's within them than it is kind of teaching them things."
Army Command Sgt. Maj. John W. Troxell, the senior enlisted advisor to the chairman of the Joint Chiefs of Staff, said the young Americans coming into careers in space and cyber have other options, but the military provides something else that keeps them interested.
"I will tell you most of these high-end warriors like cyber and space, ... they want to make sure that what they are doing is having an impact," he said. "That they belong to a team that is cohesive, and they know that they are valued members of that team, and finally that their families are being taken care of. They are at a place they want to serve, and they are comfortable doing it."
"So, more and more," he continued, "as we move forward and we look at these critical skills we have to be in the talent management business, as opposed to potentially a personnel management business."
Story by C. Todd Lopez
---
L3Harris receives $50 million order for HF radios from the USMC
A sizable order worth $50 million for Falcon III AN/PRC-160 HF radios has been awarded to L3Harris Technologies (NYSE:LHX) as a follow-on delivery order for Falcon III AN/PRC-160 HF radios and related equipment from the U.S. Marine Corps as part of its High Frequency Radio II modernization program.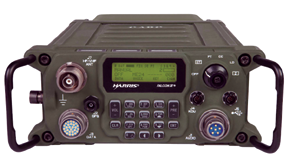 The order is part of the Navy Portable Radio Program five-year IDIQ contract received in 2017.
As part of the modernization program the Marine Corps selected the AN/PRC-160 to replace legacy L3Harris HF radios as it is a modern solution for Beyond-Line-of-Sight (BLOS) communications in a satellite-denied environment.
Additionally, the AN/PRC-160 is the smallest, lightest and fastest wideband HF manpack available that provides 10X throughput over legacy systems.
According to the company, this is the only HF manpack that meets new NSA crypto-modernization standards.

The system's software-defined architecture allows encryption updates, ensuring mission-critical information stays secure.
It also enables command and control in a degraded environment and long-range voice and data with interoperability across U.S. and Coalition forces.
Dana Mehnert, President, Communication Systems, L3Harris stated that the AN/PRC-160 delivers the security and resilience the Marine Corps needs for its tactical radio modernization programs, while providing unmatched capability for Marines on the battlefield.
Dana continued by saying these radios provide high-speed, long-range HF communications that meet the Marine Corps' demanding program of record requirements.
---
Enhanced Polar Systems recapitalization payload program passes CDR
The Enhanced Polar System Recapitalization (EPS-R) Payload program reached a major program milestone completing a successful Delta Critical Design Review (CDR) on October 9.

Northrop Grumman Aerospace Systems (NGAS) is the EPS-R Payload developer via an approximately $410 million contract awarded in February of 2018 that runs through December 2023.
The CDR was the culmination of more than two months of review by the government and contractor team assessing the maturity of the payload design, which allows the program to transition to the manufacturing phase.
It focused on changes from the original EPS design to accommodate a new host space vehicle and was successfully completed with no significant issues or concerns.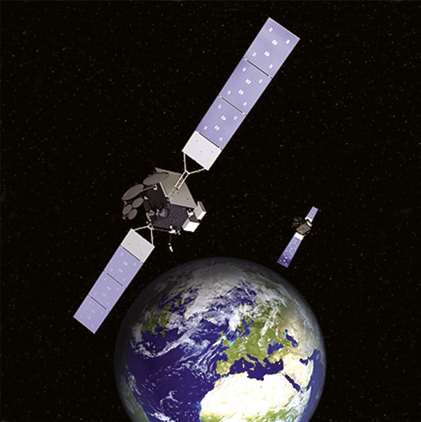 Northrop Grumman will design, manufacture and integrate two
satellites for Space Norway's Arctic Satellite Broadband Mission
systems in addition to providing critical ground infrastructure.
Image is courtesy of the company.
As an EPS follow-on, EPS-R will include two eXtended Data Rate (XDR) payloads and will fill a Protected SATCOM coverage gap in the North Polar Region until the Protected Tactical SATCOM and Evolved Strategic SATCOM polar variants are available in the 2030's.
Partnerships, innovation and speed are key tenets of the Space and Missile Systems Center (SMC) 2.0 vision to accelerate fielding new capabilities to the warfighter.
SMC's Production Corps EPS program is strengthening international partnerships by collaborating with the Norwegian Ministry of Defence and Space Norway to integrate the EPS-R payloads onto two separate Space Norway-procured satellites (developed by Northrop Grumman Innovation Systems) scheduled to launch in December 2022 aboard a SpaceX Falcon 9 commercial launch.
Space Norway is procuring the Arctic Satellite Broadband Mission in order to deliver broadband coverage to civilian and military users in the Arctic.

The EPS program office used innovative and rapid solutions to award the EPS-R Payload contract to NGAS in less than six months using a sole-source undefined contract.
Additionally, the team awarded the EPS-R Control and Planning Segment ground contract less than 40 days after receiving a proposal from Northrop Grumman Mission Systems.
These efforts enabled the program to leverage the hosting opportunity with Space Norway and placed it on track to deliver its capabilities three years ahead of schedule with the potential savings of up to $900 million.
Major John Gomez, EPS-R Payload Program Manager, said the EPS-R program's unprecedented approach leverages best practices of the organization's commercial space vehicle and commercial launch vehicle provider,s while collaborating with Norwegian partners, and will prevent a protected communication coverage gap for warfighters in the Arctic region until future systems are available.
The U.S. Air Force Space Command's Space and Missile Systems Center, located at Los Angeles Air Force Base in El Segundo, California, is the U.S. Air Force's Center of Excellence for acquiring and developing military space systems.
SMC's portfolio includes the Global Positioning System, military satellite communications, defense meteorological satellites, space launch, range systems, satellite control networks, space-based infrared systems and space situational awareness capabilities.
---