USAF, Lockheed Martin, Northrop Grumman + NOAA—DMSP-19's Definitive Departure
The liftoff of the latest Defense Meteorological Satellite Program (DMSP) spacecraft will, ultimately, lead to more data flowing into NOAA's weather models that produce life-saving forecasts, according to the agency's top satellite official.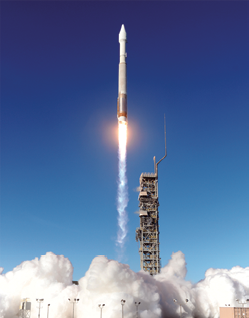 For more than 15 years, this $518-million military weather satellite sat in a clean room at Lockheed Martin Corp.'s facility in Sunnyvale, California, waiting for the day it would be launched into orbit from Vandenberg Air Force Base.
The event finally occurred—the Lockheed Martin built DMSP-19 spacecraft launched from Vandenberg Air Force Base at 7:46 A.M. PDT on April 3rd. aboard the United Launch Alliance Atlas V launch vehicle.
Since the mid-1960s, the DMSP's Low-Earth-Orbiting (LEO) satellites have provided the military and civilian communities with important and reliable environmental information.
Each DMSP satellite has a 101-minute orbit, circling between the North and South poles and providing global coverage twice a day. The last DMSP spacecraft was launched in October of 2009.
Data from these satellites can help identify, locate and determine the intensity of severe weather, including hurricanes.
DMSP spacecraft also can be used to form three-dimensional cloud analysis, which are the basis for computer forecast models to meet unique military requirements.
Additionally, DMSP satellites provide imagery of environmental features including clouds, bodies of water, snow, fire, and pollution in the visual and infrared spectra.
The satellite hosts two primary sensors, the Operational Linescan System (OLS) and the Special Sensor Microwave Imager Sounder (SSMIS), built by Northrop Grumman. The OLS provides visible and infrared cloud data with each scan covering an area 1800 miles wide. The instrument is able to cover the entire Earth in about 12 hours.
The SSMIS detects precipitation, surface temperature and soil moisture as well as provides all-weather capability for worldwide tactical operations and is particularly useful in typing and forecasting severe storm activity.
The scanning radiometric instruments record information which helps determine cloud type and height, land and surface water temperatures, sea surface currents, ocean surface features, ice, and snow.
The satellite data collected and downlinked to the ground stations are processed, interpreted by meteorologists, and used in planning and for conducting U.S. military operations worldwide.
The primary command and control of the satellite is jointly managed by NOAA and the Air Force 50th Operations Group Detachment 1, both operating out of the Satellite Operations Control Center in Suitland, Maryland. Operations are also supported by a back-up facility located at Schriever Air Force Base in Colorado Springs, Colorado, under the leadership of the 6th Space Operations Squadron.
NOAA's mission is to understand and predict changes in the Earth's environment, from the depths of the ocean to the surface of the sun, and to conserve and manage our coastal and marine resources.
The spacecraft also carries a suite of additional sensors, which collect a broad range of meteorological and space environmental data for forecasting and analysis. DMSP-19 will join the DMSP constellation providing world class space-based terrestrial and space weather data to support U.S. Forces and its allies around the globe.
For further information regarding NOAA, please visit http://www.noaa.gov/

* * * * * * * * *
Israel—Ofeq 10 Off To Orbit
Israel launched a new reconnaissance satellite into space on Wednesday night, April 9, 2014.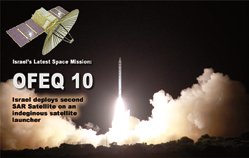 This new satellite is able to observe targets on Earth "in all weather conditions."
The satellite, Ofeq 10, was carried into space by a Shavit (comet) type launcher.
Ofeq 10 is an Earth observing remote-sensing satellite that employs synthetic aperture radar (SAR) technology with advanced high-resolution imagery that is capable of operating day or night and in all weather conditions."
Israel's defence ministry cooperated with Israel Aerospace Industries (IAI) and other Israeli high-tech companies in the development and production of Ofeq 10 and the Shavit satellite launcher.
The launch, according to Israeli media, was jointly carried out by the ministry and the IAI at the Palmahim Air Base in central Israel. Israel maintains an extensive spy satellite program and invests hundreds of millions of shekels a year in space development and satellite industry.
Ofeq 10 is the tenth Israeli satellite launched into space, four years after a similar Ofeq 9 was launched. The first of this series, Ofeq 1, was launched into space in 1988.
* * * * * * * * *
Boeing + U.S.A.F.—Fifth GPS IIF Handover Happens
The accuracy of the Global Positioning System (GPS) has been improved with the recent handover of a fifth Boeing [NYSE: BA] GPS IIF satellite to the U.S. Air Force.
The newest addition to the GPS constellation increases the precision of position, navigation and timing data sent to users around the world.
The satellite was launched on February 20, 2014. The Air Force, which operates the GPS system, and Boeing has completed the deployment and validation of the spacecraft's systems, stabilizing the vehicle and activating its navigation payload.
"As each GPS IIF joins the fleet, we are sustaining and modernizing the constellation for years to come," said Craig Cooning, vice president and general manager of Space and Intelligence Systems. "With this latest successful handover, Boeing is maintaining a robust operating rhythm this year to support the GPS program."
Boeing is preparing the next GPS IIF satellite—the sixth of 12—for a second quarter launch.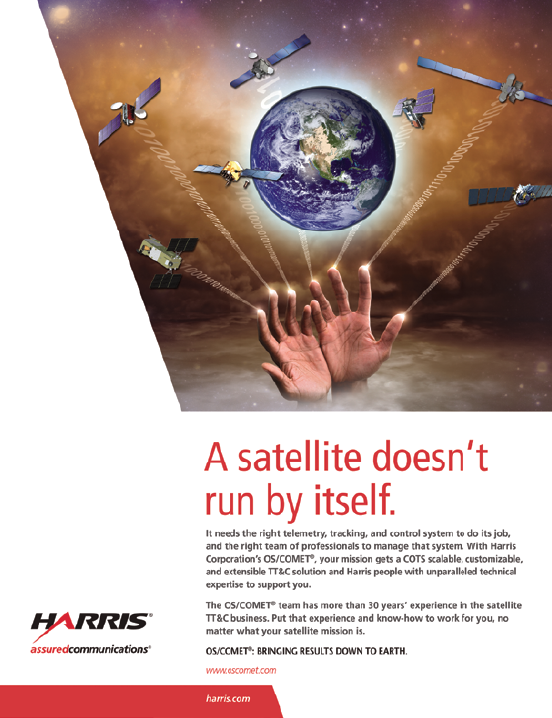 The GPS IIF delivers improved accuracy, greater security and anti-jam capabilities while maintaining baseline legacy GPS performance.
Since the first launch in 1978, Boeing-built GPS satellites have accumulated the equivalent of more than 500 years of on-orbit operation.
A unit of The Boeing Company, Boeing Defense, Space & Security is one of the world's largest defense, space and security businesses specializing in innovative and capabilities-driven customer solutions, and the world's largest and most versatile manufacturer of military aircraft.
Headquartered in St. Louis, Boeing Defense, Space & Security is a $33 billion business with 57,000 employees worldwide.
The Boeing Defense, Space & Security infosite is located at http://www.boeing.com/boeing/bds/
* * * * * * * * *
Northrop Grumman—Ahead Of Schedule... Again
Northrop Grumman Corporation continued its record of shipping Advanced Extremely High Frequency (AEHF) satellite payload modules ahead of schedule when the fourth arrived February 11, nearly two months early, at Lockheed Martin Space Systems, Sunnyvale, California, AEHF system prime contractor.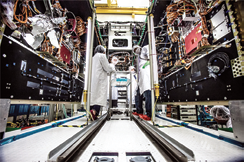 Integration of the payload module for the fourth Advanced Extremely High Frequency (AEHF) protected communications satellite underway at Northrop Grumman's facilities in Redondo Beach, California, prior to its recent shipment. Northrop Grumman provides AEHF payloads to Lockheed Martin Space Systems, AEHF system prime contractor.
Complex phased array and nulling antennas, along with the advanced crosslinks, will be shipped later this year to complete payload delivery a full six months early.
The payload module contains the processing, routing and control hardware and software that perform the satellite's communications function.
Northrop Grumman also delivered payload modules for the first, second and third AEHF satellites ahead of schedule in 2007, 2008 and 2009 respectively. Launch for AEHF Flight 4 is currently planned for 2017.
"Shipping the payload module in advance of the contract delivery date meant developing novel approaches for integrating the payload since the last delivery of an AEHF payload four years ago," said Stuart Linsky, vice president, Communication Programs, Northrop Grumman Aerospace Systems, Redondo Beach, California.
Starting with this shipment, he said the company implemented a new hybrid integration approach, jointly developed with Lockheed Martin and the U.S. Air Force's Space and Missile Systems Center. It allows Lockheed Martin to begin satellite bus unit integration within the payload module while a team from Northrop Grumman simultaneously completes the remaining payload integration.
"We began work on the fourth payload earlier than originally planned because Lockheed Martin shipped the bus structure early. With the hybrid approach for integrating the payload at our facilities and finishing at Lockheed Martin's, the government benefits from an overall reduction in program cost and schedule," Linsky said.
One Advanced EHF satellite will provide greater total capacity than the entire Milstar constellation currently on orbit. Individual user data rates will be five times improved.
The higher data rates will permit two-way, jam-resistant transmission of tactical military communication such as real-time video, battlefield maps and targeting data.
In addition to its critical tactical mission, Advanced EHF also will provide the critical survivable, protected and endurable communications to National Command Authority including Presidential conferencing in all levels of conflict.
Advanced EHF satellite payloads contain a full range of features that protect against a wide range of threats. These capabilities include anti-jamming, low probability of detection and intercept, rapid recovery during a nuclear event, the ability to operate through scintillation, greatly reduced risk from physical attack to ground systems, and significant protection from cyber attack.
The Northrop Grumman infosite is accessible at http://www.northropgrumman.com/
* * * * * * * * *
Exelis—A Sidehat For The U.S. Army
Exelis has been awarded a five-year indefinite delivery, indefinite quantity (IDIQ) contract by the U.S. Army Contracting Command to provide radio appliqués capable of running the Army Soldier Radio Waveform (SRW).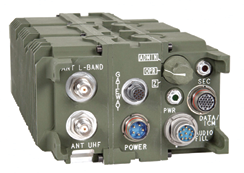 The contract has a potential ceiling of $988 million and also includes five one-year options that can be exercised at the Army's discretion.
The appliqué will host SRW, a waveform developed by Exelis that operates in the UHF and L-band frequency ranges and provides an affordable second channel solution to Single Channel Ground and Airborne Radio Systems (SINCGARS) vehicular radio installations/ The initial Exelis offering on this contract is the SideHat®, a radio specifically developed for the vehicular electromagnetic and physical environment experienced on the battlefield.
Exelis designed SideHat to easily integrate with SINCGARS, the primary tactical communications backbone for the U.S. Army with nearly 600,000 fielded. SINCGARS with SideHat and SRW provides a system solution with up to four-channels (2 SRW and 2 VHF).
SideHat provides dismounted soldiers the ability to communicate both voice and data to mounted soldiers in vehicles within a larger network.
"The SRW Appliqué will provide the U.S. Army with a cost effective means to add a robust waveform for battlefield communications," said Nick Bobay, president of the Exelis Night Vision and Communications Solutions division. "As the developer of SRW and the manufacturer of an installed base of nearly 600,000 Army radios, we have the capability to deliver both the performance and value expected from fielding the SRW Appliqué."
For more information, visit http://www.exelisinc.com/pages/default.aspx
* * * * * * * * *
Inilex—Apprehension Success
Inilex's advanced GPS/Satellite/Wireless SkyLINK auto theft-recovery system was instrumental in helping Dallas police locate and apprehend an Amber Alert suspect, leading to the safe recovery of a two-year-old toddler and an allegedly stolen vehicle.
On March 14, police in Temple, Texas, issued a statewide child abduction alert for a two-year-old boy who was believed to be in grave or immediate danger following a shooting that occurred that morning. The boy's father was suspected of shooting his estranged wife and then fleeing in the victim's Mazda 6 sedan with the child.
The Mazda was equipped with the SkyLINK GPS-based tracking system and, after appropriate police authorization, SkyLINK's 24x7 Response Team was able to provide authorities with real-time information that revealed the vehicle's exact whereabouts. Within minutes, and with the assistance of SkyLINK, police were able to locate and apprehend the suspect and rescue the child.
More info is available at http://www.inilex.com
* * * * * * * * *
U.S. Army—Secure Comms Provided During Joint Exercise
Approximately 50 soldiers with the 414th Signal Company, Special Troops Battalion, oversee all voice and data support for the 3rd Sustainment Brigade, 3rd Infantry Division.
To stay on top of their skill set, the 414th often performs signal maintenance on their equipment, and January 13, the Fort Stewart, Georgia-based unit reconfirmed that everything from the computer boards to the individual fiber optic cables of the Joint Network Node and Command Post Node systems were fully functional.
"We use Joint Network Node systems and Command Post Node systems to set up our satellite connections depending on the size of support needed," said platoon leader, 2nd Lt. Cera Olson. "Our equipment gives us direct connection to the satellites so we are able to have voice and data for all of our systems."
The thorough signal maintenance helps ensure the team is proficient and can provide the support needed for the sustainers, said Spc. Daniel Sheppard, a multichannel transmission systems operator maintainer with 414th Signal Company.
Sgt. Jason Weynand, a satellite communications systems operator maintainer, agrees.
"With technology moving so fast, there are always new upgrades," said Weynand. "If you don't continue to hone your skills and learn the new stuff, you will lose it."
After plugging in all the wires and facing the satellite antenna in the right direction, the signal specialists performed a communication check to pull an accurate signal.
"The satellites are thousands of miles above the Earth," said Weynand. "With any sort of deviation, even just two degrees, we could be hitting the wrong satellite. It's important to maintain proper positioning and signal strength to avoid interference with another station or [blocking communication for a particular] region."
The 414th Signal Company sets up their JNN and CPN systems regularly to help keep the 3rd Sustainment Brigade mission ready.
"As long as everything works we [signal professionals] go unnoticed," said Weynand, "but the minute someone can't communicate, the spotlight is on us to fix the problem."
Story by Sgt. Richard Andrade, 16th Mobile Affairs Public Relations Detachment
* * * * * * * * *
U.S.A.F.—249 Graduate From Satellite Training Course
Three good news stories converged at the I.G. Brown Training and Education Center recently—first, there was a visit by the Director of the Air National Guard, Lt. Gen. Stanley E. Clarke III.
The occasion was the ceremony for 249 active duty, National Guard and Reserve Command airmen who finished the Satellite Noncommissioned Officer Academy, the resident NCOA and the resident Airman Leadership School.
And the anniversary itself was for 20 years of Satellite Enlisted Professional Military Education.
Officials noted that the pilot test for Satellite EPME was authorized for the Paul H. Lankford Enlisted PME Center 20 years ago. Since that time, the program's popularity, broadcast reach and technology grew extensively.
Satellite NCOA today consists of 14 weeks of live interactive satellite, or high-definition, high bit rate, two-way teletraining broadcasts over the Warrior Network followed by two weeks of in-resident training, which provides full residence credit. The course is delivered for installations across the nation to National Guard members who work or attend college on the weekdays and/or have limited travel time for residence training.
Additionally, Satellite Airman Leadership School was offered this year as another option. Officials said that the course's popularity was immediate.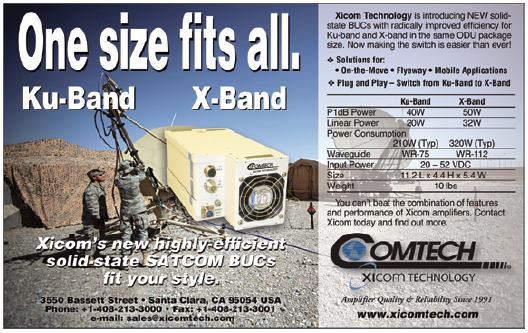 During his visit, Clarke congratulated both satellite and residence EPME graduates. "This is a significant milestone and achievement, and something you will treasure as part of your individual and professional growth," said Clarke.
The general stressed that total force education forums offer unique and valuable opportunities to work with the other services.
Leaders pointed out that the recent graduating class included airmen who returned to finish their EPME after the government shutdown sent them home without their completion certificates.
"You've persevered," said Cathcart, "... and made yourselves better airmen.
Earning the Commandant Leadership Award were Satellite Noncommissioned Officer Academy Class Staff Sgt. Rivanita Tudela, in-resident NCOAs Tech. Sgt. Jonathan Arochas and Airman Leadership School's Staff Sgt. Codey Kinemond.
Academic achievement awards were presented to Tech. Sgt. Andrew Kondor, Tech. Sgt. Shawntina Graham and Senior Airman Jamie Salunga. There were 25 distinguished graduates in the combined class.
The John L. Levitow Award—the highest award bestowed for any Air Force EPME—was earned by Tech. Sgt. Daniel Stone, Tech. Sgt. Takey Williams and Senior Airman Theartles Bowden.
Story by Master Sgt. Kurt Skoglund, Air National Guard Training and Education Center/TV
* * * * * * * * *
Harris Coporation—Making Manpack MUOS Meaningful
Harris Corporation has successfully completed initial interoperability testing of its widely fielded Falcon III® AN/PRC-117G multiband manpack radio hosting the Mobile User Objective System (MUOS) waveform.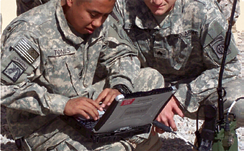 MUOS is the next-generation U.S. Department of Defense military satellite communications system for delivering cellular-based service through tactical radios.
"Harris is rapidly delivering on its commitment to offer the MUOS waveform in AN/PRC-117G tactical radios," said George
Helm, president, Department of Defense business, Harris RF Communications.
"Simple software upgrades will bring MUOS to more than 30,000 AN/PRC-117G radios already in use, giving the DoD the most cost-effective solution for rapidly transitioning its tactical satellite radio inventory to support this important new capability."
The recent test demonstrated interoperability with the addition of MUOS software to AN/PRC-117G radios that were unmodified from their standard hardware configurations.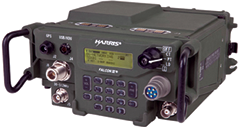 The test was conducted at the Joint Tactical Networking Center MUOS Reference Implementation Laboratory in San Diego, California.
Harris has now started a new round of tests of the AN/PRC-117G at the U.S. government MUOS system integration labs in Arizona. The radio successfully completed separate on-air tests last year in San Diego and near the North Pole.
For additional information, please access http://rf.harris.com/capabilities/tactical-radios-networking/an-prc-117g/default.asp
* * * * * * * * *
Northrop Grumman—A Grand Forks Gain
Northrop Grumman Corporation delivered a Global Hawk Block 40 Unmanned Aircraft System (UAS) to the U.S. Air Force at Grand Forks Air Force Base, North Dakota, ahead of schedule, in February.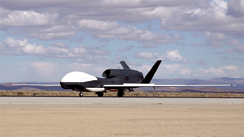 This is the second aircraft delivered as part of Global Hawk's Lot 10 contract, joining a Block 30 system delivered four months early in November of last year.
Two additional aircraft, a final Block 30 and Block 40, will arrive later this year, completing Global Hawk's Lot 10 contract. A total of 42 Global Hawk unmanned aircraft are currently in use around the world with 32 in the Air Force inventory.
A contract for three more aircraft (Lot 11) is expected this summer.
These additional aircraft will support increased operational flight hours without adding to the fixed support costs.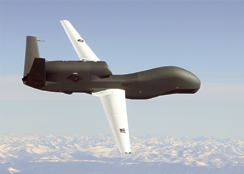 As the fixed support costs remain constant, and flying hours increase, Global Hawk's cost per flight hour will continue to decrease. The operationally proven Global Hawk program has exceeded 109,000 flight hours; and the cost per flight hour has declined significantly as the system has matured.
The Air Force reports that the total cost per flight hour was $23,800 in fiscal year 2013, a decrease of almost 30 percent since 2012.
The Global Hawk performs vital intelligence, surveillance and reconnaissance.
The Global Hawk Block 40 is equipped with a multiplatform radar technology insertion program (MP-RTIP) active electronically scanned array (AESA) radar with air-to-surface capability that provides wide-area surveillance of stationary and moving targets.
The Global Hawk's MP-RTIP sensor allows military commanders to gather near real-time imagery and detections of moving targets.
The system completed an early operational capability demonstration in April 2013 for the Air Force to verify its ability to support anti-terrorism operations, battlefield surveillance, and support of command and control operations.