MILSATCOM Reset After Typhoon
Marines with 7th Communication Battalion reestabished communications August 8th for Exercise Ulchi Freedom Guardian, immediately after Typhoon Muifa's passing. UFG is a defense-oriented, routine exercise that enhances the ability of the ROK-U.S. alliance to defend the ROK, deter against external aggression, and maintain stability on the Korean peninsula.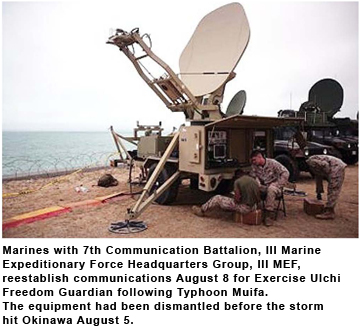 More than 530,000 troops from the Republic of Korea, the U.S. and seven nations from the United Nations Command are participating both in the Republic of Korea and at U.S. military headquarters in the Pacific and the U.S.
The exercise is designed to improve the alliance's ability to defend the Republic of Korea by exercising senior leaders' decision-making abilities and by training commanders and staffs from both nations in planning, command and control operations, intelligence, logistics and personnel procedures.
"It is challenging and realistic training focused on preparing, preventing and prevailing against the full range of current and future external threats to the Republic of Korea and the region," said Gen. James D. Thurman, commander of Combined Forces Command. "We are applying lessons learned out of Iraq and Afghanistan, as well as those garnered by the alliance's recent experiences with North Korea provocations on the peninsula and past exercises," Thurman said.
On Okinawa, Marines were preparing for the exercise but had to retrograde to their respective camps before Typhoon Muifa hit the island August 5.
When the "all clear" was issued August 6th, Marines with 7th Comm. Bn., III Marine Expeditionary Force Headquarters Group, III MEF, began reestablishing communications at Kin Blue, while other Marines with III MEF Headquarters Group prepared for the exercise on Camps Courtney and Schwab on August 7. The Marines worked through the night to set up tents, barriers and communications equipment.

"This is 7th Communication Battalion's biggest exercise of the year. It's important that we set up in a timely manner to not waste time," said Cpl. Chelsea Sanchez, satellite operator and maintainer with 7th Comm. Bn.
"The storm caused a (temporary) delay to the communication mission in support of UFG," said 1st Lt. Dustin Dvorak, platoon commander, with 7th Comm. Bn., "but these Marines are committed to this exercise and strengthening our relationship with our South Korean allies."
Story by Lance Cpl. Tyler Vernaza, III Marine Expeditionary Force Public Affairs

* * * * * * * * * *
Good Stuff To Bad Places
Theater Deployable Communications Team at the Electronic Systems Center here is continuing to ensure warfighters have the key communications infrastructure they need while deployed.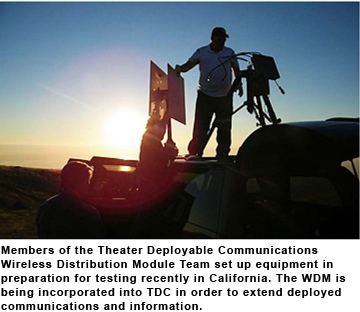 "We are looking for capability modernization and to update the equipment modules that make up TDC as they get to end-of-life," said
Marc Bastien
, the TDC program manager. "The TDC is the backbone for communications, such as computers, phones and imagery in a deployed location."
After successful completion of a Production Readiness Review, the TDC program management office recently gave approval to contractor Northrop Grumman Corp. to begin producing a Wireless Distribution Module (
WDM
). WDM extends deployed communications and information to remote users over greater distances, with more bandwidth, while reducing the airlift and operational footprint.
"We were able to take two diverse requirements and be able to meet those needs with this one product," said
Joe Morrissey
, the MITRE technical lead for the project. "And we're making communication for warfighters easier, so they can stay out of harm's way."
As size, weight and power are always concerns, especially in austere environments, combining capabilities can reduce logistic burdens and also reduce cost. The team also ensures training is included in the acquisition. "As a part of the acquisition, we do ensure for a train-the-trainer process," said Bastien. "Bringing a network up from scratch is a skill set that not a lot of people have."
Although the program originated in 1993, and the original requirement document dates back to 1995, the team is continually meeting with the user community to ensure that what is being provided is what the users need and want.
Air Force Space Command
, which is the lead command for the TDC, also is updating the requirement documents so additional capabilities, such as video teleconferencing, can be included.
The thrust for this year has been voice modernization, according to Mr. Bastien. For the future, upcoming plans for the TDC include looking at a wireless capability. "We're looking to establish a wi-fi, if you will," Bastien said. "So when you're out in the desert, your WiFi enabled device will pop up information and you'll be able to receive it that way
."
One area the team is always thinking about is information assurance.
"Security plays a big part in what we do," Morrissey said. "Technology is growing in leaps and bounds, and we need to ensure our IA keeps up."
TDC can be established as soon as a runway is available for the pieces to be brought in. So, in addition to warfighting missions, the TDC can support other activities such as humanitarian relief operations and building coalition partnerships. It recently has been used in Japan to assist after the earthquake and tsunami, and previously has supported humanitarian relief operations during last year's earthquake in Haiti, and also during Hurricane Katrina.
The system was first used in Kosovo, and since then warfighters and others have been impressed with it, Morrissey said.
As a colonel in the Air National Guard, Morrissey has deployed to locations where TDC equipment was used and has received user feedback firsthand. "The guys loved it," he said. "It works and it does what it's supposed to do." In addition to getting praise from users, the program office has been acknowledged for its work as well, recently winning the
2010 ESC Team of the Year award
.
"We're a team with only a small amount of personnel who are accomplishing a large mission," said Jacquelynn Coles, the TDC deputy program manager. "We're proud of the work we're doing."
As the program is in sustainment, it will be transitioning to
Ogden Air Logistics Center
at
Hill Air Force Base
, Utah.
"We provide the equipment that allows deployable comm units to rapidly become the phone company, the Internet service provider and the radio company to warfighters and others in remote, austere locations," Bastien said. "We bring good stuff to bad places."
Story by Patty Welsh
66th Air Base Group Public Affairs

* * * * * * * * * *
Farewell To A Sat Friend
Members of the 3rd Space Operations Squadron, with their counterparts from the 53rd Signal Battalion, waved a farewell to a trusted old friend on August 12th. Lt. Col. Kevin Mortensen, 3rd SOPS commander and Lt. Col. Benjamin Jones, 53rd SB commander, took the honors, shutting down the final components of the satellite simply known as B9, with a couple of mouse clicks.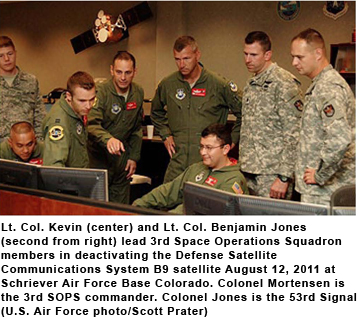 With that, a
Defense Satellite Communications System
vehicle that served both the U.S. Air Force and U.S. Army for 18 years sent its last bit of vital information. "A lot of world events happened under the footprint of this satellite," said Lt. Col.
Greg Karahalis
, 3rd SOPS operations officer. "It's 18 years old and been in service on active duty longer than many of us. It's a Soldier and an Airman and that's how we like to talk about it. The events it has been through bare some recognition in terms of how it has performed and the contribution it's made to extending the life of the DSCS constellation."
Launched from
Cape Canaveral Air Force Station
aboard an
Atlas II
rocket July 19, 1993,
DSCS B9
reached geosynchronous orbit on schedule and entered service following a two-month checkout.
While Air Force operations squadrons have controlled the space vehicle, its communications payload has been managed and operated by Army units. B9 served users as the West Pacific wideband satellite for most of its operational life.
According to Maj.
Mike Reeder,
53 SB executive officer, B9 supported multiple missions, including the
Diplomatic Telecommunications Service
, the
U.S. Navy
's
Surveillance Towed Array Sensor System
, and the
White House Communications Agency
[presidential support]. It also supported U.S. military operations, including
Global Thunder
and
Terminal Fury
and assisted in humanitarian efforts such as the Tsunami relief of 2004.
Spacecraft control authority for the entire DSCS constellation was transferred from the
5th Space Operations Squadron
to
3 SOPS
during 1996. Launched with a design life of 10 years, B9 easily blew through that envelope, serving for 13 years on orbit before telemetry data indicated that it was running low on fuel. Rather than give up and dispose of a fully functional satellite, the DSCS team refined and improved its fuel estimation capabilities and managed to squeeze an additional two and half years of life out of the spacecraft.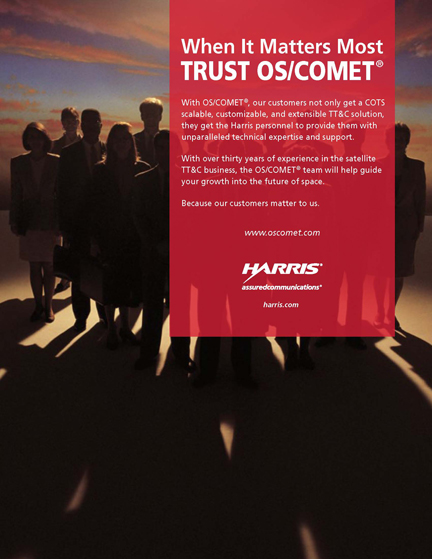 The DSCS team earned the
2006 Air Force Chief of Staff Team Excellence
award for that specific effort on B9, but the old bird showed that it wasn't done just yet. During April 2008, B9 was placed in super synchronous orbit as a test asset.
"The best simulator on the ground is nowhere near as good as an actual satellite on orbit for realistic testing," Karahalis said. "The DCSC team has used B9 as a test asset for more than three years and we've made every effort to take full advantage of the unique opportunity."

As the spacecraft crept up in age, B9 was used in more than 15 end-of-life tests, which provided valuable information applicable to the entire DSCS constellation. The spacecraft aided 3rd SOPS during anomaly investigations by allowing engineers to recreate abnormal conditions and helped extend the life of the constellation by enabling engineers to validate contingency procedures and mitigation strategies prior to implementation on operational vehicles.
"It has also provided a platform for running experimental procedures," Karahalis said. "This helps us push the operational envelope of the constellation and maximize spacecraft utility."
Capt.
Kyle Volpe
, 3rd SOPS' DSCS III engineering section chief, explained that B9's deactivation process was spread out over a two day period as crews first purged the vehicle of any remaining fuel and then began shutting off the payload and subsystem components on the subsequent day.
Even then, B9 refused to go quietly. Following a command to shutdown its reaction wheels, the satellite responded by deactivating only two of the four on board. It succumbed after the command was sent a second time, however, and few minutes later 3 SOPS and 53 SB members said their final farewells.
"DSCS B9's amazing mission accomplishment can be traced to the tremendous community that has supported it over the past 18 years," Mortensen said. "From Air Force and Army operators flying the satellite and payload, respectively, to our joint, acquisition, and industry partners working in close collaborations to ensure we provide National Command Authorities, Combatant Commanders, joint and allied forces, and other users around the world with reliable wideband satellite communications."
Story by Scott Prater 50th Space Wing

* * * * * * * * * *
ORS-1 In Place
The Department of Defense's ORS-1 satellite — after a weather delay and an equipment check — was launched by the U.S. Air Force aboard a 70-foot tall Minotaur 1 rocket from NASA's Wallops Flight Facility in Virginia. Integrated by Orbital Sciences Corporation (OSC) , ORS-1 is the Operationally Responsive Space Office's first operational prototype satellite and represents the potential of low-cost, tactically focused satellites designed to provide critical battlespace awareness capabilities to the joint warfighter.
The launch vehicle was the four-stage Minotaur I — two of the stages were refurbished Minuteman II stages and the other two were developed by OSC. The Minotaur is about 70 feet tall and 5 feet wide. This was the fourth Minotaur I rocket launched from Wallops and the Mid-Atlantic Regional Spaceport since December 2006. This launch was an impressive achievement by the
Space and Missile Systems Center
's
Space Development and Test Directorate
, the
Operationally Responsive Space Office
, and their contractor teams. ORS-1 is the Operationally Responsive Space Office's first operational prototype satellite and represents the potential of low-cost, tactically focused satellites designed to provide critical battlespace awareness capabilities to the joint warfighter.
"Words cannot express how proud I am of the entire ORS-1 team," said Col.
Carol Welsch
, then SMC/SD's Acting Director and ORS-1 Mission Director. "The men and women of the Space Development and Test Directorate, the Operationally Responsive Space Office, and our industry partners of Goodrich, ATK, and Orbital have all worked tirelessly to move forward on the concept of a responsive space capability designed to support the warfighter. Their teamwork and dedication is simply inspiring." Rapidly developing and fielding ORS-1 is an important step to demonstrating the possibilities to meet emerging and persistent warfighter needs in operationally relevant timelines. "Our team was able to develop, integrate, test and launch this system in just over 30 months which is a remarkable achievement," said Colonel Welsch.
ORS-1 was initiated as a result of a requirement from the Commander,
U.S. Strategic Command
to the ORS Office to support
U.S. Central Command
.