The Special "K" Makes Its Move
A United Launch Alliance (ULA) Atlas V rocket successfully launched NASA's Tracking and Data Relay Satellite (TDRS-K) payload at 8:48 p.m. EST on January 30th from Space Launch Complex-41. This was the first of 13 ULA launches scheduled for 2013, the 35th Atlas V mission, and the 67th ULA launch.


"ULA and our mission partners are honored to work with the outstanding NASA team and we are proud of the vitally important data relay capabilities that were safely delivered today," said Jim Sponnick, ULA vice president, Mission Operations.
This mission was launched aboard an Atlas V 401 configuration vehicle, which includes a 4-meter diameter payload fairing. The Atlas booster for this mission was powered by the RD AMROSS RD-180 engine and the Centaur upper stage was powered by a single Pratt & Whitney Rocketdyne (PWR) RL10A-4 engine.
NASA established the TDRS project in 1973 to provide around-the-clock and around-the-Earth communications for the network that routes voice calls, telemetry streams and television signals from the International Space Station, as well as science information from the Hubble Space Telescope and other orbiting spacecraft.
"With this team's innovative and ever-present focus on delivering mission success and best value through Perfect Product Delivery, final work at the Cape to prepare the Atlas V rocket that launched today was completed in record time—27 days from when the vehicle was first erected to launch," said Sponnick. "The ability for ULA to reduce its processing time both during manufacturing and at the launch sites, offers our customers added manifest flexibility as well as additional launch opportunities to ensure their payloads are delivered reliably and on-time."
ULA's next launch is the Atlas V LDCM mission for NASA scheduled for February 11, 2013 from Space Launch Complex-3 at Vandenberg Air Force Base, California.
ULA program management, engineering, test, and mission support functions are headquartered in Denver, Colorado. Manufacturing, assembly and integration operations are located at Decatur, Alabama, and Harlingen, Texas. Launch operations are located at Cape Canaveral AFS, Florida, and Vandenberg AFB, California.

"TDRS-K bolsters our network of satellites that provides essential communications to support space exploration," said Badri Younes, deputy associate administrator for Space Communications and Navigation at NASA Headquarters in Washington. "It will improve the overall health and longevity of our system."
"With this launch, NASA has begun the replenishment of our aging space network," said Jeffrey Gramling, TDRS project manager. "This addition to our current fleet of seven will provide even greater capabilities to a network that has become key to enabling many of NASA's scientific discoveries."
After a three-month test phase, NASA will accept the spacecraft for additional evaluation before putting the satellite into service.
The TDRS-K spacecraft includes several modifications from older satellites in the TDRS system, including redesigned telecommunications payload electronics and a high-performance solar panel designed for more spacecraft power to meet growing S-band requirements. Another significant design change, the return to ground-based processing of data, will allow the system to service more customers with evolving communication requirements.
The next TDRS spacecraft, TDRS-L, is scheduled for launch in 2014. TDRS-M's manufacturing process will be completed in 2015.
NASA's Space Communications and Navigation Program, part of the Human Exploration and Operations Mission Directorate at the agency's Headquarters in Washington, is responsible for the space network. The TDRS Project Office at NASA's Goddard Space Flight Center in Greenbelt, Maryland, manages the TDRS development program. Launch services were provided by United Launch Alliance. NASA's Launch Services Program at the Kennedy Space Center was responsible for acquisition of launch services.
* * * * * * * * *

Pulling Together
Inmarsat showcased an extensive portfolio of voice and data solutions at the inaugural Asia Pacific Aid and International Development Forum (AIDF) 2013, together with Inmarsat partner Singapore Telecommunications (SingTel) and applications development partner AnsuR Technologies (AnsuR).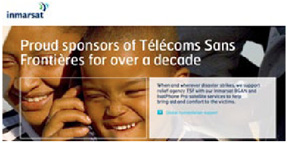 The world leading forum for the humanitarian aid, relief and development sector, AIDF was held for the first time in the Asia-Pacific region from January 30th to 31st, at the IMPACT Convention Centre in Bangkok, Thailand.
At AIDF, Inmarsat is unveiling a new humanitarian aid package for the IsatPhone Link—Inmarsat's fixed satellite phone service.
Focusing on NGOs operating in a fixed location for an extended period of time, the IsatPhone Link package is a highly cost effective option. It includes a total of 3,000 minutes per month, shared between three terminals, to deliver one predictable, low monthly charge.
This new offer from Inmarsat builds upon the package announced in 2012 for the IsatPhone Pro. Meanwhile, the BGAN Link broadband service offers NGOs working on longer-term field projects options of high-volume data packages for a fixed monthly fee.
IsatPhone Pro, IsatPhone Link and BGAN Link operate over Inmarsat's I-4 network, offering around 99.9 percent satellite and ground network availability, giving assurance for voice and data connectivity anywhere in the world.
* * * * * * * * *
Going Aboard The Newest Yamal
Newtec has been selected by Gazprom Space Systems (GSS), in a competitive tendering process, to provide the equipment for a new VSAT Platform to be run via the launched Yamal-402 satellite.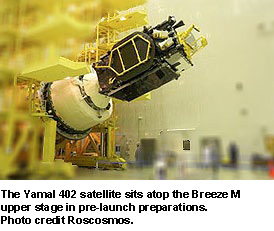 Contracts have been signed, making Newtec the preferred partner of choice to provide the complete VSAT system including hub, modems and antennas for the project.
Ensuring Internet access in the remote areas of Russia at an affordable price is essential. Until this year, only expensive, professional, VSAT installations in limited hot spots in the Moscow and Saint Petersburg regions were available.
GSS plans to offer satellite broadband access services to local ISPs that will, in turn, supply services to consumers and enterprise customers within the Yamal-402 footprint, which covers the whole of Russian territory.
In 2012, Newtec started shipping its new high-speed Ka-band VSAT broadband technology. This new technology has already been selected by several customers, including Europe's most successful satellite broadband service.
While the GSS network will use Ku-band (via the Yamal-402), the terminals can be easily adapted to function with higher throughput Ka-band frequencies by a simple change of the interactive LNB and with no hardware adaptation to the modem and the antenna.
The Yamal-402 satellite, located at 55 degrees East, was launched by GSS in December 2012 and is equipped with 46 Ku-band transponders, with four fixed and one steerable beam.
* * * * * * * * *

MUOS Moves
The U.S. Army ordered kits from General Dyanmics last December to upgrade 100 Handheld, Manpack, Small Form Fit (HMS) AN/PRC-155 two-channel Manpack radios to enable them to communicate with the military's Mobile User Objective System (MUOS) satellite communications system.

This MUOS channel upgrade, comprising a field-replaceable power amplifier and supporting software, will allow secure voice and data communication with the MUOS system. The order is valued at $5 million; the kits will be delivered in the fall of 2013.
"By upgrading fielded PRC-155 radios, the Army will greatly enhance soldier effectiveness by providing a tenfold increase in SATCOM capacity for secure, over-the-horizon military communications," said Chris Marzilli, president of General Dynamics C4 Systems. "MUOS access on the two-channel PRC-155 will also allow current Army networks to be bridged and extended far beyond their current reach."
The two-channel PRC-155 Manpack radio also runs the essential waveforms from the defense department library. They include the Soldier Radio Waveform (SRW) that connects dismounted soldiers to the network, the Wideband Networking Waveform (WNW) that seamlessly transports large amounts of data and the legacy SINCGARS waveform for communication with existing radios.
Using the PRC-155's two-channel capability, soldiers operating on any one of these waveforms on one channel, can interconnect with soldiers using another waveform on the second channel. With the MUOS capability in the PRC-155, a network of soldiers can be interconnected with others in a far distant location.

The MUOS waveform, based on the communications interface found in commercial cellular networks, will deliver high-speed voice and data communications and 10-times greater capacity than the military's current Ultra High Frequency (UHF) satellite communications system.
With a smartphone-like flow of information, the upgraded PRC-155 radios will allow soldiers to access the MUOS communications system wherever they are deployed, on foot or from land vehicles, ships, submarines and aircraft.More information:
www.gdradios.com/ANPRC- 155.cfm
* * * * * * * * *

Home + Happiness In Afghanistan
Forward Operating Base Mescal in Afghanistan has no Morale, Welfare and Recreation facility. It has no Post Exchange, no laundry drop off and no post office.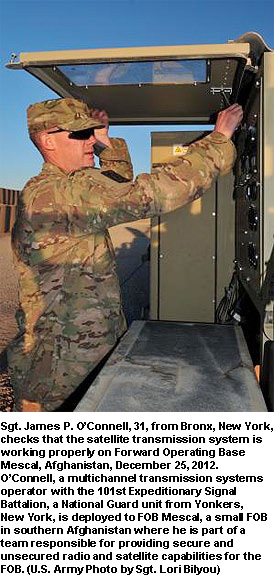 Soldiers stationed here receive mail about once a month and the chow hall offers two choices at every meal: Take it or leave it.
Despite the spartan accommodations however, six National Guard soldiers with the 101st Expeditionary Signal Battalion from Yonkers, New York, call FOB Mescal home and they are perfectly happy to do so.
"I looked FOB Mescal up before we got here and it didn't look very pleasant. There was a lot of talk about the food and the bad winters, but it's not that bad," said Sgt. Sergio A. Rodriguez, a light wheel mechanic from the Bronx, New York. "I guess you could say it's become home."
All of the soldiers from the unit come from densely populated urban areas in New York: Mount Vernon, the Bronx, Brooklyn, Staten Island—places where crowds are the norm and convenience is often taken for granted. Now they live on a FOB that has fewer inhabitants than an average New York City elementary school, and on which money is essentially useless because there's no place to spend it.
"As far as my team is concerned, I feel like being away from the comforts of Kandahar Airfield has been beneficial to them," said Staff Sgt. Marcus A. Jones, a non-commissioned officer in charge of the signal team.
The Yonkers' team was definitely not impressed when they arrived and surveyed the facilities they inherited from the outgoing signal unit.
"This place was really bad when we got here, especially the living conditions," said Sgt. Rodriguez. "The tent was just a big hollow shell. It was very messy with clumps of stuff here and there—very, very disorganized."
But when the outgoing unit showed the New York team around, they offhandedly mentioned a pile of wood they hadn't used and were leaving behind.
"We saw the wood as gold," said Rodriguez. "Our eyes lit up and instantly there were a million ideas of what to build. Now everybody claims we have the best living conditions in the southern region because of the way that our tent is set up."
Inside the tent, the team built individual rooms for each soldier. They separated the living area from the work area and created a common room where they can gather for meals or a movie. They built shelves to store and organize supplies and a workstation to set up their computers and signal equipment.

"I think in the short time that we've been here we've accomplished great things with what we had." said Rodriguez. "And that has made everything much easier."
In addition to learning construction skills, the signal team is of course, doing their job by providing both secure and unsecured radio and satellite capabilities for the entire FOB as well as boosting the networks of other nearby FOBs.
Their small number has also enabled each soldier to cross train, which in turn ensures that things run smoothly. The network specialists have learned some transmission skills and the transmission specialists have learned some networking. They've all learned to lay cable.
"Even Rodriguez, who's a mechanic, comes in and tries to trouble shoot some issues or helps out with installing printers or Google Earth or whatever the request is," Jones said.
Without the distractions that larger bases have, Jones insisted that he and the other members of his team have been able to utilize their time better than others who might waste it on video gaming or hanging out on the boardwalk like some do on KAF.
"People on larger bases could do more constructive things, self development things like looking into schools, applying for jobs or researching what they'd like to do when they get home," Jones said. "I think everyone on our team has found their own way or what direction they'd like to travel since they've been out here."
"This is probably the most peaceful state of mind I've been in, in a very long time," said Spc. John Martin, an information and technology specialist with the team. "Being here has made me realize all the stuff I used to take for granted back home. Whether it's something as simple as hot water or vegetables, being here has made me grateful for all the stuff I have back home and conscious of the fact that people in this country are not as fortunate as we are." This might explain why this six-man team, despite their separation from all things urban, is quite content to remain on FOB Mescal for the duration of their deployment.
As Rodriguez explains it, "It's complicated, but to me I feel like I can learn more out here than I can at KAF. I'm actually hoping that they'll fly us home from Mescal. I don't even want to go back to KAF, not even for transition. If it was my option, that's how it would be. I really like it out here."
Story by Sgt. Lori Bilyou, 117th Mobile Public Affairs Detachment, U.S. Army
* * * * * * * * *

Combo Congratz + Financially Speaking
DigitalGlobe, Inc. and GeoEye, Inc. have announced the completion of their company combination, creating a global leader in Earth imagery and geospatial analysis. The combined company will trade on the NYSE stock exchange as DigitalGlobe under the symbol DGI. Based on the closing price of DigitalGlobe stock on January 30, 2013, the combined company has a market capitalization of $2.1 billion.
"With a stronger financial profile, more robust suite of services, and among the world's most advanced geospatial production and analysis capabilities, we will be even better positioned to meet customers' needs and create value for shareowners," said Jeffrey R. Tarr, President and Chief Executive Officer of DigitalGlobe. "Together, we are poised to achieve our vision of being the leading source of information about our changing planet."
As a result of the combination, DigitalGlobe is now uniquely positioned to provide a wider array of Earth imagery and geospatial analysis to help customers solve their most complex problems and compete in a high-growth and dynamic global market. Together, the combined company will have:
• An expanded global presence with a larger and more diverse revenue base
• A larger constellation with optimized orbits, coordinated scheduling and improved revisit rates
• Better integrated imagery collection, processing and analytics capabilities
• A strengthened balance sheet and financial profile with more than an expected $1.5 billion in net present value of operating expense and capital synergies, with approximately one-third of those synergy savings related to operating expense and the balance from capital savings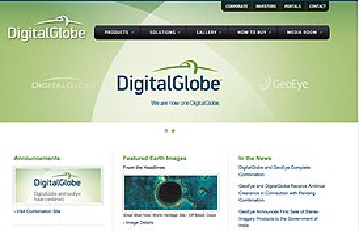 Mr. Tarr continued, "We have a deep bench of talented and experienced team members from both GeoEye and DigitalGlobe, and I am confident that, together, we will continue to raise the bar for innovation and service in our industry. I look forward to working closely with our Board of Directors, our leadership and all of our team members to ensure a seamless transition for our customers worldwide."
In connection with the combination with GeoEye, DigitalGlobe has entered into new senior secured credit facilities in the aggregate amount of $700 million.
The facilities consist of a term loan facility of $550 million and a revolving credit facility of $150 million.
The Company has borrowed the full amount of the term loan facility to fund the combination with GeoEye and to refinance certain existing indebtedness of GeoEye and DigitalGlobe.
The revolving credit facility remains undrawn at closing. Borrowings under the term loan facility will bear interest at an amount equal to the adjusted LIBOR rate plus 2.75 percent, with a step-down to the adjusted LIBOR rate plus 2.50 percent if the Company's leverage ratio is equal to or less than 2.50:1.00.
The credit agreement contains affirmative and negative covenants that the Company believes are usual and customary for a senior secured credit agreement.
The credit agreement also requires the Company to maintain a maximum leverage ratio and a minimum interest coverage ratio.
Also in connection with the combination, GeoEye discharged and called for redemption all of GeoEye's 75 outstanding 9.625 percent Senior Secured Notes due 2015 and 8.625 percent Senior Secured Notes due 2016. DigitalGlobe expects to announce fourth quarter 2012 and full year 2012 earnings on February 26, 2013, and intends to provide full-year 2013 financial guidance at that time.