Innoflight selected by Northrop Grumman as strategic space avionics supplier
Innoflight has been selected by Northrop Grumman Corporation as a strategic avionics supplier for the Space Development Agency (SDA) Tranche 1 Transport Layer (T1TL) program.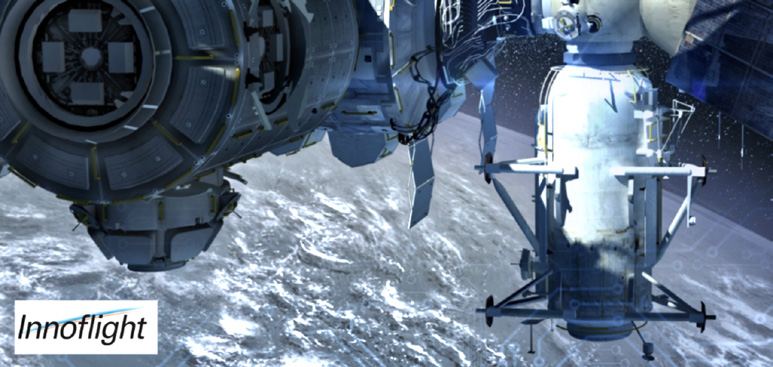 Last year, SDA announced the award of three prototype agreements worth approximately $1.8 billion to establish the foundation for T1TL, a mesh network of 126 optically interconnected Space Vehicles (SV) that will provide a resilient, low-latency, high-volume data transport communication system, and be ready for launch by September 2024.
Northrop Grumman was one of the awardees and is responsible for providing 42 SVs to be deployed in two, LEO, orbital planes. The T1TL objective is to form the initial warfighting capability tranche of the Proliferated Warfighter Space Architecture (PWSA).
For T1TL, Innoflight will leverage its range of flight proven products to advance its technologies to higher levels.
Specifically, Innoflight will be delivering to Northrop Grumman S-band software-defined radios (SDRs) for Telemetry, Tracking, and Control (TT&C) data links, Type-1 "bulk" and "mesh network" End Cryptographic Units (ECUs), network Internet Protocol (IP) routers with Multi-Protocol Label Switching (MPLS), network Ethernet switches, flight processors with on-orbit data storage — including Battle Management Command, Control and Communications (BMC3), and precision navigation timing. Innoflight products to be delivered for SDA T1TL
"Innoflight is proud that Northrop Grumman selected Innoflight for the T1TL program. We have been working diligently with Northrop Grumman for some time and we believe our joint expertise will be beneficial to successfully deliver cutting-edge technology at volume to support our warfighters," said Jeff Janicik, Innoflight CEO and President. "Our strong collaboration has already yielded significant progress towards completing the design of advanced SV sub-systems in scope."
---
U.S. Air Force + Northrop Grumman conduct Sentinel static fire test
The U.S. Air Force (USAF) and Northrop Grumman conducted a static fire test on March 2, 2023, for the LGM-35A Sentinel weapon system at Northrop Grumman's facility in Promontory, Utah.
This open-air test is the first in a series of static fire tests that will validate the design and performance of Sentinel's three-stage propulsion system during its development.
The Stage-1 solid rocket motor (SRM) tested is the largest of Sentinel's three stages and the first SRM to fire upon missile launch.
"This test is just one part of our comprehensive ground and flight test program designed to help us shake down the design as we approach its critical design review. By testing early, we reduce risk to the overall weapon system schedule," said Maj. Gen. John Newberry, Air Force Nuclear Weapons Center commander and Air Force program executive officer for strategic systems.
The test results are currently being analyzed by a team of experts from AFNWC and Northrop Grumman.
"This test shows that the Sentinel program is now in the phase of its development where physical hardware is being tested in real-world conditions," Newberry said. "It is further evidence that AFNWC will successfully deliver this capability to the warfighter."
"This static fire highlights the advances we've made in digital engineering and gives us confidence in our ability to translate that into hardware build and test as we continue to make progress on the path to flight testing," said Sarah Willoughby, vice president, Sentinel, Northrop Grumman.
"The results allow us to validate and anchor our stage-one motor performance before entering qualification testing and completing system analyses, key to lowering risk as we mature the Sentinel design and advance towards critical design review. Our investments in digital design, test and advanced manufacturing help to ensure we develop this next-generation missile more affordably and with innovation at its core, delivering to the Air Force a safe, secure, reliable and flexible capability."
Northrop Grumman also leveraged advanced testing equipment that allowed for increased data collection to better understand motor characteristics.
The USAF plans to replace the fielded Minuteman III intercontinental ballistic missile with the next-generation Sentinel system that is currently in development by Northrop Grumman. The Sentinel acquisition program represents the modernization of the land-based leg of the U.S. nuclear triad.
---
L3Harris Viper Shield EW system awarded long-lead material contract
L3Harris Technologies (NYSE:LHX) has received an undefinitized contract from Lockheed Martin to procure long-lead material for the Viper Shield electronic warfare (EW) system to accelerate global product delivery.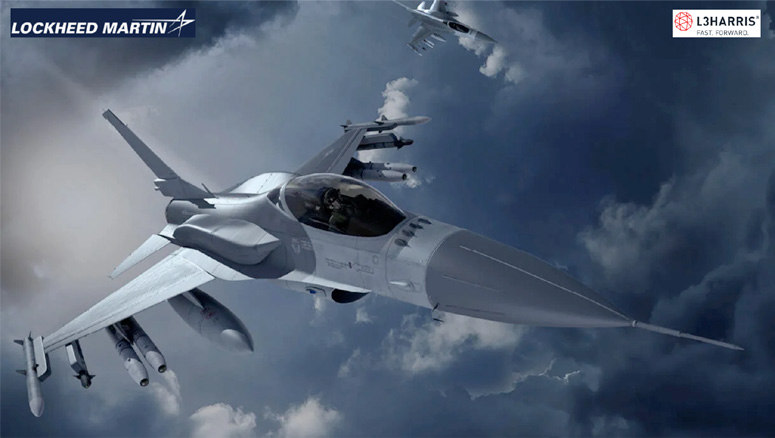 In late 2022, Viper Shield successfully completed the critical design review milestone with Lockheed Martin and the U.S. Air Force. Viper Shield also demonstrated interoperability with the new APG-83 Active Electronically Scanned Array radar during testing at the Lockheed Martin Systems Integration Lab.
The AN/ALQ-254(V)1 Viper Shield supports the Lockheed Martin F-16 Block 70/72 aircraft production for the global F-16 fleet and was designed as the baseline EW system for the aircraft.
This contract, in conjunction with a future full-rate contract award for Viper Shield ship sets, will enable planned production EW capability deliveries for customers worldwide.
The Viper Shield program remains on schedule and is slated for installation on the next-generation F-16 aircraft for multiple international air defense forces.
Viper Shield will return again to the Lockheed Martin Systems Integration Lab later this year with newly integrated hardware and software to test the next planned increment of capabilities with the F-16 Block 70/72 aircraft.
"Viper Shield protects next-generation F-16 fighters from previously unimaginable threats by providing a radio frequency shield, a warning receiver and jamming system, around the aircraft," said Ed Zoiss, President, Space and Airborne Systems, L3Harris. "This contract puts us one step closer to equipping our global customers with the most advanced EW system to safely complete missions in increasingly complex battlespace scenarios."
---
SSC delivers the first hosted payload to Japan in historic USSF partnership
Space Systems Command's (SSC) Space Domain Awareness & Combat Power (SDACP) Directorate has delivered the first of two payloads to Japan, placing the United States and Japan one step closer to the launch of two, U.S.-hosted payloads on Japan's GEO-based Quasi-Zenith Satellite System (QZSS).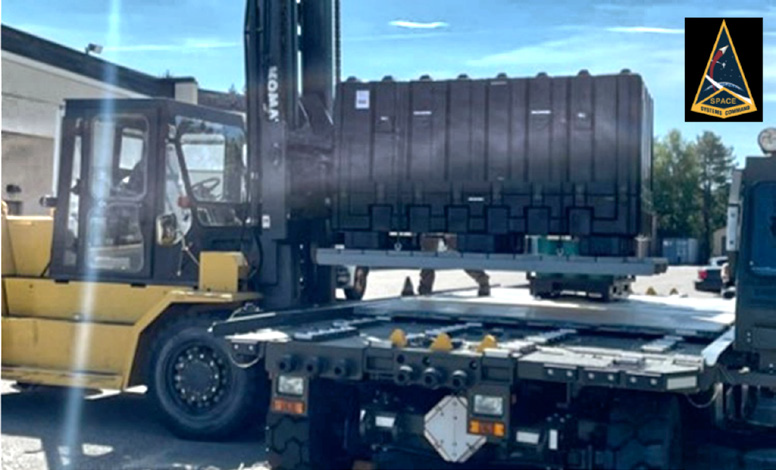 Quasi-Zenith Satellite System components are
securely loaded on a transport vehicle inside the
66th Logistics Readiness Squadron facility at
Hanscom Air Force Base, Mass., Jan. 5, 2023.
(U.S. Air Force photo by Todd Maki)
The payload deliveries follow the historic Memorandum of Understanding (MoU) signed two years ago between Japan's National Space Policy Secretariat (NSPS) and the U.S. Space Force.
The QZSS-HP program demonstrates a shared commitment to increase space partnerships in alignment with both allies' national space policies, central to the U.S. Space Force's priority of expanding cooperation to contribute to integrated deterrence and international security.
The QZSS-HP mission has been supported by SSC since its inception in 2018 as a rapid acquisition and pacesetting partnership effort with Japan.
As the payloads arrive in Japan, the program will then begin the next stage of integration to the two QZSS host satellites and to prepare for launch. The two launches will expand the QZSS constellation to a total of seven.
On the U.S. side, Massachusetts Institute of Technology Lincoln Laboratories (MIT/LL) is the prime payload developer for QZSS-HP. MIT/LL and SSC have led the development from a concept in 2018 to ready to deliver hardware in 2023. In the next phase,
MIT/LL and USSF personnel will mobilize to Japan to support the integration and test efforts with their Japanese partners until completion of the launch of both QZSS host satellites.
QZSS-HP's mission as a pacesetting partnership with Japan is not complete, but the development, test, and delivery of the first hosted payload demonstrates exactly the kind of partnership spirit needed for the Space Force to set the stage for future success.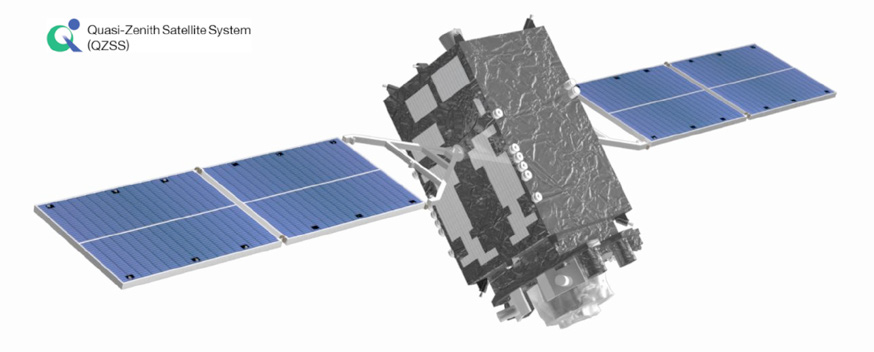 Artistic rendition of Japan's Quasi-Zenith Satellite System
"This delivery of the first spaceflight-ready payload represents an important milestone for QZSS-HP. While a lot of work remains, I'm happy to report that we're on track to meet our commitments," said Lt. Col. Brian Fredrickson, program manager and representative of SDACP's Space Domain Awareness Delta. "QZSS-HP has benefited tremendously from being categorized as a prototype, as it has enabled the program to be responsive and move with speed."
"We've worked hard to move from concept and requirements development through the design phase, and into assembly, integration, and test of the two hosted payloads very quickly. We're excited for our next steps and to work with our Japanese partners," said Capt. Alex Woodard, deputy program manager.
"This is an exciting and important mission," said 1st Lt. Joe Santiago, QZSS-HP's logistics & security lead, adding that the delivery would not be possible without Space Force's partnership with Air Mobility Command to secure safe transit from Hanscom Air Force Base's 66th Air Base Wing in Massachusetts to Yokota Air Base's 374th Airlift Wing in Japan. "QZSS-HP's success depends on the contributions of a number of mission partners on the US side, including our partners at Yokota and Hanscom."
2nd Lt. Danielle Katz, the program's ground lead, added, "QZSS-HP is also making great strides in proving out the end-to-end connectivity with Japan to support on-orbit testing and operations."
Space Systems Command is the U.S. Space Force's field command responsible for acquiring and delivering resilient war fighting capabilities to protect our nation's strategic advantage in and from space.
SSC manages an $11 billion space acquisition budget for the Department of Defense and works in partnership with joint forces, industry, government agencies, academic and allied organizations to accelerate innovation and outpace emerging threats. Our actions today are making the world a better space for tomorrow.
---
Magellan Aerospace awarded SDA smallsat contract by Canadian government
Directed by the Department of National Defence's science and technology organization, Defence Research and Development Canada (DRDC), the $15.8 million Redwing contract represents the next generation of spacecraft technology for Space Domain Awareness (SDA) technology demonstration.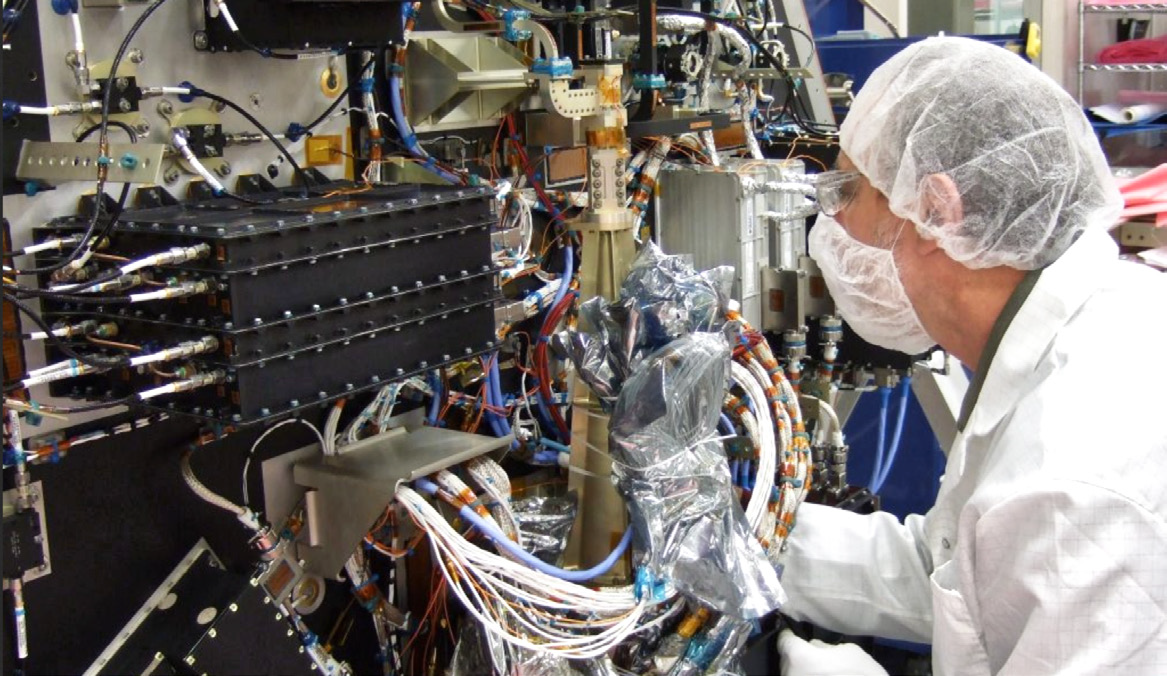 When launched in 2026, Redwing will perform space object tracking to characterize an increasingly congested orbital environment, observe higher detail on space objects, and provide Magellan Aerospace Corporation ("Magellan") has received a contract from the Government of Canada to design, build, launch, and operate the Redwing smallsat.
near real-time tasking to response to evolving space events.
Redwing will provide a risk reduction role by helping to ensure continued Canadian access to critical space capabilities, such as communications, remote sensing as well as weather services.

Redwing will also provide the Canadian Armed Forces with a platform for experimental characterization of space objects, supporting a critical role within Canada's space operations community. Redwing also supports the defence of North America by increasing understanding of what is in orbit above North America and other continental regions.
According to Haydn Martin, Magellan's Vice President, Business Development, Marketing and Commercial, "The Redwing mission will leverage Magellan's solid heritage in building high-quality space systems, while establishing new spacecraft technologies and mission capabilities. We are very proud to be supporting DRDC and the Government of Canada in this exciting endeavor."For more than 60 years, Magellan has been a reliable supplier of space systems to the Canadian and global markets. Redwing will be designed and built by the Magellan's Winnipeg facility, which produced the platforms, or buses, for the highly successful SCISAT-1, CASSIOPE, and RADARSAT Constellation Mission satellites. Magellan will also oversee the development and operations of the overall Redwing mission, including contributions from both industrial and academic partners.
---
Boeing + Shield AI to collaborate on AI + autonomy for defense programs
Boeing [NYSE: BA] and Shield AI have signed a Memorandum of Understanding (MoU) to explore strategic collaboration in the are as of autonomous capabilities and artificial intelligence (AI) on current and future defense programs. The agreement will be managed by Boeing Phantom Works.

Shield AI created Hivemind, an AI pilot that has flown a variety of aircraft. According to the company, the AI pilot can also enable swarms of drones and aircraft to operate autonomously without GPS, communications or a human pilot in the cockpit.
Shield AI's synthetic environments combined with human-machine tactics and behaviors.

Testing and learning in real physics simulations reduces engineering cycle times and enables rapid real-world deployment.
"Boeing continues to leverage talent from across the enterprise to make great strides in autonomous capabilities and programs in recent years," said Steve Nordlund, vice president and general manager for Boeing's Air Dominance organization. "Collaborating with Shield AI, the leader in AI pilots, will accelerate our ability to deliver these capabilities to the warfighter."
---