With the reality of land mobile military demand decreasing due mainly to budget concerns as well as the effects of the Afghanistan drawdown, some recent deals may signal that civil government uptake could present tangible opportunities, thus softening the blow from milsatcom decline in most markets in the short/medium term.
The string of notable deals includes:
• A March 11, 2014, deal between Inmarsat and Hughes Network Systems to manufacture a new Low Profile BGAN terminal, which will equip police forces and other government departments around the world with a discreet communications terminal.

• A March 10, 2014, announcement that the Indonesian National Board for Disaster Management (BNPB) has chosen AnsuR and Inmarsat to pre-deploy an emergency communications infrastructure, which will support the country's disaster response in the event of a natural catastrophe. The pre-emptive deployment will include two Unmanned Aerial Vehicles (UAV) with advanced cameras on-board and additional BGAN satellite communications equipment on the ground.

• A January 21, 2014, announcement by Thuraya that it has been selected by Badan SAR Nasional which is the National Search and Rescue Agency for the Republic of Indonesia to improve its search and rescue efforts in the country by installing a combination of Thuraya IP terminals.

• A February 20, 2014, announcement by Thuraya of a multi-year deal with Smart Communications of the Philippines to provide mobile satellite handsets and airtime services branded as SmartSAT to provide connectivity to first responders, relief workers and government agencies during disaster recovery operations.
NSR has forecast in its recently released Land Mobile & Handheld Satellite Markets study that the Military/Government sector will lose market share in revenue terms over a 10-year period. However, the revenue share loss is nominal in terms of a market snapshot when 2012 and 2022 are compared.
In NSR's view, Military/Government will continue to be steady over time, driven by a variety of requirements on a number of fronts such as Police, First Responders, Disaster Preparedness, border patrols, drug interdiction, and many others that are under the domain of civil government missions. In the SCADA/M2M market segment, for instance, Civil Government demand in terms of installed units and revenue streams are expected to increase by double-digit CAGR levels within a 10-year timeframe.
Military demand will, of course, continue to dominate the revenue picture, but it is also the most vulnerable in terms of taking a market hit. As such, deals and initiatives on the civil government front will be important buffers to decreasing military spending, which is dominated widely by the U.S. Department of Defense. The deals previously outlined are worth noting, given that all are coming from agencies outside the U.S.Department of Defense (DoD) and come, as well, from the Asia Pacific region where the U.S. military pivot is slated to take place.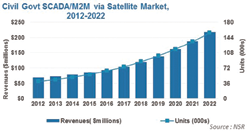 Moreover, and more importantly, even if the market share figures for the Mil/Gov sector compared to commercial markets are expected to decrease, the annual revenue changes or growth forecasts specific to Mil/Gov are still expected to be positive. What this means is that the overall pie or the market base is increasing as a whole; however, commercial markets are growing slightly faster such that the overall market take or commercial market share edges the Mil/Gov sector by a few percentage points over a 10-year period.
The Mil/Gov sector has, is and will continue to be dominated by military spending, specifically by U.S. DoD procurement. However, requirements on the Civil Government front that are becoming as urgent as military peacekeeping missions that include disaster preparedness, emergency communications and a host of other disaster mitigation steps and strategies, will lead to increased spending over time.
Military procuremen—specifically for COTP—will continue to drive growth, but civil government spending similar to the recently announced deals can, and will, certainly help keep the market afloat until military budgets and macroeconomic factors start to become more favorable over time.
In NSR's view, it is tempting for players to give up or perhaps re-focus on other market verticals given the serious challenges in the Military front, which is understandable given the revenue picture over the past few years and prospects over the next two to three years. However, the re-focus should not altogether take away market players from fully tapping available opportunities in the Civil Government verticals that could eventually springboard to high market opportunities once Military budgets begin to stabilize and perhaps even increase.
It is encouraging to see that market players are not simply going through the motions of serving civil requirements by meeting the bare minimum in their market offers. On the contrary, re-packaging high-value military products, developing new offerings with R&D components, partnership schemes and value-added services are being developed to promote compelling platforms and services. The Military market is indeed currently a tenuous proposition, but it is prudent to target and engage in "market push" in the Civil Government vertical not just to buffer the military hit but to create new and substantial opportunities over the long term.
Information for this article was extracted from NSR's report: Land Mobile & Handheld Satellite Markets. (http://www.nsr.com/)

About the author
Mr. Del Rosario is a senior member of the consulting team where he focuses his research on quantitative modeling, data verification, and market forecasting for the commercial and government satellite communications sectors. He conducts ongoing research with specialization in policy analysis, economic indicators, regulatory initiatives and end user demand trends. In addition to authoring numerous syndicated reports in his areas of focus, Mr. Del Rosario has been involved in a wide range of strategic consulting projects. He has advised clients on market trends, implications, and strategies on such diverse topics as high throughput satellites (HTS), hosted payloads, wireless backhaul, SCADA/M2M/LDR and multi-mission satellite programs.