The Army Operating Concept dictates that "future forces conduct operations consistent with the tenet of adaptability, anticipating dangers and opportunities and adjusting operations to seize, retain, and exploit the initiative."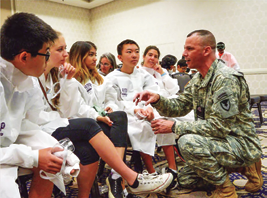 The Army is arguably the nation's foremost leadership training institution, and one of the roles of the research, development and acquisition communities is to develop leaders who can innovate and adapt on the science and technology fronts so that we can deliver the capabilities Army leaders need on the battlefield.
The U.S. Army Research, Development and Engineering Command (RDECOM), on behalf of the Army, is committed to growing the next generation of scientists and engineers to deliver the decisive overmatch the nation needs to win in a complex world. As a community, we must develop a national strategy to ensure America's future security through a robust continuum of science, technology, engineering and mathematics (STEM) education and research.
RDECOM has the mission to deliver this competitive advantage and the programs, investments and partnerships needed to drive the critical educational fundamentals. The command's 13,800 civilians and military constitute one-third of U.S. Army Materiel Command (AMC) manpower. Approximately 10,000 of our personnel are scientists and engineers. With that workforce, RDECOM executes 74 percent of the Army's science and technology budget. We also have more than 1,000 agreements with industry and more than 1,500 with academia. These agreements, in a variety of forms, further the Army's specific goals in research and development (R&D), scientific investigation, innovation and education.
Furthermore, RDECOM already invests more than $100 million annually along a continuum that begins with our K-12 outreach efforts and extends through undergraduate scholarships to sponsored postdoctoral research. On behalf of the assistant secretary of the Army for acquisition, logistics and technology and AMC, RDECOM serves as the executive agent for STEM outreach and the Army Education Outreach Program, which reaches 42,000 students annually.
RDECOM is increasing its investment with historically black colleges and universities (HBCUs) and tribal colleges and universities, as well as institutions serving minorities such as the Hispanic community and Pacific Islanders. RDECOM has ongoing relationships with a number of HBCU institutions, funding an average of $43.5 million a year in R&D contracts, grants and cooperative agreements.
We are now designing a program to bring together and strengthen these programs. Our goals are far-reaching but can be stated simply: Gain visibility on all the programs we offer, manage and publicize these programs, and develop a strategy to connect the dots from program to program so the Army and those in the academic community who engage with us get the most out of our time, effort and money.
The Army's vision of winning in a complex world drives this effort. RDECOM's global presence through forward-element commands and international technology centers in locations such as Japan, Singapore, Argentina, Chile, the United Kingdom and France informs our understanding of the scientific and technological challenges we face. What we and others see is not promising.
Regaining Superiority
Expanding global interest and investment in scientific knowledge have empowered potential adversaries that are threatening our superiority in key areas. According to the National Science Foundation (NSF), America's ratio of R&D to overall gross domestic product in 2011 was 2.8 percent, which ranked 10th in the world. The United States ranked eighth in R&D intensity in the data for 2007.
The NSF states that America's R&D intensity"has been gradually slipping in the world rank for this indicator in recent years." In contrast, China and South Korea exhibited the greatest percentage increases. The pace of growth from 2001 to 2011 in China's overall R&D remains high at 20.7 percent annually, according to NSF data. South Korea's R&D rate of growth averaged 10.9 percent annually over the same period.
In its study of trends in R&D spending, the Organisation for Economic Co-operation and Development (OECD), whose membership includes 34 countries, finds that while America remains the world's largest R&D investor, China's total R&D funding is expected to surpass that of the United States by about 2022 if the current rates of growth and investment continue. According to the OECD, China is projected to hit $600 billion in R&D spending by 2024, while the United States will stand at about $475 billion.
With respect to innovation in military science and technology, America's adversaries have attempted to dissect our R&D efforts during the past 14 years of war with the goal of harming our warfighters. For example, Iraqi insurgents developed improvised explosive devices (IEDs) to destroy America's High-Mobility Multipurpose Wheeled Vehicles. This led to the expedited development and fielding of the Mine-Resistant Ambush-Protected family of vehicles.
At the same time, countries around the world are investing significantly in military programs amid growing tensions and conflicts in Eastern Europe, the Middle East and the Pacific. In 2014, the Chinese government released its official defense spending of $131.57 billion, an increase of 12.2 percent from the previous year. On March 4 of this year, China announced that it would raise its defense budget by approximately 10 percent. The announcement marks China's fifth consecutive year with a double-digit percentage increase in official military spending figures.
The Progression Continues
U.S. Army leaders now face critical decisions about how to address the joint warfighter's anticipated needs for Force 2025 and beyond. In the R&D and acquisition communities, it is understood that the technological capabilities that will power Force 2025 are already about 85 percent designed and engineered. At RDECOM, we are compelled to look further into the deep future. We are committed to developing the next generation of scientists and engineers who will design and build the capabilities we field in 2040 and beyond.
Bringing visibility and coherence into our programs will also enable us to better influence our partners and thereby optimize our investment with the academic community. The Army must foresee vulnerabilities and develop unmatched capabilities as the academic disciplines and technology change.
We must cultivate our relationships with universities to help them produce graduates who can meet that challenge. Ensuring diversity in the Army R&D workforce is inherent in the need to present our adversaries with multiple dilemmas. To that end, we will make proportional distribution among academic institutions a priority as we continue to engage institutions serving minorities.
We will match this effort with the development of leaders who are knowledgeable about crucial capabilities, because Army leaders are the competitive advantage that technology, advanced weaponry and other platforms cannot replace.
Combining this with the technical expertise we are fostering through academic engagement, plus the products that an innovative workforce creates, will present our adversaries with multiple dilemmas. Successful leader development programs incorporate accountability, engagement and commitment; create agile and competent leaders; produce stronger organizations and teams; and increase expertise by reducing gaps. Adapting Army training and leader development programs to efficiently support changing requirements will enhance scientific and technological innovation.
This is particularly important in light of the aging workforce now in place. The largest portion of the RDECOM workforce falls within the range of 49 to 63 years old. Seventeen percent of the RDECOM workforce is eligible to retire. By 2025, 45 percent of the current workforce will be eligible for retirement. At three of our seven centers and laboratories—the Aviation and Missile Research, Development and Engineering Center, Army Research Laboratory and Edgewood Chemical Biological Center—less than 20 percent of the workforce is younger than 34.
The Army must be prepared for new threats that demand a workforce well versed in rapidly emerging fields such as synthetic biology and cybersecurity, as well as the leadership qualities and experience necessary to eventually run the organizations they join. Young college graduates are a prime source for this agility and these necessary skill sets. Without a strategy to recruit, develop and retain bright professionals, the Army places Soldiers' technological advantage on the battlefield in jeopardy.
By providing a platform of awareness surrounding existing education programs and opportunities, we are bridging the gap for our next generation of scientists and engineers. (See the Army Educational Outreach Program website at www.usaeop.com/, for example.) We will continue to encourage our nation's youth to take advantage of opportunities in continuing education, but we will also light the path for future opportunities. Likewise, we will continue to develop the leaders that the Army community needs. It is deeds, not words, that will enable RDECOM's goals to take root.
As leaders, we are responsible for the current security of our nation, but we must be equally responsible for ensuring that there is a STEM pipeline to support future U.S. military technology requirements. Our community must drive the conversation on how we build relationships and develop a cohesive national strategy. Doing this ensures our ability to win decisively in the complex world of the future, as we have shown we can today.
Editor's Note
This feature and the included imagery are offered to our readers with the permission of Army AL&T Magazine, their October-December 2015 issue, and by the author, Major General John F. Wharton.
MG JOHN F. WHARTON has been the commanding general (CG) of RDECOM, Aberdeen Proving Ground, Maryland, since September 2014. He leads more than 14,000 researchers, engineers and support personnel assigned to RDECOM, a major subordinate command of AMC. Previously he served as CG of the US Army Sustainment Command and Rock Island Arsenal, IL, and as the senior commander for US Army Garrison – Rock Island. He has also commanded at the company, battalion and theater-support-command levels and held Army and joint staff˜ positions in logistics.
He holds an M.A. in national security and strategic studies from the Naval War College and a B.S. from the United States Military Academy at West Point, and studied at the US Army Command and General Staff College. He also completed the Quartermaster Officer Basic and Advanced courses and the Inspector General's Course.
---