Polar Region SATCOM Experiment With TacSat-4
The U.S. Coast Guard Cutter HEALY (WAGB 20) successfully experimented with NRL's TacSat-4 communications satellite, January 24th, by communicating from the Bering Sea off the western coast of Alaska to Coast Guard Island, Alameda, California.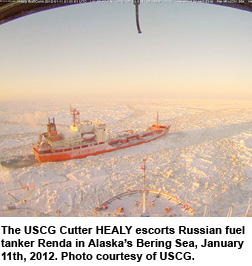 Returning from an escort and icebreaking mission to Nome, Alaska, assisting the Russian tanker Renda delivery of emergency fuel to the town, USCGC HEALY—the Coast Guard's only polar icebreaker—was approximately 260 nautical miles south of the Arctic Circle at the time of the test.
Deployed into a unique, highly elliptical orbit with an apogee of 12,050 kilometers, TacSat-4 helps augment current geosynchronous satellite communication by including the high latitudes. The experiment was the first in a series of planned steps that aim to demonstrate TacSat-4's utility in the polar and arctic regions.
Also participating in communications with HEALY was the Army Space and Missile Defense Battle Lab (SMDBL) located in Colorado Springs, Colorado. The SMDBL team was conducting portions of the ongoing TacSat-4 Joint Military Utility Assessment (JMUA).
Managed by the U.S. Naval Research Laboratory, Naval Center for Space Technology, TacSat-4 is an experimental spacecraft that will test advances in several technologies and SATCOM techniques. It will augment the existing fleet with an additional space asset to provide communications to otherwise underserved users and areas that either do not have high enough priority or do not have satellite visibility. The Office of Naval Research (ONR) is funding the first year of TacSat-4 operations.
The Operationally Responsive Space (ORS) Office is leading and funding the JMUA of TacSat-4.
* * * * * * * * *
Flight Tests From Carrier Are Unmanned
Northrop Grumman Corporation and the U.S. Navy have successfully completed a series of flight tests to demonstrate technology that could help extend the operating range and flight duration of future carrier-based unmanned systems.
The flight tests, completed January 21st in St. Augustine, Florida, proved the functionality of the hardware and software that will enable the X-47B unmanned aircraft to demonstrate autonomous aerial refueling (AAR) in 2014. The AAR activity is part of the Navy's Unmanned Combat Air System Carrier Demonstration (UCAS-D) program. Northrop Grumman is the Navy's UCAS-D prime contractor. "These tests are a critical step toward proving that the X-47B can perform autonomous aerial refueling using either the Navy's probe-and-drogue refueling technique or the U.S. Air Force's boom/receptacle approach," said Carl Johnson, vice president and UCAS-D program manager for Northrop Grumman's Aerospace Systems sector. "Future unmanned systems will need to use both refueling techniques if they plan to conduct longer range surveillance or strike missions from the carrier."
The AAR tests were conducted by a Northrop Grumman/Navy team using Calspan Corporation's (Niagara Falls, N.Y.) Variable Stability Learjet as the X-47B surrogate aircraft, and a K707 tanker provided by Omega Air Refueling (Alexandria, Va.). The tests included simulated flight demonstrations of both boom/receptacle and probe-and-drogue aerial refueling techniques. No fuel was exchanged between the aircraft during the test events.
The Learjet surrogate was equipped with real or functional equivalents of the navigation systems, flight control processor and vision system that the X-47B will use to conduct refueling operations. The aircraft contained no refueling receptacle or refueling probe. The K707, which is nearly identical in size and shape to an Air Force KC-135, was equipped with a Navy style refueling drogue only.
For each simulated refueling event, the Learjet/X-47B surrogate was piloted to a rendezvous position approximately one nautical mile from the tanker. Then the pilot transferred control of the aircraft to the X-47B's autonomous flight control processor, which controlled the Learjet during the test event.
During a typical refueling event, the tanker operator or a mission operator on the ground commanded the Learjet to fly, in sequence, to each of the major positions associated with aerial refueling: (1) the pre-tanking observation point off one wing of the tanker; (2) the refueling contact position behind the tanker; and (3) the post-tanking "reform" position off the other wing of the tanker. "These flights demonstrated empirically that an unmanned system can conduct aerial refueling operations with accuracy and precision," said Pablo Gonzalez, program manager for Northrop Grumman's UCAS-D AAR program. "The aircraft never gets tired, and it responds exactly the same way to operator commands every time."
"The X-47B will use a hybrid GPS/vision-based relative navigation system in conjunction with its autonomous flight control system to establish and maintain a precise distance between tanker and the receiver aircraft," he added.
The Northrop Grumman/Navy test team plans to conduct additional AAR surrogate testing using the same aircraft when flight-qualified versions of the relevant X-47B hardware and software become available.
The UCAS-D program plans to demonstrate in 2013 the ability of the tailless, autonomous, low-observable relevant X-47B demonstrator to safely operate from a Navy aircraft carrier, including launch, recovery, bolter and wave-off performance, followed by the autonomous aerial refueling in 2014. The program also plans to mature technologies required for potential future Navy unmanned air system programs.
For further information please visit:
http://www.as.northropgrumman.com/products/nucasx47b/
* * * * * * * * *
Connecting With Kodiak
Lockheed Martin has selected Alaska's Kodiak Launch Complex (KLC) as its dedicated West Coast launch facility for Athena rocket launches.
The company's decision will enable Alaska Aerospace Corporation to move ahead with plans to expand its space launch capabilities. Lockheed Martin has been working with the state of Alaska and Alaska Aerospace Corporation on expansion plans for the new medium-lift launch pad to support potential Athena III launches.
"Our nation needs affordable lift to meet current and projected demands at a time of declining budgets and economic pressures," said John Karas, vice president and general manager, Human Space Flight, Lockheed Martin Space Systems Company. "The leadership demonstrated by Governor Sean Parnell by investing in space launch infrastructure is a model for our nation and provides tremendous incentive to partner with the state and expand the aerospace industry in Alaska."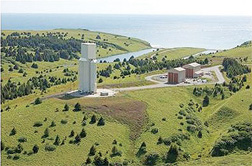 Last year, Lockheed Martin announced its intent to offer Athena II services with a ride-share launch from Kodiak in late 2013. The company is positioned to expand the Athena II program as it continues to evaluate the business case for Athena III launches from Alaska. The Athena III would be capable of launching satellites weighing 4,600 kg (10,150 lbs) from the West Coast and 5,900 kg (13, 000 lbs) from the East Coast. Working with the Alaska Aerospace Corporation, Lockheed Martin will finalize its plans for Athena III over the next few months.
The new medium-lift capability from Kodiak will enable the company to engage Alaska businesses as future suppliers benefiting the state and the Athena launch program, as well as the opportunity to engage future generations of engineers and scientists through Science, Technology, Engineering and Math (STEM) outreach.
* * * * * * * * *
Army's Future Network For A Stronger Force

While the Army's newest generation of its tactical communications network backbone undergoes its operational test this spring, an upgraded version of its earlier counterpart will also participate in the test to ensure seamless connectivity and interoperability.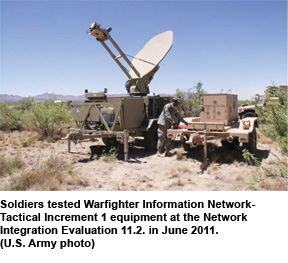 The combination of Warfighter Information Network-Tactical, known as WIN-T, Increment 2, which represents the next generation of on-the-move tactical communications, and Increment 1b, which will refresh the at-the-halt network that is currently used in theater, will be put to the test in realistic operational scenarios to gauge how it transmits and delivers essential information across the force. Because the Army will deliver these upgraded capabilities to deployed units on a staggered schedule, there will be "hybrid" network architectures on the battlefield that must be fully integrated. "Every increment of the tactical network has its place in the force," said Col. Edward Swanson, project manager for WIN-T. "The key to success is to ensure the current and future increments can interoperate and deliver the critical data on the battlefield, whether it's the location of friendly forces, or a call for fire."
The WIN-T Increment 2 Initial Operational Test and Evaluation, or IOT&E, will be held in conjunction with the Network Integration Evaluation, or NIE, 12.2 at White Sands Missile Range, New Mexico, in May. As part of the test, the 1st Sustainment Brigade in Fort Riley, Kansas, will utilize Increment 1b for connectivity into the Increment 2 network to demonstrate and test the interoperability between the two versions. In preparation for the event, four weeks of WIN-T Increment 1b New Equipment Training, known as NET, began in early February for the 1st Sustainment Brigade.
Two weeks of NET Tactical Hub Node training is also scheduled for early March for the 101st Airborne Division, at Fort Campbell, Kentucky, which will serve as the division headquarters element for
the IOT&E.
WIN-T Increment 2 is a major enhancement to the tactical communications backbone and a critical piece of Capability Set 13—the first integrated group of network technologies out of the NIE process that will be fielded to up to eight brigade combat teams starting in fiscal year 2013. The semi-annual NIEs leverage a full brigade combat team to assess new network capabilities in a realistic operational environment WIN-T Increments 1 and 2 have already successfully completed a number of other interoperability tests, both at the Joint Interoperability Test Command at Fort Huachuca, Arizona, and at the Central Technical Support Facility at Fort Hood, Texas, which conducts ongoing Army Interoperability Certifications, said Lt. Col. Robert Collins, product manager for WIN-T Increments 2 and 3.
Increments 1 and 2 were also integrated during the NIE 12.1 in October-November 2011, which gave the Army a unique opportunity to evaluate WIN-T Increment 2 in an operational environment and obtain initial Soldier feedback six months before its formal IOT&E.
"It was a useful exercise and probably one of the unique times that we will equip a single brigade with both WIN-T Increment 1 and Increment 2," Collins said. "They were able to interoperate relatively well in this construct."
Helping to ensure the interoperability of the different increments and network components of WIN-T is the Communications Systems Design Center, at Aberdeen Proving Ground, Maryland, which contains both WIN-T Increment 1 and Increment 2 technology to test operational requirements and interoperability within the network. Currently, it is conducting integration and pre-testing for WIN-T Increment 1 and Increment 2 interoperability for the upcoming IOT&E.
Similar to a home Internet connection, WIN-T Increment 1 establishes a network backbone that provides the full range of data, voice and video communications at battalion level and above, with Soldiers having only to pull over to the side of the road to communicate. WIN-T Increment 2 introduces additional capabilities including an initial on-the-move communications network that reaches down to the company echelon for the first time.
To date, WIN-T Increment 1 equipment has been fielded to roughly 200 units, or 96 percent of the units identified to receive Increment 1 equipment. But it is heading toward a big milestone in mid-spring when the Increment 1 fieldings will be 100 percent complete, providing for the first time a WIN-T Increment 1-equipped force across the entire Army.
In roughly the same timeframe, the WIN-T Increment 1a upgrades will also be completed, establishing a common baseline across the force. Army units originally fielded with the earliest version of the Army's network, the Joint Network Node that began fielding in 2004, are being upgraded to this common baseline. Increment 1a provides newer technology for increased capability, a longer equipment life cycle and more efficient technology refreshments.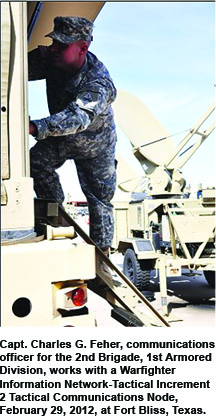 Increment 1a units can communicate directly with one another with minimum lag and optimum results. However, if needed they can also operate with Increment 2 units. An Increment 1a unit can "talk" to an Increment 2 unit, but instead of using a direct link, it needs to take two "hops" instead of just one direct transmission. The signal is first sent from the Increment 1a location to a hub node, either to a Regional Hub Node or to a division headquarters Tactical Hub Node, and the node then sends it to the Increment 2 location.
The upcoming WIN-T Increment 1b upgrade provides increased interoperability with Increment 2 by taking advantage of the Network Centric Waveform, or NCW, through use of an NCW modem for satellite transmissions. The NCW is a more capable waveform and allows for increased efficiency of the existing bandwidth on satellites. WIN-T Increment 1b will add the Increment 2 NCW modem to all of its Satellite Transportable Terminals, acting as a bridge between Increment 1 and Increment 2.
Both of the two current modems will be retained in Increment 1b systems, but the addition of the NCW modem provides direct transmission between Increment 1 and Increment 2 nodes, said Shannon Jones, Operations and Special Projects chief for PdM WIN-T Increment 1.
To further increase interoperability, WIN-T Increment 1b will incorporate a "colorless core" security enclave, which will also be utilized by Increment 2. The colorless core increases capability by encrypting all data, both classified and unclassified, as it is transported over satellites and line-of-sight links, enabling Soldiers to send information across the battlefield more securely and efficiently than ever before. WIN-T Increment 1b and Increment 2 also share the same baseline set of Network Operations tools, although Increment 2 NetOps have additional capabilities. NetOps facilitate the planning, initialization, monitoring, management and response of the network.
Beginning in late summer, the Army will start to upgrade all WIN-T Increment 1a units to Increment 1b, with a projected completion date expected in fiscal year 2016. Due to the amount of time it will take to field Increment 1b across the force, over the next several years there will be some hybrid network architectures on the battlefield, Jones said.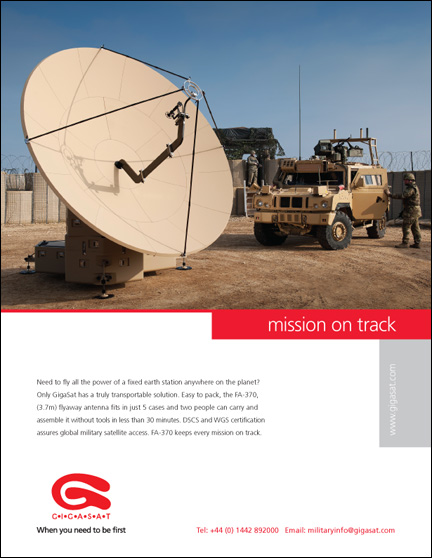 "Potentially you could have Increments 1a, 1b and 2 all fighting in the same battlespace," Jones said. "We need to ensure that everything is interoperable and that all networks are healed at the hub node at a minimum.
"Going forward, Increment 1b will be fielded to all of the units that will not be receiving Increment 2. Proportionally one third of the Army's systems will be fielded with Increment 2, while the remaining two-thirds will remain with Increment 1b. WIN-T Increment 2 will be fielded to division headquarters and brigade combat teams, known as BCTs, at the brigade and below level where the on-the-move capability is critical. All other units that are not BCTs will retain Increment 1b equipment, which operates at-the-halt," Jones said.
"A lot of the interoperability comes down to how you configure things," Jones said. "We have the right hardware in place. It's just a matter of making sure we configure things correctly to account for all of the differences out there, and not just with WIN-T capabilities, but with all other communications systems that participate in the tactical network."
Story by Amy Walker, PEO C3T
* * * * * * * * *
A Rescue Story
Fourteen months after human error stranded the U.S. military Advanced Extremely High Frequency communications satellite (AEHF-1) in the wrong orbit—and at risk of exploding—the satellite was finally placed in its correct orbit in October of 2011.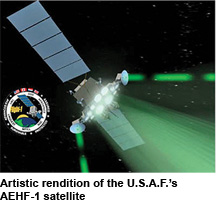 A successful test completed on February 29th prepared the AEHF-1 for operations, just two months before the second AEHF satellite is scheduled to launch. "This rescue effort was definitely a very sophisticated and highly technical masterpiece," said Col. Michael Lakos, chief of the Military Satellite Communications Division at Peterson Air Force Base, Colorado. It all started a couple days after AEHF-1's August 2010 launch aboard an Atlas V rocket. The satellite successfully reached it's parking orbit. But the main engines that are needed to circularize the satellite's orbit refused to work—they kept shutting off. The shut off is a safety feature instituted when a satellite detects a fault in the engines. The question was: what was the fault?
Experts determined that the fuel line had to have been blocked. But attempts to engage the engines had resulted in filling the lines with fuel, thereby putting the satellite at risk of explosion and making it hazardous to attempt another engine fire.
Luckily, AEHF-1 has two additional propulsion systems, albeit much less powerful, designed for use in stationkeeping adjustments, not major changes in trajectory. However, by applying small propulsive adjustments hundreds of times over 14 months, ground crews were able to slowly coax the satellite into its proper orbit.
The major challenge was keeping it intact in the interim. The satellite had to dodge space debris three or four times and deploy its solar shields much earlier than intended—putting them at risk of degradation from radiation exposure in the van Allen belts The fault for the blocked fuel line was eventually attributed to a piece of cloth that had been placed over the line during manufacturing to protect it from contamination, but was never removed. "If I had to find the top 10 strange ones, that one would make my list," said defense analyst Marco Caceres, who tracks rocket and satellite failures as part of his work for the Teal group, an aerospace and defense analysis firm. The Air Force has now implemented additional checks for the remaining five satellites to be launched as part of the AEHF constellation and docked manufacturer Lockheed Martin $15 million for the mistake.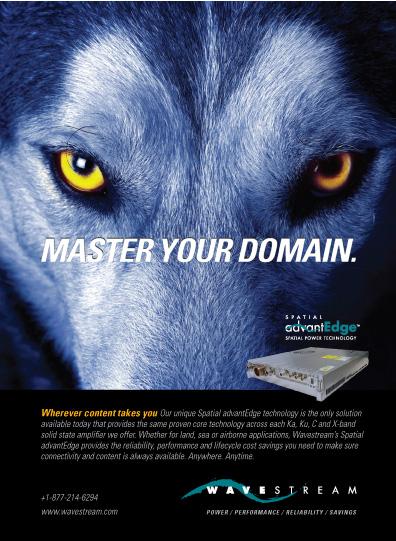 Story by Merryl Azrie, Space Safety Magazine
* * * * * * * * *
Security For SatNets
RT Logic, the subsidiary of Kratos Defense & Security Solutions (KTOS), has released the CyberC4™ family of cyber security products, which are designed especially for the satellite domain.
The four products address the increased vulnerabilities as satellite networks integrate with and become more IP interoperable.
The suite includes, CyberC4:Alert, the first Security Information Event Manager (SIEM) designed specifically for satellite network operations. CyberC4:Alert constantly monitors for cyber security threats by gathering event data from across the network, providing network administrators and information security officers with real-time, network-wide situational awareness for cyber security, incident response, and mission assurance.
This all-in-one DIACAP (Department of Defense Information Assurance Certification and Accreditation Process) compliant application is designed for military, government, and commercial SATCOM environments. Currently more than 80 percent of military satellite communications engage commercial satellite infrastructure, making DIACAP compliance a critical necessity.
CyberC4's additional three products include:
CyberC4:Capture, a real-time monitoring and recording system with built-in alerting that deters and protects against insider threats. It captures and records instrumented user sessions (PC video-out and keystrokes), which are time-tagged and keyword searchable for incident response, forensics investigations, and playback training.


CyberC4:Armor hardens RT Logic satcom modems, recorders, and other equipment to protect sensitive systems, particularly those deployed overseas. Using military grade, tactically proven system hardening technology, Armor protects from the most sophisticated reverse engineering, tampering, and cyber attacks, including zero-day exploits, execution of unauthorized code, and high-risk insider threats.

CyberC4:Guard is a cost effective, low-risk, high-assurance Cross Domain Solution (CDS) that provides cross domain isolation at the PL3 and PL4 levels for control centers that use the Air Force Satellite Control Network (AFSCN) and/or dedicated remote tracking stations. Past approaches of segmented operations, firewalls, optical isolation, and data diodes are no longer viable; therefore, trusted guards are now required. CyberC4:Guard employs a single proven AFSCN Core Rule Set to exchange formatted message traffic between security domains for either application.
RT Logic's CyberC4 solutions can retrofit existing critical national missions with no modifications to hardware, APIs, or Mission Software. Please see the feature article entitled Cybersecurity Risk Management Strategies For SATCOM Networks later in this issue...
* * * * * * * * *
SBIRS Satellite "Better Than Best" Report
The satellite is currently undergoing rigorous certification processes, and is meeting or exceeding performance requirements.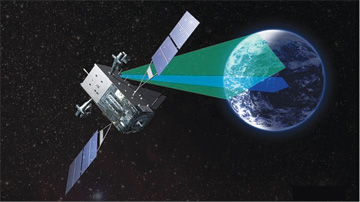 The first Space Based Infrared Systems geosynchronous Earth orbit satellite, currently undergoing a rigorous operational certification process, is meeting or exceeding performance requirements, and on track to be delivered into operations. Within two months after launch, SBIRS began sharing initial GEO-1 satellite data with technical intelligence mission partners in order to enable early assessments of sensor performance.
On-orbit performance of the first GEO-1 satellite has proven superb. At the payload level, the GEO sensors are detecting targets 25 percent dimmer than requirements with an intensity measurement that is 60 percent more accurate than specifications. The payload pointing is nine times more precise than required, which is a key confidence measure for achieving a system level line-of-sight accuracy well within specification.
The SBIRS GEO-1 satellite includes sophisticated scanning and staring sensors that deliver improved infrared sensitivity and target area scan rates over the current constellation. The scanning sensor provides wide area surveillance of missile launches and infrared phenomena across the earth, while the staring sensor can be used to observe smaller areas of interest with superior sensitivity and revisit time.
While the satellite and its respective ground systems continue final system tuning through May of this year, interim mission performance results indicate that the system already demonstrates the ability to meet more than 90 percent of Air Force Space Command's performance requirements for operational use. The remaining performance refinements are on track to be completed prior to the formal testing campaign slated to begin in June.
"We've been extremely pleased with the performance of this first-of-its-kind spacecraft," said Col. James Planeaux, director of the Infrared Space Systems Directorate.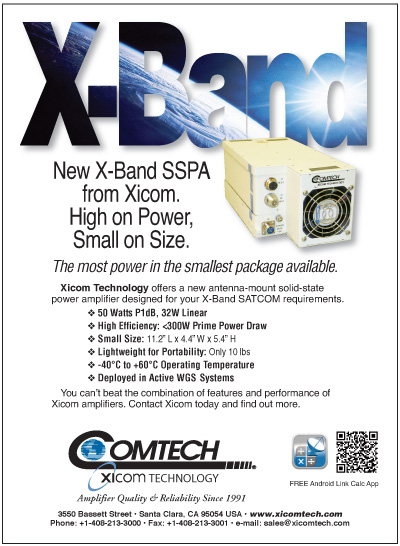 "We fully expect GEO-1 to enter services as an invaluable military asset that will help protect our nation and its allies for many years to come."
Live GEO-1 data will be included in the nation's missile warning and theater event networks during a trial period and operation utility evaluation this fall. This first GEO satellite is expected to be certified for operations by U.S. Strategic Command by the end of 2012.
As one of the nation's highest priority space programs, SBIRS delivers global, persistent, taskable infrared surveillance capabilities to meet 21st-century demands for early warning of missile launches and simultaneous support to other critical missions including missile defense, technical intelligence, and battlespace awareness.
The SBIRS architecture features a mix of GEO satellites, payloads in highly elliptical Earth orbit, and associated ground hardware and software that provides a timely, accurate and clear infrared view of any region of interest around the globe during peacetime and all levels of conflict.
The GEO satellites replace and improve upon the legacy Defense Support Program satellites, offering enhanced sensor flexibility and sensitivity to provide global, taskable, 24/7 infrared surveillance capabilities to support the warfighter.
The SBIRS development team is led by the Infrared Space Systems Directorate at the U.S. Air Force Space and Missile Systems Center, Los Angeles Air Force Base, California. Lockheed Martin Space Systems Company, Sunnyvale, California, is the SBIRS prime contractor, with Northrop Grumman Electronic Systems, Azusa, California, as the payload integrator. The 14th Air Force operates the SBIRS system.
* * * * * * * * *
DoD's Rules Of Engagement For Cyberspace
Whether by land, sea or air, Defense Department leaders have long crafted rules of engagement to determine how, where and when forces can attack the enemy.

They expect soon to complete the same for their newest domain: cyberspace, the assistant secretary of defense for global strategic affairs said today.
"We are working closely with the Joint Staff on the implementation of a transitional command-and-control model for cyberspace operations" while reviewing existing rules of engagement, Madelyn R. Creedon told the House Armed Services Committee's subcommittee on emerging threats and capabilities.
Teresa M. Takai, DOD's chief information officer, and Army Gen. Keith Alexander, commander of U.S. Cyber Command, joined Creedon at the hearing.
"This interim framework," Creedon told the panel, "will standardize existing organizational structures and command relationships across the department for the application of the full spectrum of cyberspace capabilities."
Describing DOD's strategies for operating in cyberspace, Creedon said the department maintains more than 15,000 network enclaves and 7 million computing devices in installations around the globe.
"DOD continues to develop effective strategies for ensuring the United States is prepared for all cyber contingencies along the entire spectrum," she added, "from peace to crisis to war."
In times of fiscal constraint, Creedon said, DOD also is taking advantage of efficiencies provided by information technology advances.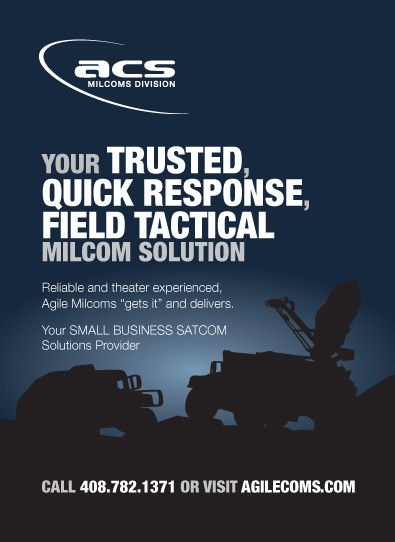 "The department has been working around the clock, often in close cooperation with the Department of Homeland Security and other agencies," she said, to protect the nation from cyber threats that include the theft of intellectual property, as well as damage to the defense industrial base, the economy and national security.
The department hit a "significant milestone" last July with the release of its first strategy for operating in cyberspace, Creedon said. The document builds on President Barack Obama's International Strategy for Cyberspace and the DOD Quadrennial Defense Review, and guides the department's military, business and intelligence activities in cyberspace in support of national interests, she said.
The DOD works closely with colleagues in the departments of Homeland Security, Justice, State, Treasury, Commerce and other agencies, she added, and pursues bilateral and multilateral engagements to enhance security and develop norms of behavior in cyberspace.
Takai told the panel that DOD's $37 billion information technology budget request for fiscal year 2013 includes a range of IT investments, including $3.4 billion for cyber security efforts to protect information, information systems and networks against known cyber vulnerabilities.
It also includes $182 million for Cyber Command for cyber network defense, cryptographic systems, communications security, network resiliency, workforce development, and development of cyber security standards and technologies department-wide.
Among efforts to improve effectiveness and efficiency, Takai explained, "is consolidation of the department's IT infrastructure, networks, computing services, data centers, application and data services, while simultaneously improving the ability to defend that infrastructure against growing cyber threats."
Her office is leading the implementation of the initiatives, the chief information officer added, "but it is important that we work closely with the services, Joint Staff and U.S. Cyber Command to more aggressively modernize our overall information systems."
A pillar of that modernization is a move to a single, joint network architecture, Takai said, allowing DOD and Cyber Command better visibility into network activity and better defense against cyber attacks.
Individually, she said, the services and agencies have taken action to better position the information enterprise and security posture.
The department has made significant progress in several areas, Takai said. One effort involved deploying a modular system called a host-based security system that enhances situational awareness of the network and improves the ability to detect, diagnose and react to cyber intrusions.
"We've also taken the lead in assessing the risk of the global supply chain to our critical information and communications technology," Takai added, and has instituted a successful defense industrial base cyber security and information assurance program.
Alexander said cyber defense requires contributions not only from DOD, but from Homeland Security, the FBI, and the Defense Information Systems Agency—"all key partners in helping us do our cyber mission."
Cyber space is becoming more dangerous, he added.
"The intelligence community's worldwide threat brief to Congress in January raised cyber threats to just behind terrorism and [nuclear] proliferation in its list of the biggest challenges facing the nation."
The task of assuring cyberspace access, the general said, "has drawn the attention of our nation's most senior leaders over the last year and their decisions have helped to clarify what we can and must do about developments that greatly concern us."
Cyber Command is specifically charged with directing the security, operation and defense of DOD's information systems, he added, "but our work and actions are affected by threats well outside DOD networks … threats the nation cannot afford to ignore."
Dangers are not something new in cyberspace. "Nation-state actors in cyberspace are riding a tide of criminality," the general said. "Several nations have turned their resources and power against us and foreign businesses and enterprises, even those that manage critical infrastructure in this country, and others."
For the panel, Alexander described five key areas Cyber Command is working on:
– Building the enterprise and training the force
– Developing a defensible architecture
– Getting authorities needed to operate in cyberspace
– Setting the teamwork properly across U.S. government agencies
– Creating a concept of operations for operating in cyberspace
"I think we're making progress," Alexander said, "but … the risks that face our country are growing faster than our progress and we have to work hard on that."
Story by Cheryl Pellerin, American Forces Press Service
* * * * * * * * *
Unblocking Oceanic Communications
Comtech EF Data's new Block Up Converter (BUC)enables an antenna to move freely, maintaining an optimal position towards the satellite, despite dramatic movements and wicked weather at sea.
The Company announced the successful integration of its LPOD Block Up Converter with C2SAT's 2.4m C Stabilized VSAT Antenna. The integration of the innovative products will provide maritime users with a premier satellite-based broadband communication solution for oceanic vessels in motion.
The LPOD Block Up Converters were engineered with efficient thermal and mechanical packaging based on Comtech EF Data's extensive experience in outdoor RF transceivers. The LPOD eliminates the traditional requirement for the modem to supply a DC power source and a 10 MHz reference to the BUCs and LNBs. The optional internal reference and LNB bias T greatly simplify multi-carrier operation and provides cost-effective redundancy. The LPOD's compact size and weight make it ideally suited for installations with limited mounting space.
"The field-proven performance and reliability of Comtech's offering parallels our commitment to providing robust and reliable systems," commented Ulf Sundqvist, Head of Sales for C2SAT. "We now offer the LPOD as a standard catalog item."
The C2SAT 2.4m C is a 4-axes marine stabilized VSAT antenna compatible with C-Band satellites. The 4-axes antenna allows the RF equipment to move freely, maintaining an optimal position towards the satellite without large and sudden movements even during harsh conditions and heavy seas. The system does not experience dead angles or high elevation problems. The high reliability makes the antennas suitable for main connection points as they can carry large volumes of information without interruption.
"The combination of our BUCs and C2SAT's stabilized VSAT antenna provides a rugged, weatherproof and seaworthy solution," said Daniel Enns, Senior Vice President Strategic Marketing & Business Development for Comtech EF Data.
* * * * * * * * *
A Network For Rapid Disaster Response
Hampshire based company Applied Satellite Technology Systems Limited (AST Systems Ltd) is to join a network of experts who can be called on by the British Government in times of international crisis, such as famine, floods and earthquakes.
The new facility will mobilize lifesaving support from Britain's best businesses and charities in the critical hours after a disaster strikes.
"Supplies, experts and vital aid are too often tied up with paperwork, rather than being deployed straight to the disaster zone," International Development Secretary Andrew Mitchell said.
The new facility allows organizations with experience in disaster response to access funding within hours, thereby reaching affected people faster and saving more lives. It will mean the best organizations from across the U.K. can be mobilized in the critical first 72 hours following a disaster.
AST Systems Ltd is one of an initial 34 non-government organizations (NGOs) which specialize in disaster response which has been invited by the U.K. Government to join the network.
AST Systems Ltd is a leading provider of satellite equipment and airtime from all major networks including Inmarsat, Iridium, Thuraya & Globalstar. AST Systems can provide satellite phone hire alongside supporting purchases of anything from a single satellite handset to a more complex tracking or military solution.
The new Rapid Response Fund will be activated in the event of a large scale crisis. The selected organizations will be approached within two hours and expected to take immediate action.
Andrew Mitchell said, "Clearly we need our best experts, equipment and aid on the scene as quickly as possible after a disaster, not tied up in red tape. AST Systems Ltd need to be able to do their job in that vital window of 72 hours, to save as many lives as possible.
"Only the professionals, with relevant skills and equipment will be approved. By working with a small pool of specialists, we will end the dangerous crush of aid organizations which often pour into a disaster zone.
"These organizations represent the very best performing disaster response agencies. This will allow them to focus on delivery. Make no mistake; however, qualification for the fund will be revoked at the first sign of poor performance."
Pauline Truckle, Managing Director of AST Systems Ltd said, "AST Systems Ltd has supported DFID for the past decade, supplying various communications equipment for projects including the devastating Boxing Day Tsunami in 2004, and the Haiti earthquake in 2010. As a result of working with DFID for a significant period of time, AST Systems Ltd has developed a great understanding of the flexibility required to support such a time-critical organization. With round-the-clock technical support and emergency activations, AST Systems Ltd can deliver the expertise, at times of greatest need."