Advantech Wireless Technologies
By Cristi Damian, Vice President, Business Development

If you asked the question: "What do SATCOM communications, Tropo scattering links and new advanced RADAR design concepts have in common?", Advantech would unequivocally answer: Gallium Nitride (GaN) Solid State Technology.
Advantech was an early believer in GaN technology and after more than ten years of intense engineering development, the company has built this advanced engineering into all three, rather distinct, military classes of equipment.
For Advantech, 2018 witnessed increased military demand and spending for advanced SATCOM, TROPO (Tropospheric Scatter Communications), and RADARs. Almost all military grade SATCOM terminals today use GaN technology.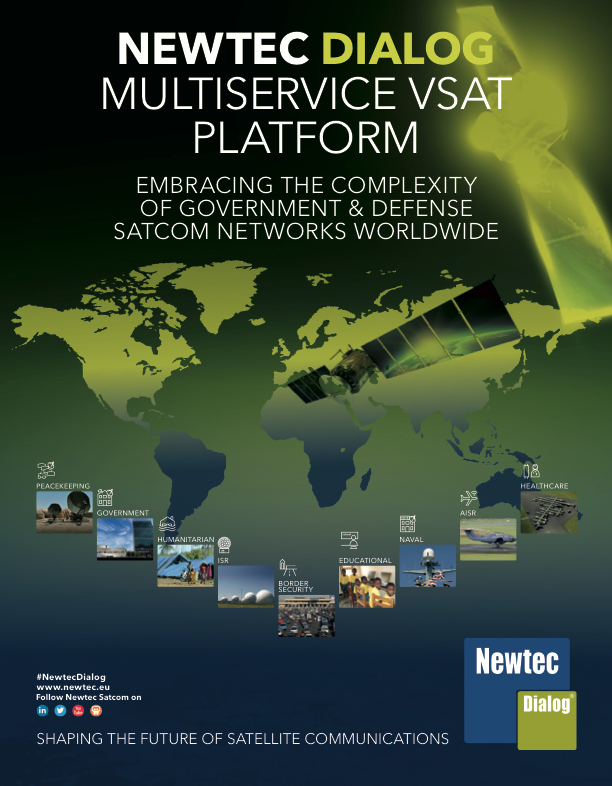 The exceptional improvement in efficiency, linearity and reliability, combined with drastically reduced weight and size, make this technology the preferred choice for mobile applications.
Throughout 2018, Advantech manufactured and delivered thousands of low form factor SSPAs (Solid State Power Amplifiers) designed for portable Mil Grade SATCOM terminals. These are now ARSTRAT or XTAR certified and part of all major NATO MODs (Ministry of Defense).
The Engage class of military grade flyaway antenna terminals, designed and manufactured by Advantech, saw significant sales. Ranging from 60 centimeters to 2.4 meters, these antenna terminals are fully integrated with C-, X-, Ku- or Ka- GaN RF and are able to deliver more than 50 Mbps in harsh environments.
The antenna terminals bring innovative ideas into practice. Each terminal can sustain two separate encrypted communication links, allowing simultaneous communication between the remote terminal and the command center or between two remotes.
With the fragility of today's GPS systems, these antenna terminals offer anti GPS jamming capabilities and are able to cancel several jammers simultaneously.
These terminals have now been adopted by various NATO MODs and the company has won multiyear supply agreements from them. The large SATCOM teleports used by NATO are now also deploying GaN technology.
In 2018, Advantech won several major contracts with power levels in the range of 6kW. Products with GaN Solid State in C-, X-, or Ku-band are regularly installed worldwide. These powerful systems have built-in redundancy, extremely high linearity and are replacing multiple aging klystrons and TWTS.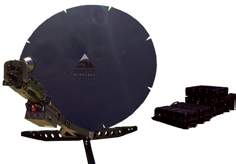 The Advantech Wireless Engage™ Class 1.2m
FlyAway VSAT System
The OPEX cost savings are also remarkable, with the entire initial investment usually being recouped in less than 2 years from electrical savings alone. By using these products, NATO avoids the cost of transporting diesel fuel to keep electrical generators running in combat zones.
2018 has seen a TROPO comeback. With previous technology, TROPO's were limited to low data rates and required large TWTs or Klystrons to close the link.
Today, Advantech's GaN SSPA designs for TROPO links resurrects the old TROPO. Small SSPAs are now available to replace the large TWTAS and are drastically reducing the cost and complexity of the TROPO terminal.
In early 2018, Advantech successfully demonstrated data rates of up to 100 Mbps using these very high linearity GaN SSPAs. While TROPO benefits from "Free Bandwidth," the terminal cost was historically high and the data rates low. With the introduction of Advantech TROPO GaN Technology, such concerns are now eliminated.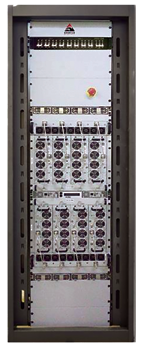 The Advantech Wireless 2.5kW
TROPO C-band Modular GaN
based Solid State Power Amplifier
Advanced RADAR systems for military markets require a vast amount of R&D. Advantech introduced some of the world's first 10kW GaN modular SSPA systems for large defense RADAR in 2016. Now, when you hear the word RADAR, it is generally accompanied by the term GaN.
In 2018, Advantech expanded its GaN SSPA portfolio for RADARs with power ranges from 500W to 20kW in L-, S-, and X-bands. These systems have built-in redundancy and offer increased reliability. Due to the low jitter capabilities and pulse sharpness, these SSPAs are now allowing a longer detection range, while using a fraction of the power.
An older generation 1 MW Magnetron can easily be replaced by an Advantech 10kW GaN SSPA while achieving the same or better performance at a fraction of the cost. Portable RADARs also benefit from small and powerful GaN SSPAs designed by Advantech.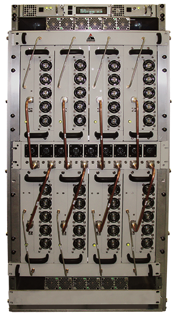 The Adantech Wireless 12kW L-band
Solid State Pulse Amplifier MODEL
APRA-L12000A
Point-to-Point microwave links were popular selling products in 2018. The Advantech T800 line of MW radios gained acceptance by the military community.
The Army requires high data rates for IP data, video links and voice and the T800 delivers. Advantech's T800 MW class of point-to-point radios is a very attractive choice for secure tactical communication networks due to their reliability, ability to multiplex IP traffic with video traffic directly from video encoders, and have integrated IP routing
and redundancy.
In 2018, initial trials using the T800 technology in drones were performed successfully. The ability to carry both video and IP traffic are of critical importance for any drone application and Advantech has been successfully incorporated this into the T800 product line.
For Advantech, Military Grade R&D in 2018 was important. A new generation of GaN based SSPAs, with higher power and higher linearity, will be released during 2019.
Sustained R&D is now taking place in order to release a Ka-band GaN High Power SSPA as well as a monopulse antenna controller for delivery in early 2019. This Monopulse ACU will work in dual mode, offering either the Advantech proprietary INTRAC ACU mode, or Monopulse Mode, depending on the application requirements.


The Advantech Wireless INTRAC
605 Antenna Controller Unit
Monopulse Antenna Tracking
Controller for Antennas up to
35 meters
As the military industry continues to demand better and more reliable products, Advantech is making a strong commitment to support the firm's customers. In order to execute on the increased market demand, as well as deliver large R&D initiatives, Advantech has invested in a brand new, state-of-the-art design and manufacturing facility which will be fully operational by the end of calendar 2018.
The company is working diligently to ensure the continued delivery of quality cutting edge global solutions in 2019 and beyond.
www.advantechwireless.com
Mr. Cristi Damian joined Advantech Wireless in 1995 and has held various positions in operations, manufacturing, sales, engineering and customer support. Prior to working at Advantech, Cristi was employed as a hardware engineer in various high-tech companies. He holds a Master's degree in Electrical Engineering from Concordia University.
---
ATLAS Space Operations
By Mike Carey, Co-Founder

2018 was a sensational year for ATLAS Space Operations Inc. as the company completed their Series-A round of investments as well as captured multiple government contracts while more than doubling in size to meet demand for its services — 2019 is projected to be an even bigger year for the company.
In 2018, ATLAS looked to the company's four founding members industry know-how to pave the way for a successful year in the government sector. Led by Sean McDaniel, the original four members of ATLAS provide the company 100+ years of U.S. military and government experience. As a Bronze Michigan Veteran-Friendly Employer, this experience has proven to be invaluable as the company continues global expansion.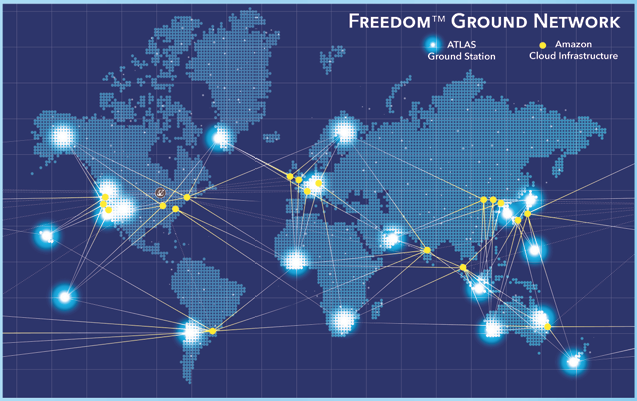 "Our collective experience serving the DoD has armed us with experience and discipline to deliver excellence in our product," said ATLAS co-founder, Mike Carey. "The qualities of military service translate directly to our work ethic and security mindedness, with first order effects on ATLAS' performance. It's a true differentiator in our market."
ATLAS was awarded multiple U.S. government contracts in 2018.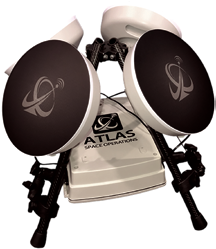 Highlighting this success is an Air Force Research Laboratory (AFRL) Cooperative Research and Development Agreement (CRADA), aligning ATLAS to further strengthen the resiliency of the U.S. Department of Defense (DoD) space and satellite control networks.
ATLAS additionally won the contract to support the United States Air Force Academy's FalconSat-6 and FalconODE (Orbital Debris Experiment) spacecraft, providing uplink and downlink communications services from the ATLAS 3.0 meter S-band ground station located in Sunyani, Ghana, and UHF ground station in Cedar, Michigan.
During the past year, ATLAS grew its Freedom™ Network of ground stations, bringing U.S. antenna locations in California, New Mexico, and Washington online, as well as others overseas in Ghana, Finland and New Zealand.
Most significant of these antennas is the array located in Albuquerque, New Mexico; it is LINKS™, the world's first commercially available, mobile, and rapidly deployable Electronically Steered Array (ESA).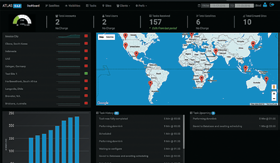 ATLAS Space Operations FREEDOM screenshot.
LINKS is one of the key pieces of game-changing technology that earned ATLAS a spot as one of Morgan Stanley's top space-industry disruptors in 2017. Configured for either S- or X-band, LINKS is a unique antenna that breaks the one-to-one capability of legacy ground stations, because it is capable of simultaneously communicating with multiple spacecraft.
Currently, ATLAS is developing antennas in Tahiti, Guam, Japan, and in Chile, as well as adding its newest ground station in Traverse City, Michigan — home to ATLAS' corporate headquarters.
The fully completed Freedom Ground Network of antenna will consist of no-less-than 30 ground stations, all strategically dispersed across the globe.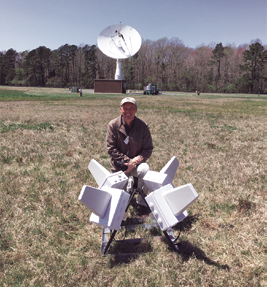 ATLAS S-Band LINKS comparison photo.
These ground stations will provide connectivity for a broad range of missions including launch support, communications with spacecraft in either equatorial or polar orbit, as well as spacecraft in deep space.
The other key-piece of game-changing technology for ATLAS is Freedom™, ATLAS' cloud-based software platform that's aptly named as the software breaks the antiquated norms of legacy software solutions.
Freedom does much more than provide clients full telemetry, tracking, command, and control capabilities — the software's advanced scheduling algorithm does all the work for the user, making the whole process not just easier and faster, but more cost-effectively.
Gone are the days of needing a separate satellite modem for every antenna as Freedom needs only single point VPN access that integrates into the Freedom Network of global ground stations — this is a far more secure architecture.
Moving forward into 2019, ATLAS will continue seeking opportunities to support U.S. Government ventures into smallsat and expeditionary satellite services.
www.atlasground.com
Mike Carey, a former USAF Major General with 34 years of experience in satellite and space-related operations is now shaping ATLAS's future through strategy development, business planning, and market engagement. Experienced with Air Force Satellite Control Network, Eastern/Western test ranges, the Space Test and Training Range, General Carey has the technical and political prowess to maneuver in the ever-expanding space markets.
---
Ball Aerospace
By Brad Tousley, Vice President and General Manager, Commercial Aerospace and Strategic Technology

From military leaders conducting operations across the globe to commuters streaming music on their way to work, the need for data and a reliable connection is ubiquitous.
The demand for data continues to grow — users want more data, received faster than ever before. Take the smartphone, for example. Many smartphone models now record and send massive 4K video files and users expect those transfers to happen in the blink of an eye.
As technologies such as smartphones advance, more data is being generated and transmitted than ever experienced. One could say users are "gigahertz guzzlers."

The problem is that current communications architecture, both satellite communications and ground, will not be able to support the speed, security and capacity needs of tomorrow.
How those demands are met within the constraints of scarce radio frequency (RF) spectrum means bringing transformational communications technologies to market — and fast.
Ball Aerospace is developing two key technologies that are transforming communication architectures: optical communications terminals and inter-satellite links, and phased array antennas for SATCOM, in-flight connectivity and 5G.
Optical Communications
Free-space optical communication systems provide an innovative complement to traditional RF solutions, bringing the Internet speeds of terrestrial fiber optics to space.
Using laser technology, optical communication systems offer a much narrower and more focused beam than traditional RF links, resulting in higher data rates, more capacity, greater security and smaller, lighter and more affordable terminals.
Satellite operators are looking to large LEO constellations and high throughput geosynchronous satellites to meet communications demands. Both systems require a new generation of high-capacity, high-performance data links. Free space optical communication links are a key enabling technology for these constellations.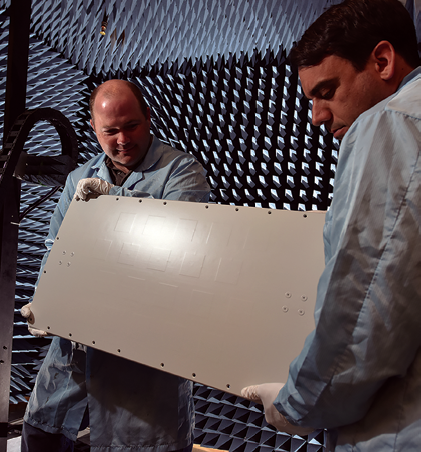 Ball Aerospace's Airlink.
This year, Ball Aerospace announced a collaboration with Honeywell to develop a line of affordable, high-performance optical communication terminals for the commercial market.
Boasting a combined 60 years of experience in optical communications, Ball and Honeywell will work together to establish volume production of optical terminals for high-speed communications from ground to space, spacecraft to spacecraft and spacecraft to aircraft.
Together, Ball and Honeywell will optimize volume production, enhancing technical designs for low-cost repeatability and leveraging a proven, robust supply chain.
The team's proven capabilities in developing and manufacturing precision space-based optical systems will ensure that cost, volume and technical requirements of tomorrow's LEO and GEO communications satellites are met.
For customers who need data at the speed of light, optical communications technologies deliver.
Ball's partnership with Honeywell is enabling this innovative technology area to expand into the commercial marketplace.
Phased Array Antennas
Another encouraging technology trend over the past year has been the development and recognition of the potential of commercial phased array antennas.
Phased arrays deliver the critical 'last mile' connection, the gap between the data source and the end user. Wireless last mile solutions enable global network infrastructures and a whole new class of mobility applications.
Ball Aerospace has five decades of experience developing phased array antennas for the U.S. military, enabling mission-critical communications.
Now, Ball is leveraging that expertise to transition phased array technology to commercial communications markets, including SATCOM and in-flight connectivity.
The benefits of phased arrays are numerous and exhibit why this technology area, though not new, has exciting commercial applications.
Ball phased arrays are electronically steerable, with no moving parts, meaning customers enjoy higher reliability and lower maintenance costs.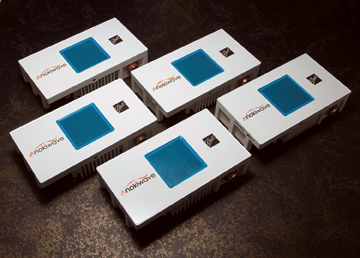 Ball and Anokiwave 5G PSA project.
The fast, agile and accurate steering of electronically steered phased arrays enables quick and seamless tracking between satellites — key for today's in-flight connectivity (IFC) and tomorrow's large LEO constellations.
The low profile of phased arrays reduces drag on mobile platforms, which is most notable on aeronautical platforms, reducing overall operating costs. Electronically scanned phased arrays provide a significant size and weight advantage over mechanically steered antennas.
Much like many electronic devices today, these arrays are 'smart,' configured by software and aligned automatically, a major step up from parabolic dish antennas that require manual calibration and alignment. Ball is actively developing and selling modular, scalable antennas in the X-, Ku-, and Ka-band spectrums.
Phased array technology is enabling the future of 5G wireless, the next generation of wireless technology for the smartphone and smart device market. The 5G architectures of the future will use millimeter wave radio frequencies.
Ball has a wealth of experience manufacturing phased arrays that transmit and receive data in millimeter wave radio frequencies, delivering the speed and data throughput of fiber optics without the price — a must in the 5G marketplace.
To demonstrate the capabilities of Ball's commercial 5G phased arrays, Ball is working with Anokiwave and recently enabled the world's first 5G commercially available 256-elemend phased array at 28GHz and 26GHz.
The San Diego-based Anokiwave is a cutting-edge provider of highly-integrated circuit solutions that enable emerging mm-Wave markets and active antenna-based solutions.
While commercial phased array technologies are promising, their commercial viability depends on the ability to drive down costs by manufacturing at scale. Ball has already delivered phased array systems with all the key components to government markets.
In 2018, our focus remained ramping production into high gear with designs that can be manufactured in high volumes — a key solution for LEO communications constellations.
Looking Ahead
For Ball Aerospace and the company's transformational communications technologies, 2018 was a banner year.
What's next in 2019? More key tests to demonstrate the potential of the firm's technology are on the horizon and Ball Aerospace will continue to leverage industry partnerships to deliver the best products for our customers.
Cost continues to be a limiting factor in the viability of commercial communications constellations. Transforming an industry means manufacturing for scale.
That's where Ball is translating our high volume commercial packaging heritage to quickly and efficiently deliver ground and space products directly to the customer for immediate use.
In 2019, the company will continue our work to scale manufacturing for commercial needs.
In today's world, a company's success is directly related to its ability to connect with the people, technologies and markets that it depends on.
As the need for data grows and the number of smart devices increases, customers staying connected depends on innovative adaptations for proven technologies such as optical communications and phased arrays.
Ball is transforming the communications architecture, delivering reliable, high-speed, high-bandwidth connectivity — between satellites and to and from space.
The company's innovative, high-bandwidth inter-satellite links and Earth-to-space links meet customer needs for data at the speed of light and connect the world faster and more securely.
With low-cost phased array SATCOM antennas, innovative 5G Rapid Prototype Phased Arrays and advanced optical communications terminals, Ball Aerospace is helping the world meet today's data demand.
www.ball.com/aerospace
Brad Tousley is responsible for the company's strategic technology roadmap and investing in innovative technologies and capital that is aligned with the firm's customer needs and growth strategies. He brings more than 25 years of experience that spans government agencies, the private sector and the U.S. military. Prior to joining Ball, Brad led the Tactical Technology Office (TTO) at DARPA and was responsible for high-payoff/high-risk, efforts in space, air, maritime and ground systems, focused on capabilities for national security.
---
Boeing Space and Launch
By Dr. Bruce Chesley, Senior Director of Strategy
Boeing's customers for commercial and government satellites have made their needs clear: bring us flexible high-value solutions, and do it faster.
Given those mandates, Boeing has taken key strategic steps to bolster its space and satellites capabilities and reduce the time it takes to field them.
These customers are operating in market environments that are going through major changes of their own. The expected growth in new satellite applications supporting machine-to-machine communications and the Internet of Things (IoT) has them asking which new capabilities they will need to have on orbit.
The tantalizing possibilities associated with proposed new Low Earth Orbit (LEO) constellations are many, but questions persist: how many will be built, how long will they take and will they succeed?
These uncertainties have, until recently, held most major commercial satellite operators back from buying more satellites to replenish their Geosynchronous Orbit (GEO) fleets, despite a great need to do so.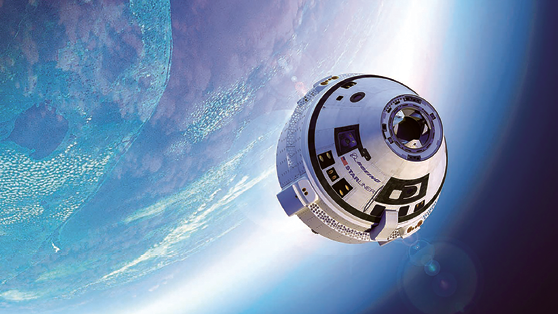 Artistic rendition of the Boeing Starliner CST-100 capsule.
A similar pause in satellites acquisition on the government side also now seems to be ending, with new programs of record emerging that would acquire protected satellite communications capabilities and, for some, possible Earth-to-space and inter-satellite laser links.
A number of recent investments are advancing Boeing's ability to provide such world-changing, mission critical satellite capabilities to customers in both of these markets.
In 2018 Boeing acquired El Segundo, California-based Millennium Space Systems, a leading provider of small satellite solutions.
Boeing's HorizonX Ventures also made strategic investments in BridgeSat Inc., a Denver-based optical communications solutions company, and in Accion Systems Inc., a Boston-based startup pioneering scalable electric propulsion technology for space vehicles.
All three moves will give Boeing an infusion of valuable leading-edge technologies and talent:
• Millennium's small refrigerator-sized satellites can pack multiple space mission solutions into a much smaller package that is more affordable and easier to launch. These Millennium platforms, and the company's expertise in avionics, structures, electronics and antennas, will complement Boeing capabilities and ultimately enhance our product offerings.
• BridgeSat has developed a global network of optical ground stations that will allow satellite networks to more securely and reliably transmit large amounts of data to and from space. By investing in companies with advanced optical communication technologies, we aim to accelerate space-qualified optical communication around the world.
• Accion's expertise in innovative space vehicle engine technology featuring non-toxic, ionic liquid propellant and dime-size thrusters will increase the lifespan and maneuverability of satellites and other vehicles in space. Accion's technology is smaller, lighter, and more cost-effective than traditional ion engines and can serve as an efficient way to keep constellations of satellites in orbit and propel spacecraft designed for interplanetary exploration.
Clearly, Boeing sees that satellites — and technologies such as these that make them go — are an exciting and important part of its current and future space portfolio. It's a portfolio that already included advanced space and communications satellite systems for military, commercial and scientific uses, with advanced digital payloads, all-electric propulsion and 3D manufacturing capabilities for spacecraft that can operate in the LEO, MEO (Medium Earth Orbit) or GEO planes.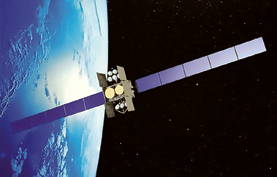 We are also expanding our product portfolio in support of human space exploration. The Boeing Starliner CST-100 capsule will soon take astronauts and cargo to and from the International Space Station (which Boeing also operates).
Looking deeper into space, NASA's Space Launch System will provide a critical heavy-lift capability powering people and cargo to farther-off destinations such as the moon or Mars. Boeing is the prime contractor for the design, development, test and production of the SLS launch vehicle cryogenic stages, as well as development of the flight avionics suite.
Meanwhile, Boeing has been transforming its satellites manufacturing capabilities and evolving designs to allow faster development and testing of satellites whether they are built as one-offs or in multiples for entire constellations.
This latter group includes the seven MEO satellites that Boeing is building now for SES Networks' O3b mPOWER system. Boeing is developing cutting-edge technologies for mPOWER that will be incorporated into future spacecraft supporting a potentially wide range of programs and customer needs.
As the year drew to its close, Boeing shipped WGS-10 to prepare for its upcoming launch. We also submitted a proposal for NASA's lunar orbital gateway.
Both designs drew heavily on advanced satellites capabilities, such as flexible digital payloads and solar electric propulsion. By coupling proven technology from Boeing's previous programs with next-generation technologies and processes, we will continue to offer innovative design solutions to meet customer needs.
Today, people around the world are excited about space exploration again. The many developmental efforts aimed at less expensive, easier access to space should lead to interesting new options for spacecraft owners and operators wanting to get payloads on-station or facilitate space tourism.
As Boeing moves ahead into 2019, although a lot of uncertainty remains, I know two things for certain. First, the next wave of content and data delivery systems will require satellites that are lighter, easier to maneuver and maintain, more capable and more affordable to develop, manufacture, launch and connect. And secondly, Boeing will continue to build the future of this satellites revolution and advance space-vehicle and satellite capabilities to generate value for all customers, accelerate space travel, and improve the lives of people around the world.
www.boeing.com
Dr. Bruce Chesley is Senior Director of Strategy for Boeing Space and Launch, where he leads a team charged with analyzing the marketplace, establishing a growth strategy and helping shape the future direction of the Boeing Space and Launch division, which includes the International Space Station; government and commercial satellite systems; and Boeing's work on its CST-100 Starliner Crew Capsule and the NASA Space Launch System. Chesley joined Boeing in 2000 after serving in the U.S. Air Force. His Air Force assignments included positions at Air Force Space Command, the National Reconnaissance Office and the Department of Astronautics at the U.S. Air Force Academy. He holds a doctorate in aerospace engineering at the University of Colorado, Boulder; a Master of Science in aerospace engineering from the University of Texas at Austin, and a Bachelor of Science in aerospace engineering from the University of Notre Dame.
---