A Great Air Force Base The World Has Never Seen...
Commentary by Col. John Shaw
50th Operations Group commander
Schriever Air Force Base, Colorado
There's Langley Air Force Base, home of the Air Combat Command and the 1st Fighter Wing. Then there is Nellis Air Force Base, the Las-Vegas-based host of Red Flag and countless other special flying activities in the vast Nevada desert. There is also Edwards Air Force Base, known as the center for flight test programs from the 1950s to the present. It seems as though everyone has heard of these special places and knows where these Air Force bases are located. Their fame is well-deserved.
However, what about this base called
Schriever
? Where is it, exactly? And what do they do there? Who really knows?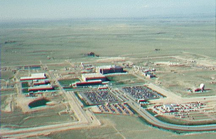 Imagine
Alex Trebek
reading this on the next Jeopardy game show (perhaps under the category "
Places Named for Great Generals
"): "What is
The Global Positioning System
, with billions of users around the world, that is deeply integrated into the fabric of human society, and is operated from this Air Force Base?" How would the contestants fare on that one?
The truth is, our warfighters, our nation's security, and, yes, even human society — all depend greatly upon the activities performed day in and day out within this 21st century fort at this special place where the Great Plains meet the Rocky Mountains, about eight miles east of Colorado Springs, Colorado.
It's not just GPS. Airmen at Schriever also operate the nation's military satellite communications systems, providing a central nervous system for our military as well as our national leadership. There are also new cutting-edge forms of space-borne Intelligence,
Surveillance and Reconnaissance
(
ISR
) receiving their guidance from Schriever, including the all new Space-based Space Surveillance System, poised to revolutionize how we maintain awareness within the space domain.
Schriever is also a place where the vast domains of space and cyberspace converge. The
Air Force Satellite Control Network
is one branch of this confluence and has been the backbone of information flow to and from space for decades, supporting nearly all military, intelligence and manned spaceflight activities.
Of course, there are the
50th Space Wing
's mission partners here, as well, including the
Space Innovation and Development Center
, key elements of the
Missile Defense Agency
, Strategic Command's
Joint Functional Component Command
for Integrated Missile Defense, and others. Together, these organizations are probing new frontiers in technology, taking the nation to the next level in space and defense capabilities.
Let us not forget our Total Force teammates in the
310th Space Wing
who are leading the charge in defining and growing Air Force Reserve space expertise for the Air Force. Many members of the 310th work directly alongside their active duty counterparts across the full spectrum of mission activities at Schriever.
There you have it — the Greatest Air Force Base the world has never seen. Let's face it, Schriever Air Force Base may not be on the front pages of newspapers around the world, or featured prominently in today's history books. It may not be near the top of the list of places to visit on a vacation to Colorado, though it seems tours to the base are on the increase. Your average person on the street could not tell you where Schriever Air Force Base is, let alone what goes on there.
However, those who serve at Schriever know they are, without fanfare, quietly and surely, making a tremendous difference across the globe. For them, that's good enough.
* * * * * * * *
New Satellite = Better Afghan Communications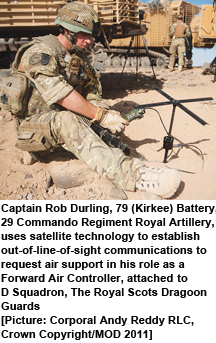 U.K. troops in Afghanistan have begun operating a satellite secured from NATO at no extra cost to the MOD which is providing extra communications channels for commanders on the front line.
The NATO satellite will be used to provide two extra
Ultra High Frequency
(UHF) tactical communications channels that can be used in Afghanistan. This additional satellite adds to the MOD's three existing
Skynet 5
series satellites, which provide a worldwide satellite communications service.
Satellite technology gives commanders on the ground an efficient and secure means of communication, including with operations centres that co-ordinate vital air support, as well as with other units.
Flight Lieutenant
Damien Handley
is a Joint Tactical Air Controller in Afghanistan. He uses satellite communications on the front line in his role co-ordinating air support for ground troops. He said, "I can use these satellite communications to talk from Afghanistan directly to operations centres and headquarters around the world. They are vital in the fight against insurgents, particularly to task aircraft in support of our front line troops. In the thick of battle we rely on good communications and more satellite channels will be a great boost."
Following an agreement with NATO, the MOD's Defence Equipment and Support organisation secured ownership of the satellite earlier this year at no extra cost to the MOD.
Control of the satellite and running of the two UHF channels has been incorporated into the MOD's Skynet 5
Private Finance Initiative
contract and is managed by communications company
Paradigm
.
Commander
Andy Titcomb
, from the MOD's Defence Equipment and Support organisation, explained, "Ultra High Frequency satellite communications are a valuable resource and when it became known that NATO was about to fire this satellite into a graveyard orbit, we jumped at the chance to see whether we could take ownership of this valuable asset and use it to support our troops in Afghanistan. This is an example of MOD personnel identifying and seizing an opportunity to deliver an additional vital resource to our troops on the ground at zero capital cost."
* * * * * * * *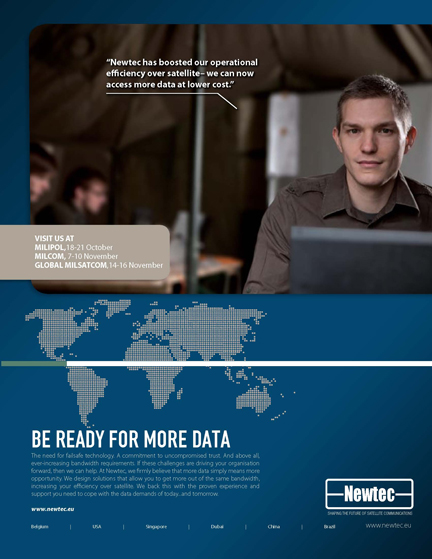 Power To The GPS
The pathfinder spacecraft has been turned on, a major milestone for the GPS III satellite launch in 2014...
The Lockheed Martin team developing the U.S. Air Force's next generation Global Positioning System has turned on initial power to the program's pathfinder spacecraft, known as the GPS III Non Flight Satellite Testbed (GNST). The milestone gives the team high confidence in meeting the scheduled launch of the first GPS III satellite in 2014. The GPS III program is the lowest risk solution to constellation sustainment and the most affordable path to meet the needs of military, commercial and civilian users worldwide. GPS III will improve position, navigation and timing services and provide advanced anti-jam capabilities yielding superior system security, accuracy and reliability.
With a focus on affordability, the GPS III team is first developing the GNST, a full-sized prototype of the GPS III spacecraft used to identify and solve issues prior to the first space vehicle. This approach significantly reduces risk, improves production predictability, increases mission assurance and lowers overall program costs.
The GNST, populated with fully functional non-flight boxes, provides space vehicle design level validation; early verification of ground, support, and test equipment; and early confirmation and rehearsal of transportation operations. "Turning initial power on for the GNST is a major milestone for the GPS III team demonstrating we are well on track to deliver the first satellite for launch in 2014," said Lt. Col.
Don Frew
, the U.S. Air Force's GPS III program manager. "Our joint government and industry team is committed to delivering GPS III on schedule to sustain and modernize the GPS constellation for users worldwide."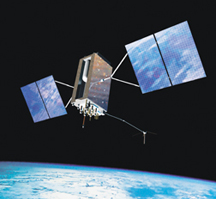 The GPS III team has installed power subsystem components, harnesses, and tracking, telemetry and control hardware on the GNST structure to support phased checkout of the integrated design. Flight software versions have also been delivered for all of the spacecraft and payload computer processors. In parallel, GPS III teammate ITT is integrating the GNST Navigation Payload at their facility in Clifton, New Jersey. Successfully powering on the GNST demonstrates initial mechanical integration, validates the GNST's interfaces and leads the way for electrical and integrated hardware-software testing.
The GNST will be shipped to Lockheed Martin's GPS III Processing Facility in Denver late this year to demonstrate Assembly, Integration and Test procedures. It will then be delivered to Cape Canaveral Air Force Station in the summer for 2012 for pathfinding activities at the launch site.
* * * * * * * *
Core Support and BLOS + LOS For DoD
Harris Corporation (NYSE:HRS) has been awarded a 16-month, $9.7 million contract by the U.S. Air Force Space Command's Space and Missile Systems Center to deliver network support services at Los Angeles Air Force Base in California.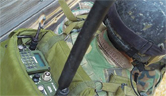 Under the contract, Harris will deliver core IT and communications operations and maintenance services including: Network control center support; consolidated video teleconferencing services; consolidated help desk services; and information assurance and support to Missile Defense Agency networks. Harris has extensive expertise managing comparable, essential networks for customers such as the U.S. Air Force's 50th Space Wing, the 505th Command and Control Wing at Hurlburt Field, Florida and Nellis AFB, Nevada, and the 88th Communications Group at Wright Patterson AFB, Ohio. The Harris team includes subcontractors Abacus and ManTech. This contract was awarded under the Network-Centric Solutions (NETCENTS) contract vehicle.
The Company has also received a $16 million order from the U.S. Department of Defense for additional Falcon III
®
AN/PRC-117G multiband manpack radios systems. The radios will supply DoD forces with networked line-of-sight and beyond-line-of-sight tactical communications.
The field-proven AN/PRC-117G delivers unprecedented situational awareness to the battlefield through voice, wideband data and mobile ad-hoc networking. It is the first JTRS Software Communications Architecture-certified and NSA Type-1 certified wideband manpack radio system. Software-defined with significantly reduced size, weight and power, the radio supports a growing number of network-enabled missions.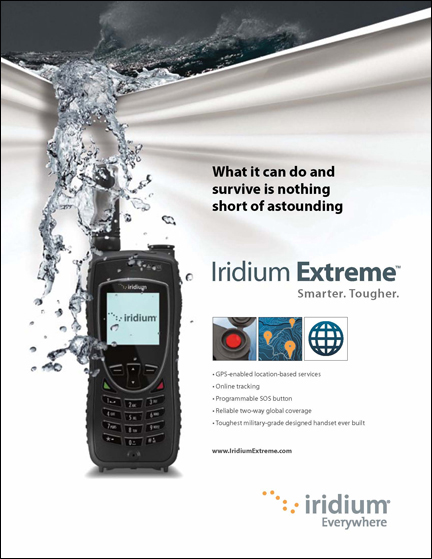 Harris has shipped 15,000 AN/PRC-117G radio systems to the U.S. DoD and allies such as Canada, the United Kingdom, Germany, other NATO nations and Australia. The radio was developed following the JTRS program Enterprise Business Model (EBM). The EBM encourages companies to develop next-generation solutions in tactical communications using their own investment capital to integrate JTRS waveform software. In doing so, the EBM stimulates competition, increases innovation, and reduces costs through software re-use.
* * * * * * * *
Moving On Up...
,
Northrop Grumman Corporation (NYSE:NOC) announced today that it has appointed retired Army Lieutenant General Kevin T. Campbell, vice president and corporate lead executive (CLE) for company business in Huntsville, Alabama.
Campbell reports to John R. Landon, vice president of missile technology and space programs. "I am very pleased to welcome Kevin Campbell as our new lead executive in Huntsville," said Landon. "His broad military leadership, especially in the areas of missile defense, space and cyber defense, will serve him well in his new position. We look forward to his contributions to our company and its shareholders, customers and employees."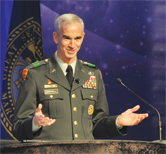 In his new role, Campbell is Northrop Grumman's senior executive for the Huntsville region, representing all sectors and all business activities. He will maintain direct liaison with the U.S. Missile Defense Agency; U.S. Army Space and Missile Defense Command; U.S. Army Material Command; U.S. Army Aviation and Missile Command; and NASA's Marshall Space Flight Center. Campbell is the primary company interface with customers and peer industry partners and business leaders in the region. In addition, he represents Northrop Grumman in the Huntsville community and works with other community leaders in support of economic development activities and local community service and philanthropic activities.
Campbell joins Northrop Grumman after retiring from a distinguished 37-year career with the U.S. Army, having most recently served as Commanding General, U.S. Army Space and Missile Defense Command/U.S. Army Forces Strategic Command, Redstone Arsenal, Alabama. Prior to that, he served as Chief of Staff, U.S. Strategic Command, at Offutt Air Force Base, Nebraska, one of numerous joint leadership assignments throughout his career. He has earned a number of U.S. military decorations, including the Defense Superior Service Medal (with Oak Leaf Cluster); the Legion of Merit (with two Oak Leaf Clusters) and the Bronze Star Medal.
* * * * * * * *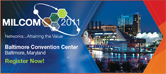 A Host Of Duties
The Boeing Company will serve as corporate host for the MILCOM 2011 conference and exposition...
The event occurs from November 7th through the 10th at the Baltimore Convention Center. This will be the conference's 30th year of gathering leaders from the military, industry and academia to promote and discuss all aspects of military communications technologies and services. The conference is co-sponsored by the Armed Forces Communications and Electronics Association (AFCEA) International and the Institute for Electrical and Electronics Engineers (IEEE) Communications Society. The U.S. Army Communications-Electronics Command (CECOM) is the Department of Defense adviser for the conference.
Featured speakers at MILCOM 2011 include: Army Gen. Ann E. Dunwoody, commander of U.S. Army Materiel Command; Air Force Lt. Gen. Michael J. Basla, vice commander of Air Force Space Command; Air Force Lt. Gen. Charles R. Davis, commander of Electronic Systems Center; Army Lt. Gen. Rhett A. Hernandez, commanding general, U.S. Army Cyber Command/2nd Army; Army Lt. Gen. Susan S. Lawrence, Army Chief Information Officer/G-6; Air Force Lt. Gen. Ellen M. Pawlikowski, commander of the Space and Missile Systems Center; and Army Maj. Gen. Randolph P. Strong, commanding general of CECOM Life Cycle Management Command. Industry and government leaders also will share their perspectives during daily panel presentations. The MILCOM 2011 technical program includes classified and unclassified sessions that will feature both tutorials and technical panels. More than 400 technical paper presentations are scheduled to cover the following topics:
– Waveforms and signals processing
– Networking protocols and performance
– Cybersecurity and network operations
– Middleware services and applications
– Communications and network systems
– Department of Defense programs
This year's program also includes a Small Business Workshop, which offers potential suppliers and partners two days of face-to-face interaction with Boeing and other prime contractors. MILCOM 2011 features a full technology exposition, gathering industry leaders in an interactive exhibit hall. Boeing will feature the capabilities of its Wideband Global SATCOM satellites; Combat Survivor Evader Locator radio; Enhanced Medium Altitude Reconnaissance and Surveillance System (EMARSS); Phased Array Antenna; Phantom Eye unmanned aircraft; Joint Tactical Radio System (JTRS) Enterprise Network Manager; and NarusInsight Solution for Cyber Protection.
* * * * * * * *
Enhanced Intelligence
DigitalGlobe (NYSE: DGI) has been awarded a one-year contract at a funded level of $37.9 million by the U.S. Government via the National Geospatial-Intelligence Agency (NGA) under the NGA's new Enhanced GEOINT Delivery (EGD) program.
The award will enable value-added support to NGA, as DigitalGlobe continues to meet more advanced imagery requirements and provide final product deliverables. This award advances the production capabilities of the company's "Rapid Delivery of Online Geospatial Intelligence" (RDOG), a capability first pioneered jointly by DigitalGlobe and NGA in 2009, and which NGA has since used to develop imagery and map-based intelligence solutions for U.S. national defense, homeland security and safety of navigation in multiple geographic locations around the world.
EGD expands the EnhancedView contract to meet the government's evolving requirements for ortho-rectified products in large quantities. The new EGD product deliverables will include three elements: a nearly cloud-free wide-area mapping layer; continuous delivery of daily images via the web within 24 hours of collection; and quick-turnaround images of NGA-designated high-priority geographic locations.
Initial production and deliveries under the agreement are expected to ramp beginning in the fourth quarter 2011, with revenue to be recognized in accordance with deliveries.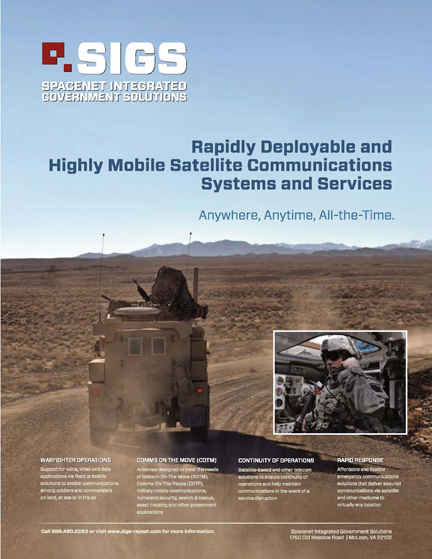 * * * * * * * *
WWSS Win
TeleCommunication Systems, Inc. (TCS) (NASDAQ: TSYS) has received $16.1 million of new orders from the U.S. Army to continue to provide satellite communications equipment, engineering support, training and maintenance for the U.S. Army.
The orders are initially funded at $5.0 million and will be funded up to a total of $16.1 million if the options are fully exercised through July 2012. The U.S. Army Project Manager for the Warfighter Information Network-Tactical (PM WIN-T) Commercial Satellite Terminal Program (CSTP) is funding these procurements through the Army's $5 billion World-Wide Satellite Systems (WWSS) contract vehicle, which has been extended to July 27, 2012 with all deliveries required to be completed by August 28, 2012.
In addition, TCS has received $3.2 million of additional incremental funding under previously announced orders. This brings the total of WWSS orders for the period August 26-September 30, 2011 to more than $78 million.
* * * * * * * *
Mission Critical Move
Kratos Defense & Security Solutions, Inc. (Nasdaq:KTOS) has garnered sales valued at a total of $1.1 million from four major U.S. Government agencies for NeuralStar®, its flagship network management and situational awareness software product.
The names of the agencies, all of which are aligned with critical defense and intelligence operations, were not disclosed due to customer-related and other sensitivities. NeuralStar monitors, aggregates and integrates mission-critical network availability, cyber security and compliance management data from heterogeneous technologies to create flexible, dynamic dashboards for enhanced management and complete situational awareness. This allows NeuralStar to provide a Common Operational Picture (COP) for all levels of command across large distributed network and field operations, especially those that rely upon a variety of communications, information and security technologies.
For example, two of the agencies purchasing NeuralStar rely heavily upon analog-based satellite communications. NeuralStar uniquely allows them to easily integrate management of these systems into their overall communications command and control picture for a unified 360 degree view.
"All of these agencies function on the frontiers of communications and cyber security operations," said Phil Carrai, President of Kratos Technologies and Training Solutions. "They include some of the world's largest global networks as well as smaller, highly specialized and in-the-field operations. It is gratifying to see this endorsement of the NeuralStar platform as the standard for highly-secure network management and situational awareness."
* * * * * * * *
Demo Success For FAB-T
Boeing has successfully demonstrated high-data-rate transmissions between a Family of Advanced Beyond Line-of-Sight Terminals (FAB-T) system and a test terminal for the Advanced Extremely High Frequency (AEHF) satellite.
This was one in a series of development tests that are demonstrating extended data rate voice, text and data communication with a FAB-T unit. FAB-T will provide the U.S. Air Force and U.S. Navy with protected wideband satellite communications in support of command and control of U.S. nuclear forces. The demonstration, conducted in August at Northrop Grumman Aerospace Systems in Redondo Beach, California, involved a FAB-T unit and an AEHF Universal System Test Terminal (AUST-T) communicating through a ground AEHF payload. Using the latest program hardware, the terminal team successfully conducted extended data rate (XDR) re-key, XDR text communications, and dual FAB-T log-on with the AEHF payload. In separate testing essential to operating the fielded FAB-T system, Boeing also interfaced with the AEHF Satellite Mission Control Subsystem, demonstrating XDR capability with the AEHF ground satellite. The program continues to make measurable progress against its planned baseline.