Smile... Russia Successfully Launches Another 'Eye In The Sky'
On March 14, 2016, a Russian, civilian-operated, Earth Observation (EO) satellite, Resurs P3, blasted off at 1856 GMT (2:56 p.m. EDT) from the Baikonur Cosmodrome in Kazakhstan on a five-year mission, giving Russia a fleet of three advanced digital imaging spacecraft in orbit.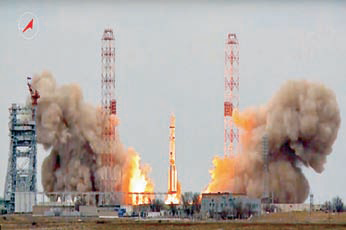 The launch was delayed due to an automatic abort that was triggered moments before ignition of the Soyuz rocket's engines that halted the countdown. Such launch scrubs late in the countdown are rare for the nearly six ton Soyuz workhorse.
The satellite's Soyuz booster steered north from Baikonur and dropped its four, first stage engines about two minutes after liftoff. The second stage core engine and a third stage propulsion system delivered the Resurs P3 satellite to a preliminary orbit about 9 minutes, 21 seconds into the flight, according to a statement by Roscosmos, the Russian space agency.
The Baikonur Cosmodrome is a busy place, as the European-led Mars mission, ExoMars, lifted off the day after Resurs P3.
Resurs P3 will collect black-and-white imagery with a resolution of 1 meter, or 3.3 feet, and analysts will resolve objects as small as 3 to 4 meters (10 to 13 feet) across in color pictures.

Russian government agencies responsible for agriculture, the environment, emergency situations, fisheries, meteorology and cartography will be consumers of data from Resurs P3, which will join two similar satellites—Resurs P1 and Resurs P2—

launched in June 2013 and December 2014, respectively. A telephoto camera with a focal length of 4,000 millimeters will capture the highest-resolution images.
Data from the Resurs satellites will aid with disaster response, help authorities update maps, track pollution, track ice in maritime shipping lanes, and detect fields of illegal drugs, according to TsSKB Progress.
Manufactured by TsSKB Progress, a company based in Samara, Russia, the 5,730-kilogram (12,632-pound) Resurs P3 satellite hosts a suite of digital cameras.
One camera is tuned to image the Earth in 96 spectral bands, obtaining details on metrics such as crop yield, vegetation health, microbial activity in water, and assessing the impacts of invasive insects on agriculture.
The launch photo of Resurs P3 is courtesy of Roscosmos.
---
The Mississippi Rumble, Courtesy Of Aerojet Rocketdyne + NASA
NASA and Aerojet Rocketdyne, a subsidiary of Aerojet Rocketdyne Holdings, Inc., test-fired the Space Launch System's first RS-25 flight engine, E2059, for 500 seconds at NASA's Stennis Space Center in Mississippi.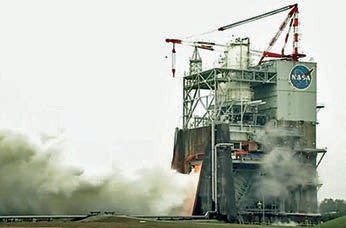 The Space Launch System (SLS) is America's next-generation heavy lift launch vehicle, and it will be capable of lifting three times more payload capability than any existing launch vehicle. Aerojet Rocketdyne is the prime contractor for the RS-25 core stage engines that will be used to propel SLS on its eight-minute climb into space.
Engine E2059 is slated to fly on the bottom of the core stage of SLS on its second flight, planned for 2021. Four other flight engines will undergo stage testing by late 2017 in preparation for the inaugural Exploration Mission-1 launch in 2018.
NASA engineers at Stennis Space Center tested RS-25 engine No. 2059 on the A-1 Test Stand this week. This was the first flight engine for NASA's new rocket, the Space Launch System (SLS), to be tested at Stennis.
In addition to testing the new controller, numerous other test objectives were successfully conducted, including testing of a rebuilt high pressure fuel turbopump, calibration of facility and engine flowmeters, and testing in conditions replicating flight environments.
Last year, Aerojet Rocketdyne completed more than 3,700 seconds of testing on the first RS-25 development engine to confirm that the engines can withstand the demanding operating conditions of flight, as well as the performance of the new controller. These engines must operate in a temperature extreme from negative 423 degrees Fahrenheit to 6,000 degrees Fahrenheit and at pressures exceeding 7,000 pounds per square inch.
---
Enhanced Tactical Comms For British Armed Forces
General Dynamics United Kingdom Limited has been awarded £135 million contract from the UK Ministry of Defence to provide enhanced Bowman tactical communications systems to the British Armed Forces.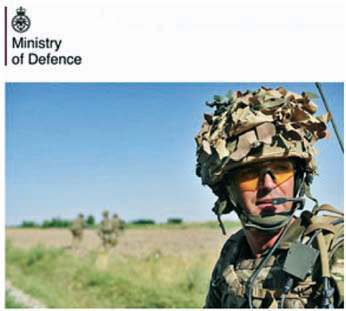 The BCIP5.6 contract will allow for the Bowman tactical communications equipment currently used by the UK military to receive a series of enhancements and upgrades. These include the roll-out of approximately 12,000 new data terminals and an updated version of the Battle Management System.
The contract creates 50 new jobs as well as sustaining the jobs of 20 highly-skilled engineers at the General Dynamics UK's headquarters in Oakdale, South Wales, with further roles being secured in the company's wider supply chain.
Bowman's secure radio communications, declared in service in 2004, have been used in operations since 2005. The Bowman system has been developed and integrated by General Dynamics UK into more than 15,000 British Army vehicles, together with headquarters, ships and helicopters. The enhanced equipment will be delivered, beginning in 2018, and will support an increased operational tempo.
Defence Secretary Michael Fallon said, "This is more evidence of what this Government's decision to grow our Defence budget can do for the UK. It will create highly skilled jobs in Wales and help our Armed Forces to keep Britain safe for years to come."
Brigadier Richard Spencer, Head of the MOD's Battlefield and Tactical Communications and Information System delivery team said, "This contract will replace the data terminals and update software across the Bowman system to ensure ease of use, more rapid and robust data services and improved interoperability. This new deal is good news for the Armed Forces and ensures that they will have access to the best possible tactical communications equipment for the foreseeable future."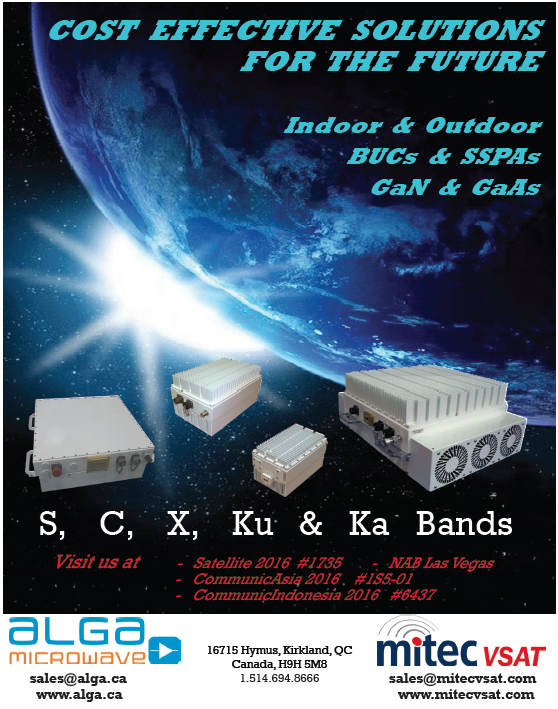 Chief Operating Officer of General Dynamics UK, Steve Rowbotham, said, "This contract ensures the British Armed Forces have access to the best tactical communications. We are delighted to continue our successful partnership, which has delivered world-class secure tactical communications to the British Armed Forces, and to build on this unique UK sovereign capability."
---
UAV Ops Gain Ku Bandwidth
UltiSat, Inc., has announced that the Defense Information Systems Agency Defense Information Technology Contracting Organization (DISA-DITCO) awarded a COMSATCOM Transponded Capacity (CTC) task order for the company to provide United States Pacific Command (USPACOM) Ku- bandwidth capacity for Global Hawk (GH) Unmanned Air Vehicle operations and training.
UltiSat will support GH Ku-band Earth terminals and Tri-band Tactical Field Terminals (TTFT) located at Kadena Air Base (AB), Okinawa, Japan as well as a GH UAV based at Andersen Air Force Base (AFB), Guam.
This task order falls under the Future COMSATCOM Services Acquisition (FCSA) Schedule 70 contract vehicle. The total contract value including options is $4,128,240.00.
"UltiSat provides a diversified portfolio of complex services and solutions to the government sector. Awards similar to this most recent CTC will allow us to manage and support end-to-end satellite communications solutions for our government customers in the demanding market of airborne ISR," said Amy Gwinn, UltiSat's Senior Vice President of Government Solutions.
---
Having A Ball With "Green" Propellant
The NASA Green Propellant Infusion Mission (GPIM) seeks to demonstrate and test the capabilities of a high-performance, non-toxic, "green" fuel on orbit.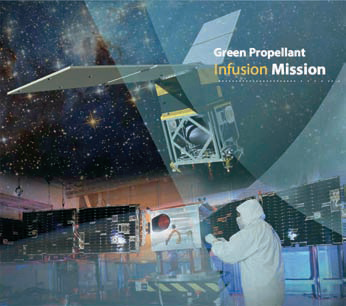 This the first time the nation will use a spacecraft to test green propellant technology.
The fuel and its accompanying technology offer many advantages for future satellites, including longer mission durations, additional maneuverability, increased payload space, and simplified launch processing.
The propellant for this mission is a Hydroxyl Ammonium Nitrate (HAN) fuel/oxidizer blend, or AF-M315E.
Developed by the Air Force Research Laboratory (AFRL), it offers nearly 50 percent higher performance for a given propellant tank volume compared to a conventional hydrazine system.
This new, green propellant is less harmful to the environment, increases fuel efficiency, and diminishes operational hazards.
The Ball Aerospace team will develop and fly the GPIM to demonstrate the new fuel and an integrated propulsion system that uses green propellant in space.
Once on orbit, the team will characterize the green fuel's performance using Ball Aerospace-developed software. Planned on orbit maneuvers include attitude control demonstrations, spacecraft pointing and hold, thruster performance characterization and mapping, inclination change and orbit lowering.
The GPIM payload will fly aboard the Ball Configurable Platform (BCP) 100 spacecraft bus.
The Ball Aerospace-built BCP 100 provides standard payload interfaces and streamlined procedures for short lead-time and affordable access to space.
The BCP 100 is ideally suited for scientific, technology development, and risk reduction payloads like the GPIM.
The GPIM will be developed over three years and is expected to launch in 2016.
Ball Aerospace is the prime contractor for GPIM. A principal investigator from Ball Aerospace will lead the demonstration of the alternative fuel for future space vehicles. GPIM team co-investigators include the Aerojet Corporation, NASA Glenn Research Center, and the U.S. AFRL at Edwards Air Force Base, with additional mission support from the U.S. Air Force Space and Missile Systems Center at Kirtland Air Force Base and NASA's Kennedy Space Center.
In addition to the promise of higher performance for future satellites, the fuel's exceptional volumetric storage properties is also being examined for military uses such as missile launches and auxiliary power units that currently use hydrazine.
ballaerospace.com/
---
Battlespace Intel Painted From A Windowless Room
In a windowless room, illuminated only by the light of computer screens, the Airmen of the 455th Expeditionary Operations Support Squadron intelligence flight at Bagram Air Field in Afghanistan, paints a picture of the battlespace clear as day.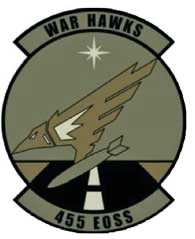 With intelligence gathered from multiple platforms, from ground forces to satellites, the unit collects, analyzes, and formulates up-to-date reports for commanders to make critical decisions where lives are sometimes on the line.
"Intelligence informs operational planning based on the commander's needs and the particular military objective, increasing chances for success," said Tech. Sgt. Jarom Saurey, 455th EOSS intelligence flight superintendent. "Analysis reports draw on all available sources of information, including existing and newly collected material. These reports are used to inform and influence the planning staff and seek to predict the adversary's intent."
In order to meet this goal, Intel AFSCs use several scientific and mathematical processes, such as using geo-locational mensuration functions, historical trend analysis, and manipulating geospatial databases. While it may sound like a Ph.D. in rocket science is needed to decipher these techniques, the 455th EOSS intelligence flight Airmen, find parallels in a simpler explanation.
"A good analogy of what Intel does is similar to the weather flight," said Maj. Joseph Shupert, 455th AEW senior intelligence officer. "We are both analysts who collect and interpret data that we can't control, determine what it means to air operations, and present the combined data and assessment to aircrews and leaders to ensure mission execution."
From the squad leader protecting the base from the ground, to the F-16 Fighting Falcon pilots conducting strikes from the air, every mission in Afghanistan is reliant upon good, up-to-the-minute intel.
Story by 2nd Lt. Darren Domingo, 50th Space Wing, USAF
---
Manpacking Maneuvers By Harris For The US Army
Harris Corporation was one of three awardees of a multi-award IDIQ contract to supply HMS Manpack radios to the
US Army.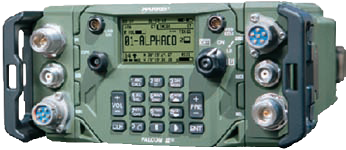 The IDIQ contract consists of a five-year base and an additional five-year option and has a ceiling of $12.7 billion.
The Army expects full rate production to start in the fourth quarter of Harris' fiscal 2017 and will acquire approximately 65,000 HMS Manpack radios under the IDIQs.
The US Army selected the Harris AN/PRC-158 multichannel radio for both dismounted and mounted manpack configurations.
The Harris HMS Manpack radio features a two-channel architecture and integrated cross-banding. It includes SRW, SINCGARS and MUOS SATCOM waveforms while maintaining backward interoperability with legacy waveforms.
The HMS (Handheld, Manpack & Small Form-Fit) Manpack forms the core of the US Army's tactical communications architecture, providing an advanced communications infrastructure from the dismounted soldier to the Tactical Operations Center.
The selection follows the US government's decision to open the HMS Manpack competition to technically compliant, commercially developed radios, and further solidifies the U.S. Army's commitment to bring future capabilities to the warfighter.
"The HMS Manpack award is a major step forward for the US Army's tactical radio modernization program, and brings essential battlefield networking and communications capabilities to the warfighter," said Brendan O'Connell, president, Tactical Communications, Harris Communication Systems. "The award also allows Harris to now compete at all echelons of the Army tactical communications architecture—from dismounted handheld radios through vehicular-based radio platforms."
---