Multiples Of MUOS — ULA Launches Number Four For U.S.A.F.
The U.S. Navy's fourth Mobile User Objective System (MUOS-4) satellite, built by Lockheed Martin, continues to successfully talk from orbit to the satellite control team at the Naval Spacecraft Operations Control facility after a successful Florida launch on the morning of September 2nd—MUOS-4 will enable near-global coverage for a new secure military communications network offering enhanced capabilities for mobile forces.
The MUOS-4 satellite launched at 6:18 a.m. EDT on September 2nd aboard a United Launch Alliance Atlas V rocket from Cape Canaveral Air Force Station, Florida.
A Lockheed Martin-led initialization team, stationed at Naval Base Ventura County, Point Mugu, California, is operating the satellite from its transfer orbit to the spacecraft's test slot.
The Navy's Program Executive Office for Space Systems and the Communications Satellite Program Office that are responsible for the MUOS program are based in San Diego.
Lockheed Martin assembled and tested MUOS-4 at its Sunnyvale, California facility.
MUOS-4 is the latest addition to a network of orbiting satellites and relay ground stations that is revolutionizing secure communications for mobile military forces.
Users with operational MUOS terminals can seamlessly connect beyond line-of-sight around the globe and into the Global Information Grid (GIG).
MUOS' new smart phone-like capabilities include simultaneous, crystal-clear voice, video and mission data, over a high-speed Internet Protocol-based system.
The addition of MUOS-4 completes the initial constellation and provides the MUOS network with near-global coverage, extending the reach of communications further toward the North and South poles than ever before experienced.
The MUOS-4 satellite separated from its Atlas V rocket approximately three hours after its successful launch.
MUOS-4 transitioned to reach geosynchronous orbit location approximately 22,000 miles (37,586 km) above the Earth.

The satellite's solar arrays and antennas were then deployed, and on-orbit testing was initiated for a subsequent turn-over to the Navy for test and commissioning to service.
Last June, Lockheed Martin completed and shipped the MUOS-4 satellite from Moffet Federal Airfield, California, where the 60th Air Mobility Wing of Travis Air Force Base loaded the satellite aboard a C-5 Galaxy aircraft for delivery to the Cape.
After arrival at Canaveral, Astrotech Space Operations, a wholly-owned subsidiary of Lockheed Martin, completed MUOS-4's pre-launch processing. In August, technicians encapsulated the satellite in its protective launch fairing.
The MUOS-4 satellite joins a network that already includes MUOS-1, MUOS-2 and MUOS-3, launched respectively in 2012, 2013 and January 2015, and four required MUOS ground stations already completed. This satellite addition now completes the initial constellation and provides the MUOS network with near-global coverage, extending the reach of communications further toward the North and South poles than ever before.
The MUOS-4 satellite successfully separated from its Atlas V rocket approximately three hours after the launch. MUOS-4 then transitioned to reach its geosynchronous orbit location approximately 22,000 miles (37,586 km) above the Earth.
The satellite's solar arrays and antennas were deployed and on orbit testing began for subsequent turnover to the Navy where additional testing and commissioning to service will occur.
Once fully operational, the MUOS network will provide, comparatively, 16 times the capacity of the legacy ultra high frequency communications satellite system, which it will continue to support, and eventually replace.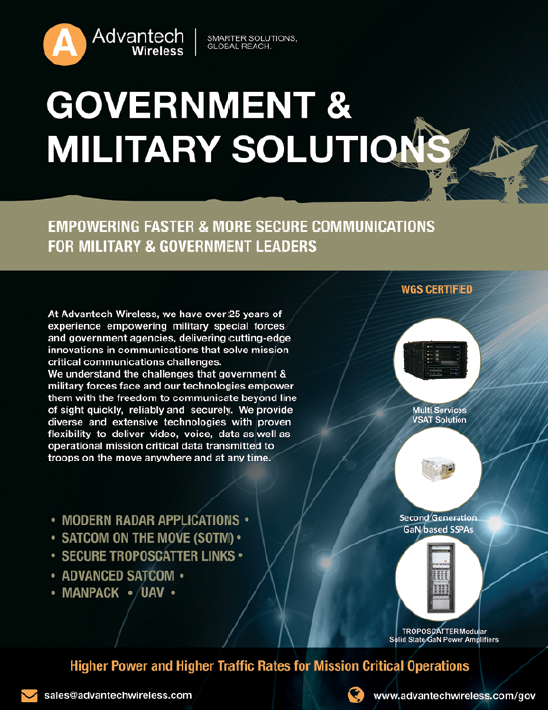 More than 55,000 currently fielded radio terminals can be upgraded to be MUOS-compatible, with many of them requiring just a software upgrade.
The MUOS network is expected to be fully operational by year's end. All four required MUOS ground stations have been completed.
Executive Comment
"MUOS allows troops all over the world to talk, text and share mission data seamlessly, while traveling—like a cellular network, without having to worry about where they are in relation to a satellite," said Iris Bombelyn, Lockheed Martin's vice president for narrowband communications. "MUOS-4 will complete our near global coverage, reaching further north and south toward the poles than ever before."
Bombelyn added, "The most dangerous part of a satellite's life is launch and getting into orbit. I really want to thank our entire team whose hard work prepared MUOS-4 for this mission-critical event and the Atlas team who ultimately carried us safely to our transfer orbit. We look forward to completing our on orbit health checks and delivering this important asset to the US Navy and these new capabilities to our mobile forces."
The MUOS Reach Into The Arctic
Earlier this year, Lockheed Martin demonstrated that the MUOS satellites could help to solve communication challenges in the Arctic. Access to more secure and reliable communications could be incorporated for people who are spread out over thousands of square miles.
Earlier this year, during company-funded tests, MUOS voice and data signals reached much farther north than previously thought could be achieved, just 30 miles and 0.5 degrees of latitude shy of the North Pole.
A team demonstrated Wideband Code Division Multiple Access (WCDMA) capability using three different radios as far north as 89.5 degrees, under peak orbit conditions. This inherent voice and data access is well beyond the 65-degree system requirement.
The additional coverage comes at a time when demand is surging for dependable polar communications.
"As the Arctic becomes more accessible, the US and its allies need reliable communications to maintain a safe and secure presence," said Paul Scearce, director of Military Space Advanced Programs at Lockheed Martin.
"Demand for consistent voice and data services will only increase. The area is experiencing more shipping, tourism and natural resource exploration, which will also likely increase demands for search and rescue."
The demonstrations show MUOS has an advantage over legacy satellite communications.
"This joint testing gave us important system operation data at extreme conditions," said Dr. Amy Sun, Narrowband Advanced Programs lead at Lockheed Martin.
"We did these evaluations to explore growing Arctic communication demand, yet it also highlighted the dramatic capability improvements the WCDMA architecture will provide. Using MUOS, we were able communicate from the aircraft at high latitudes, which wasn't the case for the legacy Ultra High Frequency signal."
Lockheed Martin performed two rounds of testing in 2014 aboard an L-100 aircraft, the commercial variant of the C-130 Hercules.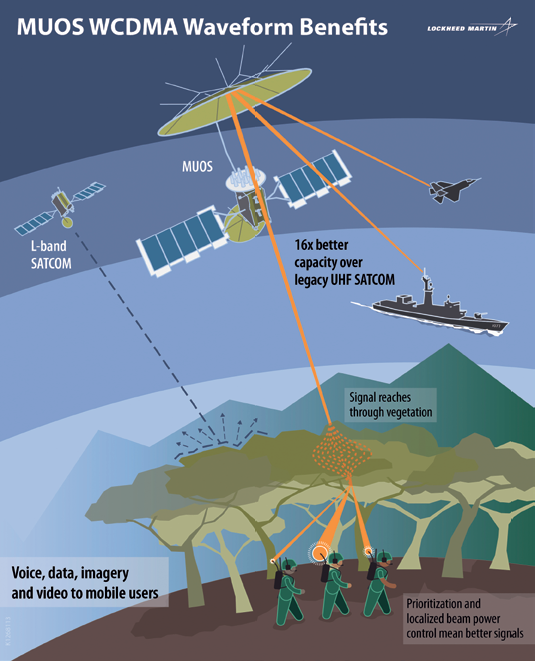 Multi-hour flights set out from Barrow, Alaska, to test transmit and receive capabilities.
Three terminal providers developing MUOS-compatible radios were on board—the General Dynamics PRC-155 Manpack, the Harris PRC-117G Manpack and the Rockwell Collins ARC-210 V5 airborne terminal.
Anticipated shipping lanes will see full coverage 24 hours a day, with the signal gradually dropping off farther north to 89.5 degrees, which can be achieved at peak orbit conditions.
Airborne terminals can connect further north than sea level terminals, but at reduced durations.
Analysis of Mobile User Objective System (MUOS) satellites during the US Navy's 2014 Ice Exercise (ICEX) showed they provided nearly 150 hours of secure data connections.
This was the first time military users could transfer large megabyte data files over stable satellite connections in the Arctic.
Working atop a floating ice camp above the Arctic Circle, the team from Lockheed Martin provided secure satellite communications and delivered further evidence that MUOS is, indeed, a reliable asset in the far north.
"Last year we proved the constellation's reach, but this is the first time MUOS has been used for secure government exercises," said Paul Scearce, director of Military Space Advanced Programs at Lockheed Martin.
"This means users could traverse the globe using one radio, without needing to switch out because of different coverage areas. This goes far in increasing the value that MUOS provides mobile users, not just in traditional theaters of operation, but those at the furthest extents of the planet," Scearce added.
Lockheed Martin first demonstrated the MUOS constellation's ability to reach Arctic users in tests during 2013. Those tests marked a significant gain in signal reach from the required latitude of 65 degrees north—roughly Fairbanks, Alaska. This expansion in coverage, inherent with the system, comes at a time when governments are focusing on Arctic security.
"We downloaded multiple files—up to 20 megabytes, nearly at the top of the world," said Dr. Amy Sun, Narrowband Advanced Programs lead at Lockheed Martin.
"We sent a steady stream of photos, maps and other large data pieces securely through the system, something that could never be done by legacy communication satellites."
From March 17 to 27, MUOS provided more than 8,800 minutes of service to Ice Camp Nautilus. US Navy users at the camp could connect to both secure and classified communication systems and send data files. US and Canadian officials monitored the activities as part of ICEX, an annual Arctic submarine exercise.
The MUOS-STEM Connection
Just a few miles down the road from the MUOS-4 launch site is the Ronald McNair Magnet School, where nearly 500 seventh and eighth grade students engaged in an engineering design challenge of their own in connection with this launch.
Guided by about 60 Lockheed Martin and United Launch Alliance (ULA) volunteers—some from the Military Space team responsible for MUOS-4 and others as part of a Launch Experience Award Program—the entire middle school worked together to test theories and problem solve to create a solution within their constraints.
The students needed to build a structure 60 centimeters (almost two feet) tall that supports a bag of food for the school's canned food drive, using nothing but index cards and cellophane tape, in about 20 minutes.
As they created their designs, students kept cost in mind as each index card represented $1,000 and each centimeter of tape represented $100.
The teams that built the strongest structures using the least amount of materials were the challenge winners.
This familiar balance between effective design and cost is something that rings true with any professional engineer. The challenge tested the students' ingenuity, versatility and ability to perform under both time and cost constraints—all of which are key to succeeding in any career in science, technology, engineering and mathematics (STEM).
US Navy Cmdr. Paul Benishek, said, "America's strength—the Navy's strength—has always been its ability to marshal brainpower and creativity. Our nation's future success depends on programs like STEM because it helps inspire and encourage young minds to bring together their ideas and create beneficial solutions that will help address the challenges that lie ahead."
Mark Valerio, vice president and general manager of Lockheed Martin's Military Space line of business, also stressed the importance of the STEM activity following the launch. "When you see something like a launch that's larger than life, it can be a challenge to connect it to something visible in everyday life. With these STEM events, we're showing students the smaller building blocks that are vital to the technology pipeline that feeds our ongoing journey to space."
Lockheed Martin Space Systems is committed to working with schools and educators to expose students to the industry and foster interest in careers in STEM fields through its "Launch and Learn" program. Through STEM activities closely tied to launches, teachers and students can strengthen their content knowledge, thereby improving the learning experience in the classroom.
---