Newtec
By Koen Willems, Market Director Government, Humanitarian and Defense SATCOM at Newtec, and Senior Contributor
Newtec can safely say that 2017 brought a continuation of the worldwide events that started in the pivotal year of 2016, with the Western world seeing a growth in security concerns.

As a consequence, government and defense budgets have been increased to face upcoming threats and natural or man-made disasters. Newtec is pleased to be able to contribute to making the world a safer place by introducing innovative and disruptive satellite communication technology.
Global Warming's Disasterous Effects
Worldwide geopolitical events, conflicts and disasters have a direct impact on the satellite communications (SATCOM) market. Hurricane Irma, a record Category 5 storm, caused extensive damage across the Caribbean. In St. Martin, the storm swept away 95 percent of the island's houses, displacing families and ripping apart infrastructure including terrestrial communications. When first responders arrived at St. Martin and the other affected islands in the Caribbean, the only way to establish rescue programs, logistics and situational awareness reports was through SATCOM.
Via a network of service providers and satellite operators, Newtec provided SATCOM technology to support the entities who were rebuilding the Caribbean islands' infrastructure. The quicker the basic infrastructure is rebuilt, and hotels active again, the faster tourists return and money to fund restoration efforts for houses, hospitals and communities becomes available.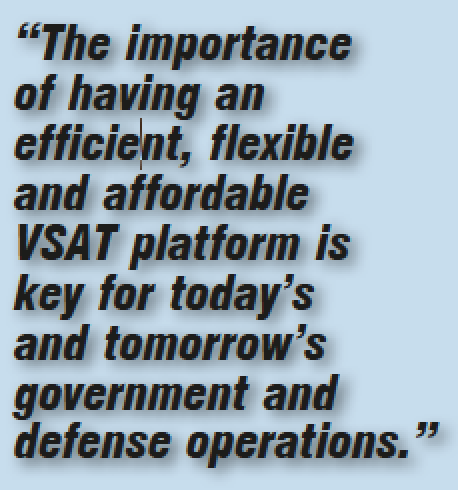 Growing Complexities
Organizing disaster relief efforts is a complex operation. In most cases, the different NGOs, government and defense agencies active in the region bring their own satellite communication equipment and have individual satellite service and bandwidth contracts in place.
These individual contracts depend on the area of operations and throughput requirements throughout the different stages following a natural disaster — these CAPEX and OPEX elements make relief efforts expensive. By increasing the efficiency of these operations, more money can become available to boost the effectiveness of such relief efforts.
Newtec observes identical behaviors in military operations across Africa and the Middle East. In Europe, initiatives are established to improve the efficiency and effectiveness of disaster relief efforts, military operations and government services over satellite.
The European Union (EU) took an important step toward a substantive defense capacity in November, to jointly develop European military abilities among nations and to make them available for operations separately or in coordination with NATO. This effort aims to reduce the fragmentation of European military spending and promote more joint projects to reduce duplication and waste.
In 2010, the first steps for a 'Pooling and Sharing' of European military capabilities were already in place through the Ghent Initiative. This idea reached the satellite market around 2014 — the idea is to set up a European Agency that can coordinate the pooling and sharing of satellite bandwidth and assets by 2020.
To prepare for such European capabilities, ESA has launched precursor programs that will run from 2017 to the end of 2019. Newtec has been involved in both 'GovSatCom' precursor programs that were launched in 2017, looking after the ground segment technology and equipment.
Time for Disruption
The Newtec Dialog® VSAT platform gives government and defense satellite operators the flexibility to embrace the complexity of pooling and sharing programs, as well as disaster relief and military operations. In all these operational scenarios, different platforms (on-the-move, on-the-pause or fixed)need to be connected to a single platform and exchange a variety of services (video, voice or data-based) for a large range of applications.
Every Service Level Agreement (SLA) needs to be respected and all services require individual throughput and availability be addressed. Simultaneously, the satellite link must be resilient, secure and provide seamless communications. Newtec combines all these stringent requirements in this VSAT platform.
The innovative Newtec Mx-DMA® return waveform on board the Newtec Dialog platform adds to the equation by offering 20 to 50 percent better efficiency when compared to legacy waveforms.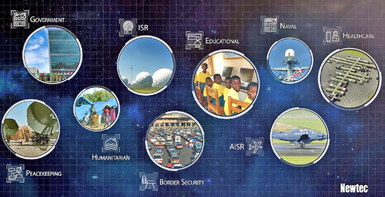 Having an innovative and disruptive VSAT ground segment in place is great, but that needs to be paired with innovation in the satellite and service sector. In 2017, the company was at the cusp of High Throughput Satellites (HTS), with launches planned for LEO, MEO and GEO constalltions in the comng years. Some satellites will use wideband or spot beam technology, some a combination of a global beam and operational spot beams. Satellites will be able to adapt the shape of the beam according to changing military operations, or use beam hopping technology to shift capacity from one beam to another on the fly in response to demand on the ground.
Disruptive VSAT technology, such as Newtec Dialog, does take new satellite constellations into consideration as well as the increased usage of on-the-move and on-the-pause platforms in government, military and disaster relief applications. Here, different technologies such as the next-generation Newtec Mx-DMA waveform, Doppler compensation, very low signal-to-noise (SNR) spreading MODCODs (to compensate for smaller or phased array antennas), as well as seamless beam switching, interact on board the Newtec Dialog platform to ensure seamless, efficient and resilient satellite links for vessels, airborne platforms and land vehicles.
High throughput is no longer the pure single carrier service domain but can now also be offered in shared VSAT capacity. This will benefit Intelligence Surveillance Reconnaissance (ISR) networks connecting different bandwidth-hungry sensors onboard land, airborne or seafaring platforms to a Newtec Dialog hub, giving the end-users high definition granularity ISR products to improve decision making.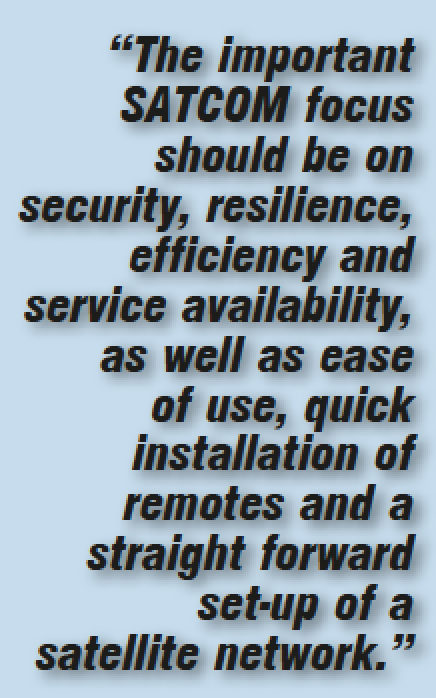 In the satellite business, companies must be ahead of the game and act upon world events and emerging technologies. Newtec has subscribed to the 5G revolution, hybrid networks, connected vehicles and the Internet of Things (IoT) and has signed agreements with industry leaders to investigate and develop technology fit for tomorrow's communication standards.
From the defense, government and first responder perspective, the important SATCOM focus should be on security, resilience, efficiency and service availability, as well as ease of use, quick installation of remotes and a straight forward set-up of a satellite network — with Newtec Dialog, first responders and deployed military personnel can establish satellite connectivity in a matter of minutes without time-consuming human intervention from the Network Operation Center (NOC).
Newtec in 2017
Newtec is experiencing double-digit revenue growth for the fourth year in a row — close to 20 percent — not many companies in the satellite industry can claim a similar growth rate. The rise in business is directly linked to the success of the Newtec Dialog platform in the broadcast, cellular backhaul, mobility, VSAT broadband and government markets.
Important company wins were achieved in the commercial SATCOM markets as well as in the government and defense market across the globe. For example, a U.S. Department of Defense (DoD) entity has selected the Newtec Dialog platform to deploy a network connecting hundreds of remote sites worldwide.
Several European defense departments have selected Newtec for their welfare programs and in the U.S. airborne ISR programs upgraded their Newtec modems to benefit from the DVB-S2X standard's increased efficiency. The Newtec Dialog VSAT platform was also installed in the U.S. for a large first responder network which is dedicated to America's police, fire fighters and emergency medical services.
2018 Outlook
2018 looks to be exciting and promising from a business and product development point of view. The importance of having an efficient, flexible and affordable VSAT platform is key for today's and tomorrow's government and defense operations.
The increase in demand for the Newtec Dialog platform has resulted in the need for an extra assembly line in the Newtec manufacturing plant. Additionally, the Newtec Dialog offering will be extended with the XIF hub, fit for the upcoming HTS constellations and a range of modems able to demodulate widebeam carriers up to 500 Mbaud. Furthermore, government and military on-the-move platforms will be able to switch transparently from one satellite beam to another while also protecting the confidentiality of their operations — keep a close watch on Newtec over the coming months.
Author Koen Willems is Market Director Government, Humanitarian & Defense Satcom at Newtec and Senior Contributor to MilsatMagazine. To learn more about the company and products, please visit www.newtec.eu.
---
Spectra Group
By Simon Davies, CEO of Spectra Group (UK) Ltd. and Senior Contributor
This has been a truly memorable year for Spectra Group UK with the continued enhancement of the company's flagship SlingShot® product.

The SlingShot developments culminated in an exciting news announcement at the recent Defence and Security Equipment International (DSEI) show in London. While earlier in the year, the product addressed the growing worldwide menace of cyber-attacks with the launch of Spectra Cyber Security Solutions by the company.
Extending Partnership with Airbus
In September, Spectra selected the DSEI event as the ideal platform wherein to announce an extension of the SlingShot sales partnership with Airbus.
SlingShot is a cost-effective solution that enables secure BLOS COTM (Beyond Line Of Sight Communications-On-The-Move) using in-service tactical radios that are connected to a global, commercial satellite network provider.
Before the development of SlingShot, high priority military forces and government agencies had access to tactical BLOS communications only through scarce UHF TacSat or HF radios. Neither were able to deliver flexible and resilient communications on the move.
SlingShot's emergence offers dedicated bandwidth for secure communications, while creating a BLOS communications network that can extend over thousands of kilometers. This is a capability that Airbus will be able to offer their entire customer base as a fully managed service.
Spectra is delighted to extend the firm's strategic relationship with Airbus who will offer SlingShot as a managed service called TREX (Tactical Radio Extension). Working with Airbus' worldwide sales team to supply SlingShot builds on the two years of successful delivery to the UK. This relationship shows the strength and importance of SlingShot in defence and national security market places.
When enabled with SlingShot, in-service tactical radios can use commercial L-band SATCOM for secure BLOS Command & Control COTM, delivering essential capability across multiple roles.
Whether it be interoperability for inter-agency or coalition operations, reliability for emergency services during disaster relief, or robust access to biometric databases for border protection, the voice and data capabilities over extended distances between multiple platforms makes SlingShot a unique and powerful solution.
This year witnessed further upgrades to the SlingShot system with the launch of new power options and the SlingShot Satellite Emulator (SSE).
A Universal Power Supply Unit and AA Battery Cassette deliver greater power flexibility and the SSE — an L-band satellite emulator — enables full offline system testing, training and operational system support without using the live satellite channel.
Taking on the Cyber Attackers
Cyber-attack has been identified as one of the four highest priority and most pervasive of risks faced by the UK and Allied nations — the others being international terrorism, international military crises and major accidents or natural hazards.

Information derived from corporate data is now vital to everyday business operations and ensuring its confidentiality, integrity, availability and security must be of paramount importance to any organization.
Some £1billion[1] was lost to online crime (March 15 to March 16), with seven in ten[2] business leaders admitting they have not taken any action to protect their business and employees from financial fraud.
From a SATCOM perspective, the subject of cyber threat and cyber security related to satellite communications has been a hot topic for some time and continues to be a focus of great concern for the satellite market.
When using satellite connectivity, generally data has to pass through public and private terrestrial networks — the security focus shifts to ensuring end-to-end data integrity throughout the network, identifying and rapidly rectifying any risks.
Spectra is highly experienced and well-placed to provide advice and services to counter the increasing threat of cyber-attack and information exploitation. The company has been delivering cyber solutions through the firm's existing satellite and terrestrial networks business — the launch in February of Spectra Cyber Security Solutions was a natural progression for the product and the company.
Spectra Cyber Security Solutions provides defense-in-depth, with proactive testing, to identify vulnerabilities in networks and procedures and protect data. Auditing of logs and the identification of threats and potential or attempted attacks, from internal as well as external sources, is a vital part of a robust security system.
Spectra has the expertise and experience to produce highly bespoke security solutions to protect against cyber-attacks from wherever they might stem. Extensive experience successfully designing, delivering and maintaining networks for military organizations and government agencies is a major thrust of the company's ever-growing expertise.
High-grade solutions are designed to integrate seamlessly with business architecture, minimizing downtime, ensuring data is available as and when required and is kept secure and protected from attacks throughout its lifecycle.
Extending End User Engagement
In March, Spectra participated successfully in the 2017 Army Warfighting Experiment (AWE17). AWE17 was a non-secret experiment run jointly by UK MOD departments, DE&S (Defence Equipment & Support) and DSTL (Defence Science & Technology), and this concluded with a VIP presentation at Copehill Down Village near Warminster, Wiltshire.
AWE17 was established as a forum to look at ways mature technologies available from industry could solve specific problems. The process first identified potential solutions and then after a progressive series of demonstrations, tests and trials, Spectra's SlingShot system emerged as one of the successful technologies presented following three rounds of selection.
The aim of the final stage of AWE17was to place the product into the hands of the user. British Infantry, Royal Marines and a squad from the U.S. Army participated in the live trials, which comprised training and Section exercises on Salisbury Plain and Platoon exercises prior to the final Company battle exercise.
The final exercise saw a company grouping deployed for 72 hours in a tactical scenario against a peer enemy force. SlingShot performed exceptionally well throughout the experiment and received positive recommendations for future implementation.
Corporate Compliance
Spectra updated their British Assessment Bureau ISO 9001 accreditation to ISO 9001:2015, demonstrating that the company is committed to continual improvement and that a Quality Management System is in place that leads to high levels of performance and customer satisfaction. The ultimate goal of the certification is to highlight companies that are "best-in-class" and provide services, products and skills that are not only industry leading, but also offer fantastic value and experiences to customers.
Spectra Group also achieved Cyber Essentials in 2017 on top of the company's existing ISO 27001 accreditation.
While the latter demonstrates an effective information management system, governing security of information and network systems, Cyber Essentials forms a robust and stringent checklist that security companies must meet to be considered eligible to work with highly sensitive information and government level security contracts.
A Busy Year Elsewhere
Spectra is once again honored to support next year's Soldiering On Awards, held in March. The Soldiering On Through Life Trust encourages support for the UK's Armed Forces Community through an annual showpiece occasion focused on highlighting the outstanding achievements of those who have served their country and individuals and groups who work together with the Armed Forces Community. Spectra sponsored the Sporting Excellence category, which recognizes the six finalists that have overcome their disability or injury to excel in the field of sport, as either an individual or as a team.
Spectra sponsors and participates in a wide range of charitable events, including the SSAFA race day at Chepstow. The SSAFA charity provides unprecedented support to thousands of serving service personnel as well as Veterans.
Closer to home, and on a personal note, Spectra Group achieved recognition within the business community and was listed in the Top 100 small suppliers to UK central government — I was honored to accept, on behalf of Spectra, the Business Man of The Year award as voted by readers of Battlespace.
This award is a clear reflection of the hard work and effort the Spectra team invests, day in and day out, to provide customers with excellent service and superb products.
References
[1] Get Safe Online & Action Fraud June 16
[2] Get Safe Online & Action Fraud October 16
Author Simon Davies is the Chief Executive Officer of Spectra Group (UK) Ltd. as well as a Senior Contributor to MilsatMagazine. For additional details regarding the company and products, please visit spectra-group.co.uk/
---
Speedcast
Without question, 2017 has been a year of growth and transformation for Speedcast.

From a government services perspective, and for the company as a whole, the year was ignited by the acquisition and integration of Harris CapRock. For a company steeped in strategic growth, this integration has been a catalyst, positioning Speedcast as a leader in key energy, maritime and cruise markets supporting thousands of ships, rigs and enterprise customers globally. This has developed Speedcast into a unique company in the industry — a company possessing many strengths.
Speedcast's unparalleled strength of network includes 40 teleports accessing more than 70 satellites with global C-, X-, Ku-, Ka-, L- and UHF-band coverage.
The company's strength of experience spans more than 30 years delivering customized and managed services to critical customers.
The firm's strength of partnerships with satellite operators, equipment manufacturers and local entities help us to deliver and support Speedcast products and services anywhere in the world.
Furthermore, the strength of more than 1,300 people, in 40 countries and in every business function, who are passionate about creating an agile, responsive work environment, allows Speedcast to support our customers' needs no matter what.
Additionally, the Harris CapRock acquisition also helped to transform Speedcast's government industry aspirations. The scale and reach of the company's expanded global infrastructure sets the foundation for cost effective, innovative solution development, which is paramount for success in the government market
This expansion has enabled organic growth with additional resources and broader service offerings and is the launch pad for additional market-specific acquisitions — particularly the addition of UltiSat to the portfolio this November.
A Company Positioned for Growth
The inherent strengths of an integrated Speedcast resonate in government and military markets, positioning Speedcast well to meet the demands of a changing market.
While requirements and spending can vary greatly by country and agency, there are common themes that have emerged in recent years that remain consistent today.
Budgetary pressure drives hard decisions on program spending and many times requires governments to do more with less. However, demand for big data is growing and is being led largely by intelligence, surveillance and reconnaissance (ISR) demands and the need for real-time, battlefield decisions based on those ISR sources. As military spending turns the corner in the next few years, a doubling of the market for the company is anticipated.
Commercial satellite communications (COMSATCOM) always has, and always will, play a critical role in the delivery of creative solutions to meet Speedcast's government customers' expanding mission requirements.
Satellite operators are building new high-throughput satellite (HTS) constellations, which also feature enhanced resilience and security features.
Terminal and modem original equipment manufacturers (OEMs) are building smaller, militarized and encrypted products.
With such upgrades, Speedcast sits in a unique position by remaining technology agnostic to create a network of networks. The firm is continually investing in infrastructure and consolidating new capabilities across satellite operators and OEMs.
The company has the scale to deliver robust, resilient and secure solutions based on customers' unique requirements and budget constraints.
The new Speedcast infrastructure is built for government services anywhere around the globe. The company has a 30 year history of delivering critical communications in the harshest of environments, where interruptions put lives and missions at risk.
Speedcast's tagline, "The Critical Communications Company," comes with great responsibility and a substantial commitment to government customers as the need for resilient, reliable, global communications, while understanding the risk and consequence should such services be unavailable, and to accept the heady responsibility of guaranteed delivery.
Expansion in the Government Market
As with Speedcast's commercial divisions, the Harris CapRock acquisition has also been a catalyst for the company's government teams with the immediate addition of cleared, U.S.-based staff supporting government growth in the U.S. and internationally, as well as a number of strategic and longstanding international government contracts.
The added resources and infrastructure have helped Speedcast facilitate more direct sales as well as expanded the growth of the firm's indirect sales model, which is important for global success.
As an Australian company listed on the Australian Securities Exchange (ASX), and with offices in 49 countries, Speedcast continues to build from the firm's natural strengths in Australia and Asia.
Speedcast is executing the first year of a multiyear contract with an Australian government agency to install new wideband management terminals for the agency's vessels.
Going beyond fixed and mobile satellite solution connectivity to the Australian government, Speedcast is also delivering a full network management system. Customized for the customer, the management solution consists of equipment, software, monitoring, maintenance and support, meeting the agency's stringent security and quality requirements. This effort demonstrates the diversity of Speedcast's government services portfolio and our strategy to grow this sector with true value-added, customer-focused solutions.
A further testament to Speedcast's investment in the government market, specifically within Australia, is the Adelaide team's recent multi-year contract with the Australian government to provide mission-critical VSAT services, equipment, training and support to scientific research teams at the three Australian Antarctic research stations — Mawson, Casey and Davis, plus the base on Macquarie Island.
With the equipment and network enhancements provided by Speedcast, the research teams will be able to use four times their current throughput, significantly expanding the operational and crew morale capabilities at each site. The criticality of satellite communications in environments as unforgiving as the Antarctic demonstrates the confidence and trust Australian government customers hold in Speedcast.
Customer intimacy is also instrumental to Speedcast's growth, with end-user demonstrations and hands-on training an important focus. This August, Speedcast participated in the Multinational Communications Interoperability Program (MCIP) Annual Pacific Endeavor 2017 (PE17) exercise in San Jose, California, sponsored by the U.S. Pacific Command (USPACOM).
Senior communications leadership from more than 22 pacific nations attended PE17 to develop greater interoperability among nations when responding to Humanitarian Aid and Disaster Relief (HADR) events. Speedcast participated in the SATCOM training event, providing classroom instruction followed by several hours of hands-on training.
Using 95cm and 1.3m flyaway terminals with both star and mesh modem technologies via Speedcast's Houston teleport, more than a dozen communications officers were able to assemble and bring into use both terminals and activate live video streaming calls. Events such as this, especially for HADR operations, instill familiarity and confidence with SATCOM equipment and solutions, improving readiness and mission execution when responding to disasters.
Advancement Through Acquisition
The capstone event of Speedcast's government growth strategy has undoubtedly been the $100 million acquisition of UltiSat and the formation of a dedicated government division completed in November.
With a team of 150 satellite communications professionals, UltiSat has been delivering customized SATCOM solutions to the U.S. government, global government and nongovernmental organizations (NGOs) for the past 15 years. The synergies achieved with the addition of UltiSat will pay immediate dividends.
The structure and leadership of the division will be derived from UltiSat, allowing the team to hit the ground running immediately. With direct access to U.S. government and global government contract vehicles at a time when government spending is on the rise, the government division can leverage the scale and resilience of the Speedcast architecture to deliver innovative solutions and enhancements globally.
The business development teams around the world benefit from UltiSat services becoming available to existing customers, along with the infusion of significant resources and expertise in government contracting, product and service development, delivery and support. The acquisition brings capabilities to ensure that Speedcast is well positioned for continued growth in the government market in 2018.
Looking to the Future
Government and military markets have been stabilizing over the past 12 to 18 months, following several years of downturn. New opportunities are materializing and spending for satellite communications is expected to grow in many countries, with an anticipated doubling in growth of the government market by 2025.
The COMSATCOM industry has, and will continue to play, a pivotal role in finding solutions to governments' communications needs. Across the board, the industry recognizes the importance of the government customer and continues to develop commercial constellations, products and services with government users in mind.
The investments completed in 2017 will position Speedcast as a leader in the government sector. Equipped with an unprecedented network capability and scale, a pedigree of government service development and delivery, and the ability to harness the power and features of our satellite operator and OEM partners under one roof, Speedcast creates enormous potential and value to governments and militaries around the globe.
At Speedcast, the delivery of products and services critical to invaluable government customers will ensure the company's ongoing successes during 2018.
Author Mike Carew is the Vice President of Government Services at Speedcast. For additional information regarding the company, please visit the firm's infosite at www.speedcast.com
---