The president's budget proposal for 2013 includes steep cuts in federal military spending. Requested military appropriations are about $32 billion less than this year's total. Meanwhile, defense officials recently unveiled a plan to cut projected department spending by $260 billion over the next five years.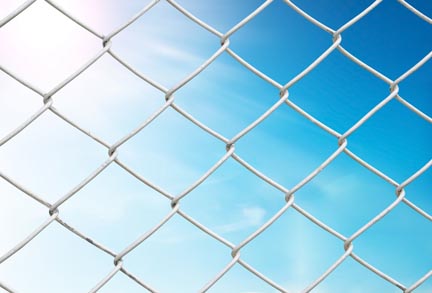 There's certainly a need for federal fiscal reform. However, amid this belt-tightening, genuinely vital military programs shouldn't get the axe. There are important new weapons and intelligence systems in development that hold the promise of radically improving our fighting capabilities and that will assist in making the world a safer place.
Chief among these programs is the
Air Force Space Fence Program
. This program must stay funded and on schedule for development.
The Space Fence uses a system of radars to detect and track space debris in, primarily, low Earth orbit (LEO)—around 700 to 3,000 kilometers above the planet's surface, where the majority of space debris is located. Space Fence also provides capability beyond LEO to support the cataloging of satellites and debris with other space-based sensors. This information is used by the military and commercial satellites to adjust their orbits in the event they're headed for a collision.
Space debris might sound like a worry better suited for science fiction—it's not.
Official estimates place the number of objects in Earth's orbit in the millions, with at least 500,000 pieces that are more than half-an-inch in length. Defunct satellites, spent rocket boosters, as well as nuts and bolts from old spacecraft. now orbit the Earth. As the number of countries with space programs has increased, so has the amount of debris.
Back in 2009, a satellite owned by communications firm
Iridium
collided with a Russian satellite. Both satellites splintered into thousands of pieces of new space junk.
This debris is whipping around the Earth at up to 17,500 miles per hour. At that speed, even a small object can do serious damage to satellites or space stations. NASA predicts that space vehicles now face a roughly a 1-in-250 chance of a catastrophic collision with debris.
That might not sound like much, but when extended to more than 100 missions, the risk of disaster hits a disturbingly high 33 percent.
Earth's orbit has become so crowded that NASA projects space debris collisions will occur at least once every four to five years. Recently there have been some very close calls.
Over the span of just a couple weeks last summer, orbital junk headed for the International Space Station (ISS) and was expected to pass so close that the six astronauts aboard had to take emergency shelter in Russian space capsules. In one instance, the debris zoomed past the ISS less than 900 feet away.
If a commercial satellite gets destroyed or compromised by colliding with space debris, the daily lives of tens of millions of Americans could certainly become disrupted. Think of all the devices used that depend on signals from satellites in orbit around the Earth—the GPS systems, iPhones, even car radios. These devices will cease to function if their associated satellites are seriously damaged.
More importantly, American military operations routinely rely on satellite technology to gain the upper hand in combat. Soldiers use satellite radios to communicate information that is critical to the success of missions and to their safety and survival. In today's world, in which we rely increasingly on special operations forces working in smaller numbers and at greater distances from supporting forces, dependable communications are paramount. If a satellite goes down from an unintended (or intended) space collision, service members can get killed.
The United States does have a space surveillance system in operation. But it has limited capacity and capability, with several systems nearing their end-of-life. Starting in 2009, defense officials have been working with private contractors to build a replacement system. Development has gone smoothly. The new Space Fence is set to achieve initial operating capability no later than 2017.
This project is expected to increase the number of objects tracked every day from 20,000 currently to around 200,000. The system will be powerful enough to detect objects that are just four inches long, peer even deeper into space, and employ state-of-the-art algorithms to better project the paths of potentially dangerous debris.
Federal budget officials have targeted the military for deep cuts over the next few years. It's vital that during this push, the Space Fence program remains unscathed. The Space Fence needs to be well-funded and remain on schedule. This technology represents a major upgrade over existing programs and will help to ensure the safety of our soldiers on the battlefield.
About the author
Ben Ryan is a former U.S. Navy SEAL officer who earned his BA in Biology from Yale and an MBA from Harvard Business School. As head of Strategic Initiatives at Triple Canopy, a private security firm with extensive operations in Iraq and the Middle East, he planned and developed a large secure housing compound in Baghdad. Today, he is President of Tourmaline Properties and Tourmaline Construction in San Diego, California.
* * * * * * * * *
About The Space Fence
The
U.S. Air Force Materiel Command
's Electronic Systems Center at
Hanscom Air Force Base
in Massachusetts leads the procurement for the USA's Space Fence, which is intended to improve space situational awareness as legacy systems in the
Space Surveillance Network
(
SSN
) are retired. With a total anticipated value of around $6.1 billion over its lifetime, Space Fence will deliver a system of 2-3 geographically dispersed ground-based radars to provide timely assessment of space objects, events, and debris. Failure is not an option…
The Space Fence procurement is broken down into the following phases:
– Phase A
– Preliminary Design Review
– System Development
– Deployment
– Follow-on support
System development is scheduled to begin in June of 2012, with the first Space Fence radar site providing initial operational capability by the end of fiscal year 2015, and the final site providing full capability by 2020.
To fit this program into its larger context, the U.S.
GAO
characterized four facets of space situational awareness (
SSA
), an umbrella term that includes, but is not limited to, tracking space debris:
– Detect, Track, and Identify. The ability to discover, track, and differentiate among space objects. Space Fence will anchor this facet, but it won't be the only asset used for this purpose

– Threat Warning and Assessment. The ability to predict and differentiate among potential or actual attacks, space weather environment effects, and space system anomalies. Space Fence may be able to help with this task, but in a secondary way

– Intelligence Characterization. The ability to determine performance and characteristics of current and future foreign space and counterspace system capabilities, as well as foreign adversary intentions. Better monitoring of space may help with intelligence collection, but in a tertiary way

– Data Integration. The ability to correlate and integrate multisource data into a single common operational picture and enable dynamic decision making.

– Out of Scope for Space Fence. The USA's pending Joint Space Operations Center Mission System (JMS) will play a large role here, and must be ready, or the amount of data generated by the new radars will exceed the system's capacity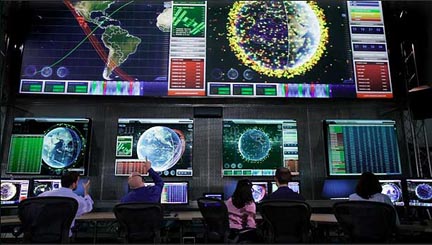 The Pentagon expects about 66 percent of their $3.3 billion SSA investment to buy new sensors, about 21 percent on JMS for data integration, and the other 13 percent on extending the lives of current sensors, and other SSA-related programs.
's largest single investment in SSA sensors. It will serve alongside new systems like the
SSBS
satellite, the pending ground-based
RAIDRS
electromagnetic interference detection system, and
DARPA
's pending ground-based
Space Surveillance Telescope
.
All are designed to boost the existing
Space Surveillance Network
, which includes 29 ground-based
Department of Defense
(
DoD
) and privately/foreign owned radar and optical sensors, at 17 worldwide locations; plus a communications network, and primary and alternate operations centers for data processing. Most of the sensors are mechanical tracking, phased-array, and continuous-wave radars, but optical telescopes are also used.
In March of this year, the GAO report "
DoD Faces Challenges in Fully Realizing Benefits of Satellite Acquisition Improvements
" includes a discussion of the Space Fence acquisition strategy—and its potential pitfalls. The agency doesn't believe Space Fence will be ready before 2017, and sees a strong technical risk if the accompanying JMS ground system isn't ready at the same time:
"Space Fence program officials have stated that Space Fence will be one of the largest phased array radars ever built. The size of the radar is expected to provide significant power… but may also pose increased risk…. To mitigate this risk, the Space Fence acquisition strategy includes maintaining competition through technology development and having two firms under contract doing parallel prototype development. This process allows program officials to evaluate contractors' designs and associated costs while moving Space Fence's four critical technologies and backup technologies toward maturity, before the program enters system development which is scheduled for later this year with the award of a single contract. Though earlier plans called for the first Space Fence site to achieve initial operational capability in 2015, estimates show that at current funding levels, this capability will not occur before 2017.

"...Another area where synchronization in system development may pose problems is the Air Force's Joint Space Operations Center Mission System (JMS) and Space Fence programs. JMS is to process data about space assets gathered by the Space Fence and other Space Situational Awareness (SSA) programs, and will increase DOD's ability to track objects in space from about 10,000 objects with the current system to over 100,000 objects. According to the Space Fence program office, JMS needs to be available when the Space Fence is fielded because the amount of data Space Fence will generate exceeds existing command and control system performance limits. JMS recently underwent a change to its acquisition strategy, dividing the program's development into two increments to reduce risk and more rapidly deliver needed capabilities. The first Space Fence radar site is scheduled to provide initial operational capability by the end of fiscal year 2017, and… JMS needs to be operational by this time."
Lockheed Martin's Space Fence Solution
A prototype of a new radar system developed by a
Lockheed Martin
-led team is now tracking orbiting space objects, bringing the U.S. Air Force's Space Fence program one step closer to revolutionizing our nation's space situational awareness.
Using powerful, new, ground-based radars, Space Fence will enhance the way the U.S. detects, tracks, measures and catalogs orbiting objects and space debris with improved accuracy, better timeliness and increased surveillance coverage. Lockheed Martin's prototype radar recently met a key contract requirement during a series of demonstration events by proving it could detect these resident space objects, as they are referred to by the Air Force.
On February 29th, the U.S.A.F. granted its final approval of Lockheed Martin's preliminary design for the system.
"The successful detection and tracking of resident space objects are important steps in demonstrating technology maturity, cost certainty and low program risk," said
Steve Bruce
, vice president of the Space Fence program at Lockheed Martin's
Mission Systems & Sensors
business. "Our final system design incorporates a scalable, solid-state S-band radar, with a higher wavelength frequency capable of detecting much smaller objects than the Air Force's current system."
Space Fence will enable the decommissioning of the aging U.S.-based
Air Force Space Surveillance System
(
AFSSS
), originally installed in 1961. With more than 60 nations operating in space today, the final frontier is much more complex than when the AFSSS first started tracking a few hundred orbiting objects. Today, with hundreds of thousands of objects orbiting the Earth, space debris and risk of potential collisions now threaten national space assets providing critical services, including the
Global Positioning System
, banking and telecommunications.
Bruce
added, "Space Fence will detect, track and catalog over 200,000 orbiting objects and help transform space situational awareness from being reactive to predictive. The Air Force will have more time to anticipate events potentially impacting space assets and missions. Our net-centric design approach allows Space Fence to be easily integrated into the broader U.S. Space Surveillance Network of sensors already operated by the Air Force."
Lockheed Martin's Space Fence prototype was developed under an 18-month, $107 million contract awarded by the U.S.A.F; in January 2011. The Air Force has said it plans to award a Space Fence production contract later in 2012. The first of several Space Fence sites is expected to reach initial operational capability in 2017.
With more than 400 operational S-band arrays deployed worldwide, Lockheed Martin is a leader in S-band radar development, production, operation and sustainment.
The Lockheed Martin-led team, which includes
General Dynamics
,
AMEC
and
AT&T
, has decades of collective experience in space-related programs, including sensors, mission processing, cataloging, orbital mechanics, net-centric communications and facilities.
Headquartered in Bethesda, Maryland, Lockheed Martin is a global security and aerospace company that employs about 123,000 people worldwide and is principally engaged in the research, design, development, manufacture, integration and sustainment of advanced technology systems, products and services. The Corporation's net sales for 2011 were $46.5 billion.
(Space Fence images are courtesy of Lockheed Martin)