---
U.S. Army wraps up the Airbus-built Zephyr 8 UAS high altitude experiment
The Assured Positioning, Navigation and Timing/Space (APNT/Space) Cross- Functional Team (CFT) has concluded a 64 day stratospheric flight demo using Airbus's Zephyr 8, ultra-long endurance, solar-powered, unmanned air system (UAS).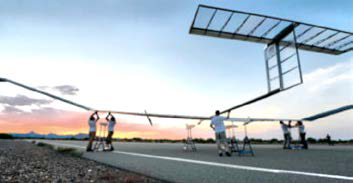 Launched from Yuma Proving Ground (YPG) on June 15, the Zephyr 8 UAS ascended to more than 60,000 feet into the stratosphere before executing its flight plan over the southern portion of the United States, into the Gulf of Mexico and over South America. Once returning to airspace over YPG, the team conducted multiple assessments.
On August 18, around 2100 hours PDT, the prototype aircraft's flight campaign ended when the Zephyr 8 UAS encountered events that led to its unexpected termination over YPG.
These events are under investigation. No injuries or risk to personnel or other aircraft resulted from this incident. Further information will be released following the investigation.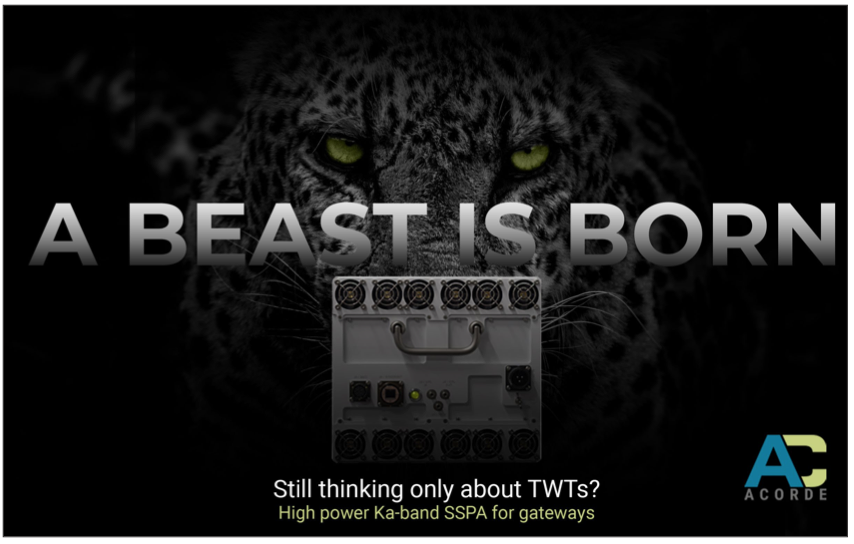 This flight marked a number of firsts for Zephyr 8, including its departure from U.S. airspace, flight over water, flight in international airspace, data collection and direct downlink while outside of U.S. airspace, the longest continuous duration (7 days) using SATCOM, and the demonstration of resilient satellite command and control from three different locations – Huntsville, Alabama; Yuma, Arizona and Farnborough, United Kingdom.
This experimentation successfully demonstrated Zephyr's energy storage capacity, flight endurance, station-keeping and agile positioning abilities. Given the amount of data that was generated during the 64-day flight and the time required to analyze it, as well as the need to investigate the events that led to the termination, further flight demonstrations have been postponed until 2023.
This 64-day test flight was performed in conjunction with government and industry partners who support experimentation that continues to inform Army requirements. continues to inform Army requirements.
---
SpaceWorks RED-Rescue Delivers Goods Key to Survival in Wartime
SpaceWorks has successfully demonstrated RED-Rescue, the company's new, low-cost solution in delivering life-saving food, supplies and equipment to downed or isolated Airmen. The flight test was conducted in March near Albuquerque, New Mexico.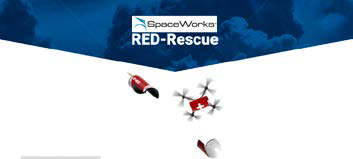 The U.S. Air Force had recently challenged industry to develop capabilities that provide on- demand and cost-efficient delivery of Personnel Recovery Kits (PRKs) to downed Airmen.
SpaceWorks' unique solution involving aerial deployment of a large multi-rotor drone was subsequently selected to provide this capability. Designed to be quickly deployed at significant standoff distances, RED-Rescue delivers critical supplies and equipment with extreme precision to a stranded warfighter at their location.
Designing RED-Rescue began in early 2020 when the company won a contract with the Air Force Research Laboratory to develop its Air-launched Drone Delivery Device (AD3).
The program began with a concept evaluation study for the operational system design, then moved to detailed design for the prototype system, and finally to flight test demonstrations.
To ensure the proposed PRK delivery device was capable of meeting mission objectives, SpaceWorks planned a two-phase risk reduction effort. Phase I verified its performance in lab and bench level settings, where engineers tested individual components and functions Phase II culminated in March's flight test that validated the descent, deceleration, aerial deployment, and final mile delivery of a PRK in the field.
For the flight test, RED-Rescue capsules were dropped by a Bell 206B JetRanger helicopter at an average altitude of 3,000 feet above ground level (AGL).
Once the parachute deployed, the capsule fell and then released the drone, which was guided to deliver the PRK consisting of food rations, medical equipment, and survival gear.
SpaceWorks partnered with Watts Innovations and employed a modified version of their high- performance PRISM X8 Coaxial Drone for the final mile delivery.
In the field, RED-Rescue is designed to eventually be delivered not from a helicopter but from a military aircraft at speeds up to Mach 6 (six times the speed of sound).
---
Raytheon Intelligence & Space is upgrading Australian border surveillance aircraft with advanced radar
Raytheon Intelligence & Space, a Raytheon Technologies business, will equip Australian border surveillance aircraft with the company's latest SeaVue Multi-Role radar under a contract with Cobham Special Mission.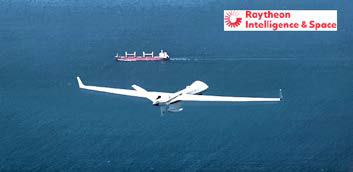 Under the contract, RI&S will upgrade Cobham's fleet of Dash 8 fixed-wing aircraft to the most advanced version of its SeaVue multi-domain surveillance radar in support of Australian border protection operations.
SeaVue MR will bring long-range, high-altitude surveillance capabilities to the special mission fixed-wing aircraft used to patrol the oceans surrounding Australia's shores as part of the world's largest outsourced civil maritime surveillance operation.
"Long-range detection of small targets from higher altitudes increases surveillance coverage and improves Australia's capability to detect and counter Civil Maritime Security threats," said Denis Donohue, president of Surveillance and Networks Systems for RI&S.
---
BAE Systems provides enhanced GPS tech for F-15 Eagle fighter aircraft
BAE Systems has received a $13 million contract for advanced Global Positioning System (GPS) technology to protect U.S. F-15E aircraft from GPS signal jamming and spoofing — the company's Digital GPS Anti-jam Receiver (DIGAR) will ensure the reliability of military GPS systems for aircraft operating in challenging signal environments.

DIGAR technology offers the best available airborne GPS jamming protection, featuring two form factor options for legacy retrofit and forward fit applications.
DIGAR uses advanced antenna electronics, high-performance signal-processing, and digital beamforming – a capability that combines 16 steered beams – for better GPS signal reception and superior jamming immunity. These capabilities are critical for high-speed aircraft as they maneuver through the battlespace.
The F-15 Eagle is the second U.S. Air Force fighter platform to receive DIGAR GPS upgrades, following the F-16 Fighting Falcon. DIGAR also provides advanced GPS capabilities for intelligence, surveillance, and reconnaissance aircraft as well as multiple unmanned aerial vehicles.
"Modern airborne missions require accurate positioning and navigation data, and GPS systems must be able to withstand adversaries' best disruption efforts," said Greg Wild, Navigation and Sensor Systems product line director at BAE Systems. "Our DIGAR antenna electronics are trusted to protect these platforms in contested environments."
---
SES + SES GS Acquire DRS Global Enterprise Solutions From Leonardo DRS
SES and its wholly-owned subsidiary, SES Government Solutions (SES GS), have completed the acquisition of DRS Global Enterprise Solutions (GES) from Leonardo DRS for $450 million after obtaining all the necessary regulatory approvals.
The DRS GES business will be combined with SES GS to create a scaled solutions provider serving the multi-orbit satellite communications needs of the US Government and supporting missions anywhere on land, at sea, or in the air.
With the combined businesses operating as SES Government Solutions, the new organization will comprise a cross-functional workforce with deep technical expertise and a proven ability to integrate and manage multi-orbit geostationary and Medium Earth Orbit (MEO) services as well as multi-operator network solutions.
In particular, SES GS will offer highly flexible second-generation MEO services – via SES's soon-to-be launched O3b mPOWER system – with a unique combination of low latency and high throughput per terminal for high-value missions, to an expanded government customer base. SES GS will also leverage essential tools and expertise in cybersecurity operations, customer support, governance and compliance.
The combined business will continue to serve US Government customers under the direction of the SES GS Proxy Board of Directors.
The consolidation of DRS GES with SES GS is expected to unlock $25 million of annualized run-rate synergies, with government becoming SES's largest data business segment in terms of revenue.
The combined business will be led by David Fields, who assumes responsibilities on August 1, 2022, as appointed by the SES GS Proxy Board.
Fields has more than 30 years of experience in the satellite communications and information technology (IT) services industries and joins SES GS from DRS GES.
He succeeds Brigadier General Pete Hoene, USAF (Retired), who, after 11 years at the helm of SES GS and decades of dedicated service in the satellite communications arena, will take his retirement.
Additional details...
---
Dual acquisitions by Slingshot Aerospace include Numerica's Space Division + UK-based Seradata
Slingshot Aerospace's dual acquisitions transform spaceflight safety and sustainability for satellite operators at a time of unprecedented and growing risk on-orbit. The acquisition of Numerica Corporation's Space Domain Awareness (SDA) division includes the world's first and only, commercial, LEO to GEO, daytime and nighttime, optical sensor network for satellite tracking.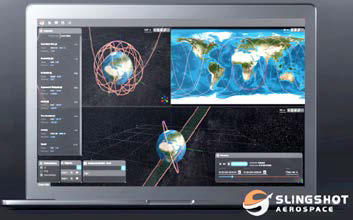 The acquisition of Seradata brings the company's industry-leading SpaceTrak satellite and launch database into Slingshot's portfolio and establishes Slingshot's footprint in the UK/European market.
Both of these acquisitions fast track Slingshot's ability to drive the space economy toward sustainability by providing satellite and launch operators with the most robust and authoritative space situational awareness (SSA) and space traffic coordination solutions available today.
Today, satellite operators across the commercial, civil, and defense sectors rely on siloed tools and data that significantly limit the efficiency of day- to-day operations.
Both of these acquisitions accelerate the development of Slingshot Digital Space Twin™, a virtualization of the space operating environment that fuses data together from multiple sources, providing an accurate live, historical, and future representation of objects in orbit, space weather like geomagnetic storms, and the radio frequency spectrum.
These acquisitions also enhance the world's first space traffic coordination solution, Slingshot Beacon, used by satellite operators to cut through the noise of conjunction alerts and facilitate coordination to prevent collisions.
Slingshot's Digital Space Twin reflects the current state of space at any given moment, enabling users to simulate various scenarios and identify the best approach to accomplishing missions.
The product combines real-time mapping of objects in orbit and space weather data with physics based simulations to show users how planned missions will behave in the real space environment. Slingshot Aerospace has spent the last two years developing the Digital Space Twin, which attracted the government's attention.
Additional details...
---
L3Harris brings Maxar into their Tranche 1 Tracking Layer contract with the SDA for the design + production of 14 spacecraft
Maxar Technologies has been selected by L3Harris Technologies for the design and production of 14 spacecraft platforms and associated support for their Tranche 1 Tracking Layer contract with the Space Development Agency (SDA).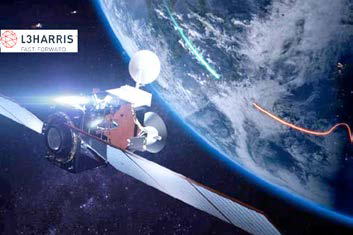 SDA selected L3Harris as a prime for its Tranche 1 Tracking Layer as part of the initial Missile Warning/Missile Tracking warfighting capability of the National Defense Space Architecture (NDSA).
Tranche 1 Tracking Layer will provide limited global indications, warning and tracking of conventional and advanced missile threats, including hypersonic missile systems.
Designed, engineered and built in-house, these modular satellite platforms illustrate Maxar's ability to adapt and extend its deep experience to provide agile, affordable solutions in proliferated LEO constellations.
With this contract, Maxar will provide a robust foundation for the integration of various mission payloads, including optical terminals for space mesh networking, Ka-band communications, and infrared sensors.
Additionally, it will provide related ground, operations and sustainment support. Maxar will manufacture the platforms at its factories in Palo Alto and San Jose, California, for delivery in 2024, and launches are scheduled to begin in April of 2025. Additional details...
---