The concept of reconfigurable space-based capabilities is gaining traction in our industry, as evidenced by the lively Satellite 2015 panel. Increasing the application of this approach will change the way we design, build, deploy, and use our platforms.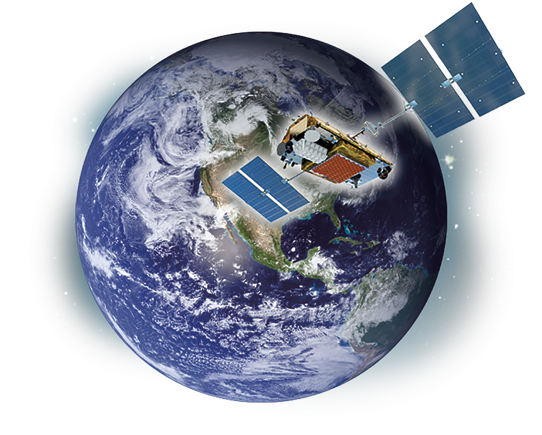 On March 16, 2015, Satellite 2015 attendees were treated to several perspectives on the industry push to make our space-based assets more flexible, and, therefore, more useful. Nate Conn, President of OMNI Space Access and OMNI Consulting Services, moderated a panel entitled "Software-Defined Hosted Payloads: What are the Benefits of Reconfigurable Architectures?"
Panelist Hector Fenech discussed Eutelsat's software-defined Quantum satellite that will electronically synthesize receive and transmit functions in the Ku-band, including on-board jamming detection and mitigation. The satellite development was announced by the company in December of 2014. The first satellite, to be launched in 2018, will be primed and manufactured by Airbus Defense and Space (ADS) in the UK using its innovative flexible payload technology and a new platform from its affiliate, Surrey Satellite Technology Ltd. (SSTL). Both developments are supported by the UK Space Agency.
The Quantum satellite enables a new flexibility in fleet management, providing the ability to define the satellite functions as needed to replace a failed satellite or to extend the capability for an overloaded satellite in the face of changing demand.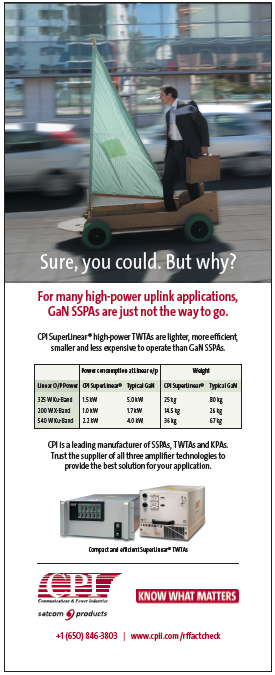 Panelist Alan Mast discussed how the Harris AppSTAR™ software defined payload has been adapted to missions including a Ka-band radio, a Synthetic Aperture RADAR, an air traffic surveillance receiver, and multiple additional user-defined missions. The AppSTAR™ platform is flying on the International Space Station today and has manifested more than 200 hosted mission units delivered and/or in production.
Panelist Ahmed Ali Al Shamsi discussed the Thuraya vision of a software defined payload as a design that evolves with technology while in orbit—a unifying theme for the panelists. Key aspects of the Thuraya vision include flexible beam forming, gain management, air interface definition adaptation, and dynamic resource allocation. Thuraya will be able to keep pace with changes in air interface standards and user demand, ensuring its space investment remains relevant.
Panelist Damon VanBuren discussed the cost, schedule and risk advantages of SEAKR Engineering's Application Independent Processor (AIP) reprogrammable payload, which is the basis for Iridium NEXT's Onboard Processor, the IP Router in Space (IRIS), TacSat-3 and others.
SEAKR's experience has shown that the benefits of reconfiguration begins on the ground in accommodating requirements changes during development, and ultimately extending to on-orbit flexibility.
The feature graphic above is courtesy of Harris Corporation.]
This column's question for HPA Members is…
From your perspective, as members of the Hosted Payload Alliance, how are reconfigurable payloads changing the way you do business now and over the next five years?

"The challenge is to find the ideal compromise between advanced reconfigurable payloads that provide flexibility and the costs of those payloads. In the latest SES satellites coming into the market place starting with SES-12, we have invested in advancing the state of the art in high throughput design options and the associated hardware required to make these features available to the market place. Several of our new satellites will include digital signal processors, commonly referred to digital transparent processor (DTP) or channelizers.
"The advent of reconfigurable payloads, or "software defined payloads", will mean the ability for an operator to adapt to changing business needs which may be different from when the satellite was first designed. DTP's along with Active Phased Array antennas (APAs) give the operator the flexibility to reshape coverage areas and performance to suit changing customer requirements in near-real-time instead of having to wait for a new satellite to be launched."
—Tim Deaver, Corporate Vice President, Development, SES Government Solutions
---

"Reconfigurable payloads are incredibly important to Aireon's overall strategy and mission-critical decisions. Over the next five years, we need to make sure that we have the flexibility to tactically meet the growing demand of air traffic. By tracking ADS-B equipped aircraft from space using the AireonSM payload hosted on the Iridium NEXT constellation, consisting of 66 low-orbit satellites, Aireon will be able to provide 100 percent global surveillance to ANSPs, airlines, regulators and airports. The ability to reconfigure the Aireon payloads allows new features and capabilities to be uploaded at any time. This ensures that Aireon will be able to deliver a global capability and meet the needs of aviation now, in five years and beyond as the aviation industry growth matures into new standards and services."
—Dennis Diekelman, Development Program Manager, Aireon
---

"Reconfigurable payloads allow operators to adjust their on-board capability over the life of a mission to meet ever-changing operating environments. Examples include the ability to reconfigure coverage areas, transmit power, and connectivity to better serve the users. The Boeing-built Wideband Global SATCOM (WGS) spacecraft provides such capabilities through the use of phased array antennas allowing shapeable coverage, steerable spot beams, and a digital channelizer that can connect any receive-antenna beam to any transmit-beam. This flexibility allows service to be quickly and easily moved globally as demand shifts, and connect users with terminals operating at different frequencies to communicate seamlessly with one another. Reconfigurability is thus instrumental in preserving the utility and value of the payload over the satellite's 10 – 15 year lifespan, despite changing conditions. Boeing sees more compact versions of these reconfigurable payloads as prime candidates for hosting on commercial spacecraft.
"Reconfigurability also can reduce risk. One of the barriers preventing the wider adoption of hosted payloads is the inability of government customers to make financial and mission commitments prior to the start of satellite construction. This forces operators to take on significant financial risk in the event that the government customer's mission needs change over time. Reconfigurable payloads, by their nature, provide greater flexibility in terms of meeting changing mission needs, which in turn lowers the satellite operator's risk profile."
—Jim Mitchell, Vice President, Boeing Commercial Satellite Services
---

"Hosted payloads have significantly changed the space business in a positive way; creating a new market that provides affordable access to space for small companies, start-ups and larger organizations, while helping satellite providers close their business plans for launch. As a result, satellite developers, such as Iridium, now plan for excess capacity and resources to support their hosted payload customers' missions; like Aireon, which relies on Harris' AppSTAR™ software defined payload on Iridium NEXT.
"In the future, hosted payloads will move from being a dedicated purchased solution to more of a lease model, where customers pay for only the satellite resources and time they need to meet their business needs. This dynamic use case will force hosted payloads to be much more flexible and reconfigurable and able to support a broad range of missions in space. The push for reconfigurability will ultimately bring even more value, business innovation and new services to space customers."
—Dr. Frank Bourne, Director of Research and Development, Harris Government Communications Systems
---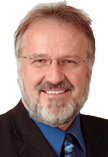 "Future satellites should be flexible and reconfigurable in orbit to meet customer requirements for 1) a competitive cost per bit; 2) a service tailored to their needs; and 3) a service that can be rapidly implemented. This flexibility could include:
• Frequency selection/change in orbit
• Adjustment in uplink and downlink power allocation over a given area on Earth in orbit
• A change in allocated bandwidth over a given coverage area in-orbit
• In-orbit connectivity between coverage areas with a digital payload
• Modification of the coverage area once the satellite is in-orbit with such tools as on board beam forming or active array antennas.
If you carry these ideas to their full potential, you obtain what we call a "software defined" satellite, i.e. a satellite that is basically identical on the ground and can be configured to the customer's needs once in-orbit. It is plausible to think of a concept where the satellite manufacturer would "pre-build" these standard satellites ahead of the demand. At the request of a customer, they could be launched in record time and configured to meet the mission demand once in-orbit. This will lower the recurring cost of the satellites and reduce the time to market."
—Jean-Luc Froeliger, Vice President, Satellite Operations and Engineering, Intelsat
---

A message from HPA Chair Nicole Robinson
"As we move into the second half of 2015, we have much we can be proud of as an Alliance in the development of commercially hosted government payloads. Earlier this year, we saw encouraging language in the National Defense Authorization Act supporting this means of accessing space, witnessed the clear advocacy of hosted payloads by Congressman Jim Bridenstine of Oklahoma in a number of external engagements, and revealed the signing of two new hosted payload deals with the NASA GOLD mission as well as the WAAS payload with the FAA. It is clear the hosted payload community is alive and well and the Alliance is playing a significant role in these developments.
"In recent weeks, the HPA engaged our member companies in a survey as well as a series of interviews to understand areas where we truly have excelled in recent years and areas where perhaps we could focus more attention. Through that exploration, we recognized the value in the Alliance's ability to shape and influence such works as the Space Transportation Policy, the CIO Guidance on military spectrum payloads on board commercial satellites, as well as the continued reference to hosted payloads throughout various legislative initiatives. Going forward, we will commit to focusing much of our attention as an Alliance to continuing senior-level engagements across the government to leverage this momentum and continue to educate on the limitless potential and value industry can provide in this regard.

"Specifically, the HPA is actively engaged in the development of messaging and a call plan related to the ongoing Analysis of Alternatives (AoA) for various space-based capabilities in the Department of Defense. In the weeks ahead, we will be engaging offices involved in the development and review of the SBIRS AoA, Protected AoA as well as the Wideband AoA to ensure the commercially hosted government payload voice and value proposition has been considered.
"The first half of 2015 has proven strong in the area of hosted payloads, however it is clear there is much work yet to be done. I'm confident that with the highly influential and technically astute participants within our Alliance, we will be successful in our effort to engage in the AoA process and more broadly, ensure the hosted payload message is heard, understood and leveraged in the growth of commercially provided government space capability in the future."
About the Hosted Payload Alliance (www.hostedpayloadalliance.org/)
Established in 2011, The Hosted Payload Alliance (HPA) is a satellite industry alliance whose purpose is to increase awareness of the benefits of hosted government payloads on commercial satellites. The HPA seeks to bring together government and industry in an open dialogue to identify and promote the benefits of hosted payloads. The HPA:
• Serves as a bridge between government and private industry to foster open communication between potential users and providers of hosted payload capabilities
• Builds awareness of the benefits to be realized from hosted payloads on commercial satellites
• Provides a forum for discussions, ranging from policy to specific missions, related to acquisition and operation of hosted payloads
• Acts as a source of subject-matter expertise to educate stakeholders in industry and government.
---