U.S. Space Force Welcomed As the 18th Intelligence Community Member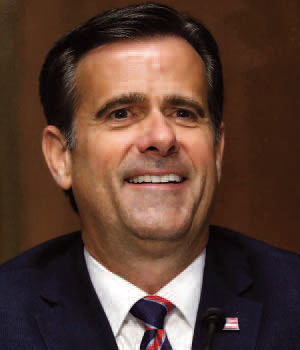 John Ratcliffe
Director of National Intelligence John Ratcliffe has welcomed the U.S. Space Force (USSF) as the 18th member of the U.S. Intelligence Community (IC).
During an afternoon ceremony, Ratcliffe and Chief of Space Operations General John W. "Jay" Raymond announced the designation of the intelligence element of the U.S. Space Force as a member of the IC.

"This accession reaffirms our commitment to securing outer space as a safe and free domain for America's interests," said Ratcliffe. "American power in space is stronger and more unified than ever before. Today we welcome Space Force to the Intelligence Community and look forward to the power and ingenuity of a space security team unrivaled by any nation."
The Space Force element is the first new organization to join the IC since 2006.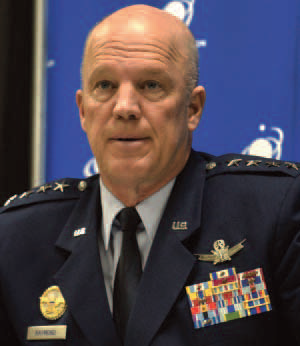 General John W.
"Jay" Raymond
"Today, we took action to elevate space intelligence missions, tradecraft, and collaboration to ensure the success of the Space Force, the Intelligence Community, and ultimately our National Security," said Gen. Raymond. "This is a significant milestone, a clear statement that America is committed to a secure and accessible space domain. Our partnership will ensure the Space Force and the Nation remain always above any threat."
Ratcliffe highlighted how the addition of USSF to the IC marks a historic opportunity to further strategic change across the national security space enterprise.
"Through sharing space-related information and intelligence, the IC and DoD increase integration and coordination of our intelligence activities to achieve best effect and value in executing our missions," said Ratcliffe. "This move not only underscores the importance of space as a priority intelligence and military operational domain for national security, but ensures interoperability, future capability development and operations, and true global awareness for strategic warning."
"Today's change aligns our newest service with the other members of the Defense Intelligence Enterprise and will help ensure our efforts are coordinated and synchronized across all domains of warfare," said Ezra Cohen, acting Under Secretary of Defense for Intelligence and Security.
With the USSF addition, nine DoD components are members of the Intelligence Community.
---
NextGen Federal Systems Secures USAF Global Synthetic Weather Radar (GSWR) Contract
NextGen Federal Systems has been awarded the Global Synthetic Weather Radar (GSWR) Research to Operations (R2O) contract by the US Air Force.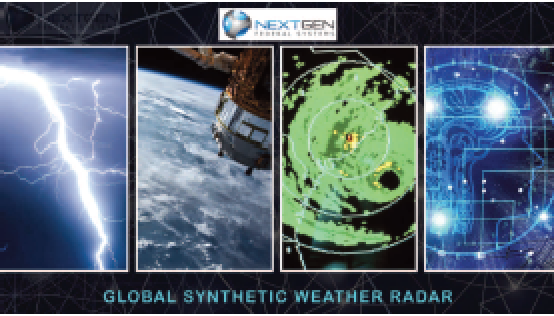 MIT Lincoln Laboratory's (MIT LL) research effort established the viability of leveraging available observation data as input to Machine Learning (ML) algorithms to derive radar-like data. Operationalizing the GSWR research capability will provide awareness of potentially dangerous weather in regions where weather radar coverage is not available. This program will enable NextGen to make a significant contribution to the Air Force Weather mission and consequently to the safe and successful execution of military operations worldwide.
Partnering with Raytheon Intelligence & Space, the team will cybersecure and modernize GSWR for operations; providing a modern, sustainable GSWR capability within the Air Force Weather Virtual Private Cloud. The NextGen team will use proven DevSecOps processes to deploy the ML training methodology and production engine to provide a robust, enhanced global precipitation weather radar forecasting capability.
This effort leverages NextGen's expertise in Machine Learning, Cloud Computing, Modern Software Practices, and Weather Effects Modeling. NextGen is positioned to apply revolutionary ML methods to an exponentially growing domain of previously insurmountable challenges to help our military in regions around the globe.
"I cannot emphasize enough how important this work will be," said Jack Suther, Senior Systems Engineer at NextGen. "When I was deployed supporting Operation Iraqi Freedom, we didn't have any weather radar for the first four months. To have had GSWR's capabilities would have been a godsend. GSWR will not only lead to more successful military operations, it will save lives."
---
Peraton Collects USAF JADC2 Contract
Peraton has been awarded a $950,000,000 ceiling indefinite-delivery/indefinite-quantity (ID/IQ) contract for the maturation, demonstration and proliferation of capability across platforms and domains, leveraging open systems design, modern software and algorithm development in order to enable Joint All Domain Command and Control (JADC2).

This contract is part of a multiple award multi-level security effort to provide development and operation of systems as a unified force across all domains (space, cyber, air, land, sea and electromagnetic spectrum) in an open architecture family of systems that enables capabilities via multiple integrated platforms.
The contract supports the development of the U.S. Air Force's Advanced Battle Management System (ABMS), a component of the Department of Defense's JADC2 effort. The goal of ABMS, according to the Air Force, "is to enable the Air Force and Space Force to operate together and as part of a joint team – connecting sensors, decision makers and weapons through a secure data network enabling rapid decision making and all-domain command and control."
"Peraton has a long track record of supporting Air Force innovation and research, and we are proud to have been selected as one of the service's industry partners in developing the information backbone for the future of joint warfighting," said John Coleman, President, Defense and Homeland Security sector.
"The Air Force's Advanced Battle Management System is a critical network-centric component to enable future innovation within the Department of Defense's JADC2 effort," said Kevin Schweer, VP, Defense Research. "Peraton looks forward to continue partnering with the Air Force to provide innovative and enabling technologies to put the right information in the right hands at the right time, making U.S. forces and our allies smarter and enabling them to act faster in defense of our national and global security."
---
U.S. Space Force Enters 'Year 2' With Momentum + Soaring Expectations
U.S. Space Command commander Gen. John W. "Jay" Raymond and Senior Enlisted Advisor Chief Master Sgt. Roger Towberman present President Donald J. Trump with the Space Force flag in the Oval Office of the White House.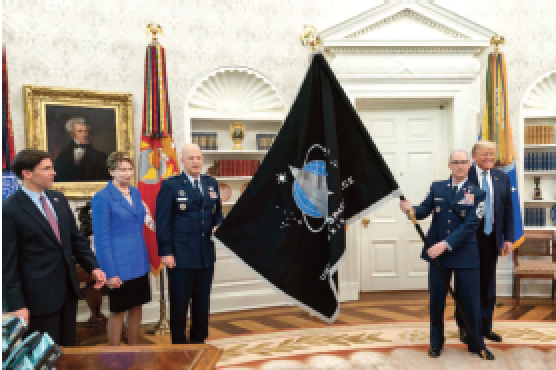 U.S. Space Command commander Gen. John W.
"Jay" Raymond and Senior Enlisted Advisor Chief
Master Sgt. Roger Towberman present President
Donald J. Trump with the Space Force flag in
the Oval Office of the White House.
Photo by: Shealah Craighead
From the publicly available view on the outside, the birth and creation of the nation's newest military service was going well; there was general agreement as to the need for the new service, its strategic importance and how it would fit in to the nation's existing and sprawling military enterprise.
Hidden, however, was a level of bureaucratic gamesmanship and "churn," worrisome enough that it ultimately forced the President to step in.
"There are still some of you who are thinking more of representing interests and objectives of your individual service than of interpreting the broad national program and its requirements to your subordinates and to the Congress," the President admonished senior military leaders.
President Harry Truman delivered that blunt directive in 1947 only months after the U.S. Air Force was born as the newest branch of a military long dominated by the Army and the Navy.
But now, as the year-old Space Force edges into its second year, that history stands in sharp contrast. This time, 73 years later, the internal struggles have been less fierce and have, for the most part, been addressed early and successfully. It has allowed the all-important roots of the Space Force to be "planted" and to take hold.
That was the message delivered recently by the service's highest-ranking officer, Chief of Space Operations, Gen. Jay Raymond in a session where he looked back to evaluate the Space Force's first year in existence and to discuss what comes next. Part of Raymond's job is to be a cheerleader. Yet even he was surprised by the distance covered since the Space Force was born on December 20, 2019.
---