By early April 2021, a sense of normalcy was beginning to return to daily life around the world. Spacefaring nations across the globe appeared to weather the worst of COVID-19 and were making pivotal decisions to grow their space capabilities.
---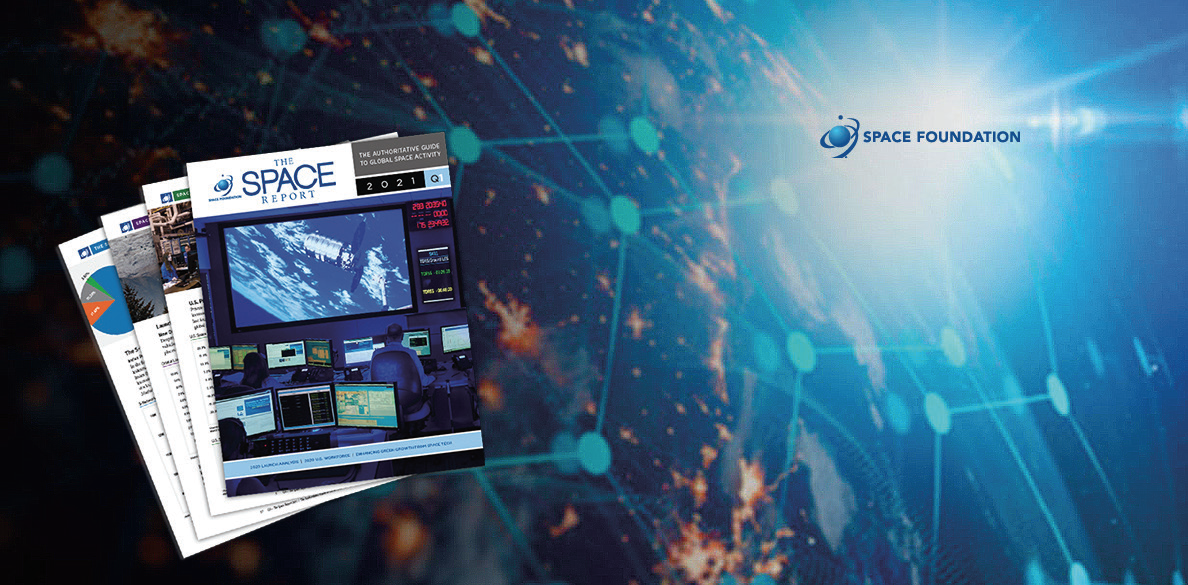 ---
The United States landed Perseverance on Mars, successfully hot-fired the SLS — the largest rocket body NASA ever developed — and was considering a presidential budget that increased the agency's budget 6.3 percent from the previous year.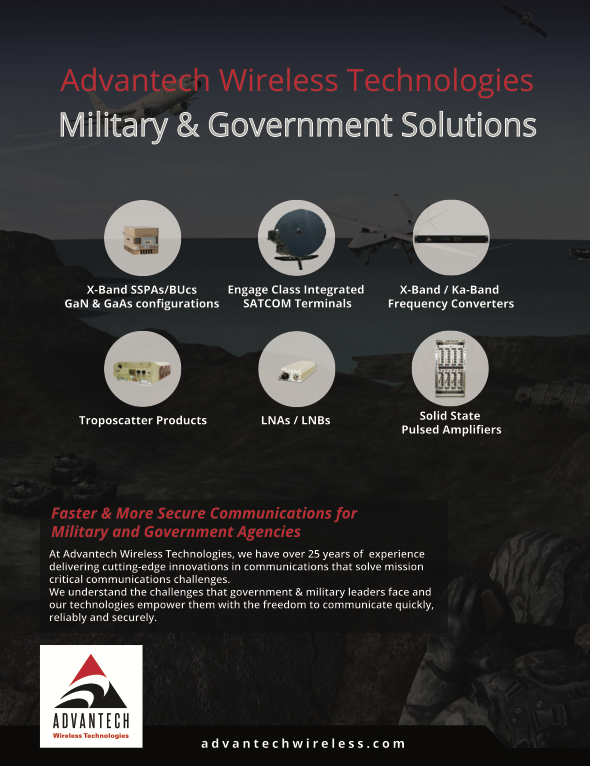 Further recognition of the developing cislunar economy came as the Defense Advanced Research Projects Agency (DARPA) awarded General Atomics a $22 million contract to design a nuclear reactor for space propulsion.
China was moving forward to build its next space station, the Tangong-3, and announced rthe development of two new spaceports, and with Russia, had a new agreement to build a lunar space station.
India's Polar Satellite Launch Vehicle assisted Brazil with monitoring deforestation in the Amazon rainforest by placing Brazil's Earth Observation (EO) satellite, the Amazonia-1, into orbit. And with an eye to the future, four Indian cosmonauts completed training in Russia for India's first manned space mission.
The Space Report 2021 Q1 examines crucial markers of the 2020 space ecosystem — U.S. workforce data, investment and stock market activity, and launch analysis — and offers insights into the maturation of the U.S. Space Force, the growth of India's civil space program and provides a "green" look at Space Products & Innovation.
Here are highlights of the Q1 edition.
Space Workforce
Analysis by The Space Report of U.S. Bureau of Labor Statistics for five key space sectors, those most closely aligned with the space industry, shows that hiring increased in all five, employing nearly 5,000 more workers in 2020, a 3.2 percent increase from 2019. Those new jobs helped propel private space employment to a nine-year high. In 2020, private space employment totaled 147,953 workers, the highest level since 2011, when 149,818 were employed. For one sector — Guided Missile and Space Vehicle Manufacturing — monthly BLS data shows another 1,000 employees hired from December 2020 to January 2021. That sector now has the highest employments levels since 1995, according to BLS data.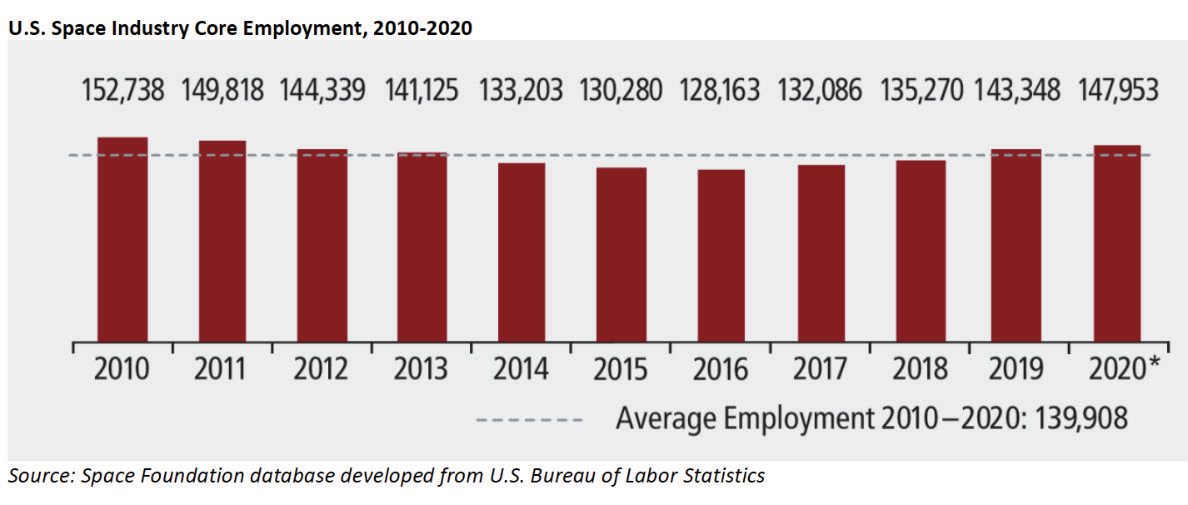 * Preliminary estimate for the first half of 2020. Source: U.S. Bureau of Labor Statistics
Space Infrastructure
Of 114 launch attempts last year, 10 did not succeed — an 8.8 percent failure rate that is 1.8 times higher than the 40-year average and nearly five times higher than the 2018 failure rate, which also had 114 launches. Two factors that correlate with launch failures are higher numbers of orbital launch attempts and new vehicles. Both reached 20-year peaks last year Research by The Space Report also found that, despite the often-cited statistic that 50 percent of maiden flights fail, data going back to 1957 places the average global maiden flight success rate at 83 percent.
The Space Economy
As U.S. hiring has grown, so has investment. In 2020, spacerelated mergers, buyouts, and equity financings totaled $18.2 billion. In the first quarter of 2021, activity across those same areas generated $15 billion.
In stock market analysis, interest in Cathie Woods' ARK Investment Management space-related ETF fueled overall interest in space holdings, which helped propel the S-Network Space Index to a one-year gain of 97.5 percent as of March 23, 2021, nearly 11 percent higher than comparative indexes. Note: Performance shown for each index is for the gross total return, assuming all dividends are reinvested.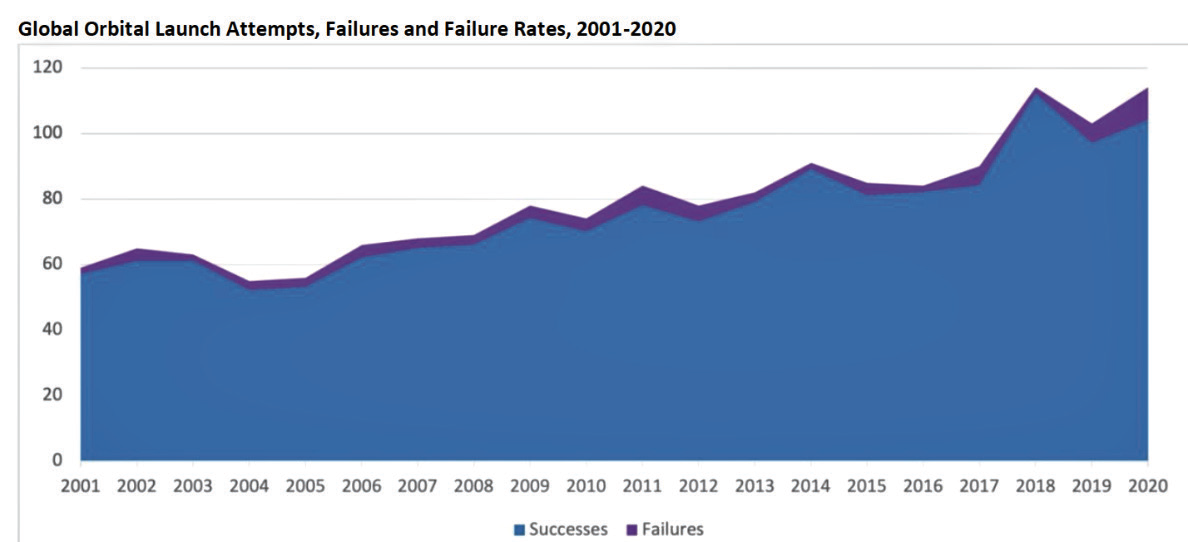 Notes: 2001: 2 failed launches, 3.4 percent failure rate; 2020: 10 failed launches, 8.8 percent failure rate. Source: Space Foundation database
On the high end of first-quarter market activity, Loral Space & Communications (+79 percent) continued to benefit from positive news surrounding its merger with satellite operator Telesat, announced in November 2020. The resulting company will be traded initially on the Nasdaq Stock Market (where Loral is currently listed). Investor interest was likely driven partly by operational announcements such as Telesat's $3 billion award to Thales Alenia Space in February to build 298 LEO satellites for its new Lightspeed broadband constellation.
Space Products & Innovation
Space agencies for decades have recognized multiple advantages associated with growing plants to benefit astronauts on long-duration missions, and by 2015, the first vegetables grown and eaten in space were cultivated on the International Space Station's Vegetable Production System (Veggie). Space technology research and development has led to the creation of innovative products that enrich and improve life on Earth.
Near the Arctic Circle, a collaborative research project, based on what was learned in space, is providing green, leafy vegetables to community elders, schools and workplaces. For others, space technology is as near as the kitchen counter. AeroGarden uses technology developed on the International Space Station to produce greens at a much faster growth cycle. Fueled partly by the pandemic, these systems have become so popular that for the last nine months of 2020, the company reported net revenue of $69.1M, a 151 percent increase over the same period last year.
About Space Report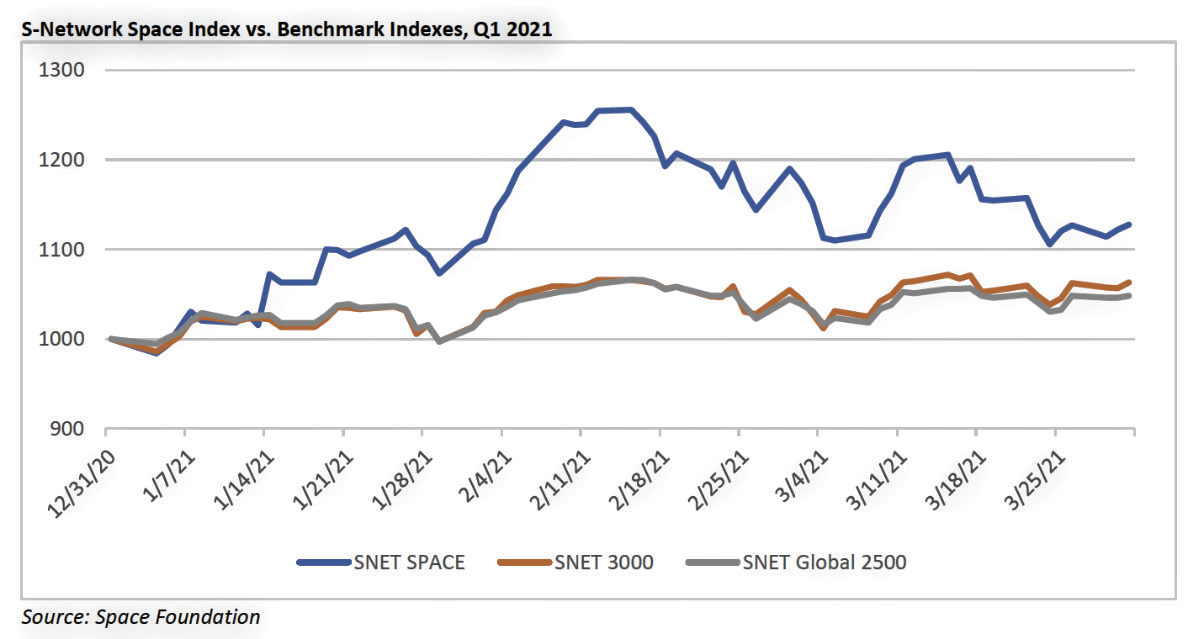 Note: Performance shown for each index is for the gross total return, assuming all dividends are reinvested.
The Space Report is widely recognized as the definitive body of information about the global space industry. It contains worldwide space facts and figures and is illustrated with photographs, charts, and graphs detailing the benefits of space exploration and utilization, the challenges facing the space sector, opportunities for future growth, and the major factors shaping the industry. The Space Report serves as a resource for government and business leaders, educators, financial analysts, students, and space-related businesses. For more than a decade, The Space Report has chronicled the growth of the space community from around the world.
Space Foundation's Research & Analysis team produces The Space Report and, in 2019, transitioned its annual summary into quarterly updates of global space activity. This new format makes it possible to provide the most up-to-date information on space infrastructure, facilities, launches, and programs.
Similar to other major economy-measuring indicators that inform our awareness of what is happening around the world, the quarterly installments of The Space Report are designed to improve our discussions and understanding of the reach, impact, and health of the space community.
For continuously updated information or historical data on the topics covered by the report, please subscribe to The Space Report Online. The online service also provides subscribers with searchable access to all the research conducted for The Space Report dating back to 2005. The full PDF is available for free to subscribers of The Space Report Online.
To purchase The Space Report, or to subscribe to The Space Report Online, access this direct infolink. For more information about the availability, pricing, and delivery of The Space Report, please contact TheSpaceReport@SpaceFoundation.org.
For questions related to The Space Report content or the space industry in general, or to request customized research by the organization's Research & Analysis team, please contact Research@SpaceFoundation.org.
---