A new, low-cost Tactical Satellite (TACSAT) capability is now making available more channels as well as providing secure, reliable and scalable Beyond Line of Sight (BLOS) communication, including Communications On The Move (COTM), through the use of existing, tactical, military radios.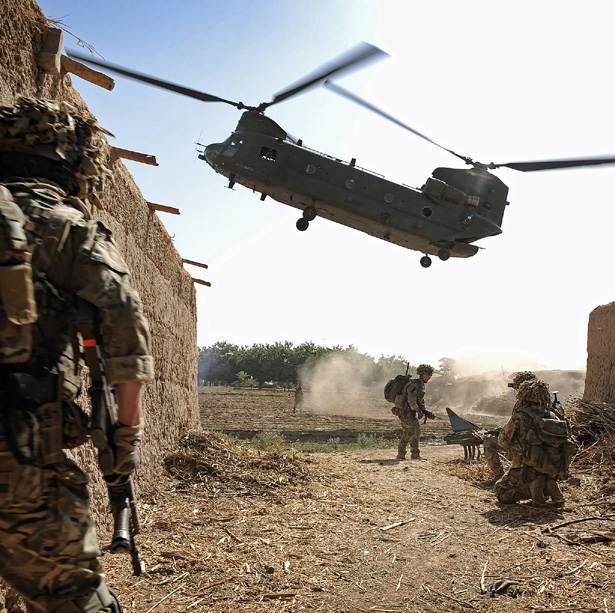 The drawdown of multi-national operations in Afghanistan and the global economic down-turn have led to greater than ever pressure on defense budgets for governments and militaries around the globe. There is a constant demand for obtaining the best value for the money spent to meet crucial military capability requirements through the application of the most cost-effective solutions.
Industry has an important role to play in identifying innovative ways to meet these challenges by finding solutions that meet essential military specifications through the application of Commercial-Off-The-Shelf (COTS) product, or through their use with minor modifications.
Inmarsat's new L-TAC service, launched at the start of July, is an outstanding example of technical innovation and re-use of existing products to provide a step-change in capability at minimal additional cost.
TACSAT + L-TAC
The 'workhorse' tactical radios for command, control and coordination normally operate in the VHF band. However, when operational distances extend beyond line of sight, they run out of range—unless rebroadcast stations are deployed. Such deployment consumes manpower and introduces additional logistic and force protection tasks.
UHF TACSAT overcomes the limitations of VHF by providing simple to operate and reliable Push-to-Talk, all-informed networks over wide areas. This critical communications capability allows troops to speak over long ranges for the command and control of widely dispersed force elements, such as vehicle patrols maneuvering in difficult terrain or logistic convoys resupplying remote bases.
Inmarsat's L-TAC solution now provides this networked tactical SATCOM capability on its 4th generation constellation of satellites by simply adding a low-cost frequency converter to the input/output of existing military tactical radios and changing the units to an L-band antenna. This compact external attachment has been developed by Inmarsat's partner, Spectra Group, for use with existing tactical UHF radios.
Called 'Slingshot', the equipment consists of a power supply, frequency converter and antenna. Minimal additional training is required and BLOS communications are provided without the need for supplementary infrastructure or additional cumbersome equipment to exploit the intrinsic flexibility and global footprint of the Inmarsat-4 satellite constellation. The unit supports most military UHF TACSAT radio types and is certified to military standards, including shock prevention, ingress protection and EMC. With an estimated 200,000 UHF radios in service, the low-cost addition of the Slingshot appliqué and access to the global footprint of the I4 satellite network makes a compelling communications solution that provides maximum value from investments already committed in existing tactical radios.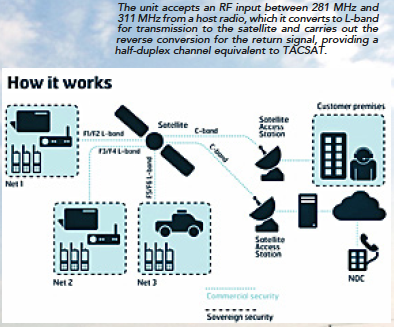 L-TAC addresses the mobility and agility requirements for critical government information sharing, including the U.S. government's requirement for additional channels at short notice when UHF capacity is not available. The service provides the same 'single-hop' low latency communication capability as existing TACSAT. Terrestrial network, or ground stations, are not required and the technology provides for high-quality voice and low-speed data transmissions.
The low-profile antenna can be concealed for covert operations and its performance is unaffected by severe weather or signal attenuation caused by sand, snow or ice. The unit has been successfully tested communicating on the move from vehicles at speeds of up to 70 mph [112 kph]. Convoys and vehicle patrols will no longer have to pause to use their TACSAT, improving operational tempo and leaving them less vulnerable to hostile action. From concept to delivery, L-TAC was developed in a little over nine months, highlighting Inmarsat's ability to respond swiftly to new military requirements. Users will be able to lease the service for periods as short as one month.
As military budgets worldwide continue to come under pressure and governments demand maximum value for tax-payers' money, the introduction of a new service that involves minimal training, meets military standards, does not involve a large-scale capital expenditure, and addresses a pressing operational need, is a genuinely compelling offer from a trusted provider of mobile satellite services to governments for more than 33 years.