---

---
The UK MOD's Skynet 6A MILSATCOM Satellite Production Is Initiated By Airbus
The UK's Minister for Defence Procurement, Jeremy Quin MP, visited Airbus in Stevenage and pushed the button to start production of the first panel skin for the UK MOD's next generation military communications satellite (MILSATCOM), Skynet 6A.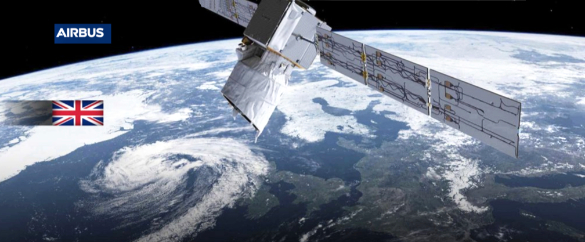 The Defence Minister started the high precision cutting machine to profile the first aluminum panels of the near six ton, Skynet 6A satellite, which is based on Airbus' Eurostar Neo telecommunications spacecraft and he also visited the extensive cleanroom facilities on site. Airbus was awarded the more than £500 million contract to design and build Skynet 6A in July of 2020 and the program achieved its Preliminary Design Review (PDR) in December of 2020.
Skynet 6A will extend and enhance the Skynet fleet. The contract signed with the UK involves the development, manufacture, cyber protection, assembly, integration, test and launch, of the military communications satellite, Skynet 6A. The contract also covers technology development programs, new secure telemetry, tracking and command systems, launch, on-orbit testing and ground segment updates. Defence Minister Jeremy Quin said, "Secure military satellite communications are vital for our ability to conduct operations on a global scale. Seeing the first hardware for the next generation Skynet 6A satellite shows we are on track for launch in 2025 and ready to upgrade and enhance the UK's global military communications network."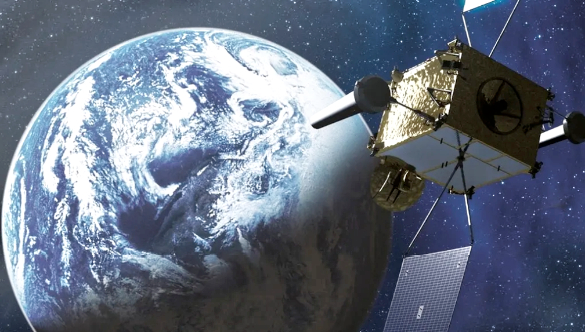 Artistic rendition of the Skynet 6A
MILSATCOM satellite, courtesy
of Airbus UK.
Richard Franklin, Managing Director of Airbus Defence and Space, said, "Airbus in the UK is a world leader in the design and manufacture of military and commercial telecommunications satellites, and working hand in hand with the Defence Digital team we have overcome the challenges of Covid and are on track with the program. We also look to future export opportunities which will benefit the wider space ecosystem and are actively engaged with bringing on board a wider spread of UK SMEs to deliver this essential sovereign capability."
The Skynet 6A satellite will use more of the radio frequency (RF) spectrum available for satellite communications and the latest digital processing to provide more capacity and greater versatility than Skynet 5 satellites. The satellite will feature electric orbit raising propulsion as well as electric station keeping systems for maximum cost effectiveness.
Complete satellite integration will occur at Airbus facilities in the UK followed by testing using National Satellite Test Facility (NSTF) at Harwell in Oxfordshire supporting the UK Space Agency initiative for sovereign UK end-to-end satellite production and support.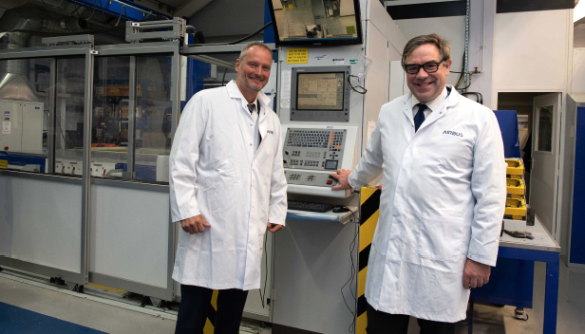 Defence Minister Jeremy Quin MP
(right) starts production of the UK MOD's
Skynet 6A satellite.
Photo is courtesy of Airbus.
The Skynet 5 program, provided by Airbus as a full service outsource contract, has provided the UK MOD with a suite of highly robust, reliable and secure MILSATCOM services, supporting global operations since 2003.
Airbus has been involved in all Skynet phases since 1974 and this phase builds on a strong UK commitment to space manufacturing in the UK. The program commenced by using the legacy Skynet 4 satellites and then augmenting them with a fully refurbished, ground network before launching the Skynet 5A, 5B, 5C and 5D satellites between 2007 and 2012.
The Skynet 5 program has reduced or removed many of the technical and service risks for the MOD, while ensuring unrivaled, secure MILSATCOM and innovation to UK forces.
---
1K Falcon IV Compact Team Radios Ordered By U.S. Army From L3Harris Technologies
The U.S. Army has ordered 1,000 new L3Harris Technologies (NYSE:LHX) Falcon® IV AN/PRC-171 Compact Team Radios to ensure soldiers at any tactical level can transmit crucial information to command teams across an integrated network.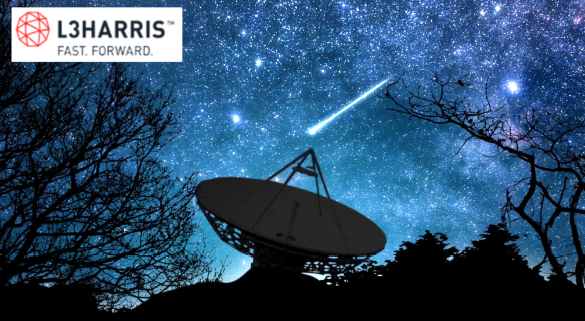 The Army placed its first delivery order of the Compact Team Radio, an easy-to-use and ruggedized solution leveraging robust technologies from fielded and emerging company products.
This affordable radio allows voice and sensor data from all users to be shared in true Joint All-Domain Command and Control fashion, supporting the Army's connected-network vision.

The AN/PRC-171 offers more than 20 hours of continuous and reliable voice and data communications on a single battery and can seamlessly interface with other L3Harris solutions, including the Enhanced Night Vision—Binocular (ENVG-B).
The radio fully supports the Army's unified network strategy, offering a broad portfolio of waveforms that can survive through disadvantaged line-of-sight, with flexibility to upgrade waveforms as new technology emerges.
The radio's accessories are interchangeable with the rest of the L3Harris Falcon family of radios and supported with in-field upgrades to emerging wideband and narrowband resilient waveforms.
"The delivery of these single-channel radios furthers L3Harris' support of the U.S. Army's new Integrated Tactical Network by enabling all tactical operators to share situational awareness information across the entire network," said Bryant Henson, President, Tactical Communications, L3Harris. "These radios will field alongside our HMS Manpack and Leader Radios at the squad level—extending the network and warfighter effectiveness to all soldiers."
---
Northrop Grumman to Design Signals Intelligence Sensor Prototype for US Air Force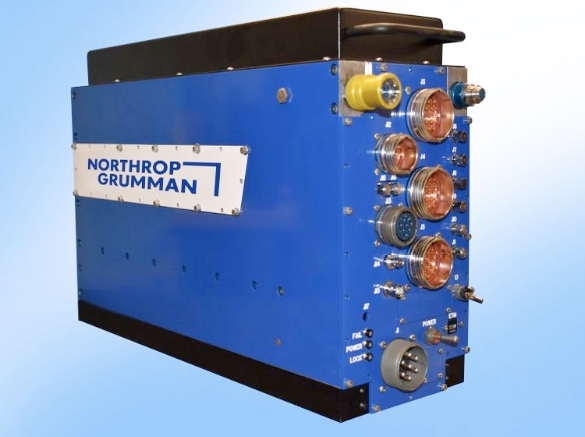 Northrop Grumman will design an
innovative, open standards-based signals
intelligence (SIGINT) sensor prototype
for the U.S. Air Force. Image is courtesy
of Northrop Grumman.
The U.S. Air Force has awarded Northrop Grumman Corporation (NYSE: NOC) a contract to complete the design of a next- generation, open standards-based signals intelligence (SIGINT) sensor for high-altitude intelligence, surveillance, and reconnaissance (ISR) platforms.
Under the U.S. Air Force's Global High-altitude Open-system Sensor Technology (GHOST) program, the company will deliver a design of a prototype sensor — including airborne and ground components — with an innovative, open standards-based hardware and software architecture that can be scaled and configured to fly on multiple types of manned and unmanned Air Force aircraft.
Northrop Grumman's GHOST sensor will provide the Air Force with an agile architecture to meet today's ISR needs, while supporting rapid system enhancement, testing, accreditation and integration at the speed of relevance long into the future as the dynamic battlespace changes.
"Leveraging our SAGE technology and 45 years of SIGINT mission expertise, our platform agnostic GHOST sensor is a next-generation intelligence data collection and exploitation system," said Ben Davies, vice president and general manager, networked information solutions, Northrop Grumman.
---
Ovzon T6 Terminals Ordered From A New Customer Within the U.S. DoD Environs
Ovzon has received a direct order for the industry's smallest and most powerful satellite communications terminals from a new customer within the U.S. Department of Defense.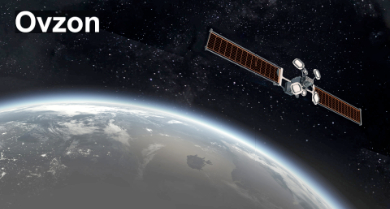 This order represents an expansion and the second new U.S. DoD customer for Ovzon in the last 90 days as the company continues to expand in its core customer base.
The order includes both the Ovzon T6 terminal for Communication-On-The- Pause (COTP) as well as the Ovzon Medium OTM terminal, an autonomously steered antenna for Communications- On-The-Move (COTM) from ground, maritime and aerial platforms.
The Ovzon T6 terminal is the latest addition to Ovzon's advanced mobility product offerings. Weighing just 13 pounds, the terminal is capable of being placed into operation by an untrained user within less than a minute.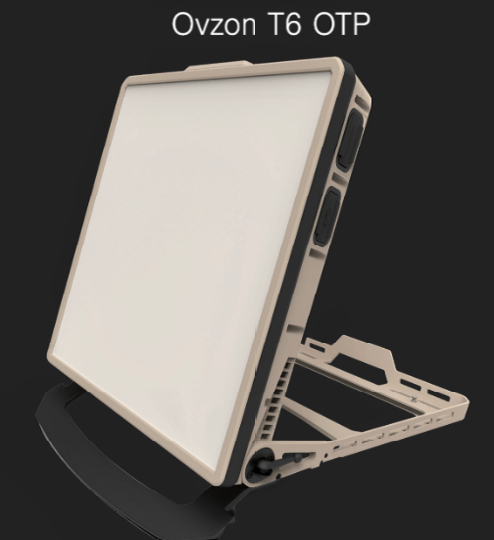 The Ovzon T6 can send up to a minimum of 70 Mbps and receive 120 Mbps and provides an "early-entry" capability that can scale into a robust command and control node without follow-on systems or additional crew. The Ovzon Medium OTM terminals enable continuous connection to Ovzon's high-performance, global network while on the move. This integrated solution offers unprecedented agility to military and emergency organizations with no-fail missions.
"We are excited to continue our expansion with a prestigious new U.S. DoD customer. We continue our strong commitment to deliver unmatched, industry-leading performance and mobility to both government and commercial organizations with critical global communication requirements," said Per Norén, CEO of Ovzon.
---
Horizon Technologies Closes Million$ Sale
Horizon Aerospace Technologies, a subsidiary of Horizon Technologies, has announced an approximately $1 million sale of FlyingFish™ airborne SIGINT systems to a European prime contractor for a Southern European government end-user. The systems will be operated on manned ISR fixed-wing aircraft to support NATO and EU missions in the Mediterranean Sea and Northern Africa.

John Beckner, CEO, Horizon Technologies said, "We are happy to add another end-user to the list of countries who operate our FlyingFish™ and new BlackFish™ SIGINT systems. FlyingFish™ is in operation 24/7 around the globe saving refugees, combating illegal fishing, piracy, terrorism, and transshipments. There is also a great deal of interest in our upcoming Amber™ smallsat launch." Recently, Horizon Technologies completed its Series A funding round with Maven Capital Partners and Virgin Money.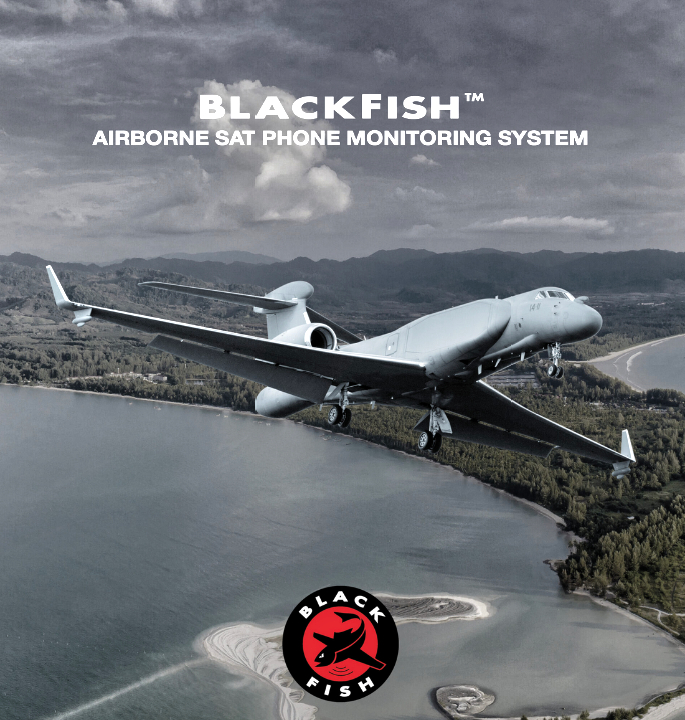 Horizon Aerospace Technologies is a leader in airborne Sat Phone monitoring systems for Intelligence, Surveillance, and Reconnaissance (ISR) applications, equipping governments worldwide by enhancing their SIGINT capabilities. The firm is the Original Equipment Manufacturer (OEM) for the FlyingFish™ BlackFish™ SIGINT systems that are in operation on numerous platforms across the glove. The company participates daily in SAR missions via NATO and FRONTEX in the Mediterranean Sea and are heavily involved in international operations around the globe. Horizon Space Technologies is the prime contractor for the UK Government's Amber™ program that will consist of Amber™ cubesats in multiple orbital planes, providing global Maritime Domain Awareness (MDA) data to NMIC (led by the Royal Navy).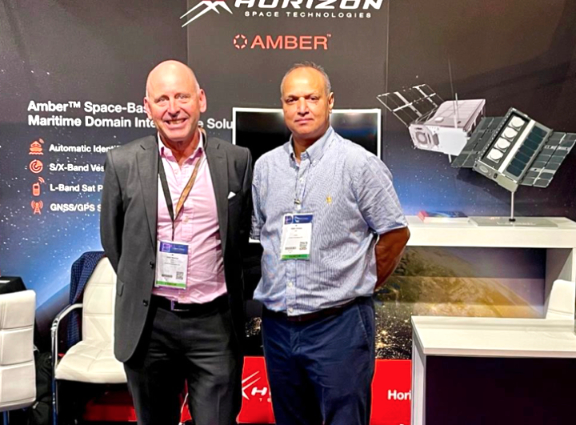 John Beckner, CEO, Horizon
Technologies, and Bash Ahmed, COO,
Horizon Aerospace Technologies
Regarding the Amber™ satellite from Horizon Space Technologies, earlier this past summer, AAC Clyde Space (AAC) won a £4.6 million order for a full turnkey solution from Horizon Space Technologies, including two new satellite launches, operations and data delivery.
The satellites will become part of the Horizon Space Technologies' Amber™ constellation dedicated to delivering MDA intelligence data.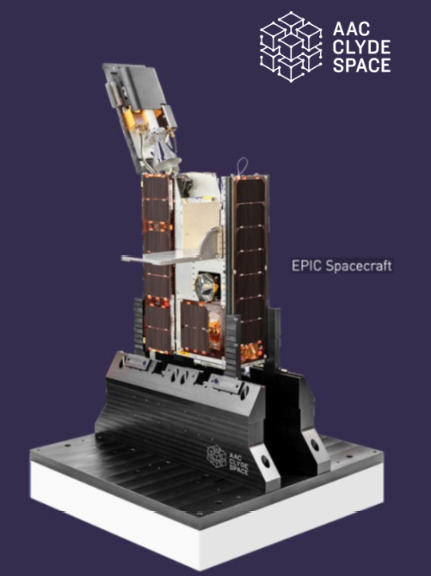 The EPIC-6U smallsats will be able to locate and track vessels worldwide by geolocating and demodulating RF signals in a system that can be used to fight piracy, illegal trans-shipments, illegal fishing, and refugee smuggling, but can also be used for other purposes such as detecting and tracking a variety of RF emitters.
The mission delivers a commercial service and may be extended to include more than ten (10) additional Amber™ smallsats. Horizon Space Technologies' first customer is the UK National Maritime Information Centre (NMIC) in Portsmouth.
The two satellites in this order are scheduled for launch in the second half of 2022. This order is a follow-on order from the Satellite Applications Catapult IOD program (IOD-3 AMBER), for which AAC will also deliver a 6U cubesat to the International Space Station (ISS) in 2021 for deployment.
"We are looking forward to expanding our current partnership with AAC Clyde Space as we move forward with more launches and advanced versions of our mission payload. They are a key part of the Amber™ team," said Horizon Technologies CEO, John Beckner.
---
Space Systems Command Awards Million$$ Contract To Sev1Tech For DTaaS Capability
The U.S. Space Force's Space Systems Command's (SSC) Cross- Mission Ground & Communications Enterprise (ECX) has awarded a cost-plus fixed fee contract totaling $47.5 million to Sev1Tech LLC of Woodbridge, Virginia.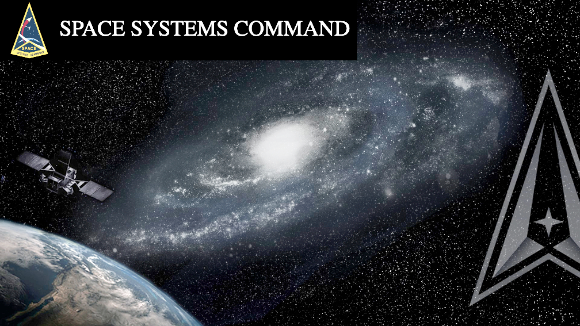 The contract was awarded through the Space Enterprise Consortium (SpEC) Other Transaction Authority (OTA) agreement for meshONE-T. This prototype effort will deploy and demonstrate a Data Transport as a Service (DTaaS) capability for an initial set of Space Force mission partners, in support of national security objectives. It is intended to lay the groundwork for a modern, resilient, scalable, and secure data transport network able to accommodate a wide range of customers and facilitate the Joint All- Domain Command and Control (JADC2) vision into an operational reality.
Sev1Tech is a leading provider of IT modernization, cloud, cybersecurity, engineering, fielding, training, and program support services for U.S. government agencies and major commercial organizations and the company supports critical missions across the defense, intelligence, homeland security, health, space, and commercial markets.

Major activities associated with this award include data transport services development as well as the fielding and operations of a multi-node meshONE-T Minimum Viable Product (MVP). Leveraging commercial innovation and employing industry based standards, this prototype will demonstrate secure enterprise communications, interoperability, and cloud connectivity for future multi-domain (terrestrial, air, and space) communications in support of the space warfighter.
With meshONE-T, the ECX Data Transport branch will assist in rapid growth of scalability and technology. When fully operational, the system will provide a high-bandwidth, intelligent, tactical-edge network connecting assets across U.S. Space Force and U.S. Air Force domains with reachability to other branches of military service, the Intelligence community, foreign mission partners, and Advanced Battle Management System (ABMS) and JADC2.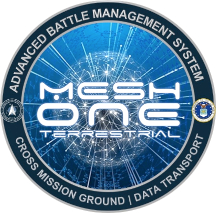 "Previous network architectures for weapon systems were designed to meet specific user and mission needs," explained Lt. Col. Louis Aldini, Materiel Leader for Data Transport. "Future network architectures need to be integrated as well as provide enhanced capabilities and efficiencies for the enterprise. meshONE-T is focused on delivering a modernized common solution for all weapon systems."
"Sev1Tech is excited to build on the success and continued partnership in delivering next-generation transport capabilities to operational space mission partners served by Space Systems Command," said Bob Lohfeld, CEO at Sev1Tech. "We are honored to provide transformational engineering, design and implementation to Space Systems Command by delivering warfighters a modernized data transport capability to transmit and receive data securely and reliably, allowing robust Joint Command & Control across all phases of conflict."

"meshONE-T is about the ability to get the right information to the right place at the right time. The key attributes are scalability, resiliency, and path diversity," said Col. Rhet Turnbull, director of SSC's Cross Mission Ground and Communications Enterprise. "By leveraging the Space Enterprise Consortium we were able to reach a wide variety of both traditional and non-traditional vendors—and get on contract fast. A year from now we'll have an operational prototype."
The Space Enterprise Consortium was created in 2017 through the Air Force's Space and Missile Systems Center, predecessor to today's Space Systems Command. SpEC was created to bridge the cultural gap between military buyers and commercial space startups and small businesses through Other Transaction Authorities. The OTA's innovative contracting process allows SpEC to solicit bids from a mix of member companies including companies that have not previously done work with the Department of Defense.
SSC, headquartered at Los Angeles Air Force Base in El Segundo, California, is a U.S. Space Force field command responsible for developing and acquiring lethal and resilient space capabilities for warfighters by rapidly identifying, prototyping, fielding and sustaining innovative, space-based solutions to meet the demands of the National Defense Strategy. SSC's functions include developmental testing, production, launch, on-orbit checkout, and maintenance of USSF space systems, as well as and oversight of USSF science and technology activities.
---