Bob Dunn was appointed PacStar's Chief Executive Officer in June of 2010 after rejoining the company earlier that year with the main goal being to expand and develop the company's technology penetration in Department of Defense programs and with large system integrators. In addition to his responsibilities as CEO, Bob continues to spearhead these business development efforts.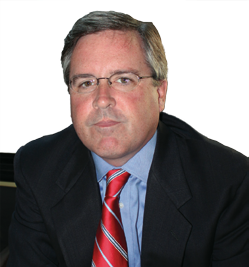 Prior to rejoining PacStar, Bob served as Senior Vice President of Sales and Marketing for Ericsson Federal Inc. (EFI). Bob joined EFI in October of 2008 and directed all Business Development efforts across U.S. federal, state and local government agencies that demand the same broadband applications and communications capabilities as commercial markets. His team helped customers leverage Ericsson's worldwide commercial leadership and massive research and development investment to achieve mission success.
Before working with Ericsson, Bob served as the Senior Vice President Sales and Marketing at PacStar, where he maintained a client roster that included numerous influential U.S. government agencies, including the Department of Defense, Defense Information Systems Agency, the Department of Homeland Security and the Director of National Intelligence.
Previous to his work with PacStar, Bob served as President of the Product Solutions Sector for Nortel Government Solutions (NGS). There he played an active role in the merger between Nortel and PEC Solutions as well as the consolidation of the business units.
Aside from these executive roles, Bob held numerous business development and management positions for NYNEX, Northern Telecom and Bell Atlantic. He is a member of the Armed Forces Communications and Electronics Association (AFCEA), where he serves on its international board.
Bob is a graduate of Boston College's School of Management and has a BS in Marketing.
MilsatMagazine (MSM)
Mr. Dunn, please discuss the state of mobile battlefield communications. What are some key Warfighter challenges?
Bob Dunn
Several challenges are converging across the military and on the battlefield. First, we are seeing increasingly complex tactical systems and networks as more communications capabilities (virtualization, unified communications, unmanned data/sensor data, video, etc.) are pushed to the edge. Lack of integrated software solutions further complicates setup and management of deployable network/communications systems.
Budget cuts are resulting in fewer communications specialists in the field to configure and manage these complex tactical and deployable communications systems, while reduced training budgets and frequent rotation of comms specialists is creating an unsustainable cycle for effectively operating these complex tactical and deployable communications systems. There is also a need for powerful systems that minimize size, weight and power (SWaP) requirements for communications 'on the move.'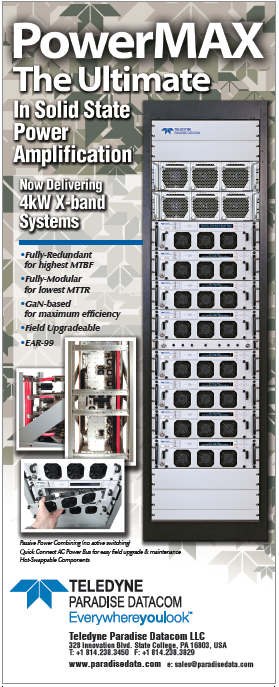 Finally, Warfighters remain ill served by Commercial Off The Shelf (COTS) network management software programs that complicate, rather than simplify, system management – as many were ultimately designed to manage enterprise networks. At the same time, custom management software solutions often result in high costs, slow time-to-market, perpetual delays and reduced program/end-user satisfaction.
MSM
How do PacStar's products and technology enable satellite communications for the DoD and First Responders?
Bob Dunn
For the Warfighter, satellite communications is a means to an end – the end being situational awareness, coordination of efforts. PacStar provides technologies to make it easy for the DoD and DHS to deploy communications—even in ever decreasing budgets and reduced specialist headcount.
Using PacStar products, organizations can rapidly deploy the latest communications technologies into the field, be it unified communications, streaming video, or access to enterprise information services—while ensuring security—in temporary command posts or in mobile command vehicles—and they can do it with lightly trained operators.
PacStar customers usually deploy our systems using satellite communications for connectivity back to the HQ—for both voice and data, because they frequently have no other viable access to the networks. However, in the past, in-field communications systems were so complicated that they were frequently not "turned up," or had to be accompanied by highly trained networking specialists – limiting the usage of satcom to only those deployments and organizations with large teams and large budgets.
MSM
What solutions/specific products do you offer?
Bob Dunn
PacStar designs, builds and supports a family of integrated communications/networking systems designed for in-field mobile deployment – comprising MSMall form factor, modular, network switching/routing, voice and data access, and advanced networking services—all managed by a software management system called IQ-Core Software.
PacStar's IQ-Core® Software is powerful a robust communications management software at the edge providing:
An intuitive user interface making set-up and operation by non-technical personnel quick and easy to learn with significantly fewer mis-configuration errors.
Powerful wizards and alerts with common user interfaces across all hardware and software components automating complex and routine tasks.
Interoperability with a broad range of tactical and enterprise communications hardware and systems, enabling easy, consistent operation even with upgrade and replacement of system components.
Allows an extension of advanced IP-enabled unified communications (voice, video, data sharing, etc.) to extend to the edge without any increase in complexity of operation.
Vendor agnostic remote management with the ability to monitor, change device configurations and troubleshoot from anywhere in the world.
PacStar provides IQ-Core Software to organizations looking to simplify equipment management, and also integrates the software into our own family of deployable solutions, such as the PacStar 4100 shown to the left.
The PacStar 4100 is a portable communications package that supports tactical personnel during an operation's initial entry period. The PacStar 4100 provides critical voice and data connectivity prior to the installation of more permanent communications capabilities. Built with Cisco technology and PacStar IQ-Core Software, the system provides satellite connectivity to the Internet and the DISN (Defense Information Systems Network).
The system's two routers enable concurrent access to NIPRNet and SIPRNet, or non-concurrent access to NIPRNet or SIPRNet.
The system uses LAN, satellite, VoIP, and analog phone technologies, all integrated into an easy-to-use package. The core router has eight data/ VoIP ports and four analog phone ports, with more data/VoIP ports on the two enclave routers. Each unit has a BGAN satellite modem for remote broadband access, and can use any IP-enabled satellite modem.
Each system consists of two cases that meet airline carry-on rules and are also tested to military standards for vibration, shock, and environmental operations.
MSM
Why is intuitive of management so important for the mobile Warfighter?
Bob Dunn
To leverage new advanced technologies many Warfighter programs have opted to create systems composed of hardware and software readily available and in use in enterprise IT/network systems. This approach is unquestionably the right one—every day tens of thousands of engineers go to work adding many new features and capabilities that our Warfighters can benefit from.
However, this blended hardware/software approach has also introduced an unintended negative side effect for the operators (comms specialists/signal officers) in the field—a usability nightmare and an intractable learning curve. Consider that approximately 80% of features added to COTS software/hardware systems are seldom or never used.
An additional critical gating factor is the availability of capable, trained personnel. While integrated systems can be pre-configured to provide significant baseline capabilities, adapting such systems to rapidly changing situations in the field requires extensively trained signal officers.
In addition to the downward budgetary pressure on today's armed forces, future network plans envision a dramatic expansion of the number of soldiers equipped with network access, with network management pushed down to a lower (and more numerous) echelon. Combined together, these trends will widen an already critical gap in the availability/supply of operators capable and trained in operating and managing these advanced systems—a gap partially filled through reliance on expensive civilian contractors.
By addressing the management complexities of deployed systems, the DoD is able to deploy more systems, providing more information and communications to a broader array of soldiers.
MSM
How does PacStar differ from its competitors?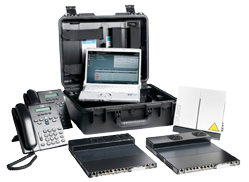 Bob Dunn
IQ-Core Software standards apart because it's:
Technology optimized for the edge—Unlike enterprise network management software packages that prove too complex for all but the most advanced IT personnel to configure and manage, PacStar develops developed IQ-Core Software which manages products and technology "outside-in," which means creating an intuitive user experience for the user.
A unified view—for networking monitoring and diagnostics providing users with real-time snapshot of the health of the network, and ability to provide backup and restorations of entire network. For more advanced 'power' users, IQ-Core Software provides command line access and automation from a single solution, enabling advanced IT professionals to complete tasks faster.
Adapts to user level—While IQ-Core Software is designed for non-specialists, it offers the flexibility and capabilities to meet the needs of advanced power users. For more advanced 'power' users, IQ-Core Software provides command line access and automation from a single solution, enabling advanced IT professionals to complete tasks faster.
Ability to drive down costs—of deploying COTS communications solutions. Reduces the number of comms specialists required to stand up and manage communications equipment, and reduces the training required to operate equipment. Saves costs compared to enterprise network management software pushed down to edge operations.
Ability to meet mission objectives—Reduces setup time—providing allowing comms to adapt rapidly. Provides faster adaptation to rapidly changing circumstances. Improves uptime—allowing personnel to focus on fighting the fight, not fighting the network.
Vendor-agnostic interoperable—Unlike many enterprise software solutions that only integrate with specific product families and lock customers into one path, IQ-Core Software integrates with a broad range of tactical and enterprise communications hardware and systems, enabling organizations to easily upgrade, replace, or reconfigure deployable systems.
MSM
PacStar recently announced a big win in the WIN-T program of the US Army—what are the details and impact of this award?
Bob Dunn
PacStar has been awarded a three-year, $6.2 million indefinite-delivery/indefinite-quantity (IDIQ) contract to support the Warfighter Information Network-Tactical Increment 1 (WIN-T). The WIN-T contract significantly expands the use of PacStar's IQ-Core® Software by mobile network communications units across the U.S. Army.
WIN-T is the U.S. Army's current and future tactical communications network backbone and the largest tactical communications program in the world. By delivering a full range of data, voice and video communications to the warfighter, WIN-T enables assured, mobile battlefield communications, as well as network management tools for soldiers to establish and manage communications at the quick-halt.
PacStar's ability to rapidly place IQ-Core Software capabilities in the hands of Warfighters is a testament to participating in the U.S. Army Network Integration Evaluation (NIE) program. The mission of NIE soldier-led evaluations is to shorten the cycle time of acquisition, drive cost savings, and more rapidly place innovative capabilities into the hands of Warfighters, while further integrating and rapidly advancing the Army's tactical networks.
We think that this win is just the beginning – it shows the US Army understands the value of our software and the problems it solves – and positions PacStar well to become the DoD standard for mobile systems.
MSM
How do these solutions better enable mobility?
Bob Dunn
To PacStar, better mobility in the DoD means:
• Rapid deployment. Reducing setup time.
• Reducing the size of a deployment, thus reducing costs.
• Reducing the number of soldiers in harm's way.
Our technologies solves complex battlefield communications challenges and enables soldiers to focus on fighting the battle, not the network.
For further information regarding PacStar, please visit http://pacstar.com/