45th Space Wing & The Dragon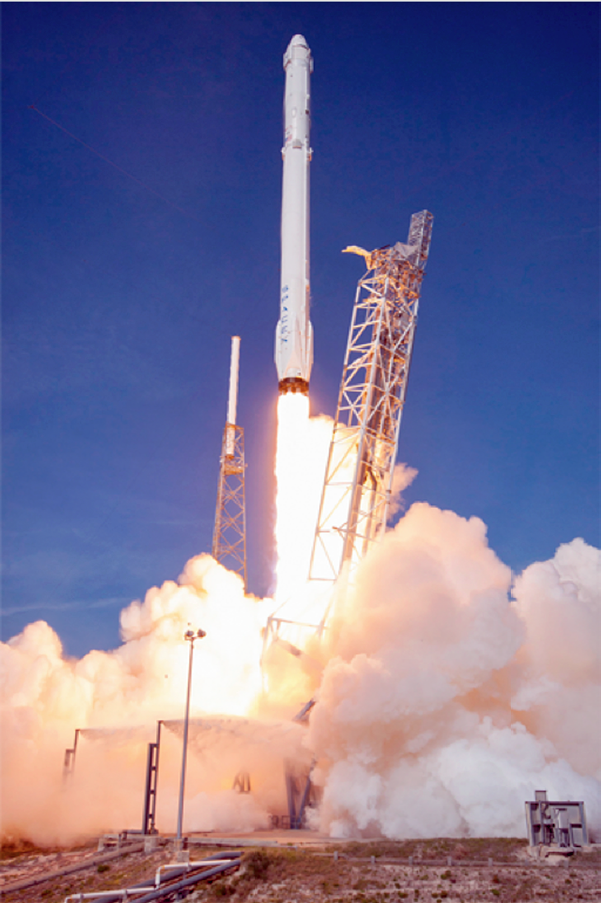 The 45th Space Wing supported SpaceX's successful launch of a Falcon 9 Dragon spacecraft headed to the International Space Station from Space Launch Complex 40 at Cape Canaveral Air Force Station on April 8 at 4:43 p.m. ET.
This was the seventh major launch operation for the Eastern Range this year and was also the eighth contracted mission by SpaceX under NASA's Commercial Resupply Services contract.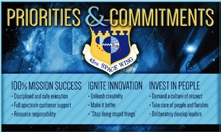 Science research, crucial hardware and supplies are being delivered via the SpaceX Dragon capsule.
Included in the delivery is the Bigelow Aerospace expandable habitat module that will be tested while attached to the ISS.
A combined team of military, government civilians and contractors from across the 45th Space Wing provided support to the mission, including weather forecasts, launch and range operations, security and safety.
Serving as the mission's Launch Decision Authority was Brigadier General Wayne Monteith, the 45th Space Wing Commander.
"This mission once again clearly demonstrates the successful collaboration we have with our mission partners at NASA and SpaceX as we continue to shape the future of America's space operations and serve as the 'World's Premier Gateway to Space'," he said.
---
Orbital ATK Is Sounding Off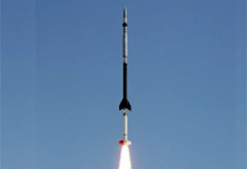 Orbital ATK has good reason to celebrate, as the firm has been selected by the National Aeronautics and Space Administration (NASA) as the prime contractor for the NASA Sounding Rockets Operations Contract III (NSROC III) program.
The award is a one-year base contract with four one-year option periods and is valued at approximately $200 million. Orbital ATK won the new contract in an open competition and has served as the prime contractor on the program since 2010. During that time, the company supported 94 sounding rocket launches and set the record for 41 consecutive successful missions, the most in the 57 year history of the program. Sounding rockets are used to conduct suborbital missions for scientific and atmospheric research.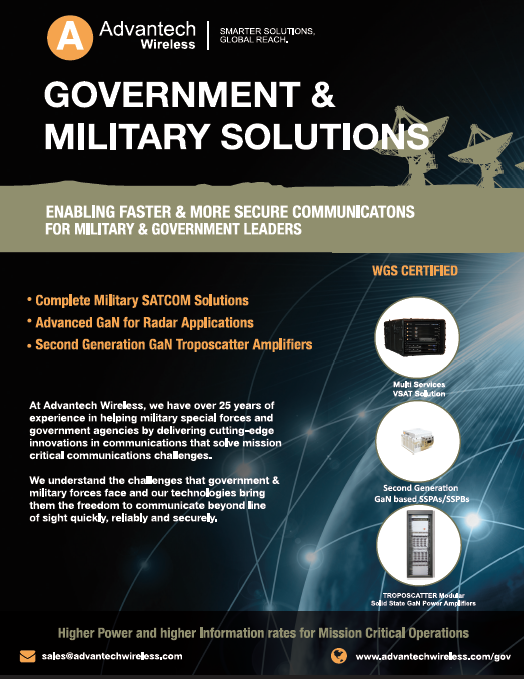 Under the NSROC III program, which is centered at NASA's Wallops Flight Facility in Virginia and the White Sands Missile Range in New Mexico, Orbital ATK's Technical Services division will plan, coordinate and carry out suborbital research rocket missions from locations in the United States and around the world.
The Orbital ATK team will also work with the NASA Sounding Rockets program to develop and implement additional capabilities. Orbital ATK and the firm's teammates expect to employ technical and administrative staff at Wallops Flight Facility and White Sands Missile Range over the term of the contract. Orbital ATK's teammates include three small businesses: LJT and Associates, Inc., the Hammers Company, and Hawk Institute for Space Sciences.
In addition to NSROC III, the company supports another high-altitude scientific research program for NASA, as the company is the prime contractor for the NASA Balloon Operations contract. This program is administered by the Goddard Space Flight Center's Wallops Flight Facility and is managed from the Columbia Scientific Balloon Facility (CSBF) in Palestine, Texas. The CSBF staff has launched more than 1,700 scientific balloons from seven countries over the past 35 years.
orbitalatk.com
---
Visit By USN Rear Admiral Brown To Cal Poly's CubeSat Program
U.S. Navy Rear Adm. Brian Brown, deputy commander, Joint Functional Component Command for Space, recently visited California Polytechnic State University on April 1st.
During his visit, Brown spoke with members of Cal Poly's CubeSat program on various topics such as Cal Poly's activities with CubeSats. These are satellites comprised of multiples of 10-centimeter cube units, their thoughts on the industry and where it's headed, and the ongoing partnership between Cal Poly and Vandenberg.
"As space-based capabilities have become a common component of almost every aspect of our lives, it's imperative that we continually seek out and expand our partnerships with like-minded space fairing entities to maintain the peaceful and safe use of space," said Brown.
"Our partnerships with industry and academia are particularly important because it helps us keep pace with cutting edge thinking and technological innovation. We are especially lucky at JFCC Space to have Cal Poly, a center of the CubeSat universe, so close by and look forward to continuing our mutually beneficial relationship."
The CubeSat program was founded 17 years ago and prepares students for future engineering roles by providing them opportunities to design, build, test, launch and track satellites.
The platform has been a catalyst for the consistent running relationship between Cal Poly and Vandenberg.
"Our programs provide a lot of opportunities for Cal Poly and Vandenberg personnel," said Dr. Jordi Puig-Suari, Cal Poly aerospace engineer professor and CubeSat team advisor.

"We've had courses at Cal Poly where members of Vandenberg come to receive training, whereas our students go work at the base when they graduate. We have some students from Vandenberg that are completing grad school with us, both military and civilian. We also have a number of former students who currently work at the base as civilians.
"Recently, we've tried to start working closer with the schoolhouse on base. Some of the classes have come and toured our lab. The Air Force curriculum is highly based on the weapons systems they're going to be operating which are very big. We show them what some of the other things they're going to be sharing space with are. It's been going incredibly well."
Cal Poly's role in the space game has increased of late, thanks to the production of CubeSats.
"When we started working on CubeSats, our relationship with Vandenberg accelerated," said Puig-Suari. "We started launching from Vandenberg. We were down there with our team, working with safety and range personnel, as well as members of the Joint Space Operations Center. We became a space player and at that point, our interface with the space people from the Department of Defense became a day-to-day operation."
The CubeSat program has provided a foundation for Vandenberg and Cal Poly to thrive as a team, a notion cemented by Brown's visit.
"Our relationship with Vandenberg has been and will continue to be very critical in the success of our operations," said Puig-Suari. "I think it's great when we have these tours and these face-to-face gatherings, they're very important and informative. We look forward to many more future endeavors with Vandenberg."
Story by t, 30th Space Wing Public Affairs, USAF.
---
Northrop Grumman Ready To Take On GPS III
Northrop Grumman Corporation has submitted an innovative proposal to the United States Air Force for the next-generation Global Positioning System (GPS) III program.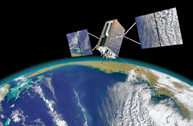 The Air Force is looking to update the GPS system, which has been delivering precise global position, navigation and timing services worldwide for more than two decades.
Northrop Grumman's proposal is based on a navigational payload prototype built and tested in 2015 and a heritage space vehicle, proven to operate in the harsh environment of Medium Earth Orbit (MEO).
In addition to current GPS III capabilities, the company's payload demonstrated enhanced transmission power for the military code, a critical capability for operating in regions of the world where jamming is prevalent.
"The Air Force plans to develop a new generation of GPS space vehicles that will deliver the advanced capabilities needed by military and civil users, while countering the future threat environment," said Tim Frei, vice president, communications systems, Northrop Grumman Aerospace Systems.
"Our producible and resilient payload prototype meets these requirements. We are ready to bring this capability to the warfighter."
The Air Force plans to award up to three $5 million study contracts in the third quarter of 2016, under the GPS III Space Vehicles 11+Phase 1 Production Readiness Feasibility Assessment request for proposal. The study contracts will run for 26 months, with two additional six-month options. A competition for 22 spacecraft is anticipated in 2018.
lockheedmartin.com
---
DARPA's XS-1 Program Enters Phase 2
In an era of declining budgets and adversaries' evolving capabilities, quick, affordable and routine access to space is increasingly critical for both national and economic security.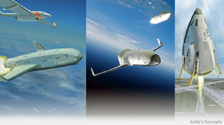 Current satellite launch systems, however, require scheduling years in advance for an extremely limited inventory of available slots.
Moreover, launches often cost hundreds of millions of dollars each, due in large part to the massive amounts of dedicated infrastructure and large number of personnel required. DARPA created its Experimental Spaceplane (XS-1) program to help overcome these challenges and create a new paradigm for more routine, responsive and affordable space operations, reducing the time to get capabilities to space.
In an important step toward these goals, DARPA has announced Phase 2 of the XS-1 program, which seeks to design and fabricate an experimental unmanned spaceplane using state-of-the-art technologies and streamlined processes, and fly the vehicle ten times in ten days.
The reusable XS-1 would demonstrate the potential for low-cost and "aircraft-like" high-ops-tempo space flight, enabling a host of critical national security options while helping to launch a new and potentially fruitful commercial sector. A Special Notice was posted on FedBizOpps on April 11 announcing the XS-1 Phase 2 Proposers Day, to be held on Friday, April, 29, 2016, in Arlington, Virginia.
"During Phase 1 of the XS-1 program, the space industry has evolved rapidly and we intend to take advantage of multiple impressive technological and commercial advances," said Jess Sponable, DARPA program manager. "We intend to leverage those advances along with our Phase 1 progress to break the cycle of escalating DoD space system launch costs, catalyze lower-cost satellite architectures, and prove that routine and responsive access to space can be achieved at costs an order of magnitude lower than with today's systems."
XS-1 envisions that a fully reusable unmanned booster vehicle would fly to high speeds at a suborbital altitude. At that point, one or more expendable upper stages would separate, boost and deploy a satellite into Low Earth Orbit (LEO).
The reusable first stage would then return to Earth, land and be prepared for the next flight. Although relatively small by conventional aircraft standards, the XS-1 flight booster size—akin to a business jet—would be sufficient to validate credible scaling to larger reusable launch systems. Moreover, demonstration of on-demand and routine access to space, akin to aircraft, is important for next-generation DoD needs.
XS-1 has four primary technical goals:
• Fly 10 times in a 10-day period (not including weather, range and emergency delays) to demonstrate aircraft-like access to space and eliminate concerns about the cost-effectiveness and reliability of reusable launch.
• Achieve flight velocity sufficiently high to enable use of a small (and therefore low-cost) expendable upper stage.
• Launch a 900- to 1,500-pound representative payload to demonstrate an immediate responsive launch capability able to support both DoD and commercial missions. The same XS-1 vehicle could eventually also launch future 3,000+- pound payloads by using a larger expendable upper stage.
• Reduce the cost of access to space for 3,000+-pound payloads, with a goal of approximately $5 million per flight for the operational system, which would include a reusable booster and expendable upper stage(s).
Successful design would require integrating state-of-the-art technologies, processes and system approaches to deliver routine aircraft-like operability, reliability and cost efficiency. In particular, incorporation of autonomous technology and operations promises to significantly decrease the logistical footprint and enable rapid turnaround between flights.
Structures made of advanced materials, cryogenic tanks, durable thermal protection, and modular subsystems would make possible a vehicle able to launch, fly to high speeds and then land in a condition amenable to rapid turnaround and launch with the next payload. Reusable, reliable propulsion would also be essential for a low-cost and recurring flight capability.
In Phase 1 of XS-1, DARPA sought to evaluate the technical feasibility and methods for achieving the program's goals. To achieve that, it awarded prime contracts to three companies, each working in concert with a commercial launch provider: The Boeing Company (working with Blue Origin, LLC); Masten Space Systems (working with XCOR Aerospace); and Northrop Grumman Corporation (working with Virgin Galactic). Phases 2 and 3 will be competed as a full and open Program Solicitation mandating an Other Transaction Authority (OTA) agreement with the expectation of a single resulting award. Cost share is expected.
Specifically, the program is structured to directly transition any successful technology to the industrial and commercial launch sectors, with the goal of enabling new launch markets and sale of launch services back to the government at dramatically lower costs and more rapid time frames than are possible today.
By ensuring the technologies and launch systems would be available through the commercial sector, government leaders would have the opportunity to begin relying on XS-1 and derived systems. Militarily-relevant applications of the technology may also spur adoption and help enable future capabilities such as disaggregated spacecraft architectures and next-generation, reusable space-access aircraft.
darpa.mil/program/experimental-spaceplane
---