Welcome to MilsatMagazine's annual YEAR IN REVIEW issue. A few, leading companies have offered their insights and an examination of their experiences regarding their operations during 2013... offered in alphabetical order, these major representatives of the MILSATCOM offer an overview of the challenges and successes for the past year.
* * * * * * * * *
TrustComm, Inc.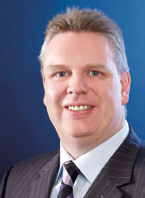 By Ian Canning, Chief Operating Officer
This year was truly historic for TrustComm, for all the right reasons. On February 22, 2013, TrustComm was acquired by American investor group Global Secure Networks, allowing us to operate as a U.S. entity under that new ownership.
Enabled by a significant equity infusion, our new team of highly experienced executives led a business expansion that firmly established TrustComm as the preeminent small-business provider of SATCOM services to commercial entities and government agencies.
For many years, TrustComm has been differentiated as the only satellite service provider with a network infrastructure on a secure military base. This year, our expansion featured enhancements to our secure teleport and network operations center (S-NOC) at Ellington Field Joint Reserve Base in Houston. We also completed development of our new corporate headquarters and fully redundant S-NOC at the Quantico Corporate Center in Stafford, Virginia.
Our new executive team brought a great deal of valuable experience and a deep understanding of the MSS market. Therefore, one of our primary objectives in 2013 was to merge that MSS capability with the value of TrustComm's existing FSS services—all within our secure network infrastructure. This has already provided tremendous benefits to our customer base.
Our successful expansion into the MSS market was facilitated by our new partnerships with MSS operators Thuraya and Inmarsat, as well as with Boeing and leading equipment provider Cobham SATCOM.
In November, we jointly launched Starlight with Thuraya, a new end-to-end U.S.-managed implementation of MSS delivered via Thuraya satellites. Starlight delivers high-quality IP and voice communication for end-users who require resilient and assured communications.
With Starlight, the full lifecycle is managed by a U.S. company, satisfying the requirements of customers in the maritime, land, energy and enterprise markets.
Starlight provides broadband IP and voice capabilities that are authenticated and terminated with U.S. IP addresses and phone number designations, based upon infrastructure that is fully controlled by U.S. personnel.
Our new distribution agreement with Inmarsat means we now provide the full Inmarsat Solutions suite, including the Existing and Evolved (E&E) portfolio, the Inmarsat-4 (I-4) Broadband Global Area Network services (BGAN, FBB and SBB), and lease capabilities.
With the advantage of these four new partnerships, we now provide the widest range of assured, end-to-end COMSATCOM solutions to exceed the stringent demands of our commercial and government clients.
TrustComm has made progressive strides with our existing user base through the expanded capabilities now delivered by the organization.
Additionally, we have expanded our reach into the commercial sector through additional capabilities in Africa and the Far East. With the expanding demand in traditional oil & gas and exploration in these territories, we have had the privilege to support new customers with our integrated solutions.
This year proved especially challenging in the federal government market, as all defense contractors took steps to cope with sequestration. Although overall defense budgets are being reduced, the effort to provide more satellite bandwidth is as strong as ever. Smaller budgets are driving the adoption of technologies that are easily developed, easily deployable and seamless.
In this new climate of increased austerity, large integration companies and manufacturers are increasingly looking to partner with qualified small businesses in the COMSATCOM services segment—of which TrustComm is a prime example. These strategic partnerships enable large contractors to diversify beyond equipment provision and integration, and win contracts that feature recurring revenue.
To ensure prosperity in the coming years, we will continue to anticipate the needs of our addressable market by introducing responsive solutions. A good example is our new TRUSTNet offering that has received favorable reviews from customers as we roll it out commercially.
TRUSTNet is a bundled SATCOM solution that supports Internet and private MPLS services requirements in specific regions. It uses the same rigorous design worldwide to ensure consistency of performance and user experience anywhere in the footprint.
With the commercial sector becoming more and more sensitive about the communications they are delivering, TrustComm believes strongly that the resilient and assured solutions being delivered today meet and exceed those needs—ensuring the confidentiality of customer communications.

We also will continue to respond to very strong demand from state agencies such as the National Guard and local emergency responders. Public safety agencies understand the importance of ensuring continuity of operations in the event their infrastructure is temporarily or permanently disabled. Voice, video and high-speed data are essential, to enable reliable communications and coordination with command centers and direct access to Incident Command Systems.
That is why this year we made significant enhancements to our Satellite Emergency Operations Network (SEON). SEON is the only comprehensive, interoperable network of its kind that provides broadband satcom support to emergency-management teams. The enhancements include new, flexible purchase options (now available on GSA Schedule 70) and expanded network configurations. Our SEON solution was proven effective by the Texas National Guard during hurricanes Katrina, Rita and Ike.
Our new capital resources are already helping us increase the availability of our assured COMSATCOM services, terrestrial and end-to-end networks. This enables us to provide maximum reliability to support a broad range of applications—including broadband Internet access, VoIP, video conferencing and data communications—for business continuity, emergency response, tactical field deployment and temporary usage.
Look for upcoming announcements as we develop a range of new solutions leveraging TrustComm's overall satellite capability in multiple commercial markets. We wish you a successful 2014.
For additional information about the company, please visit their website: http://www.trustcomm.com/
About the author
Ian Canning has more than 25 years' experience in the global satellite communications and telecommunications industries. He joined TrustComm as Chief Operating Officer in January 2012. In this position, he is responsible for the day-to-day operations of the Company. Prior to joining TrustComm, Mr. Canning served as a senior marketing executive for Stratos Global Corp., the leading global provider of advanced mobile and fixed-site remote communications solutions. He was responsible for Stratos' global product and marketing portfolio, generating more than $700 million p.a. from advanced remote communications solutions, including the Stratos Advantage range of value-added services. That period included his tenures as Vice President, Global Product Marketing (2010-11) and Vice President, Marketing and Product Management (2007-10). From 2004-07, he served concurrently as Stratos' Managing Director, EMEA and Vice President, Sales.
From 2001-03, Mr. Canning served as Director, Business Development EMEA and later as Director, Sales EMEA for Iridium Communications Inc., a provider of global voice and data communications services. From 1999-2001, he began his career with Stratos as Director, EMEA and Asia. From 1995-99, Mr. Canning served as Inmarsat's Manager, Partnership Program. From 1983-99, he held senior sales positions with a variety of global satellite, electronics and telecommunications companies, including Nortel Networks, Motorola Codex and Racal Datacom.
Mr. Canning earned an MBA from London's Greenwich School of Management.
* * * * * * * * *
Vislink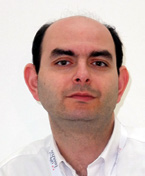 By Ali Zarkesh, Business Development Director
The rate of change in advanced military communications continues to increase. Military officials now require all-encompassing solutions spanning reconnaissance, surveillance and real-time monitoring, as today's threats are more mobile and more dangerous than ever before.
There's an immediate industry focus on the need for decisive decision-making based on live information, meaning a highly reliable communications network is at the heart of every critical mission.
As Vislink has established its position in this expanding market, particular emphasis has been placed on listening to the customer. Throughout the year, Vislink has met with end-users to discuss their needs. With investments made, these requirements have been translated into new products to meet changing industry demand. Vislink has worked hard to maintain its position as a premier supplier of SATCOM communication systems and a growing name for full motion video transport, ISR and military communications.
With a deep heritage in providing SATCOM solutions for the defense sector, supported by the company's success in the broadcast market, Vislink's product range has expanded to include man-portable SATCOM units, together with flyaway terminals and vehicle mounted systems.
Over the last 12 months, Vislink has further increased its profile in the defence sector, experiencing growth and success. The company has also demonstrated that it has the expertise to deliver a wide range of advanced technologies to meet the ever-changing demands of the surveillance market.
Vislink's MSAT range has seen a number of improvements in recent months. Following the successful launch of the MIL-SPEC Mantis MSAT terminal late last year, 2013 saw the introduction of a motorized version which is also fully MIL-SPEC compliant. Vislink's new system still has field swappable feeds on X-, Ka-, or Ku-bands and can support a built-in H.264 encoder or customer specified data modem, making it ideal for surveillance missions in challenging or hostile environments. The new product also adds the option of a 90 or 120cm reflector, providing improved data throughput rates of up to 10Mbps and building on the surveillance market's need for HD video, voice and data communications.
Vislink's Advent brand is already well-known for its range of portable and fixed SATCOM systems, including the new MSAT range, and so Advent has become synonymous with ease of use and flexibility. This new motorized version further demonstrates Vislink's commitment to delivering solutions that exceed operational expectations.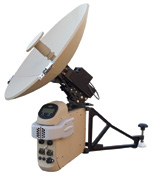 Building on its reputation for providing comprehensive solutions, Vislink showcased a number of innovative products at this year's DSEI. As signals can be hampered by terrain, frequency congestion and interference, it's clear that a new technology is required to better distribute information in a cost-effective and timely manner, with minimal delay and latency.
To meet this growing need, Vislink launched a range of products under its LiveGear brand. This new technology is capable of bonding multiple cellular signals together and aggregating the signal in a way that allows data streams of up to 6Mbit/s to be passed over up to six bonded 3G or 4G cell networks.
A new hybrid microwave/cellular transceiver 360 degree six-channel diversity receiver was also unveiled at this year's show. As a hybrid system it's designed to receive across a range of microwave frequencies, from 1.5 to 10GHz. Reception is fully automated and the combining factor allows enhanced gain and availability in a downtown environment. Retransmission is via 3G or 4G cellular lines, allowing operators to transport a video signal at up to 6 Mbit/s. The signal is separated for transmission over these lines, allowing for diversity of cellular provider and path, and then reassembled at the command center.
Vislink has been active in the defense sector for many years, and 2013 saw new ventures into the world of ISR, EW as well as a growing need for C-IED on the battlefield. The predominant requirement from customers was access to the best video distribution techniques possible, very often these being tailored to their own exacting standards and needs. Vislink has met the challenge with a range of modular sub-systems to be interfaced with HD video links to carry next generation sensor signals and IP data. The range of interfacing systems is entirely complementary to existing products to significantly enhance the offering to the airborne data market.
In addition to this, Amplifier Technology, a leading manufacturer of jamming equipment and RF design for the surveillance market, was acquired by Vislink in August 2013. This is further evidence of Vislink's commitment to delivering a broad spectrum of solutions, as Amplifier Technology's products will form a complementary addition to Vislink's existing product ranges. Also, by introducing jamming technology to the product portfolio, Vislink has enhanced its offering to the signals core. Vislink now has a truly global reach, and the ability to fully equip and protect the modern soldier.
The feedback from the marketplace in all areas is that a number of challenges will exist in coming years—not the least being the major budget cuts experienced throughout most of Europe as countries steady themselves after experiencing a major recession. Vislink will continue to listen and react to market demands and provide high quality, robust, reliable communications equipment at highly competitive prices. This will be supported with meaningful, no quibble warranties and logistical support through the lifetime of the equipment.
On the technology side, 2014 will see further additions to Vislink's existing product ranges. With extensive testing of cellular bonding being undertaken in Europe and the USA, Vislink leads the way with a range of exciting and innovative products. Many of these are already engineered into existing systems with hybrid microwave front ends. There is significant expectation of pick-up in the marketplace for these products in the New Year.
High definition airborne surveillance is also becoming more and more critical for real-time decision making and 2013 has already played host to a number of important advances in unmanned systems. Vislink has a long history providing airborne video solutions to government and security agencies around the world, and in coming years it's likely that this technology will be an even more important focus for the company.

With large scale deployments of Vislink SATCOM terminals in 2013 and the quest for smaller, lighter and more innovative equipment, 2014 will see Vislink continue to refine its product offering to meet growing industry demand for more portable technology.
For further information regarding the company, please visit their website: http://www.vislink.com/
About the author
Ali Zarkesh has been the Business Development Director at Vislink for almost two-and-a-half years. With more than 20 years of experience, 10 of which were within program management, Ali has worked at leading space and IT companies throughout his career such as Inmarsat, Astrium, Eumetsat, Vega and ComDev—as well as his current position at Vislink, a global provider of satellite communications technologies.
Having completed a BSc and then an MSc in Computer Science in the early 1990s, Ali started his career at Inmarsat as an engineer. Following an eight year stint as a consultant to Vega plc, Ali then held two senior management positions at Astrium and ComDev Europe before acquiring his current position of Business Development Director of SATCOM Products at Vislink. His role involves the direction and oversight of product development of the entire range of SATCOM products as well as defining the strategic direction and road map for future products. He also develops new business contacts and markets for the company.
* * * * * * * * *
XTAR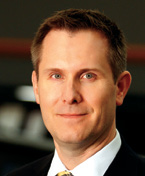 By Andrew Ruszkowski, Vice President, Global Sales + Marketing
Commercial satellite operators, including XTAR, have witnessed—and even contributed—as Pentagon and Air Force leadership, along with Congressional input, devise a variety of acquisition reform initiatives, directives and proposals.
XTAR and others in industry have diligently pursued the essential reforms that would allow the DoD to effectively partner market economy principles to the requirements of government customers. It seems, at times, that our efforts have fallen on deaf ears.
There are certainly leaders within the DoD who are working tirelessly to strengthen the Department's relationship with commercial industry. They recognize that it is essential to protect national security interests today and tomorrow—even more so in the current budget environment. Our Congressional and defense leadership deserves acknowledgement for bringing the issue of commercial SATCOM acquisition to the table in a more active manner.
Between shifting and ever-growing threats, and the fiscal constraints of policies such as Sequestration, it would be easy to assume that change must be imminent. Various studies this year even imply that DoD leadership is ready to move to a new commercial satcom procurement era.
In reality, however, there has been a flurry of mixed signals from various DoD and their branch offices. Real reform, which leverages the opportunities presented by the commercial satellite industry, continues to be hampered by a need for exclusive ownership on the part of some within the government.
At the close of 2012, four commercial satellite operators, including XTAR, authored a paper defining "Seven Ways to Make the DoD a Better Buyer of Commercial Satcom" in response to a request from the DoD for ideas. 2013 has seen no shortage of discussion on the subject of reform, hopefully due to our collaborative industry efforts.
The Office of the Secretary of Defense (OSD), the Air Force Space and Missile Systems Center (SMC) and various House and Senate committees, among others, have since weighed in on this topic. The Defense Business Board (DBB), for example, studied commercial satcom barriers and opportunities at the request of OSD. Essentially, the DBB findings and our Seven Ways paper similarly advocated for common sense changes to acquisition, such as long-term contracts, consideration of hosted payloads, and centralizing satcom administration.
Subsequently, Mr. Frank Kendall, Under Secretary of Defense (Acquisition, Technology & Logistics) announced that his office was embarking on a 90-day study of similar matters. Very recently, a whitepaper authored by staff at Air Force Space Command also echoed the Seven Ways tenets. Mr. Douglas Loverro, OSD Deputy Assistant Secretary of Defense for Space Policy, has recently acknowledged that, for better or for worse, the budget crisis may be the needed impetus to speed up this critical review process.
New acquisition vehicles that have recently surfaced indicate the potential for forward progress. SMC, for example, has worked hard to create new ways to benefit from its trusted commercial satellite industry partners to bring greater efficiency and advanced technology to the warfighter. SMC gained considerable experience over the last decade by working with industry to provide mission-critical support for the exponentially growing role of ISR. A few months ago, SMC helped to expand that relationship by finalizing the Hosted Payload Solutions (HoPS) acquisition vehicle. This entailed a great deal of discussion between industry and SMC including SMC's positive response to its initial HoPS RFP.
These actions have enabled greater understanding of commercial practices so government users can benefit from the efficiency that commercial satellites offer. As both a commercial satellite payload host and an operator of a hosted payload, XTAR anticipates actively sharing its experience and expertise in further deployments of such payloads.
More recently, SMC has moved toward use of long-term purchasing of commercial satcom with the Pathfinder RFI. This vehicle calls for procurement dollars to acquire commercial bandwidth for AFRICOM. This forward-thinking action indicates that SMC understands the substantial cost benefits to be gained from buying satellite capacity for the long term, rather than leasing it on a year-to-year basis. In addition, the Pathfinder RFI indicates that the Air Force wants to determine how innovative, affordable procurement of commercial satcom can capably provide on-orbit resources in the future.
As this is only an RFI, we hope this effort will result in an RFP in the near term. Both of these steps by SMC show that the Air Force recognizes the urgency of adopting industry's recommendations such as were outlined in our Seven Ways paper. A funded contract will be the real measure of whether the Air Force is truly prepared to do more than simply experiment with new procurement methods.

Two steps forward, one step back—or is it the reverse?
Vehicles such as HoPS and Pathfinder seem to be leading us sensibly down a road to broader use of cost-effective, commercial satcom technologies. However, important players still continue to support, to varying degrees, reliance on the status quo. General Shelton's comment that we should not plan any changes for the next 10 ten years certainly gives advocates for change reason for serious concern. Lieutenant General Pawlikowski, while an advocate for hosted payloads, has also said that DoD will need to build "clones" of existing satellites if budget decisions are further delayed. In this we see another reason for concern.
Aside from a culture of control within DoD, commercial acquisition reform is bedeviled by the DoD's long-standing relationships with its prime contractors. Confusing matters even more, the primes, in order to keep their market share, are now playing both sides of the fence by building and supporting PORs while simultaneously seeking potential commercial opportunities.
As commercial enterprises, this is entirely understandable. However, the fundamental question for DoD and Congressional leadership is how to put in place a renewed space capabilities architecture that addresses evolving threats and the reality of shrinking fiscal resources. Commercial SATCOM industry partners, such as XTAR, can resoundingly affirm that they are ready, willing and able to be active partners in this new paradigm.
We believe the warfighter and the taxpayer deserve no less.
For further information regarding the company, please visit their website: http://xtar.com/
About the author
Appointed in September 2010, Andrew Ruszkowski provides strategic leadership for XTAR's global sales and marketing programs, with responsibility for expanding XTAR's sales opportunities and visibility in new markets worldwide. Prior to joining XTAR, Mr. Ruszkowski headed the North American Sales team of SES World Skies, where he was responsible for formulating sales strategies aimed at enterprise network operators, ISPs, and U.S. government and military users. He joined New Skies Satellites in 2000 as Director of Sales with primary focus on the Internet market. Mr. Ruszkowski began his satellite industry career in 1998 as manager of VSAT and business networks for PanAmSat, and subsequently, manager of its New Media business.
Mr. Ruszkowski holds a BA degree in world politics from The Catholic University and an MA in international affairs from American University.