On February 21st, at Cape Canaveral Air Force Station in Florida, a United Launch Alliance (ULA) Delta IV rocket successfully launched the Global Positioning System (GPS) IIF-5 satellite for the U.S. Air Force from Space Launch Complex-37.
This is ULA's second launch in 2014 and the 79th launch since the company was formed in December 2006.
"Congratulations to the entire mission team on the successful launch of the GPS IIF-5 satellite," said Jim Sponnick, ULA vice president, Atlas and Delta Programs. "GPS provides vital capabilities for the men and women protecting our freedoms around the world and also provides ever-expanding benefits in our daily lives. We are privileged to collaborate with our dedicated government and industry partners seamlessly working together to deliver these capabilities safely to orbit with a focus on mission success, one launch at a time."
This mission was launched aboard a Delta IV Medium-plus configuration Evolved Expendable Launch Vehicle (EELV) using a single ULA common booster core powered by an Aerojet Rocketdyne RS-68 main engine, along with two ATK GEM-60 solid rocket motors. The upper stage was powered by an Aerojet Rocketdyne RL10B-2 engine with the satellite encapsulated in a four-meter diameter composite payload fairing.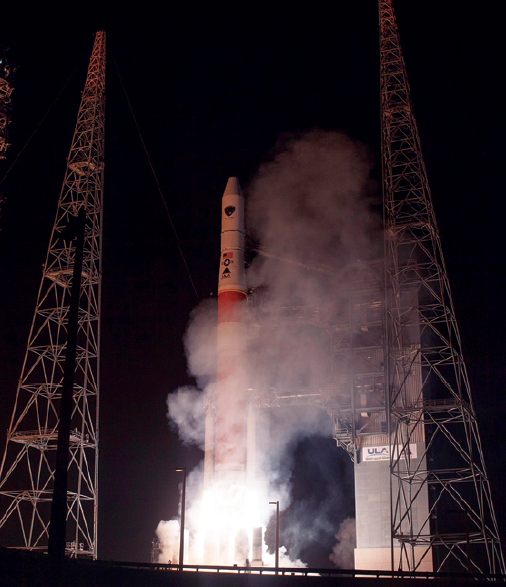 GPS IIF-5 is the fifth in a series of next-generation GPS satellites and will join a worldwide timing and navigation system utilizing 24 satellites in six different planes, with a minimum of four satellites per plane positioned in orbit approximately 11,000 miles above the Earth's surface. The GPS IIF series provides improved accuracy and enhanced performance for GPS users.
"This launch marks the 25th successful launch of our Delta IV product line," said Sponnick. "Delta IV has successfully delivered numerous satellites for the National Reconnaissance Office (NRO), as well as GPS satellites for the Air Force and weather satellites for NASA.
ULA's next launch is the Atlas V NROL-67 mission for the NRO planned for March 25, from Space Launch Complex-41 at Cape Canaveral Air Force Station, Florida.
United States Air Force
The U. S. Air Force successfully launched the fifth Global Positioning System (GPS) IIF satellite carried aboard a United Launch Alliance Delta IV launch vehicle at 8:59 p.m. EST from Cape Canaveral Air Force Station, Florida, February 20.
The Boeing-built GPS IIF satellite will join the GPS constellation providing world class space-based positioning, navigation and timing capabilities to support users around the globe. The new capabilities of the IIF satellites will provide greater navigational accuracy through improvements in atomic clock technology, a more robust signal for commercial aviation and safety-of-life applications, known as the new third civil signal (L5), a second civil signal (L2C) available for the dual frequency GPS receivers and a 12-year design life providing long-term service. These upgrades improve anti-jam capabilities for the warfighter and improve security for military and civil users around the world.
"I am pleased with the outcome of today's launch. The new capabilities provided by the IIF satellites will improve operations, sustainment and overall GPS service for the warfighter, international, commercial and civil communities," said Colonel Bill Cooley, director of the Space and Missile Systems Center's Global Positioning Systems Directorate.
"The modernized capabilities that are coming on board with the successful launch of GPS IIF-5 will support the worldwide GPS community for years to come. I would like to recognize the outstanding commitment and the superb dedication to mission success from the 45th and 50th Space Wings, our industry partners: Boeing and United Launch Alliance, and the GPS IIF and Delta IV program teams at the Space and Missile Systems Center," said he said.
GPS provides accurate real time position, navigation and timing services and plays a major role in information resources supporting a variety of civil, scientific and commercial functions on land, sea, and air. Operated by U.S. Air Force Space Command, the GPS constellation provides precise services worldwide 24-hours a day, and the Air force is committed to providing improved capabilities to ensure users around the globe receive the maximum benefits provided by GPS.
The Air Force Space Command's Space and Missile Systems Center, located at Los Angeles Air Force Base, California, is the U.S. Air Force's center of acquisition excellence for acquiring and developing military space systems. Its portfolio includes GPS, military satellite communications, defense meteorological satellites, space launch and range systems, satellite control networks, space based infrared systems and space situational awareness capabilities.