The Passing Of A True American Hero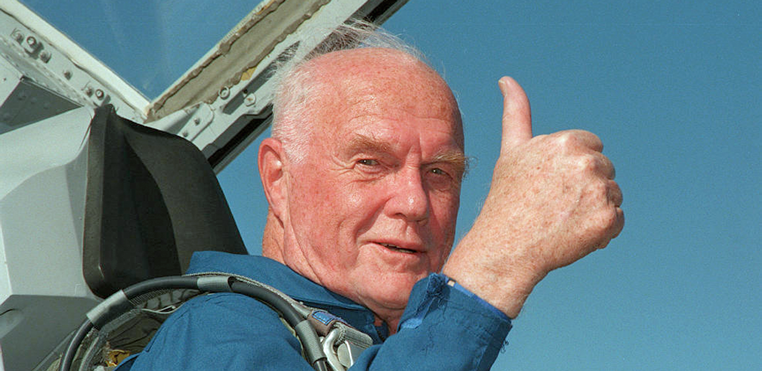 The Space Foundation has commented on the death of Col. John H. Glenn, Jr., USMC (Ret.), 95, the last of the Mercury Seven astronauts, military test pilots selected by NASA in 1959 to become America's first astronauts.
"US success in space was built on the courage and determination of men like John Glenn, who dedicated his life to serving his country and proving what humans could accomplish in space," said Kevin Cook, Space Foundation, the Vice President of Marketing & Communications.
In 1962, Glenn was the first American to orbit the Earth and the fifth human in space. He was also the oldest person to go into space when, in 1998 at the age of 77, he returned to space as a Payload Specialist on Discovery's STS-95 mission. An Ohio native, Glenn was a US Marine Corps aviator, engineer and United States Senator. He was inducted into the US Astronaut Hall of Fame in 1990. Satnews Publishers adds, Godspeed, and thank you, Astronaut Glenn.
(Photo of John Glenn is courtesy of NASA.)
---
Improved GPS Ground System For USAF
They were given the green light, the go, the high five.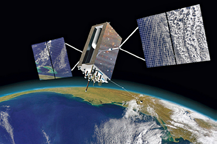 The US Air Force has approved Lockheed Martin's Critical Design Review (CDR) for the Contingency Operations (COps) contract that was completed on November 17th. The agreement is designed to upgrade the current GPS satellite ground control system that offers new capabilities in which the GPS III satellites will operate more powerfully and accurately. COps is envisioned as a temporary gap filler prior to the entire GPS constellation's transition to operations onto the next generation Operational Control System (OCX) Block 1, currently in development.
Lockheed Martin will now proceed with software development and systems engineering to modify the existing GPS ground control system, called the Architecture Evolution Plan (AEP) Operational Control Segment. The AEP is currently maintained by Lockheed Martin and controls the 31 GPS IIR, IIR-M and IIF satellites in orbit today.

Once they are launched, the COps modifications will allow the AEP to support the more powerful, next generation GPS Block III satellites, enabling them to perform their positioning, navigation and timing mission.
On October 15, under a separate contract, Lockheed Martin completed the Commercial Off-the-Shelf (COTS) Upgrade #2 (CUP2) project, part of a multi-year plan to refresh the AEP's technology and enhance the system's ability to protect data and infrastructure from internal and external cyber threats, as well as improve its overall sustainability and operability. CUP2 is now fully operational and managing the current GPS constellation.
Lockheed Martin also is under contract to develop and build the Air Force's first ten GPS III satellites, which will deliver three times better accuracy, provide up to eight times improved anti-jamming capabilities and extend spacecraft life to 15 years, 25 percent longer than the newest GPS satellites on-orbit today. GPS III's new L1C civil signal also will make it the first GPS satellite to be interoperable with other international global navigation satellite systems.
lockheedmartin.com
---
Minotaur Makes The Day For Orbital ATK
The US Air Force's Rocket Systems Launch Program, part of the Launch Enterprise Directorate at Space and Missile Systems Center (SMC), awarded the National Reconnaissance Office Launch-111 to
Orbital ATK.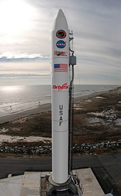 The contract is a firm-fixed-price contract valued at $29.2 million for a Minotaur I launch vehicle. This was the first such award under the Orbital/Suborbital Program 3 (OSP-3) Lane 1 capability.
The OSP-3 contract Lane 1 capability is for 400-4,000 lbs. (181-1,810 kg) to Low-Earth Orbit (LEO) and long-range, sub-orbital missions. The specific launch date of NROL-111 will be determined by the schedule of the contractor but will be no later than 24 months from the date of contract award.
Lt. Gen. Samuel Greaves, Air Force program executive officer for Space and SMC commander, said, "Continued reliability of space vehicle delivery methods and affordable access to space for the National Reconnaissance Office is an essential forefront for space superiority. Utilizing the capability of the OSP-3 contract Lane 1 capability, immediately benefits our Department of Defense mission partners. The OSP-3 capability also holds great potential for SMC to provide assured access to space for future DoD missions."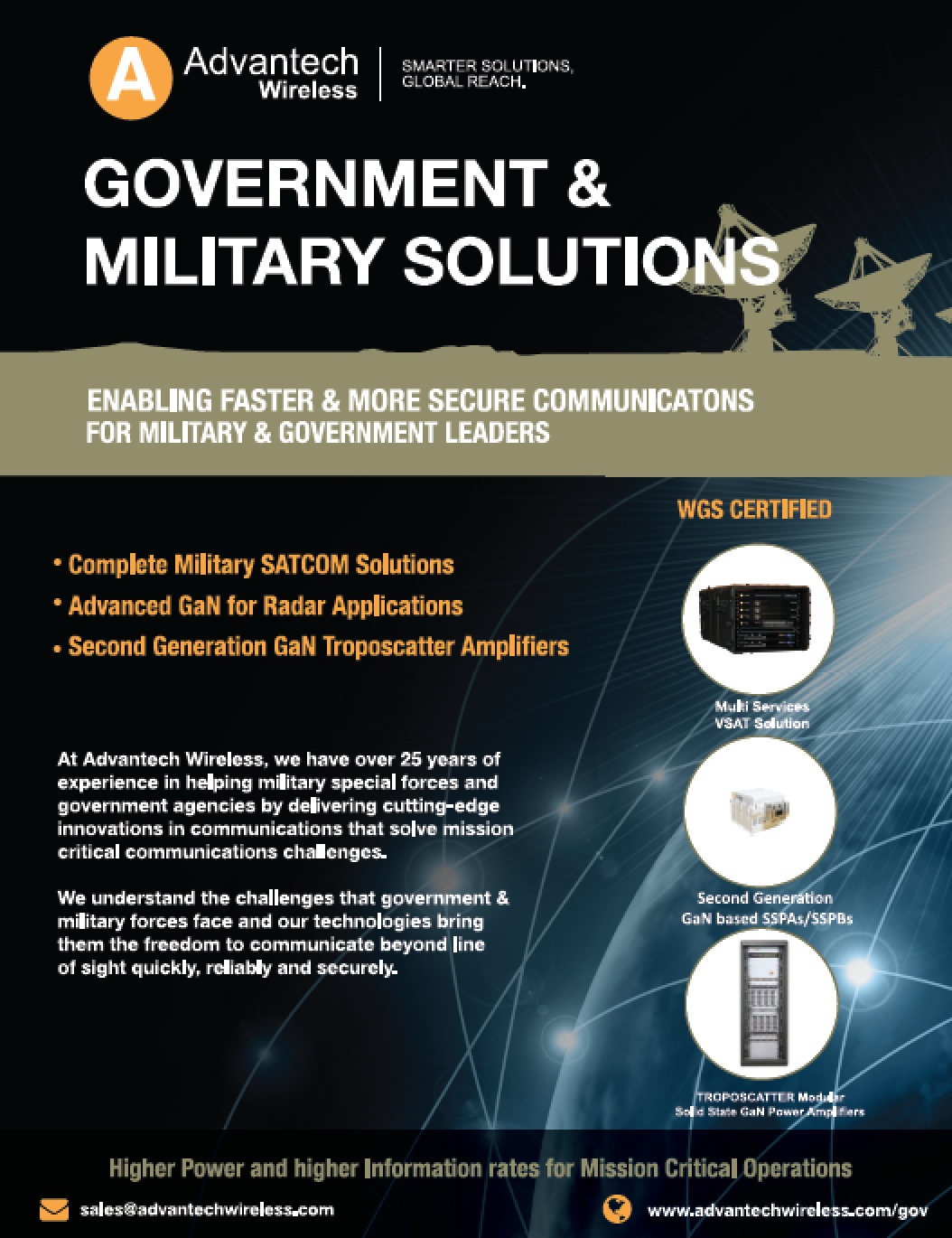 The Air Force Space Command's Space and Missile Systems Center, located at Los Angeles Air Force Base, California, is the U.S. Air Force's center of excellence for acquiring and developing military space systems. Its portfolio includes space launch, global positioning, military space vehicle communications, defense meteorological space vehicles, range systems, space vehicle control networks, space-based infrared systems, and space situational awareness capabilities.
orbitalatk.com
---
Delivery Of Enhanced Comms For USAF & Troops With Successful WGS-8 Launch
Success can be claimed by United Launch Alliance and the US Air Force as the WGS-8 launch occurred without a hiccup to provide improved and extremely crucial communications for the armed forces.
A United Launch Alliance (ULA) Delta IV rocket, carrying the eighth installment of the Wideband Global SATCOM (WGS) satellite for the United States Air Force, lifted off from Space Launch Complex-37 at Cape Canaveral Air Force Station on December 7th at 6:53 p.m. EDT.
This is ULA's 11th launch in 2016 and the 114th successful launch since the company was formed in December 2006.
"Thank you to the US Air Force and industry team whose flawless execution enabled today's successful launch of the WGS-8 mission," said Laura Maginnis, ULA vice president of Custom Services. Last week, ULA celebrated our anniversary and 10 years of 100 percent mission success. This evening's launch epitomizes why our customers continue to entrust ULA to deliver our nation's most crucial space capabilities."
This mission was launched aboard a Delta IV Medium+ (5, 4) configuration Evolved Expendable Launch Vehicle (EELV) powered by one common booster core and four solid rocket motors built by Orbital ATK. The common booster core was powered by an RS-68A liquid hydrogen/liquid oxygen engine producing 705,250 pounds of thrust at sea level. A single RL10B-2 liquid hydrogen/liquid oxygen engine powered the second stage.
The booster and upper stage engines are both built by Aerojet Rocketdyne. ULA constructed the Delta IV Medium+ (5,4) launch vehicle in Decatur, Alabama. WGS-8 marks the sixth flight in the Medium+ (5,4) configuration; all launches in this configuration were WGS missions.
WGS-8 supports communications links in the X-and Ka-band spectra. While Block I and II satellites can instantaneously filter and downlink up to 4.410 GHz, WGS-8 can filter and downlink up to 8.088 GHz of bandwidth.
Depending on the mix of ground terminals, data rates, and modulation and coding schemes employed, a single WGS satellite can support data transmission rates of more than 6 Gbps.
WGS-8 with its advanced digital channelizer may support more than 11 Gbps. The current fleet is providing more than 16 Gbps globally and the most heavily loaded WGS vehicle is now locally providing more than 4 Gbps.
WGS has 19 independent coverage areas, 18 of which can be positioned throughout its field-of-view. This includes eight steerable/shapeable X-band beams formed by separate transmit/receive phased arrays; 10 Ka-band beams served by independently steerable diplexed antennas; and one transmit/receive X-band Earth-coverage beam.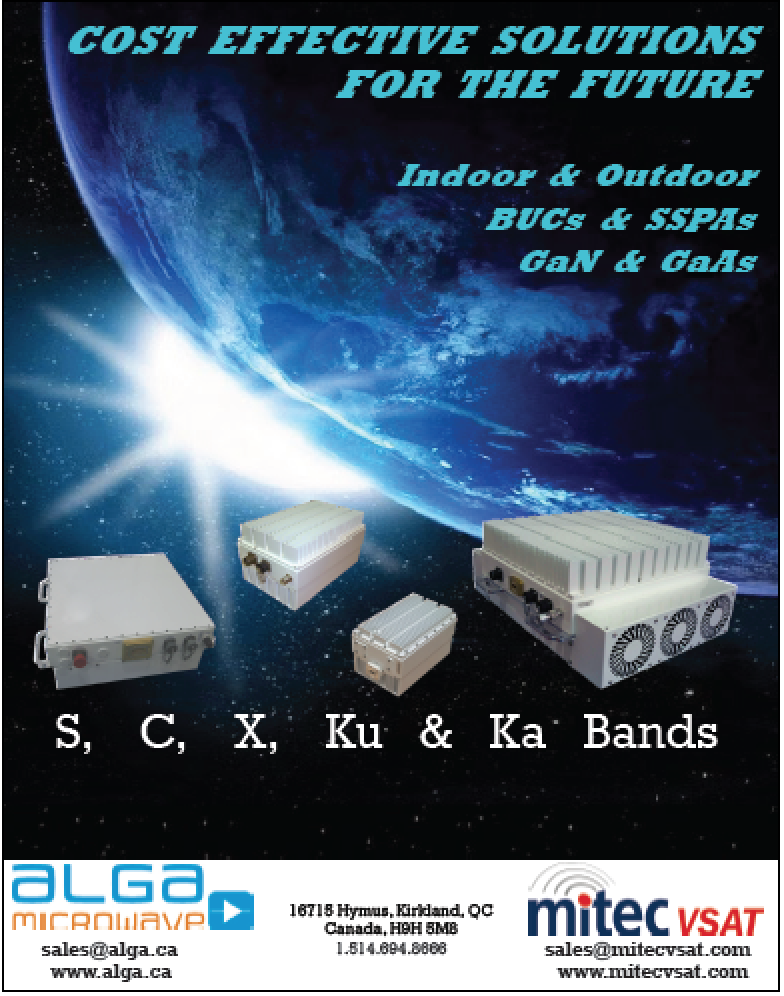 WGS can tailor coverage areas and connect X-band and Ka-band users anywhere within its field-of-view. The X-band phased array antenna enables anti-jam functionality without sacrificing performance.
WGS enables more robust and flexible execution of Command and Control, Communications Computers, Intelligence, Surveillance, and Reconnaissance (C4ISR), as well as battle management and combat support information functions. The WGS constellation augments the existing service available through the UHF Follow-on satellite by providing enhanced information broadcast capabilities.
Five globally-located Army Wideband SATCOM Operations Centers provide 24/7 payload monitoring and command and control of the WGS constellation.
In coordination with the WGS-8 launch, the US Army has modernized the Global SATCOM Configuration and Control Element to a new service-oriented virtualized software system residing on a new ground hardware platform.
Each Global Satellite Configuration and Control Element has the capability to control up to 10 WGS satellites at a time.
Spacecraft platform control and anomaly resolution is accomplished by the 3rd Space Operations Squadron at Schriever Air Force Base in Colorado Springs, Colorado.
The EELV program was established by the US Air Force to provide assured access to space for Department of Defense (DoD) and other government payloads. The commercially developed EELV program supports the full range of government mission requirements, while delivering on schedule and providing significant cost savings over the heritage launch systems.
WGS satellites are an important element of a new high-capacity satellite communications system providing enhanced communications capability to our troops in the field.
ULA has successfully delivered more than 110 satellites to orbit that provide critical capabilities for troops in the field, aid meteorologists in tracking severe weather, enable personal device-based GPS navigation and unlock the mysteries of the solar system.
Payload Fairing (PLF)
The PLF is a composite bisector (two-piece shell), 5 meter diameter fairing. The PLF encapsulates the spacecraft to protect it from the launch environment on ascent. The vehicle's height, with the 47 ft. tall PLF, is approximately 217 ft.
Delta Cryogenic Second Stage (DCSS)
The DCSS propellant tanks are structurally rigid and constructed of formed aluminum plate, spun-formed aluminum domes and aluminum ring forgings. It is a cryogenic liquid hydrogen/liquid oxygen-fueled vehicle, powered by a single RL10B-2 engine that produces 24,750 lbf of thrust.
The DCSS cryogenic tanks are insulated with a spray-on insulation and helium-purged insulation blankets. An equipment shelf attached to the aft dome of the DCSS liquid oxygen tank provides the structural mountings for vehicle electronics.
Booster
The Delta IV common booster core (CBC) tanks are structurally rigid and constructed of isogrid aluminum barrels, spun-formed aluminum domes and machined aluminum tank skirts.
Delta IV booster propulsion is provided by the throttleable RS-68A engine system which burns cryogenic liquid hydrogen and liquid oxygen and delivers 705,250 lbf of thrust at sea level.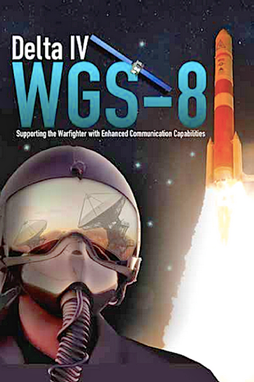 The booster's cryogenic tanks are insulated with a combination of spray-on and bond-on insulation and helium-purged insulation blankets. The booster is controlled by the DCSS avionics system, which provides guidance, flight control.
Solid Rocket Motors (SRM)
Four SRMs generate the additional thrust required for liftoff and attain a combined maximum thrust of 1,124,000 lbs in flight.
The SRMs are 5 ft in diameter and 53 ft long and constructed of a graphite-epoxy composite. The SRMs are connected to the booster by two ball-and-socket joints and structural thrusters.
ulalaunch.com
---
The Orbital ATK Role From GEMs To Pipes To Tanks
A number of technologies that were provided in support of the United Launch Alliance (ULA) Delta IV rocket launch of the eighth Wideband Global SATCOM (WGS-8) satellite were manufactured by Orbital ATK.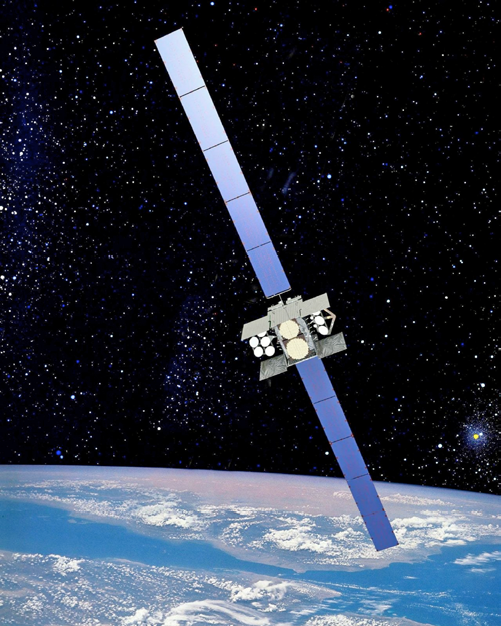 The December 7th launch from Cape Canaveral Air Force Station in Florida noted that both the launch vehicle and the satellite incorporated Orbital ATK technologies.
For the satellite itself, the company produced the loop heat pipes and standard heat pipes, which provide payload, spacecraft bus and battery thermal management which were manufactured at the firm's Beltsville, Maryland, facility.
Additionally, Orbital ATK manufactured the payload pallet boom tubes at their Magna, Utah, location, and the payload module at their San Diego, California, site.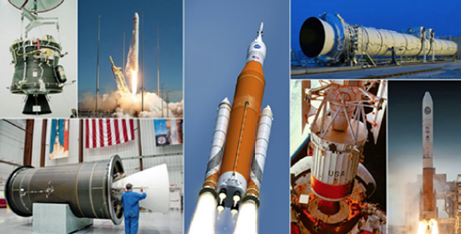 For the Delta IV rocket, Orbital ATK provided four, 60 inch diameter Graphite Epoxy Motors (GEM-60). The 53-foot-long solid rocket boosters burned for 90 seconds and provided more than 1.1 million pounds of thrust, or the equivalent of 17, 747 jet engines running at full throttle.
Orbital ATK produced the solid rocket motors at their Magna, Utah, facility, where the company has manufactured 82 GEM-60s in support of the 34 Delta IV launches since their initial flight in 2002.
In addition to the GEM-60 propulsion, Orbital ATK supplied a combined thirteen Delta IV and GEM-60 key composite structures, which provide lower weight and higher performance.
The largest composite structures are four to five meters in diameter, range from one to fourteen meters in length, and are produced using either advanced wet winding or hand layup, machining and inspection techniques at Orbital ATK's manufacturing facilities in Iuka, Mississippi, and Clearfield, Utah.
Orbital ATK also manufactured the propellant tank for the Delta IV upper stage roll control system at the company's Commerce, California, facility, and it designed and manufactured the nozzles for Delta IV's RS-68A liquid engine and GEM-60 solid motors at its Promontory, Utah, facility.
Orbital ATK also designed and produced the nozzle's thermal protection material, which is capable of shielding the nozzle from the extreme heat of launch, when external temperatures can exceed 4,000 degrees Fahrenheit.
The WGS-8 satellite is part of a larger system that increases military communications capabilities for US and allied forces deployed worldwide.
orbitalatk.com/
---
Something To Celebrate For The US Air Force
The US Air Force successfully launched the 8th Boeing-built Wideband Global SATCOM satellite aboard a United Launch Alliance Delta IV Evolved Expendable Launch Vehicle from Space Launch Complex 37B, Cape Canaveral Air Force Station, Florida at 6:53 p.m. EST.
"Today's launch is a momentous achievement in WGS, as we launch the eighth WGS satellite," said Lt. Gen. Samuel Greaves, Space and Missile Systems commander and Air Force program executive officer for Space. "This accomplishment is the result of the remarkable relationship between the 45th Space Wing, 50th Space Wing, our SMC partners and industry. The tenacity and dedication to mission assurance ensures we continue to maintain a robust satellite constellation with modernized, more resilient MILSATCOM capabilities. Thanks to the astounding commitment, focus on the mission, and team work, we successfully launched the next satellite in the WGS satellite constellation."
This mission demonstrated the Air Force's commitment to deliver secure and reliable satellite communications around the globe to US forces and her allies. With this launch, WGS 8 will significantly enhance the current WGS constellation by providing increased communication capacity and coverage.
Improving on previous WGS satellites, WGS-8 utilizes a state-of the-art channelizer, which increases the communication capacity by approximately 45 percent compared to its predecessors.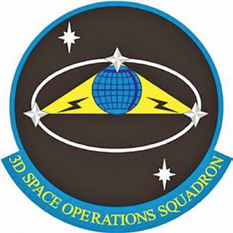 Over the next few months, Boeing will begin on orbit testing of WGS-8 to verify performance and prepare the satellite for operational use.
Ultimately, WGS-8 will be controlled by the US Air Force's 3rd Space Operations Squadron at Schriever Air Force Base.
The WGS-8 satellite will enter operations in early 2017. With two more satellites in production, the WGS constellation is planned to have a total of 10 satellites on orbit by 2019.
---
Aerojet Rocketdyne's Mighty Muscle
Aerojet Rocketdyne's RS-68A engine is the world's most powerful liquid-hydrogen/liquid oxygen booster engine, providing 702,000 pounds of liftoff thrust to send a rocket skyward... and this was quite evident with the launch of the USAF's WGS-8 satellite.
Aerojet Rocketdyne's propulsion technologies included an RS-68A booster engine, an RL10B-2 upper-stage engine, 12 MR-106H 9-lbf hydrazine rocket engines on the upper stage, and a 100-lbf bipropellant apogee-raising engine aboard the WGS spacecraft.
"It is absolutely imperative that US troops and allied forces deployed worldwide receive information in the fastest way possible," said Aerojet Rocketdyne CEO and President Eileen Drake. "We are honored to provide the launch and spacecraft propulsion capabilities to help place these critical satellites into orbit."
During launch, the RS-68A ignited to boost the Delta IV medium rocket off the pad with that 702,000 pounds of liftoff thrust. After the upper stage separated from the launch vehicle, a single RL10B-2 engine ignited to provide 24,750 pounds of thrust to power the upper stage into orbit.
For more than five decades, the RL10 has been the United States' most reliable upper-stage engine, accumulating one of the most impressive lists of accomplishments in the history of space propulsion.
This engine has played an integral role in placing numerous military, government and commercial satellites into orbit, and powering space-probe missions to every other planet in the solar system.
The 12 Aerojet Rocketdyne MR-106H monopropellant (hydrazine) thrusters packaged in four modules on the Delta IV upper stage provided roll, pitch and yaw control as well as settling burns for the upper stage. ARDÉ, a subsidiary for Aerojet Rocketdyne based in New Jersey, furnished 14 pressurant tanks for the vehicle.
Once separated from the launch vehicle, WGS-8 will perform multiple burns on Aerojet Rocketdyne's High Performance Apogee Thruster (HiPAT™) rocket engine to complete the orbit-raising from Geosynchronous Transfer Orbit (GTO) to its final geosynchronous orbital position.
The HiPAT™ rocket engine has a 100 percent mission success track record spanning over 115 missions, including all WGS spacecraft.
Rocket.com
AerojetRocketdyne.com
---
Built For Nearly Twice The Bandwidth
Boeing's eighth Wideband Global SATCOM (WGS) satellite will provide nearly twice as much communications bandwidth as previous WGS satellites due to an upgraded digital payload.
Using leading commercial digital circuit technology, the newly upgraded satellite will aid in fulfilling the increasing demand for high-data rate communications of warfighters around the globe.
"Not only does WGS-8's cutting edge digital payload nearly double the satellite's bandwidth, but the US government was able to realize more than $150 million in savings for WGS-7 through WGS-10 through fixed-price block purchases and commercial operating practices," said Dan Hart, Boeing vice president, Government Satellite Systems.
"We've been able to both increase the capability and reduce the per-unit cost with each new WGS satellite we've delivered, making WGS, by far, the most cost-effective asset for military communications."
During the past two years Boeing has made many improvements to its satellite products.
Those improvements include increasing bandwidth and capacity, incorporating independently steerable and shapeable beams that can point bandwidth to where it's most needed, deploying the world's first all-electric propulsion satellites, and stacking and launching together two satellites.
The WGS-9 satellite, funded through an international partnership between the United States and Canada, Denmark, Luxembourg, The Netherlands and New Zealand, will be launched early next year. Boeing is on contract for a total of 10 WGS satellites.
boeing.com
---