---
National Space Society statement regarding the Orbital Sustainability Act of 2022
On September 12th, the Orbital Sustainability Act of 2022 (ORBITS Act) was introduced to the Senate — this bipartisan bill, championed by Senators Maria Cantwell, John Hickenlooper, Cynthia Lummis, and Roger Wicker, would "establish a demonstration program for the active remediation of orbital debris" and "require the development of uniform orbital debris standard practices in order to support a safe and sustainable orbital environment."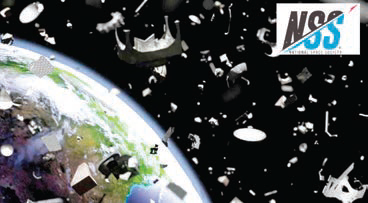 The National Space Society (NSS) applauds the U.S. Government's leadership in orbital debris management. The ORBITS Act strongly aligns with the goals of both the National Orbital Debris Implementation Plan and Space Policy Directive-3. NSS supports this historic effort and urges Congress to pass this bill as soon as possible.
The ORBITS Act has five key sections.
Section 2 summarizes the relevant Congressional findings. Here, the Act concludes that the growing amount of orbital debris endangers the safety and sustainability of in-space operations. It asserts that space-based applications critical to the U.S. rely on continued and secure access to outer space.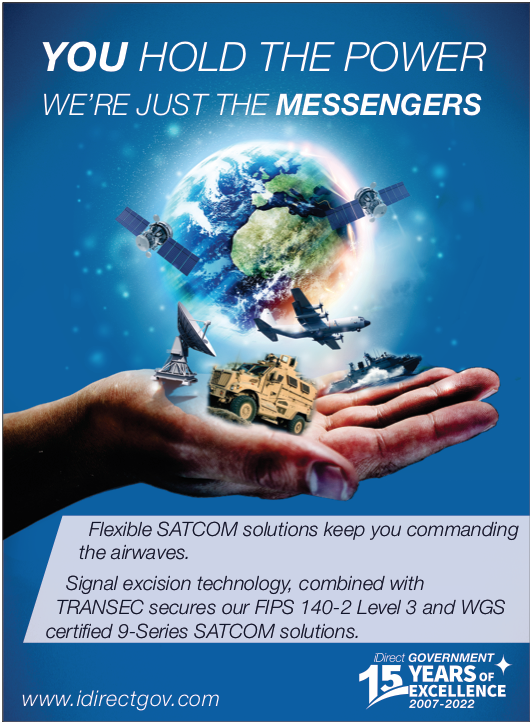 Section 4 prioritizes Active Debris Removal (ADR), which falls under the remediation pillar of orbital debris management. This section directs NASA, the Department of Commerce Office of Space Commerce (OSC), and the National Space Council to publish an unclassified list of orbital debris that poses the greatest immediate risk to in-space operations and spacecraft. It also establishes a NASA Remediation Demonstration Program to make multiple competitive awards for phased technology development followed by future ADR missions.
Section 6 requires the National Space Council to update the U.S. Government Orbital Debris Mitigation Standard Practices with multi-agency collaboration and commercial input.
Section 7 encourages the Secretary of Commerce to facilitate the development of standard practices for Space Traffic Management (STM) through the OSC. These standard practices would be based on guidelines and best practices used by the U.S. Government and commercial space operators.
NSS supports these provisions, which emphasize remediation, but also include mitigation and STM. It will be important for the debris list to properly characterize risk through comprehensive trade studies. This will guide investments and research and development.
The debris list should also sufficiently internalize cost-benefit analyses. Ideally, the NASA Remediation Demonstration Program will prioritize the ADR of large derelict satellites and rocket bodies. Further, the updated Orbital Debris Mitigation Standard Practices should reflect the crucial ongoing FCC rulemaking proceedings. These proceedings include the following: Mitigation of Orbital Debris in the New Space Age (IB Docket No. 18-313); Facilitating Capabilities for In-Space Servicing, Assembly, and Manufacturing (IB Docket No. 22-272); and Space Innovation (IB Docket No. 22-271).
It will be necessary to reassess the adequacy of current deorbiting and "graveyarding" measures within the Post-Mission Disposal (PMD) regime.
---
Blue Canyon Technologies + SEAKR Engineering deliver 1st flight unit + payloads for the DARPA Blackjack Program
Blue Canyon Technologies, LLC, and SEAKR Engineering, LLC, wholly owned subsidiaries of Raytheon Technologies, have announced that they have delivered one, Saturn-class, microsat bus and have also completed acceptance testing of the first two of 12 Pit Boss Battle Management Command, Control and Communication payloads for the Defense Advanced Research Projects Agency's Blackjack Program.

These buses are BCT's first flight units using the company's new Kyber Electrical Power System and Hyperion Solar Arrays. Each bus includes advanced electric propulsion, a robust power system, command and data handling, radio frequency communications and dedicated payload interfaces capable of hosting several different Department of Defense payloads.
SEAKR Engineering has completed acceptance testing of the first two, flight units of the 12, Pit Boss Battle Management Command, Control and Communication payloads for the DARPA Blackjack constellation. These units have shipped for space vehicle Assembly, Integration and Test.
The Blackjack mission will develop and demonstrate critical elements of a global high- speed network in LEO. The goal of the Blackjack program is to show that a constellation of LEO satellites meets U.S. Department of Defense performance and payload requirements, at a significantly lower cost, with shorter design cycles and with easier and more frequent technology upgrades.
The Blackjack program aims to establish an economy of scale not previously available with current National Security space assets, which are large, costly and would take years to replace if degraded or destroyed.
Blue Canyon built and delivered Blackjack's ground test unit to Lockheed Martin in early May of this year. The remaining customized, Saturn- class buses are currently in production at BCT's smallsat factory in Lafayette, Colorado.
---
L3Harris selected as a member of the Advanced Battle Management System Consortium
The U.S. Department of the Air Force's Rapid Capabilities Office selected L3Harris Technologies (NYSE:LHX) as one of five industry partners chartered to design, develop and deploy the digital infrastructure that will enable advanced battle management and command- and-control capabilities for the U.S. Air Force and U.S. Space Force.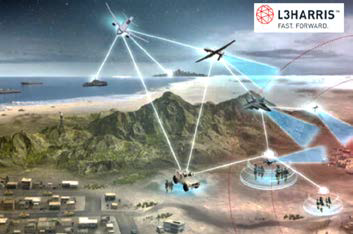 The newly formed Advanced Battle Management System (ABMS) Digital Infrastructure Consortium, comprising L3Harris and other competitively selected industry partners, will define requirements and standards to inform the development of the Air Force's ABMS Digital Infrastructure to realize the DoD's Joint All- Domain Command and Control (JADC2) vision.
The consortium will address the secure processing, resilient communications, data management and open-architecture design criteria that lays the foundation for enabling the Air Force's Advanced Battle Management System.
Additional Details...
---
QinetiQ delivers world's first Demo of a laser controlled drone during flight
QinetiQ has delivered the world's first successful demonstration of an airborne uncrewed platform being controlled via a laser communication system; strengthening military capability for covert, low detection probability operations in the future.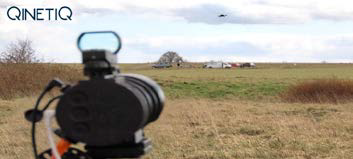 The innovative demonstration saw a ground based operator control an airborne Uncrewed Air System (UAS), transmitting control commands and receiving sensor and platform information that included Free Space Optical Communications (FSOC) as a bi-directional link in its mission communication system.
FSOC provide very high bandwidth, very low probability of detection communications, low logistical footprint and the potential to negate the considerable investment that adversaries may have made in denying the RF spectrum.
The control of an airborne uncrewed platform has, in the pas,t been enabled via the use of radio frequency (RF) technologies, that are prone to detection and interference.
This was a successful demonstration of an integrated FSOC system as a means of operation in a contested RF environment where there is a need for secure, covert operations.
The demonstration formed part of the DSTL Air Command and Control (C2), Intelligence Surveillance & Reconnaissance (ISR) and Interoperability project. The project objectives include improving both the digital interoperability and resilience of the communication systems that connect air platforms and associated capabilities (both current and potential).
The outputs of the project are supporting exploitation activities within the UK MOD Front Line Commands, including Air, Land, Maritime and Joint.
---
TESAT completes the PDR of their optical comms terminal for SDA's Tranche 1 Transport Layer
Tesat-Spacecom (TESAT) recently completed the Preliminary Design Review (PDR) of the company's Optical Communication Terminals (OCTs) for satellites as part of Space Development Agency's (SDA) Tranche 1 Transport Layer (T1TL).

Lockheed Martin, a prime contractor for the agency's tranche 0 (TLT0) and TLT1 satellites, and the SDA were on site at TESAT for the review. The PDR confirmed the TESAT OCT design and specifications are compliant to the SDA's OCT Standard Version 3.0 requirements.
OCTs use optical technologies to route data traffic between interconnected satellites and will support lower latencies in LEO constellations, a critical improvement for prosecuting time-sensitive targets in today's wartime environment.
As the primary vendor of OCTs to Lockheed Martin for the SDA Transport Layer Space Vehicles (SV), TESAT was able to leverage qualified hardware to rapidly achieve T1TL PDR.
Updates for the T1TL design include moving to the V3.0 OCT Standard as well as optimized volume and mass. TESAT's high production OCT manufacturing process continues to deliver OCTs enabling SDA to demonstrate Optical Intersatellite Links (OISL) between LEO satellites.
As part of the T1TL PDR event, TESAT escorted Lockheed Martin, SDA and Naval Research Laboratory personnel to the TESAT OCT test facility. This allowed firsthand demonstration of the "test as you fly" processes and tooling used to perform ground validation of space OCTs. Addtional Details...
---
Kratos receives U.S. Army contract to demo a virtualized SATCOM ground system
Kratos Defense & Security Solutions, Inc. (Nasdaq: KTOS) has recently been awarded a contract from the U.S. Army's Combat Capabilities Development Command to demonstrate a virtualized SATCOM ground system.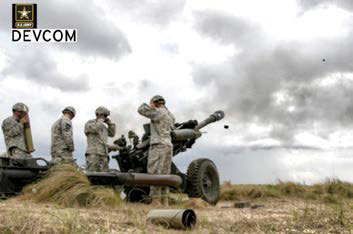 Based upon Kratos' OpenSpace Platform, the solution will enable the government to field SATCOM networks in line with modernization goals including streamlining gateway and remote terminal capabilities supported by multiple vendors, reducing life-cycle costs and supporting adaptive, dynamic space operations.
Funding for this award was through the Network Command, Control, Communication, and Intelligence Cross-Functional Team (N-CFT) established by the U.S. Army's Future Command. For additional information regarding Kratos' Advanced Antennas and Gateway Systems, select this infolink...
Additional article details at this link...
---
MoU signed by two Hanwha companies + OneWeb to develop satellite connectivity services for the Australian Defense Market
Hanwha Systems Corporation (HSC) and Hanwha Defense Australia (HDA), two leading defense companies in South Korea, have signed a Memorandum of Understanding (MOU) with OneWeb to explore the joint provision of connectivity services to the Australian Defence Market.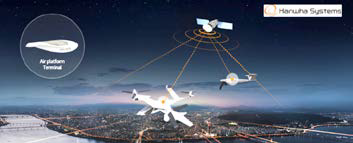 Hanwha Systems announced that the company had signed a three-party MoU with Hanwha Defense Australia and OneWeb to discuss their potential participation in "Australian Military Satellite Internet Business."
The MOU will facilitate discussions between the three companies regarding how they may combine their key capabilities to meet competitive requirements for Australian Military competitive requirements for Australi Satellite Tactical Internet Program. Additional Details...
---