U.S. Army—Beaming Data Up
Teleportation, a long-standing staple in the world of science fiction, has become a reality for scientists at the U.S. Army Research Laboratory (ARL) in terms of battlefield data and image processing.
ARL quantum information principal investigator Ronald Meyers and team member Keith Deacon recently demonstrated information teleportation using entangled photons at the organization's laboratory in Adelphi, Maryland.
This achievement stems from quantum information science insight and quantum information processing technology that has been developed over the last two years by Meyers and his team.
The technology developed includes an information teleportation exfiltration testbed and a teleportation exfiltration approach to move quantum images securely, which is a significant achievement as current secure network communications are increasingly vulnerable to eavesdropping and eventual hacking with the use of ever more powerful computers.
The team has developed a prototype information teleportation network system as part of the testbed to quantify teleportation of information using eye-safe entangled photons, thus showing potential for secure teleportation over optical fiber or through free-space.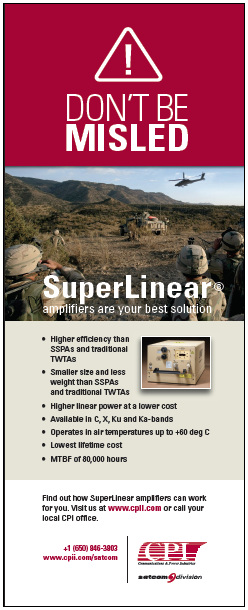 In entangled photon-based teleportation, a photon carrying potentially many bits of information interacts with one of an entangled pair of photons, and then the information is teleported to the other distant entangled photon and is read by the recipient.
In essence, teleportation in this instance can be thought of as a kind of communication, where a qubit, or unit of quantum information, can be transported from one location to another, without having to move a physical particle along with it.
Consider a special operations mission where a soldier is behind enemy lines. To exfiltrate information to his or her command post in a friendly area, the soldier operates a small handheld teleportation exfiltration device, which will allow data and images to be securely teleported back to the command post.
According to Meyers, the team believes that the teleportation exfiltration approach will be successful between mobile assets over long distances at high speeds, just as their quantum ghost-imaging achievements are leading to a new generation of battlefield imagers.
"The ARL teleportation achievements are expected to be the basis for new types of Army mobile information teleportation networks for battlefield enhanced situational awareness and security," said Meyers. "This research will benefit future soldiers by helping provide the Army with battlefield information teleportation networks that will be both cybersecure and fast."

In addition, the method is being developed to be robust for adverse military environments with turbulence and obscurants.
"The success in achieving quantum teleportation over long distances through an obscured battlefield is difficult, but future mobile ad-hoc information teleportation networks can give the future Army exponential advantages in cyber security, speed and bandwidth," Meyers said.
Meyers stated that the field of teleportation is advancing rapidly, and that despite the challenges that may lie ahead, he and his team see no significant roadblocks and expect more advances in their research that has the potential to enhance the way soldiers carry out their missions on the battlefield.
Story by Jenna Brady, ARL Public Affairs
* * * * * * * * *
Lockheed Martin + TARDEC—AMAS of Driverless Military Trucks Successfully Tested
The U.S. Army Tank-Automotive Research, Development and Engineering Center (TARDEC) and Lockheed Martin have successfully completed new tests validating the ability of driverless military-truck convoys to operate successfully and safely in a variety of environments.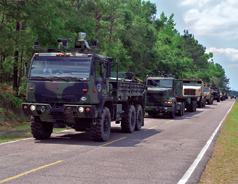 The second series of demonstrations of the Autonomous Mobility Appliqué System (AMAS) Capabilities Advancement Demonstration (CAD-2) tests were conducted at the Department of Energy's Savannah River Site in South Carolina. The AMAS hardware and software are designed to automate the driving task on current tactical vehicles.
The Unmanned Mission Module part of AMAS, which includes a high performance LIDAR sensor, a second GPS receiver and additional algorithms, is installed as a kit and can be used on virtually any military vehicle.
In the CAD-2 demonstration, AMAS completed a series of fully autonomous convoy tests involving a completely unmanned leader vehicle followed by a convoy of up to six additional follower vehicles (also fully autonomous) operating at speeds as high as 40 mph. The tests doubled the length and speed of convoys previously demonstrated under the program.
Vehicles used in the CAD-2 demonstration included one Family of Medium Tactical Vehicles (FMTV) truck, one Medium Tactical Vehicle Replacement (MTVR) vehicle, two Palletized Load System trucks, two M915 Line-Haul Tractors and one Heavy Equipment Transport.
"I would describe these tests as a successful demonstration of the maturing capabilities of AMAS technology," said David Simon, AMAS program manager for Lockheed Martin Missiles and Fire Control. "We will conduct further safety testing within the next month, and the program will execute a six-week Operational Demonstration in the July-August timeframe, during which time Soldiers and Marines will assess the system benefits in realistic convoy operations."
Earlier this year at Fort Hood, Texas, AMAS completed the first CAD series of tests, simulating driverless tactical vehicles navigating hazards and obstacles such as road intersections, oncoming traffic, stalled and passing vehicles, pedestrians and traffic circles in both urban and rural test areas.
The AMAS hardware and software are designed to automate the driving task on current tactical vehicles.
The Unmanned Mission Module part of AMAS, which includes a high-performance LIDAR sensor, and additional algorithms, is installed as a kit and can be used on virtually any military vehicle.
For additional information, please visit http://www.lockheedmartin.com/us/products/amas1.html
The U.S. Army's TARDEC infosite is reachable via http://tardec.army.mil/
* * * * * * * * *
RMIT University—Bio-Inspired Aircraft Capable Of Soaring Like Birds
Researchers are developing a bio-inspired unmanned aircraft capable of soaring like birds, boosting energy efficiency and endurance.
The research team is aiming to be the first in the world to demonstrate an autonomous unmanned aircraft that can mimic birds by using updrafts around buildings to stay airborne.
Dr. Reece Clothier with a prototype of a bio-inspired unmanned aircraft, under development at RMIT University in Melbourne, Australia.
The researchers are developing bio-inspired unmanned aircraft capable of soaring like birds, boosting energy efficiency and endurance. (cont.)
In collaboration with Australia's Defence Science and Technology Organisation (DSTO), the research team is aiming to be the first in the world to demonstrate an autonomous unmanned aircraft that can mimic birds by using updrafts around buildings to stay airborne.
Lead researcher Dr. Reece Clothier said soaring birds used positive air flows generated around features such as cliffs.
"This research aims to develop the sensing and control systems that will allow a small fixed-wing unmanned aircraft to achieve the same thing," Dr. Clothier said.
"Birds make soaring look easy, but when we try to mimic what they know by instinct, we realize just how far advanced nature is in its designs."
The focus is on proving the feasibility of "urban" soaring, combining real-time sensing of wind with complex flow models to locate possible positive airflows around large buildings. Flying a small aircraft in those updrafts could significantly increase its endurance.
Dr. Jennifer Palmer, a Senior Research Scientist in the Aerospace Division of DSTO, said the long-term goal was to design an unmanned aircraft that could autonomously predict airflows in its surrounding environment and—by using this information—minimize its energy consumption, maximize its endurance and avoid areas of high turbulence.
"DSTO undertakes research in a number of areas related to autonomous unmanned aircraft, and this is a great opportunity to engage with academia on a project with both scientific challenges and real-world outcomes."
The project is supported by the Defence Science Institute.
* * * * * * * * *
Lockheed Martin—Please Fence Me In With Improved Tracking
The U.S. Air Force has awarded Lockheed Martin a $914 million contract to improve the way objects are tracked in space and increase the ability to prevent space-based collisions.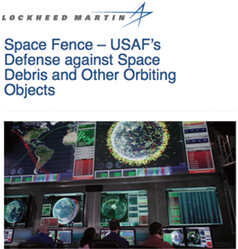 Lockheed Martin's Space Fence solution, an advanced ground-based radar system, will enhance the way the U.S. detects, catalogs and measures more than 200,000 orbiting objects.
With better timeliness and improved surveillance coverage, the system will protect space assets against potential crashes that can intensify the debris problem in space.
"Space-based technologies enable daily conveniences such as weather forecasting, banking, global communications and GPS navigation, yet everyday these critical services are being threatened by hundreds of thousands of objects orbiting Earth," said Dale Bennett, executive vice president of Lockheed Martin's Mission Systems and Training business.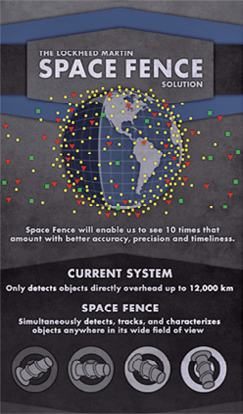 "Space Fence will locate and track these objects with more precision than ever before to help the Air Force transform space situational awareness from being reactive to predictive."
Lockheed Martin will deliver up to two advanced S-band phased array radars for the Space Fence program.
The Space Fence radar system will greatly improve Space Situational Awareness of the existing Space Surveillance Network.
Construction of the new Space Fence system on Kwajalein Atoll in the Marshall Islands is slated to begin in the early 2015 to meet the program's 2018 initial operational capability goal.
The total contract value is estimated at greater than $1.5 billion over an eight-year period of performance if all options are exercised.
With more than 400 operational S-band arrays deployed worldwide, Lockheed Martin is a leader in S-band radar development, production, operation and sustainment.
The Lockheed Martin led team, which includes General Dynamics and AMEC, has decades of collective experience in space-related programs, including sensors, mission processing, cataloging, orbital mechanics, net-centric communications and facilities.
One of Lockheed Martin's Space Fence infosites is located at http://www.lockheedmartin.com/us/products/space-fence.html
* * * * * * * * *
U.S.A.F.—Sixty-Fifth Combat Air Patrol Completed
The Remotely Piloted Aircraft (RPA) enterprise reached new heights as the community pulled together to launch the 65th combat air patrol, or CAP, from Creech Air Force Base in Nevada on May 28th.
Reaching 65 patrols by fiscal year 2013 was an initiative put in place by former Secretary of Defense Robert M. Gates on December 23, 2009.
The constant growth of patrols, from 33 in 2008 to 65 in 2014, is just one example of the untapped capabilities of the RPA platform and provides insight into where the future of the program can go.
"This feat illustrates the professionalism of our Airmen, and the hard work and dedication they have for the mission 24/7, 365 days a year, in order to ensure the safety of ground forces across the globe," said Col. James Cluff, the 432nd Wing and 432nd Air Expeditionary Wing commander.
Reaching this milestone means the RPA community has almost doubled the amount of assets available for intelligence gathering, while also safeguarding more deployed service members.
"This represents a series of extraordinary sacrifices by Airmen across the RPA enterprise," said Lt. Col. Cameron, the former 42nd Attack Squadron commander. "A few short years ago, many thought this goal was unattainable."
Each CAP covers a specific area of operations, requiring multiple aircraft and as many as 180 people, such as maintainers, communications experts, pilots, sensor operators, and intelligence Airmen, to operate successfully.
"I am able to provide constant vigilant support for the men and women (deployed overseas), said Capt. Andrew, an 18th Reconnaissance Squadron pilot. "We watch over them as they bed down for the night and make sure no threats are pushing them. It's a gratifying feeling."
The aircrew members who worked together to make the CAP possible were hand-picked by commanders from each unit that participated in the flight.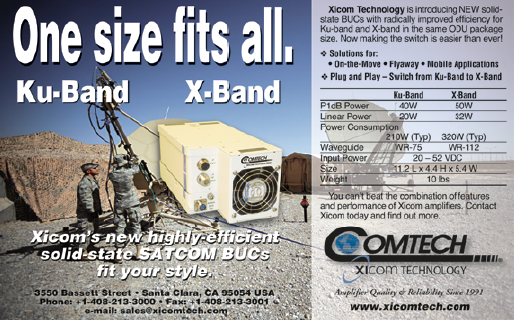 "I was honored to be selected for this goal-setting mission," said 1st Lt. Erick, a 62nd Expeditionary Reconnaissance Squadron pilot. "I think I speak for all 18X (Air Force Specialty Code prefix for RPA pilots) pilots when I say that we are ready and willing to take on the responsibility of moving the RPA community forward, and this launch exemplifies that sentiment. We couldn't have accomplished our goal without the tireless work of maintainers, communications personnel, and all the other Airmen involved in this sortie, especially our 42nd Attack Squadron brothers and sisters back home."
Mission success on the communications side of the operation relies heavily on experienced, expertly trained personnel to ensure all systems are working correctly.
That capability is provided by the 432nd Aircraft Communications Maintenance Squadron, which is responsible for maintaining the ground control stations, or GCS, from which pilots and sensor operators fly RPA missions.
Airman 1st Class Ryder Luzadder, 432nd ACMS communications technician, was one of the Airmen who ensured the GCS was prepared and ready to fly the 65th patrol.
"If we don't do our job precisely, it could mean that the mission is canceled, or in a worst case scenario an aircraft could crash," Luzadder said. "It takes about one year of on-the-job training to be able to do any task that we are presented with. There are always new things that pop up all the time that you just don't expect. We're unique from other communications Airmen because we see the missions that are flying worldwide every day. We play a direct role in the effort to save lives."
Meeting the initiative was no easy task and was made possible by a whole-team effort across the board.
"This is a culmination of an Air Force-wide effort to achieve (former) Secretary of Defense (Robert M.) Gates' initiative of 65 combat air patrols," said Col. James Chittenden, 432nd Wing and 432nd AEW vice commander. "We are incredibly proud of the Airmen of the 432nd AEW and their critical service to our nation's security."
Story by Staff Sgt. Adawn Kelsey, 432nd Wing/432nd Air Expeditionary Wing
* * * * * * * * *
U.S. Army—Comms For QLLEX
A satellite, trailers and tents all appear to be up in position, but for the 558th Signal Company the job isn't done until an Army flag is flying high.
"We don't sleep until we're up and running," said 2nd Lt. Akilah Norman, a platoon leader for the 558th Signal Company, from Maineville, Ohio. Norman, a native of Forest City, Arkansas, said their mission is to provide functional communications equipment to the units involved in QLLEX.
The 558th SC are providing communication for the 2014 Quartermaster Liquid Logistics Exercise (QLLEX), operationally controlled by the 633rd Quartermaster Battalion here, June 5 to 19.
The work of the 558th SC makes communication between units more efficient and effective, said Norman. She said the units are equipped with radios that will allow them to communicate from one end of camp to another.
The units have SINCGARS radios that will work thanks to the satellite and computer equipment that the 558th SC has already prepared out in the field, said Norman. In addition to radio communication, the 558th SC will also provide phone and Army internal intranet access available during QLLEX.
Norman expects her unit to serve more than 1,100 service members, including Soldiers, Sailors and Marines. She said having her unit participate in this training provides other service members an opportunity to see how important the job of the 558th SC is out in the field.
QLLEX will also provide the 558th SC with valuable training, said Samuel H. Waters, a satellite and communications operator and maintainer for the 558th SC. Waters, a native of Indianapolis, Indiana, said QLLEX helps clarify what his role would be while deployed and is giving him the opportunity to become more familiar with his equipment.
Spc. Raymond Direito, a multi-channel transmission systems operator and maintainer with the 558th SC, said QLLEX gives the soldiers of the 558th SC a very relevant scenario. From his past experience deployed in Afghanistan, he said the work they are doing is the exact same type of work they will be expected to perform in an overseas setting. "We work very hard to prepare, but if you see us working after that, it usually means something needs fixing," he said.
Story by Spc. Miguel Alvarez, 345th Mobile Public Affairs Detachment
* * * * * * * * *
Iridium—Getting Into The U.S. Army's NIE Event With Nett Warrior System
The "puck" like device supports Geo-fencing and allows for integration into the Nett Warrior system, facilitating global tracking of every soldier on the battlefield.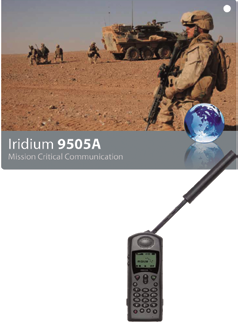 The Iridium 9505A satellite phone is a proven work horse, significantly smaller, lighter and more resistant to water, dust and shock than the original Iridium 9500. Ideal for industrial or rugged conditions.
It is used in almost every country by government agencies, first responders, business people, and remote travelers alike. Iridium satellite phones are used by emergency personnel all over the world.
Iridium Communications Inc. has just announced the company's first-ever participation in the U.S. Army's Network Integration Evaluation (NIE) process.
Iridium is presenting a Position Location Information (PLI)-based tracking device, Enhanced Mobile Satellite System (EMSS) Beacon manufactured by NAL Research and exercised in the NIE "demo" category.
Designed to accelerate and improve the way communications technologies are delivered to soldiers, NIEs take place twice a year and are comprised of rigorous evaluations of new commercial technology.
The EMSS Beacons will be outfitted on a maneuver platoon to demonstrate the operational value and utility of near real-time position and location tracking of personnel and assets.
After years of in-service testing and operational use by other agencies, the PLI device has already demonstrated a high level of performance and reliability in similar environments.
Its small form factor and lightweight design make it ideal for the warfighter.
The "puck" like device supports Geo-fencing and allows for integration into the Nett Warrior system, facilitating global tracking of every soldier on the battlefield.
"The EMSS Beacon is designed to meet the size, weight and power requirements for the dismounted soldier and fills a need that has been around for more than 10 years," said Ngoc Hoang, President of NAL Research. "Our device provides a critical communications lifeline for soldiers on the battlefield, and only Iridium's network provides the truly global tracking capabilities that meet the military's needs."
"Our participation in the Army's Network Integration Evaluation process is with our partner, NAL Research. We're proposing to close a beyond-line-of-sight gap in the communications network by providing soldiers with a proven, affordable technology that will help keep them safe anywhere on the planet," said Ken Flowers, vice president, government solutions, Iridium. "Iridium's longstanding relationship with the U.S. Department of Defense (DoD) makes the integration of this device extremely cost-effective, providing unlimited airtime to all users under our current EMSS contract's unlimited service terms."
In 2013, Iridium was awarded a $400 million multi-year fixed-price contract with the Defense Information Systems Agency (DISA) to provide satellite airtime services to meet the communications needs of the DoD and their federal partners.
The five-year contract renewed the provision for delivering Enhanced Mobile Satellite Services (EMSS) airtime.
Iridium provides unlimited global secure and unsecure voice, low and high-speed data, paging and Distributed Tactical Communications Systems (DTCS) services for an unlimited number of DoD and other federal government subscribers.
Iridium delivers a portfolio of solutions for markets that require global communications. There is a major development program underway for its next-generation network—Iridium NEXT.
* * * * * * * * *
Raytheon—Firmly Fixed Funding
Raytheon Company has been awarded a $298,000,044 firm-fixed-price and cost-plus-fixed-fee modification for the Family of Advanced Beyond Line of Sight Terminals (FAB-T) Command Post Terminals (CPT) Production program.
The Advanced Extremely High Frequency (AEHF) satellites provide U.S. armed forces with greater bandwidth to reliably transmit battlefield data.
Through the Family of Advanced Beyond Line of Sight Terminal (FAB-T) program, the Air Force is ensuring delivery of a fully functional Command Post Terminal for strategic and non-strategic nuclear command and control.
As a result of this down-select decision, low rate initial production, full rate production and interim contractor support contract options may be exercised to deliver FAB-T CPT-Only Terminals.
The Phase 2 production contract options for LRIP, FRP, and ICS may be exercised after completion of Milestone C.
Work will be performed in Marlborough, Massachusetts and Largo, Florida. Fiscal 2013 through 2019 aircraft and other procurement funds are programmed for this effort, with $31,274 being obligated at time of award.
Further information regarding Raytheon is accessible via http://www.raytheon.com/capabilities/c4isr/sat_comms/