First Of Its Kind Radio Provides Secure COTM Networking
Harris Corporation has received a $5 million order from the U.S. Marine Corps for additional Harris Falcon III®AN/PRC-117G wideband manpack tactical radios.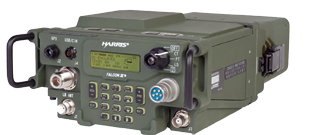 The Marines will acquire the equipment to broaden the deployment of secure networking of Communications-On-The-Move (COTM).
The field-proven AN/PRC-117G is a first-of-its-kind radio, delivering unprecedented situational awareness through wideband networking of the battlefield.
The system delivers critical real-time information to warfighters on the move and their field commanders through a man-portable software-defined radio with significantly reduced size and weight.
The AN/PRC-117G radio allows streaming video, collaborative chat and other advanced applications.

The AN/PRC-117G is the first JTRS Software Communications Architecture (SCA)-certified and NSA Type-1 certified wideband manpack radio system.
The radios are mounted into the AN/VRC-114 50-watt vehicular amplifier adapters, also acquired by the Marines as part of the procurement.
The AN/VRC-114 vehicular adapters provide greater power amplification and connectivity with all radios in the network.
"This most recent order expands the Marine Corps' installed base of wideband networking capabilities, supporting deployed forces with the most advanced tactical communications system available," said Brendan O'Connell, president, Department of Defense business, Harris RF Communications.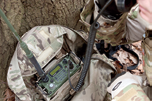 He continued, "The AN/PRC-117G offers greater flexibility in operational planning and execution and is capable of setting up tactical networks to pass chat, e-mail, ISR feeds and biometrics and other types of data."
The AN/PRC-117G manpack radio was developed following the U.S. Joint Tactical Radio System (JTRS) program's Enterprise Business Model (EBM).
The EBM encourages companies to develop next-generation solutions in tactical communications using their own investment capital. In doing so, the EBM encourages competition, increases innovation, reduces costs and speeds development of important capabilities.
The Falcon III AN/PRC-117G and other Falcon III radios have been adopted by the U.S. Department of Defense, federal agencies and key allies such as the United Kingdom, Canada, Germany, other NATO countries and Australia.
In 2010, C4ISR Journal named the AN/PRC-117G as a Big 25 award winner in the category of network systems, recognizing the technology for having "a significant impact in defeating terrorists, preventing attacks, and enabling troops to make the right decisions on the battlefield."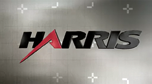 Learn more at the Harris Falcon III AN/PRC-117G infosite:
http://rf.harris.com/capabilities/tactical-radios-networking/an-prc-117g/default.asp
A Harris wideband networking solutions video is available for viewing at
http://rf.harris.com/media/Harris%20Wideband%20Networking%20VO_tcm26-23245.webm
---
Here Comes The MrGeo Toolkit
The National Geospatial-Intelligence Agency (NGA) recently released an application that will allow the public to benefit from the agency's collaboration with DigitalGlobe on a project that simplifies and economizes the storage and processing of large-scale raster data, reducing the time it takes analysts to search, download, preprocess and format data for analysis.

MapReduce Geo, or MrGeo, is a geospatial toolkit designed to provide raster-based geospatial capabilities performable at scale by leveraging the power and functionality of cloud-based architecture.
Releasing MrGeo helps further the agency's goal of increasing and streamlining co-creation efforts in software and unclassified data, said Rasmussen. Sharing the application with the open source community helps accelerate its potential to become the standard for storing, enriching and analyzing massive amounts of raster data in a distributed cloud environment.
"The project demonstrates how public-private partnerships can create innovative solutions," said Tony Frazier, senior vice president of DigitalGlobe U.S. Government Solutions. "DigitalGlobe feels the open source community can drive innovation that helps us better mine our imagery and derived information layers to support emerging defense and intelligence mission requirements."

"Available to the public through NGA's GitHub account, the software can be useful in many situations," said Chris Rasmussen, NGA's public software development lead. "Sharing it with the public gives users at all levels another tool to help solve geospatial problems. For example, first responders could use it to plan the best ways in and out of dangerous areas taking into account terrain, land use, and changes in weather."
MrGeo is available at: https://github.com/ngageoint/mrgeo.
DigitalGlobe's infosite may be accessed at https://www.digitalglobe.com/
The NGA infosite is located at https://www1.nga.mil/Pages/default.aspx
---
Critical Processors For Satellites Being Developed By U.S.A.F.
The Air Force Research Laboratory (AFRL) and a small business partner are developing technologies that they expect will enable successful use of high-power processors that operate on satellites with funding from the Air Force Small Business Innovation Research (SBIR) program.

A next-generation, micro-chip carrier is currently in development by ThermAvant Technologies LLC, located in Columbia, Missouri, and is already being tested by manufacturers of several major commercial and military satellite and aerospace systems.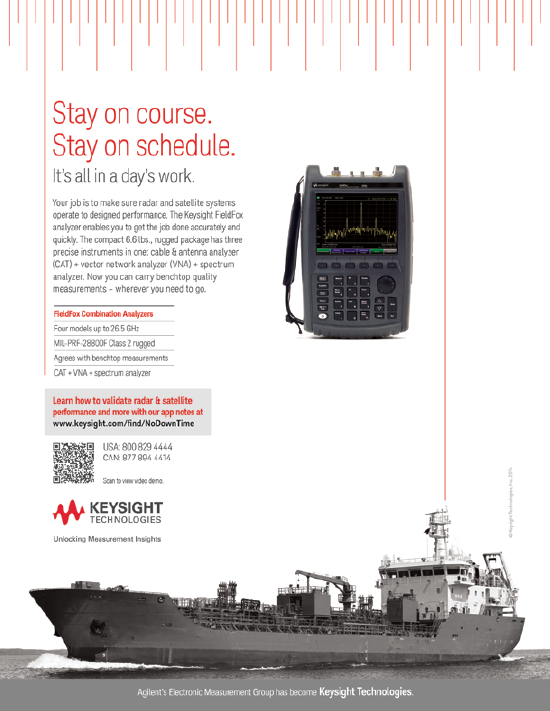 This innovative cooling solution will reduce the temperature of high-power satellite components to levels manageable by the spacecraft's thermal control system. This is advantageous, because it improves processor reliability while providing the opportunity to increase on-board processing.
"If successful, this technology solution could be headed for every major DOD (Department of Defense) space system, where it will replace the current, state-of-the-art technology developed during SBIR programs 10 years ago," said Dr. Greg Spanjers, the chief scientist of AFRL's Space Vehicles Directorate.
AFRL and ThermAvant began researching the application of this technology as a result of an Air Force SBIR solicitation. The project called for reliable, high-conductivity heat spreaders; ThermAvant demonstrated the improved heat transfer properties of different structural materials (including aluminum, titanium, copper and Copper Molybdenum composite) embedded with the Oscillating Heat Pipe (OHP) technology. OHP-embedded chip carriers and heat spreaders will be used to transport heat dissipated by micro-chips to the spacecraft's larger thermal control systems.
This is a critical technology for space-based systems that will enable the deployment of higher temperature and power processors aboard satellite payloads. It can be used in both commercial and military satellite applications, as well as any high-performance land-based electronics. ThermAvant successfully investigated the thermal performance tradeoffs of different fabrication processes for making OHP heat spreaders under a range of simulated real-world operating conditions.
During the testing, Therm-Avant's prototype OHP-embedded heat spreaders provided an 84 percent reduction in the temperature rise across the heat spreader, when compared to current state-of-the-art technologies. This reduction in temperature provides many benefits for the Air Force, but the most striking is the ability to increase the on-board computing power.
Current satellite processors are running at 10 percent of their operating capability as a result of insufficient thermal management. Reducing the junction temperature allows for increased processing capability (up to 10 times more) and increases the expected lifetime of the on-board chips. Additionally, the advanced manufacturing techniques developed under this effort will allow this higher-performing technology solution to be manufactured at a lower price point than competing technologies.
The company's improved methods for making OHP-based products has already demonstrated commercial promise to both space- and ground-based thermal management applications for electronics. During the first year of this Phase II SBIR, ThermAvant transitioned OHP-based thermal management solutions to four major defense contractors for six applications on platforms ranging from Army tanks to Navy ships and Air Force aircraft and spacecraft. In these applications, the OHP-based thermal management solution performs five to 50 percent better than the status quo and is, on average, approximately 20 percent less expensive.
The Air Force SBIR and Small Business Technology Transfer (STTR) programs are mission-oriented programs that integrate the needs and requirements of the Air Force through research and development topics that have military and commercial potential. The SBIR program was established by Congress in 1982 to fund research and development (R&D) through small businesses of 500 or fewer employees.
The Air Force SBIR and STTR programs provide more than $300 million in funding for research and development activities by small businesses annually. With this budget, the Air Force funds research from the early stages of concept development until it transitions to military or commercial use.
For more information, please visit http://www.afsbirsttr.com/
The ThermAvant Technologies infosite contains additional company information at http://thermavant.com/
---
MilSat For SES + Luxembourg
SES and the Luxembourg Government have announced plans to launch a dedicated satellite for governmental use in late 2017.
A Luxembourg-based company jointly held by SES and the Luxembourg Government is planned to own and operate the new spacecraft. The Luxembourg Government and SES would each invest 50 million euros into the new company, which, at the same time, would receive a 125 million euros bank loan from a consortium of Luxembourg banks to finance the satellite's procurement and launch.
This investment has been accounted for within SES's existing capital expenditure projections. The spacecraft would be slotted for European, MENA and APAC coverage.
The capacity of the new satellite would satisfy Luxembourg's requirements for satellite communications in military frequencies. Capacity would also be made available to governmental and institutional customers for defence and governmental applications. The multi-mission satellite will use dedicated military frequencies (X-band and Ka-band), providing high-powered and fully steerable spot beams to support multiple operations.
"This new, ambitious public-private partnership demonstrates the importance of Luxembourg in the international space sector and the close and successful ties between SES and Luxembourg. SES fully acknowledges the importance of the Luxembourg Government's participation in this future enterprise," said Karim Michel Sabbagh, President and CEO of SES.
"Emerging from the national space sector, this project is not only an important contribution of Luxembourg to European defense, but it further supports the government's economic diversification policy in a key technology sector," said Etienne Schneider, Deputy Prime Minister, Minister of Defense and Minister of Economy.
SES infosite: http://www.ses.com/
---
Military Strategy Changes Will be Needed If Sequestration Remains In Force
Unless Congress changes the Budget Control Act, which now requires a return to sequestration-level spending cuts in 2016, the military will need to change its strategy, the chairman of the Joint Chiefs of Staff said in a recent interview broadcast.
In an appearance on "Fox News Sunday With Chris Wallace," Army Gen. Martin E. Dempsey said the Army is drawing down from 570,000 soldiers to 450,000, but he noted that a Pentagon analysis shows sequestration would drive that number to 420,000, and even lower under some circumstances.
"Under those circumstances of sequestration in the Budget Control Act, we would, in fact, have to change our strategy, and we would be far less able to maintain the kind of global presence and the kind of stability we bring to our allies," the general said.
As it now stands, the chairman said, the Budget Control Act limits the options the military can provide to elected leaders against any given challenge. "We provide options," he added. "Those options really begin to shrink dramatically [under the act]," he added.
Sequestration would leave the military "far less able to do the things that we think the country needs us to do," Dempsey said.
Meanwhile, he United States continues to face threats from both state actors and nonstate actors, the chairman said.
The nexus of those two "make this period in our history so incredibly complex and so incredibly dangerous," Dempsey said. State actors, he explained, carry the risk of miscalculation and being pulled into an escalating conflict.
"With non-state actors, it's kind of a persistent threat," the chairman said. "We know for a fact that there are nonstate radical, violent extremist organizations who today, and for the next generation, will be plotting against Western interests, to include the United States. So we've had to do is adapt our military to address both of those challenges."
Though he's concerned about that, Dempsey said the United States is still the most powerful nation in the world, by any measure, and is likely to remain so "unless we—unless we talk ourselves out of it and legislate ourselves out of it with things like the Budget Control Act."
"What will get us through this is investing in our human capital," the chairman said, "because we're going to have to think our way through the future, not bludgeon our way through it."
Story by John D. Banusiewicz, DoD News, Defense Media Activity
---
Vislink Helps To Ensure U.K.'s Constables Are Safer
Vislink's real-time airborne downlink (ADL) equipment is being deployed by law enforcement agencies throughout the U.K. as part of a Home Office project to boost surveillance capabilities and enable accurate and timely decision making.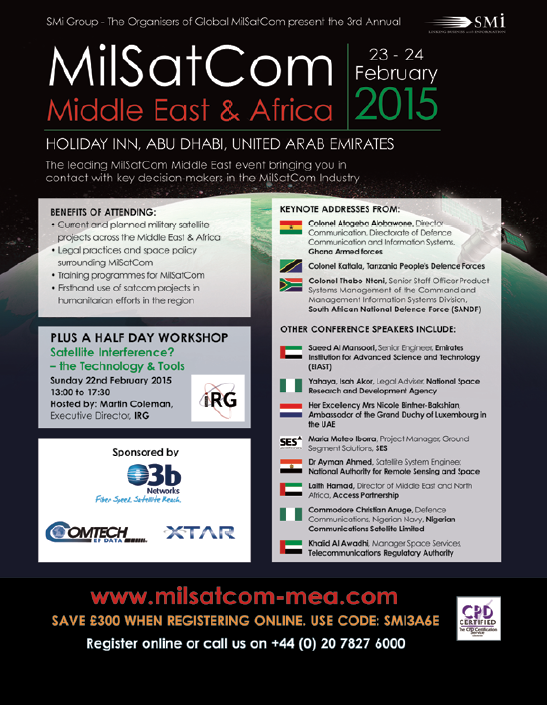 Vislink has been selected to fit 15 aircraft with new integrated video downlink systems capable of transmitting live images from airborne assets to multiple receive sites. During joint operations, regional forces and national agencies will be able to access ADL images transmitted from aircraft using portable and handheld equipment, and also at regional command and control centers throughout the UK. Vislink's airborne downlink equipment has been a key part of the Metropolitan Police Service since 2006 and is already in operational use across the U.K. With high quality output and H.264 encoding this new equipment greatly improves transfer speeds compared to traditional analogue systems and will increase situational awareness at all levels.
Inspector Richard Brandon, Executive Officer, Metropolitan Police Air Support Unit. "The ADL project has delivered significant improvements to an already excellent Vislink system used by the Met for many years. Improvements have been noticeable in terms of picture quality and stability, transmission range and security encryption. The new ADL system also lets us operate throughout the U.K., and we have already demonstrated the benefits of this interoperability during a recent multi-agency operation."
All remaining equipment will be delivered by the end of this year, with the project expected to complete in March 2015.
More info at: http://www.vislink.com/
---
U.S.N. Prepping For MUOS Launch
Navy military and civilian engineers are preparing the latest military communications satellite for a planned January 20 launch from Cape Canaveral Air Force Station, Florida.
The satellite is part of MUOS, or Mobile User Objective System, which operates like a smartphone network from space, vastly improving secure satellite communications for mobile U.S. forces. Unlike its predecessor system, MUOS provides users a global, on-demand, beyond-line-of-sight capability to transmit and receive high-quality voice and mission data from a high-speed Internet Protocol-based system.
This third of five MUOS satellites was encapsulated into its payload fairing, Dec. 19, representing one of the final steps in preparation for its upcoming launch. The payload fairing protects the satellite from forces during the early stages of its journey.
"This third MUOS launch is another major step toward achieving a fully operational MUOS end-to-end capability by 2016," said Navy Capt. Joseph Kan, the MUOS program manager. "The Navy, in close collaboration with the Army, Air Force and our industry partners, is bringing the future of worldwide mobile satellite communications into reality for the United States and potentially allied nations."
The Navy plays a key role in national space efforts by providing narrowband satellite communications for the DoD and other government agencies. While MUOS was designed for mobile users who require worldwide, secure voice and mission data at higher data rates, services are also available for ships, aircraft and vehicles.
MUOS is more than just a five-satellite constellation. It additionally comprises four ground stations across the globe, complex software to manage the network and a Wideband Code Division Multiple Access waveform that serves as an interface for end-user radios.
Two MUOS satellites, launched in 2012 and 2013, are already providing legacy communications capability from their geosynchronous orbit locations 22,000 miles above Earth. Ultimately, the satellite constellation and associated network will extend narrowband communications availability well past 2025.
The Navy's Program Executive Office for Space Systems, located at the Space and Naval Warfare Systems Command in San Diego, is responsible for the MUOS program.
---