Satellite communications is a critical technology for modern military operations. For units deployed around the world, it provides a high-speed communications backbone. It connects soldiers to each other and to central operations. And it enables them to stay united with friends and family back home.
Recent advances in satellite technology are bringing even greater advantages to military organizations. Soldiers can deploy a wireless broadband network on a moving ground vehicle, deep water fleet, military aircraft or even a UAV. Satellite equipment is now engineered to withstand harsher environments, and portable systems can fit inside a soldier's rucksack, ready to be activated at a moment's notice.
This past June, soldiers, marines, sailors and airmen gathered at the annual
Joint Users Interoperability Communications Exercise
(
JUICE
), held in Fort Monmouth, New Jersey, and across military locations around the world. The goal was to push the limits of the satellite industry's latest technologies.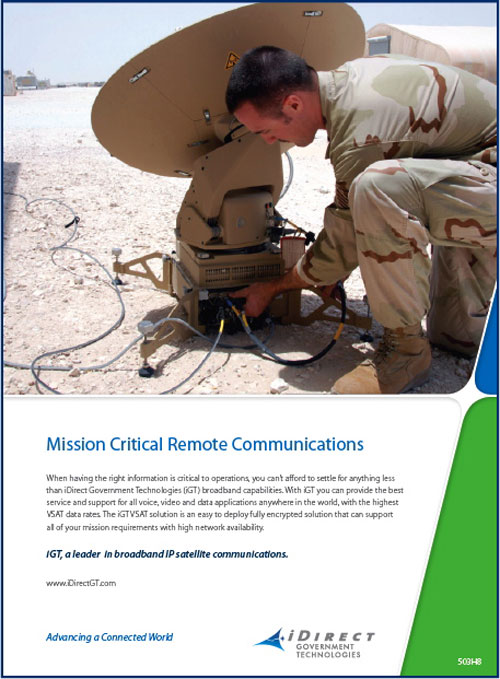 iDirect Government Technologies
(
iGT
) was on-site to demonstrate the capabilities of several key next-generation military-grade satellite technologies. Over a stretch of 19 days, the iDirect platform was put to the test, successfully proving that it can meet multiple core and emerging military demands.
Clocking Higher Speeds With COTM
Currently, one of the biggest trends in military communications is mobility. Constant connectivity between field personnel and central command is a priority, as they share data and respond to ever changing conditions. Even Unmanned Aerial Vehicles (UAVs) are using satellite technology for reconnaissance and two-way data communications.
One of the key exercises at
JUICE
involved a 15-mile route designed to test-drive iGT's COTM capabilities. A designated iGT COTM vehicle left the exercise field and maintained a live video teleconference with Ft. Monmouth and a Joint Task Force Forward Operating Base. Using an
L-3 Datron
Ku-band antenna system, the iDirect network sustained connectivity for 35 minutes, passing under overpasses and through heavily wooded areas in the Fort Monmouth vicinity, at speeds of up to 65 miles per hour.
With the iGT COTM solution, a vehicle in the field becomes broadband enabled, capable of supporting Internet, voice, data and video services. iDirect's ruggedized satellite routers fit in the rear of a vehicle, a low-profile antenna installs on top, and inside the cabin, users benefit from wireless connectivity on laptop computers and Voice-over-IP phones.
Testing New Portability Standards
While COTM represents a significant advancement for satellite communications, the size of the equipment has limited it to larger vehicle applications.
To address this, iGT recently introduced a new
iConnex e850mp
satellite router board that's half the size of current product standards. It packs iDirect's full suite of mobility and advanced platform features into a compact, lightweight board. This highly portable, low-profile setup can fit into a soldier's rucksack, using a very light bidirectional antenna for voice, video and data connectivity during battlefield operations.
AT JUICE, a ground task force integrated iDirect's e850mp satellite router board into a portable
L-3 Panther
terminal to support mobile X-band connectivity. The router was configured with multiple hubs, allowing troops to accomplish simulated objectives while on the move.
This new standard in portable technology delivers several critical advantages. Soldiers now have the ability to receive battlefield imagery that identifies potential threats, transmit situational video back to base, receive command and control information, or even transmit X-rays and imagery of a wounded soldier back to doctors who can interpret the injury and advise proper treatment regimen.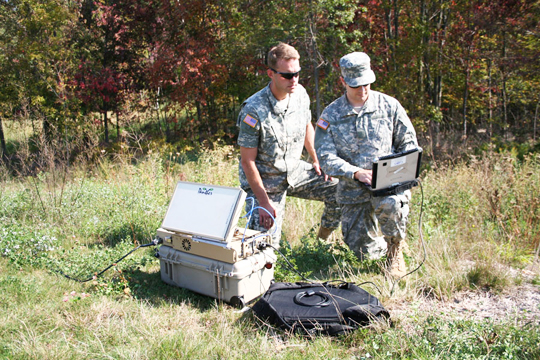 Ensuring Network Uptime + Security
As today's military relies heavily on satellite IP communications, preserving network continuity is essential to keeping operations running smoothly. The
iDirect Network Management System
(
NMS
) can automatically identify network issues and quickly resolve them before they impact users.
To test the platform's continuity of operations capabilities, military personnel configured the iDirect network in an end-to-end
Transmission Security
(
TRANSEC
) compliant mode. During TRANSEC operation, JUICE simulated a hurricane disaster which rendered the Fort Monmouth network infrastructure unusable.
The network outage was detected by the iDirect NMS operating from an iDirect iConnex e800 board integrated into an L-3 Cheetah. The iDirect system performed a seamless switchover to an alternate teleport, maintaining connectivity without human interaction. The remote sites seamlessly re-initiated video, voice, and data operations, while remaining fully TRANSEC compliant.
Higher Data Rates Reached
The U.S. Navy conducted over-the-air testing with
iDirect
's
Evolution
DVB-S2 platform as a potential replacement for its legacy system. In this high-profile exercise, an Evolution network was configured and run on the
USS Wasp
in Portsmouth, Virginia.
The Evolution platform successfully integrated into the naval communications infrastructure. After several days of high-volume network activity, the Navy reported significant improvements in bandwidth efficiency and throughput, especially under adverse weather conditions.
A Platform For Every Military App
Today, soldiers across the globe are turning to high-speed satellite broadband for voice, video, and data connectivity in the field. Military organizations depend on the iDirect platform for reliable satellite-based IP communications they count on to fulfill their objectives, whether that's on the ground, in the air, or at sea.