A MIGHTI Flight Is Being Prepared By NRL For NASA
A U.S. Naval Research Laboratory (NRL) instrument designed to study the Earth's thermosphere is part of a satellite mission that NASA has officially confirmed, with launch expected in 2017.
The NRL Space Science Division (SSD) developed Michelson Interferometer for Global High-resolution Thermospheric Imaging (MIGHTI) satellite instrument is part of NASA's Ionospheric Connection Explorer (ICON) mission.
This mission, led by Dr. Thomas Immel at the University of California, Berkeley, will fly a suite of instruments designed to explore the mechanisms controlling the environmental conditions in space and how they are modified by weather on the planet. In studying this region where Earth's weather and space weather meet, researchers hope to find answers to their questions about how Earth's upper atmosphere behaves, since this part of the atmosphere is essential for the performance of many systems that use long-distance radio wave propagation.
Ionospheres act as a boundary between planetary atmospheres and space, containing weakly ionized plasmas that are strongly coupled to their neutral atmospheres, but also influenced by the conditions in the space environment. They are mainly influenced by the influx of solar energy and particles but also by dynamical forcing from the planetary atmosphere below, resulting in a remarkable set of non-linear behaviors, explains NRL's Dr. Christoph Englert.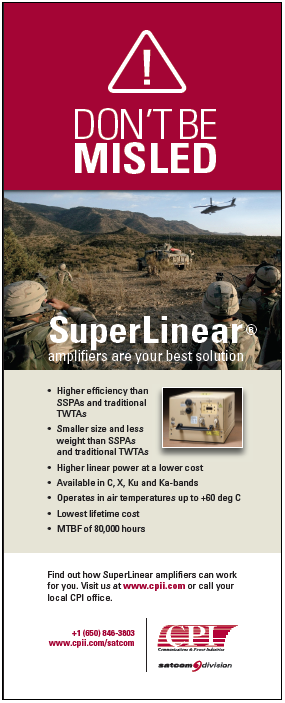 The unpredictable variability of the Earth's ionosphere interferes with radar, communications and geo-positioning signals—a potential problem for ships, airplanes, and the military—and is a national concern. ICON makes a complete set of measurements of the state of the ionosphere and all of the critical drivers that affect it to explore and understand this variability.
NRL's MIGHTI instrument onboard the ICON satellite will contribute to reaching the mission goals by measuring the neutral winds and temperatures in the Earth's low latitude thermosphere. The MIGHTI instrument uses the DASH (Doppler Asymmetric Spatial Heterodyne spectroscopy) technique, which was co-invented and pioneered by NRL.
The payload consists of two identical units that will observe the Earth's thermosphere with perpendicular viewing directions. As ICON travels eastward and continuously images the thermosphere and ionosphere, MIGHTI will measure the vector components of the vertical wind profile.
NRL's MIGHTI is named for Albert Michelson, a physicist known for his research on the measurement of the speed of light using a related interferometer type. More directly, MIGHTI builds on technology previously used in NRL's SHIMMER (Spatial Heterodyne Imager for Mesospheric Radicals), a payload aboard STPSat-1.
The NRL MIGHTI team is led by Dr. Christoph Englert, head of the Geospace Science and Technology Branch in NRL's Space Science Division. In addition to SSD leading the MIGHTI instrument, NRL scientists Dr. Joe Huba from the Plasma Physics Division and Dr. Andrew Stephan from the Space Science Division will provide ICON scientific data analysis and interpretation.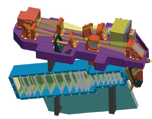 Now that NASA has confirmed ICON, the next step is the critical design review in 2015. This design review will clear the way for the necessary flight hardware to be built. The ICON launch is planned for the summer of 2017.
ICON is an Explorer-class mission. NASA's Goddard Space Flight Center in Greenbelt, Maryland, manages the Explorer Program for NASA's Science Mission Directorate in Washington. UC Berkeley's Space Sciences Laboratory will develop the ICON mission and the two ultraviolet imaging spectrographs. The Naval Research Laboratory in Washington, DC will develop the MIGHTI instrument. The University of Texas in Dallas will develop the Ion Velocity Meter. The spacecraft is being built by Orbital Sciences Corporation in Dulles, Virginia.
The U.S. Naval Research Laboratory infosite may be viewed at http://www.nrl.navy.mil/
---
Raytheon + General Dynamics JV Formed For U.S.A.F. Launch + Test Range Contract
The U.S. Air Force has awarded one of its most important space procurements, potentially a multi-billion-dollar contract to operate, maintain, and sustain launch ranges at Florida's Space Coast and Vandenberg Air Force Base in California, to a joint venture of Raytheon and General Dynamics.
The joint venture, called Range Generation Next (RGNext) is responsible for operations, as well as organizational and depot-level maintenance and sustainment for safe and effective launch, testing, and tracking of Department of Defense, civil, commercial, and international spacelift vehicles. It will also support ballistic missile, guided weapon, and aeronautical tests and evaluations.
The $1.5 billion, single-award contract has a one-year base period with nine one-year options. Raytheon and General Dynamics formed RGNext to pursue the opportunity, known as the U.S. Air Force Space and Missile Systems Center's Launch and Test Range System (LTRS) Integrated Support (LISC) contract, supporting the U.S. Air Force Space Command. Existing operations and maintenance at the Eastern and Western launch ranges and the engineering and sustainment work for the entire LTRS are being consolidated into LISC, primarily a fixed-price-incentive firm (target) contract.
The Raytheon RGNext infosite: http://www.raytheon.com/capabilities/products/rgnext/
---
GATR Lightweight Antenna Increases Army Agility
Inflatable ground satellite antennas are aiding in the expeditionary nature of U.S. and coalition forces, enabling them to achieve high-bandwidth network connectivity anywhere in the world from small deployable packages.
"Many of the conventional satellite terminals previously fielded aren't suitable for some of the more agile transportation requirements of today's deployed Joint Forces," said Lt. Col. Leonard Newman, Army product manager for Satellite Communications, which is assigned to Project Manager Warfighter Information Network-Tactical, known as WIN-T. "The inflatable satellite antenna is transforming how Special Operations forces and now airborne and other conventional forces deploy high-bandwidth SATCOM around the world."
Future Joint contingencies and support operations are expected to require rapid deployment of smaller sized elements to a wide variety of austere environments, with Soldiers needing to fight on arrival. The lightweight, easily transportable Ground to Air Transmit and Receive, or GATR, inflatable antenna reduces size, weight and power requirements over current capability, enabling smaller units to quickly deploy anywhere in the world and achieve network connectivity. The antenna can connect Soldiers in remote locations to the Army's tactical communication WIN-T network backbone, as well as support other services and first responders.
For WIN-T users needing at-the-halt access to the tactical communications network backbone, the GATR provides Secure Internet Protocol Router and Non-secure Internet Protocol Router access at the company echelon and small combat outposts. It also uses the same modems, baseband, encryption and networks as traditional terminals so they can leverage the existing network and services.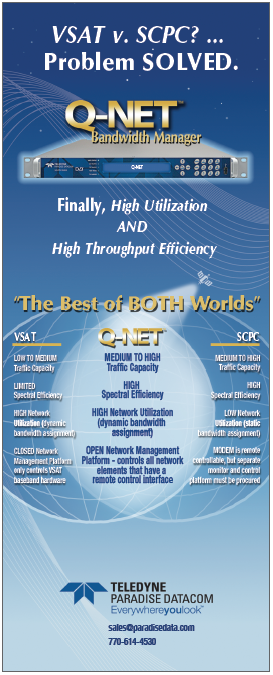 The Marine Corps established contracts to procure and certify the GATR terminal for military Ka- and X- band use. As the Army evaluates its SATCOM terminal portfolio to prepare for future contingencies, it is leveraging the Marine's previous efforts to add these versatile terminals to its own portfolio.
"Gaining access to the full complement of net-centric warfare applications earlier in operations is critical to establishing and maintaining effective command and control," said Jim Sawall, assistant product manager for the Commercial Satellite Terminal Program. "The inflatable antenna technology provides commanders with battalion-strength communications and data links earlier and with significantly reduced logistics burden—and in situations where previously only company-level communications would have been possible."
Fitting in just two transit cases, the GATR antenna provides the same robust data links as conventional, rigid satellite dishes, but weighs up to 80 percent less. Its unique ultra-portable design can provide high-bandwidth communications for transmission of classified and unclassified data, voice and video, all in a compact, highly survivable package. The flexible ball and dish weigh only 25 pounds, making the entire system small and light enough to be transported as checked baggage on commercial aircraft, and once on-site, it can be set-up in less than 30 minutes.
The system features a dynamic inflation mechanism that is easy to turn on and off and provides immediate, automatic adjustment to pressure changes caused by environmental factors. The GATR antenna system also contains a battery back-up system to ensure continuity of operations for at least six hours in the event of power loss. Although satellite acquisition is manual, advanced capability makes it easy to point, and a brief introductory course prepares operators to successfully deploy it anywhere.
The spherical shape greatly reduces the effect of wind, and a unique cable anchoring system assures stability in winds exceeding 40 mph, and survivability up to 60 mph—wind speeds that can interrupt connectivity in all other terminals. Moreover, it is suited to perform in the field, with all elements passing environmental testing requirements, Newman said.
The GATR antenna is designed to support the same networks as traditional 2.4 meter dishes that require a trailer, vehicle and four people to lift the transit cases. The Army is also looking to introduce a larger four meter version of the inflatable antenna for data transport both within and beyond theater. By deploying a four meter antenna in as few as three cases, Soldiers can augment, or in some cases replace, existing vehicle-size infrastructure to enable more nimble operations from the hub level down to the tactical user.
Instead of requiring a cargo pallet or vehicle-sized transport container, Soldiers can move critical, large aperture communications gear to or around the battlefield in a High Mobility Multipurpose Wheeled Vehicle, light tactical vehicle, small helicopter, etc., greatly increasing the expeditionary nature of today's forces, Newman said.
Story by Amy Walker, PEO C3T
---
Naval Postgraduate School International team solves TubeSat enigma
A pair of Naval Postgraduate School (NPS) international exchange students from the University of Bundeswehr say they are the first to have ever successfully built an operational InterOrbital Systems Tube Satellite (TubeSat).
German Navy 2nd Lt. David Ohst and Germany Navy Ensign Sebastian Stoppe assembled the satellite at NPS' Center for Network Innovation and Experimentation (CENETIX) under the tutelage of CENETIX director, NPS Professor Alex Bordetsky, and NPS Research Associate and Team Lead Eugene Bourakov, in collaboration with the Space Systems Academic Group.
"The big output of this project was a proof-of-concept using immature kits to develop the tube satellites," said Bordetsky.
"This project is a great example of where a craft with limited capabilities can create an unlimited source of research and development tasks that are extremely valuable to our students," added Bourakov.
The kits themselves cost about $8,000. According to their manufacturer, successful assembly includes a guaranteed launch into LEO on an Interorbital Neptune modular rocket. Designers intend to launch the first 36 TubeSats completed to standard at a date to be determined.
The kits are fairly basic—they include printed circuit boards, a battery pack, solar cells, a power management control system, microcomputer, software, antennas, a power switch and an instruction booklet.
Stoppe and Ohst had to contend with a host of challenges before finally assembling the satellite. They noted a series of design challenges and the need to adjust schematics rewrite files and make adjustments to voltage, circuit board design and solar panels.
But, by applying their previous electrical engineering skills and collaborating with the experts at the CENETIX lab and NPS' Space Systems Academic Group (SSAG), Ohst and Stoppe were able to do everything from recreate circuits boards to recalculate resistor values.
"We had to develop the rings, configuration and layout... We even used a 3-D printer to produce some of the parts that made this possible," added Stoppe.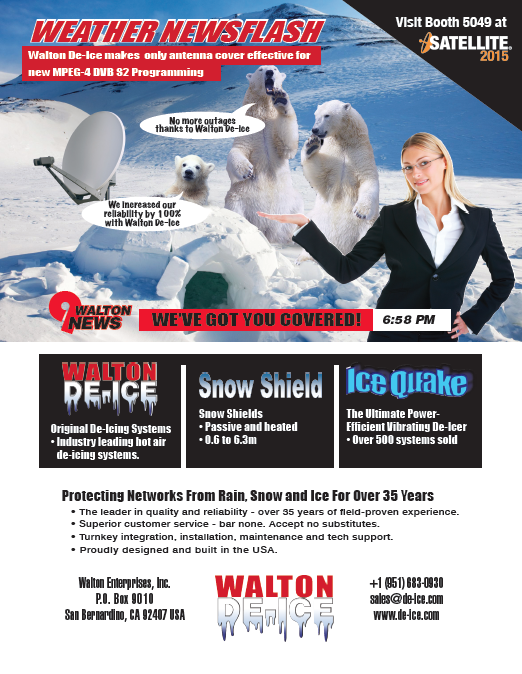 "Without our background in electrical engineering, we would not have been able to complete this project," said Ohst.
"What made this an actual functional satellite is the injection of their and Eugene [Bourakov's] talent while incorporating 3-D printing technology... You have a seemingly simple thing, but it is actually the product of a highly-educated group of engineers," said Bordetsky.
The completion of the satellite is big news for researchers at CENETIX who now hope to be able to use TubeSats in their continuing ad hoc networking and Maritime Interdiction Operation (MIO) experiments.
"With this completed TubeSat we can now incorporate the TubeSats into our MIO testbed," said Bordetsky. "This satellite, by virtue of being perishable, allows us to study how we bring these new network nodes into orbit without wasting expensive satellites."
As Ohst and Stoppe worked against the clock to complete their satellite, they received input from satellite enthusiasts from around the world. They are part of an online special interest group devoted to the inter-Orbital Company's TubeSat concept.
"We are getting a lot of requests for assistance after posting our results to the group," said Ohst. "They are excited because we were the first to actually put it together."
Despite its surface simplicity, Bordetsky insists that the TubeSat is a functioning satellite and that Ohst and Stoppe's work is a significant engineering achievement. Bordetsky is currently working on weighing the merits of different launch options, including the option of placing the TubeSat into LEO by launching it from a fighter jet.
Bordetsky lauds the efforts of Stoppe and Ohst as illustrative of the advantages of the international collaboration that occurs between students and U.S. service members at NPS.
"This is a perfect example of the success of our collaborative efforts, two German officers building a satellite, built upon the work done by a Greek officer from the Hellenic Navy, achieving a break through at CENETIX," said Bordetsky.
In the future, Stoppe and Ohst hope to see their work continue through testing via stratospheric balloons, radio tests various payloads and the building of a second and third TubeSat.
---
GPS Modernization Occurs As Boeing Activates GPS IIF-8
The eighth Boeing Global Positioning System IIF satellite has completed on-orbit checkout and joined the active 31-satellite constellation, helping the U.S. Air Force continue modernizing the network that millions of people worldwide use.
The U.S. Air Force and Boeing have now placed four GPS IIF satellites into service this year, adding to the modernization effort with advanced atomic clocks, stronger anti-jamming, and a new third civil signal and longer design life. Since becoming fully operational in 1995, GPS has evolved into a global digital resource.
The Air Force modernization is a long-term initiative to further improve GPS signal accuracy, strength and quality while also adding new military and civil signals to benefit the ever-expanding user community.
Boeing has contributed to GPS since its inception, providing four generations of satellites over a four-decade period. The latest satellite, known as GPS Space Vehicle-69, was launched on October 29 and completed on-orbit checkout and validation December 12.
"We made great progress this year [2014] in the quest to modernize GPS services," said Dan Hart, vice president of Government Space Systems for Boeing Network & Space Systems. "With two-thirds of the 12 Boeing GPS IIFs now on orbit, the constellation is setting new records for accuracy and the Boeing GPS IIFs are consistently among the best performing."
"We believe that our track record on GPS speaks for itself, with more than 525 years of on-orbit operation," Hart said. "We continue to support today's GPS mission, and are looking forward to delivering the remaining four GPS IIF satellites into service. At the same time, Boeing continues to explore innovative new solutions that will further enhance and improve the next generation of GPS satellites."
The Boeing Defense, Space & Security infosite at http://www.boeing.com/boeing/bds/ offers additional information.
---
Got 'Em For COTM—Exelis + Iridium Demo New Comms Capabilities For DISA
Exelis and Iridium Communications Inc. have successfully demonstrated a new global-reach communications capability for the Defense Information Systems Agency's (DISA) Distributed Tactical Communication System (DTCS).
The capability, once deployed, will advance the Department of Defense's critical satellite communications network, bringing secure, reliable and truly global communications services to users in the defense and intelligence community operating anywhere on Earth.
In partnership with DISA's Enhanced Mobile Satellite Services (EMSS) program office, the team demonstrated real-time, push-to-talk voice and data communications that connected users in regions across the globe, including Virginia, Arizona, Hawaii, Alaska, Australia and locations within the Arctic Circle. Multiple radios deployed within each region demonstrated the ability to simultaneously connect with those nearby as well as with others thousands of miles away.
The global services capability will provide command and control, as well as situational awareness, through inter-theater, on-the-move communications between distributed tactical units and multiple echelons of command around the world. The demonstration was carried out by leveraging currently fielded technology, with some enhancements made to software and DISA communications infrastructure.
Exelis received the DTCS Global Services contract from the EMSS program office in May 2013. Since then, the company has worked collaboratively with Iridium and DoD representatives to define a capability roadmap for the global satellite communication system.
For additional information, download the Exelis infosheet at http://www.exelisinc.com/capabilities/Distributed-Tactical-Communication-System/Documents/Exelis-Support-Of-DTCS.pdf
Iridium's infolink regarding EMSS is located at https://www.iridium.com/EMSS.aspx
The DISA Network Services infosite is accessible at http://www.disa.mil/Services/Network-Services/Satellite/DTCS
---
Rapid Response Solution Deployed By Luxembourg, SES Tech Com + HITEC
The Luxembourg Government signed a new agreement with the Joint Undertaking (JU) between HITEC Luxembourg S.A. and SES TechCom S.A.—in partnership with Luxembourg Air Rescue—to extend the emergency.lu rapid response solution for a duration of six years.

emergency.lu is addressing the challenge of worldwide rapid response capacity and preparedness for humanitarian emergencies by providing a solution to fill the communication gap in the first hours and days after a large-scale disaster.
The solution provides communication facilities in remote areas due to chronic humanitarian crises. It is being deployed since January 2012 following the initial contract signature in April 2011.
Since then, emergency.lu has been productively deployed on multiple missions: South Sudan, Mali, Venezuela, Nepal, Philippines and lately in the Ebola prone regions in Africa. The emergency.lu solution is greatly appreciated by the international worldwide humanitarian community and has become an essential element in the disaster relief toolbox.
The success of the emergency.lu system swayed the Directorate for Development Cooperation and Humanitarian Affairs of the Grand Duchy of Luxembourg to continue the service offering and also to extend the system.
As such, the number of rapid deployment kits is being augmented by ten additional terminals. These devices are consisting of an inflatable antenna plus redesigned NoSaCo® Rapid terminals, which are entirely manufactured in the Grand Duchy by HITEC Luxembourg.
These devices are making up the field infrastructure in case of natural or man-made disaster which require immediate intervention. The Grand Duchy is also investing in 30 new transportable or disposable antennas for long-term humanitarian missions to be used with HITEC Luxembourg's new NoSaCo® Rack.
The satellite capacity used in emergency.lu to ensure a worldwide coverage is being extended. "On behalf of SES and as a member of the NSCF-emergency.lu joint undertaking, we are pleased to provide the Luxembourg Government and their development partners, among them the UN World Food Program, with a satellite-based communication infrastructure including satellite capacity and services that will ensure the availability of quick and reliable data and voice communications in disaster relief theaters," said Gerhard Bethscheider, Managing Director of SES TechCom.
"emergency.lu shows the technical expertise of HITEC Luxembourg in both domains of satellite ground segment and of ICT. The extension of the agreement with the Luxembourg Ministry demonstrates the success of the developed solutions and proves that we have met the expectations of our client on reliability, resilience and quality of service demanded by the public safety and humanitarian aid community," said Yves Elsen, Managing Partner and CEO of HITEC Luxembourg.

Both Luxembourg based companies, SES and HITEC Luxembourg continue—together with Luxembourg Air Ambulance—their involvement in humanitarian aid and disaster relief through the refreshed agreement with the Luxembourg Government.
There's additional information regarding SES TechCom at http://www.ses.com/techcom
The HITEC Luxembourg infosite: http://www.hitec.lu/
To learn more about emergency.lu, please visit http://emergency.lu/
The Luxembourg Air Rescue infosite may be reached at: http://www.lar.lu/index.php/en/
The Luxembourg Air Ambulance infosite: http://www.air-ambulance.lu/
---