Marines Rely On Comms For Annual Exercise Success
Unwavering heat, storms and strong winds failed to halt approximately 90 Marines during a field exercise conducted by Alpha Company, Marine Wing Communications Squadron 28 aboard Marine Corps Air Station Cherry Point in early fall.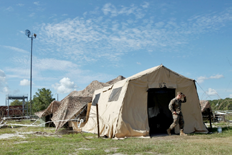 The two-week exercise occurs annually to satisfy training and readiness requirements and serve as an opportunity for the Spartans to reaffirm previously learned skill sets.
Alpha Company is using enablers such as Very Small Aperture Terminals (VSAT) Large and Tactical Elevated Antenna Mast Systems allowing the squadron to deliver transmissions between satellites
Gunnery Sgt. Curtis Myers, the staff NCO in charge of the exercise for Alpha Company, said, "We have a transmissions section that locks-on to satellites for us, radio Marines that handle our single channel radio networks with the wire sections handling telephone support from the field and data Marines setting up Internet or Internet based capabilities."
This field exercise allowed Marines to enhance and reaffirm lessons learned during previous training. By conducting this exercise the company of Marines was able to showcase their ability to support units while forward deployed and affirm their state of readiness.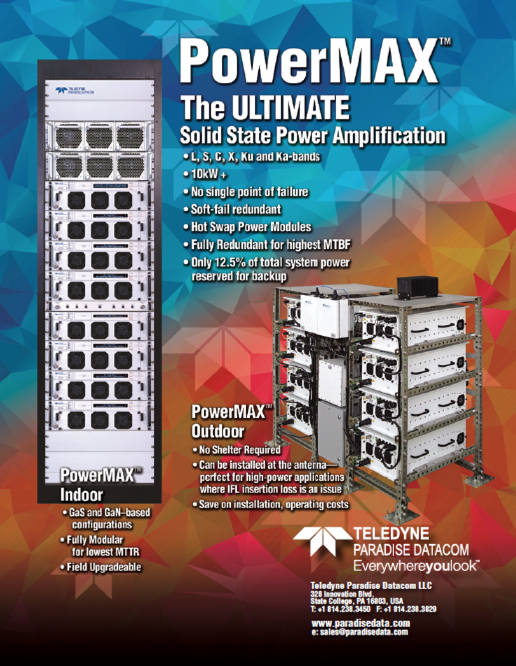 While conducting the exercise, Alpha Company aimed to simulate a deployed environment throughout the exercise. By simulating being forward deployed, Marines are able to gain knowledge that will be beneficial when put in a real world situation.
Myers said it was important for the junior Marines to get hands-on experience, but no matter what, there's always room for improvement.
A problem often faced when working from tents, as opposed to cement buildings, is unpredictable weather. Wind, water, and other elements can impact the care of the equipment.
According to Cpl. Michael Lorrey-Every, a data systems technician with MWCS-28, without communications, coordination in the field almost comes to a halt.
"It's the little things like making sure cords are plugged into the right ports and getting the Marines used to what they need to be looking for when troubleshooting," said Lorrey-Every. "We want to uphold our training and readiness standards. [The field exercise] gives us the opportunity to be tested and ready when we come across unexpected situations in the field."
"Marines who aren't directly involved with communications may not realize there's a lot of work that goes in to establishing communications," said Myers. "Call for fires, medevacs need communications to communicate back and forth to talk between the infantry side and wing side so they know where they need to go and where the planes are at. Until you go out and do it, you don't see the reasoning for it."
Story by Cpl. Jason Jimenez, Marine Corps Air Station, Cherry Point
---
A Core Solution For Wireless Network Transmission Of Classified Info
Unifying and securing the management of wireless command posts for the US Army has led to the selection of PacStar®, a developer and supplier of advanced comms for the DoD, to integrate their IQ-Core® Software with CSfC (Commercial Solutions for Classified) Plug-in into the systems.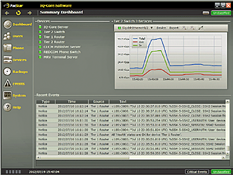 As a result, the US Army will enhance their ability to securely transmit classified information (up to top secret) over wireless networks that warfighters rely on for in-theater operations.
CSfC is a National Security Agency (NSA) program that enables DoD organizations to leverage commercial products in layered solutions to protect National Security Systems data.
The US Army's decision to adopt wireless for mission communications is enabled by the CSfC program, which recently developed security standards for classified network access over satellite, Wi-Fi, and cellular communication networks, using commercial products from companies such as Aruba (an HP Enterprise Company) and Cisco Systems.
During combat operations, Army forces must often move or "jump" base locations to outmaneuver enemies or avoid attacks.
PacStar IQ-Core Software with CSfC Plug-in addresses set-up, configuration and monitoring challenges associated with CSfC implementations in the wireless command posts, while delivering key benefits:
• Rapidly and reliably simplifying setup and configuration of IPsec VPNs
• Managing certificates, publishing and distribution of certificate revocation lists and more, which is otherwise intractably difficult to accomplish
• Accessing multiple, independent vendor equipment and software through a single user interface, reducing training and speeding operations
IQ-Core Software and IQ-Core Software with CSfC Plug-in are now available for use with PacStar-designed tactical and enterprise systems, as well as separately for integration on OEM systems and insertion into existing programs of record.
According to Peggy Miller, the Chief Executive Officer of PacStar, rapidly assembling and implementing secure networks at command posts and similar in-theater environments is normally a complex, manual operation typically performed by highly trained specialists.
PacStar IQ-Core Software with CSfC Plug-in removes that complexity, providing rapid, intuitive communications management in order for the US Army to extend their ability to securely transmit classified information from controlled 'wired' network locations to wireless networks.
For a number of years, PacStar IQ-Core Software has supported WIN-T's Increment 1 program, focused on providing expeditionary communications and delivering this new capability furthers our commitment to solving key DoD warfighter communications challenges.
www.pacstar.com
---
WIN-T Increments Testing Goes Well For General Dynamics Mission Systems
New and improved versions of two, key, Warfighter Information Network-Tactical (WIN-T) Increment 2 capabilities have begun the test and evaluation process at US Army installations across the country by General Dynamics Mission Systems.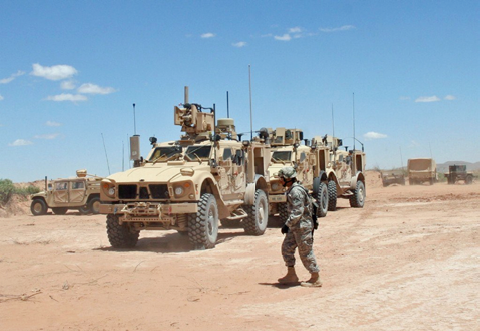 Integrated on HMMWVs instead of five-ton FMTVs, both the Tactical Communications Node-Lite (TCN-L) and the Network Operations and Security Center-Lite (NOSC-L) feature a greatly reduced footprint and improved transportability for expeditionary operations (C-130 roll-on/roll off and CH-47 sling loadable).
The TCN-L and NOSC-L provide the same networking and network management capability to command posts while reducing the complexity to install, operate and maintain the Army's mobile tactical communications network.
Mission Systems has delivered four TCN-Ls and two NOSC-Ls to the Army to begin the test and evaluation process as part of the lead up to more formalized operational testing at the Army Network Integration Evaluation 17.2 in 2017.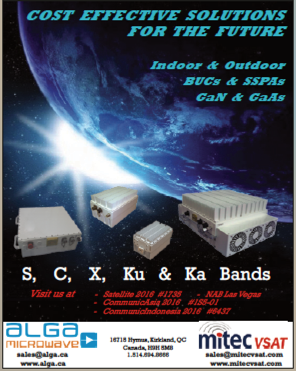 This testing includes wide area network transmission performance, safety and environmental and electromagnetic interference testing.
Additionally, Mission Systems is performing preliminary logistics and software evaluations on a TCN-L and a NOSC-L. Four additional TCN-Ls and one NOSC-L are currently in production and are expected to enter the test and evaluation process by the end of October.
WIN-T Increment 2 is the Army's wide-area tactical communication network that delivers voice and data services across the battlefield.
WIN-T Increment 2 entered full rate production in June of 2015 and has been fielded to seven division headquarters and 14 brigade combat teams.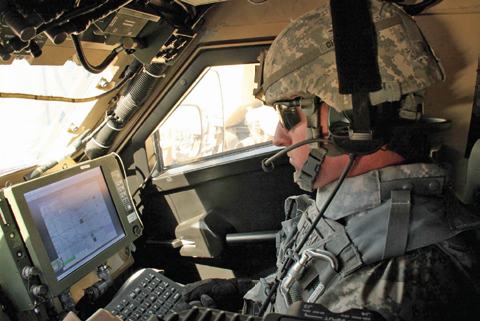 According to Bill Weiss, the Vice President and General Manager of the Ground Systems line of business at General Dynamics Mission Systems, these capabilities provide the Army a more agile network capability and greater expeditionary reach.
Additionally, the smaller footprint will result in reduced maintenance and logistics costs, which is crucial in today's resource-constrained environment.
General Dynamics Mission Systems is a business unit of General Dynamics (NYSE: GD).
gdmissionsystems.com
---
Aurora Enrichment For Canadian Department Of Defense By Newtec

Newtec has been selected by General Dynamics Mission Systems-Canada to provide their MDM9000 Satellite Modem to the Canadian Department of National Defence (DND) for use on the Aurora fleet as part of the Aurora Incremental Modernization Project Block IV upgrades.
The CP-140 Aurora is a long-range patrol aircraft operated by the Royal Canadian Air Force for domestic and international defense missions and is used in a wide variety of operations, including strategic airborne surface (sea and land) and subsurface missions, as well as maritime, overland Intelligence, Surveillance and Reconnaissance (ISR) and Search and Rescue (SAR) missions.
The fleet contributes significantly to the security of Canada and North America, and supports the restoration and maintaining of peace and security in regions around the world.
Under the contract with General Dynamics Mission Systems-Canada, Newtec will deliver the MDM9000, a ruggedized, ATR-size airborne modem to provide High Data Rate (HDR), Beyond Line-Of-Sight (BLOS) airborne communication between the airborne platform and the DND ground network.
The Newtec modem is equipped with the most advanced DVB-S2X and S2 waveforms, Newtec's end-to-end FlexACM® technology for performance and fast link acquisition, is compliant with DO-160 and MIL-STD 810E standards, and will become
the most advanced satellite modem certified to operate on Wideband Global Satcom (WGS) constellations.
The Newtec MDM9000 airborne modem on the aircraft will communicate with a similar MDM9000 modem on the ground.
The Newtec MDM9000 Satellite Modem is a versatile nexgen modem, optimized for use in a wide range of government and defense applications over satellite, such as intelligence gathering, fixed and mobile milsatcom deployments on WGS and commercial constellations.
The modem is typically installed at both ends of a point-to-point satellite link or at the remote sites of a star network and integrates seamlessly with terrestrial networks and equipment.
Koen Willems, the Market Director for Government and Defense at Newtec, related that the Newtec MDM9000 modem is a nexgen product that embodies the latest technologies, such as DVB-S2X and Newtec's Bandwidth Cancellation (BWC), and is available for deployment today.
By selecting both the MDM9000 on the aircrafts and on the ground for operations, Canada's Department of National Defence will benefit from the highest throughput at maximum service availability, allowing the relay of HD video and sensor data from its Aurora fleet to increase operational efficiency and enhance the decision making process.
www.newtec.eu
---