A Danish Evolution... From iDirect
VT iDirect, Inc. (iDirect), a company of Vision Technologies Systems, Inc. (VT Systems), has signed a framework agreement with specialized procurement center and logistics authority Danish Acquisition and Logistics Organization (DALO) to deliver hardware, software, and services to the Danish Armed Forces.

Using the iDirect defence portfolio, the Danish Armed Forces can ensure high quality support for multinational missions quickly and efficiently at all times and in any location.
In order to carry out a wide range of missions, the Danish Armed Forces require a communication system that can deliver secure, effective Command, Control, Communications, Computers, Intelligence, Surveillance, and Reconnaissance (C4ISR). The iDirect Evolution portfolio enables the Danish Armed Forces to leverage the Wideband Global SATCOM (WGS) program, along with partner nations defence satellites, and commercial satellites.
The advanced Quality of Service (QoS) capabilities of the iDirect platform allows the Danish Armed Forces to dynamically balance traffic between operational and welfare requirements, and mobile and static deployments depending on the varying levels of priority.

iDirect's TRANSEC capabilities will help to build added security into their networks, and the technical expertise of the 24/7 iDirect Technical Assistance Center (TAC) provides a high level of reliability to the Danish Armed Forces.
The rollout of new products in the iDirect defence portfolio will provide the Danish Armed Forces with a highly efficient and resilient portfolio of remotes, designed to lower operating costs.
idirect.net/
---
GPS IIF-11 Soars Spacewards
A United Launch Alliance (ULA) Atlas V rocket carrying the Global Positioning System (GPS) IIF-11 satellite for the U.S. Air Force lifted off from Space Launch Complex-41 October 31 at 12:13 p.m. EDT.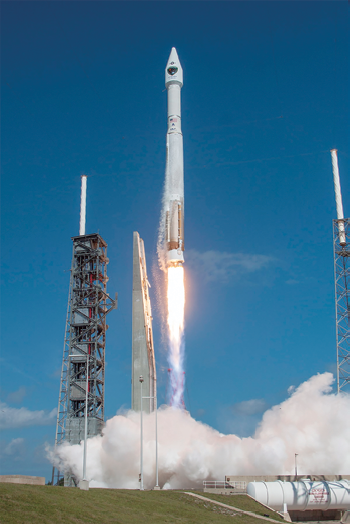 GPS IIF-11 is one of the next-generation GPS satellites that incorporate numerous improvements to provide greater accuracy, increased signals and enhanced performance for users.
"Congratulations to the entire team on today's successful launch of the GPS IIF-11 satellite! Today's launch was made possible by the exceptional performance and teamwork exhibited by the entire team, including the men and women of ULA, our many mission partners, and our U.S. Air Force customer," said Jim Sponnick, ULA vice president, Atlas and Delta Programs. "GPS is omnipresent in our everyday lives and the system provides a critical service to the all of those serving in our military around the world. All of the operational GPS satellites have been launched on Atlas and Delta rockets and the U.S. Air Force does an outstanding job of operating this essential system."
This mission was ULA's 11th launch in 2015 and the 102nd successful launch since the company was formed in December 2006.
This mission was launched aboard an Atlas V Evolved Expendable Launch Vehicle (EELV) 401 configuration vehicle, which includes a 4-meter-diameter payload fairing.
The Atlas booster for this mission was powered by the RD AMROSS RD-180 engine and the Centaur upper stage was powered by the Aerojet Rocketdyne RL10C-1 engine.
GPS IIF-11 will join the GPS worldwide timing and navigation system utilizing 24 satellites in six different planes, with a minimum of four satellites per plane positioned in orbit approximately 11,000 nautical miles above the Earth's surface.
The GPS IIF series provides improved accuracy and enhanced performance for GPS users.
ULA's next launch is the Atlas V OA-4 capsule for Orbital ATK scheduled for December 3 from Space Launch Complex-41 from Cape Canaveral Air Force Station, Florida.
The EELV program was established by the U.S. Air Force to provide assured access to space for Department of Defense and other government payloads.
The commercially developed EELV program supports the full range of government mission requirements, while delivering on schedule and providing significant cost savings over the heritage launch systems.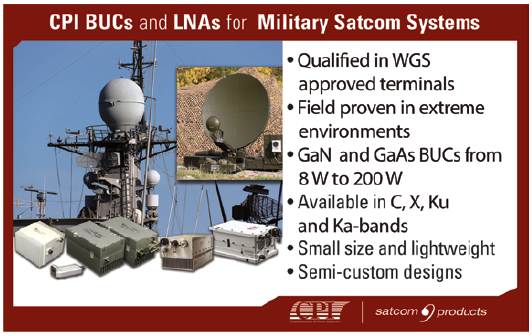 With more than a century of combined heritage, United Launch Alliance is the most experienced and reliable launch service provider. ULA has successfully delivered more than 100 satellites to orbit that provide critical capabilities for troops in the field, aid meteorologists in tracking severe weather, enable personal device-based GPS navigation and unlock the mysteries of our solar system.
Orbital ATK, Inc. contributed integrated hardware to the successful launch of the United Launch Alliance (ULA) Atlas V rocket GPS Block IIF satellite payload.
Now in geosynchronous orbit above the Earth, the eleventh GPS IIF satellite in the constellation will replace older, first-generation GPS satellites and provide improved accuracy, signal strength and quality to America's warfighters, allies and civilian users worldwide.
Boeing designed and built the GPS IIF satellite for the U.S. Air Force.
"It is exciting to see Orbital ATK produced structures and components on both the launch vehicle and satellite of another successful EELV launch," said Scott Lehr, President of Orbital ATK's Flight Systems Group. "We look forward to adding our new GEM-63 solid rocket boosters—which are currently under development—to ULA's Atlas V launches beginning in late 2018."
For the ULA Atlas V rocket, ATK produced the 10-foot diameter composite heat shield, which provides essential protection for the first stage of the launch vehicle.
The Orbital ATK components, in both the ULA Atlas V launch vehicle and satellite, use the latest, cutting-edge technology across multiple divisions. These include large composite structures, retro motors, propellant tanks, state-of-the art solar arrays and other critical components on the GPS IIF satellite.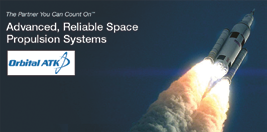 For the ULA Atlas V rocket, Orbital ATK produced the 10-foot diameter composite heat shield, which provides higher performance with lower weight, and essential protection for the first stage of the launch vehicle from engine exhaust temperatures manufacturing techniques at Orbital ATK's Iuka, Mississippi, facility This is the 59th ULA Atlas V launch using Orbital ATK-built composite structures.
This flight marked the 23rd successful flight of the Orbital ATK retro motors. Eight of these solid motors provided thrust for separation of the spent first stage. The ULA Atlas V retrorocket is built at Orbital ATK's Elkton, Maryland, facility.
Orbital ATK's Space Components Division facility in Commerce, California manufactured the Reaction Control System (RCS) propellant tanks for the ULA Atlas V rocket.
For the GPS IIF-11 satellite, Orbital ATK provided a host of products and services that included:
• Orbital ATK's Goleta, California, facility designed and manufactured the satellite solar arrays and a deployment boom. Orbital ATK has achieved 100 percent on-orbit success on all solar arrays and deployable systems delivered and launched to date.
• Orbital ATK's San Diego, California, facility manufactured the composite solar array substrates and structural components.
• Orbital ATK's Commerce, California, facility had responsibility for the ullage tank assembly, including the blankets, heaters, thermistors and pressurant lines. This tank is a spherical vessel constructed of titanium.

• Orbital ATK's Beltsville, Maryland, facility provided heat pipes for the GPS IIF equipment and radiator panels.
• Orbital ATK's Rancho Bernardo, California, facility performed final assembly and RF (Radio Frequency) testing of the antenna suite for GPS IIF between 2003 and 2010.
The Block IIF series provides improved accuracy, enhanced internal atomic clocks, better anti-jam resistance, a civil signal for commercial aviation and a longer design life. The GPS IIF-11 satellite provides space-based system global location and time information in all weather conditions.
The U.S.A.F. reports that the GPS constellation is healthy, stable and robust with two GPS IIAs, 12 GPS IIRs, seven GPS IIR-Ms, and 10 GPS IIF satellites on orbit providing precise global positioning, navigation, and timing services to users around the globe.
"The successful outcome of this mission is due to the tremendous commitment of a world class team focused on mission success," said Col. Steve Whitney, director of the Space and Missile Systems Center's Global Positioning Systems Directorate. "To the men and women of SMC, the 45th, 50th, 310th Space Wings, Boeing, United Launch Alliance, The Aerospace Corporation, GPS IIF and the Atlas V launch teams, thank you!"
Operated by Air Force Space Command's 50th Space Wing at Schriever Air Force Base, located east of Colorado Springs, Colo., the GPS constellation provides precise positioning, navigation and timing services worldwide as a free service provided by the U.S. Air Force, seven days a week, 24-hours a day.
SMC, located at Los Angeles Air Force Base in El Segundo, Calif., is the Air Force's center of acquisition excellence for acquiring and developing military space systems. Its portfolio includes the Global Positioning System, military satellite communications, defense meteorological satellites, space launch and range systems, satellite control networks, space based infrared systems and space situational awareness capabilities.
ulalaunch.com/
orbitalatk.com/
boeing.com/space/
---
U.S.A.F. Satellite Control Network Support Goes To Harris
The United States Air Force has awarded Harris Corporation a $40 million, nine-month extension of the Network and Space Operations and Maintenance contract to support the Air Force Satellite Control Network at two network control locations in the U.S. and at antenna sites throughout the world—the contract was awarded during the first quarter of Harris' fiscal 2016.
Under the contract, Harris will provide operations, maintenance and logistics support to Air Force satellite operations at the 50th Space Wing at Schriever Air Force Base, Colorado, and other worldwide locations, including Colorado Springs, Colorado; Vandenberg Air Force Base, California; Diego Garcia Station; Guam Tracking Station at Andersen Air Force Base; Hawaii Tracking Station at Kaena Point; New Boston Air Force Station, New Hampshire; Eastern Vehicle Checkout Facility, Cape Canaveral Air Force Station, Florida; and Thule Tracking Station, Thule Air Base, Greenland.
"We have helped the 50th Space Wing provide critical information to decision makers and those on the front line reliably and cost effectively for more than 19 years," said Wayne Lucernoni, president, Harris Mission Sustainment. "The Air Force Satellite Control Network is crucial to our national security, and Harris is committed to providing mission excellence."
www.harris.com/
---
New HM Satellite System For Mobility + Portability Debuts From Hughes
Hughes Network Systems, LLC has unveiled their new HM System, engineered around the company's novel software-definable modem (SDM) technology and scrambled code multiple access (SCMA) waveform.
Hughes is launching with three Commercial-Off-The-Shelf (COTS) products for government applications.
The new HM System employs a commercially-based, open standards architecture and frequency band-agnostic platform that enables affordable, resilient solutions to meet a wide variety of mobility and portability requirements for government users.
In addition to supporting fixed applications, the HM System provides satellite-on-the-move (SOTM) capabilities for airborne, maritime and land mobility solutions, including a complete, ultra-compact and portable terminal for small teams reliant on quick-deploy connectivity
With the first gateway installed and fully operational in September 2015, the COTS products are now ready for market roll-out.
The three HM System product solutions based on the new waveform technology are as follow:
• HM100: Enterprise Application Modem – A universal rack-mounted hub that is transportable and offers high-throughput to support ground station SATCOM operations.
• HM200: Satellite-on-the-Move (SOTM), Ruggedized Modem – A mobile, ruggedized modem for any communications-on-the-move (COTM) scenario, with real-time situational awareness and beyond-line-of-sight (BLoS) capabilities. Target applications include land mobile, maritime, and airborne platforms. The HM200 offers faster acquisition time, low power requirement, carrier-in-carrier capabilities, MIL-SPEC connectors, internal power supply and separate data and M&C ports. It is also equipped to deliver the best data rates in the market for SATCOM through rotor blades.
• HM300: Ultra-Compact, Portable Terminal – An ultra-lightweight man-packable communications solution that allows fast deployment and recovery while enabling up to 512 kbps of voice and data and is suitable for use in harsh environments. A complete terminal, the HM300 offers X-band communications with a small antenna footprint in a compact, low power package. It reduces the requirement for large and heavy satellite communications kits and also achieves significant service cost savings when compared to L-band service alternatives. The HM300 will launch as the portable terminal of choice for the XEBRA Service from Airbus Defence & Space.
Suitable applications for the HM System include intelligence-surveillance-reconnaissance (ISR), border patrol, search and rescue, disaster response, wildfire monitoring, oil platform communications, cellular backhaul and airborne BLOS communications.
"The basis of the new HM System is our advanced waveform technology based on very low-rate coding and new multiple access techniques," said Rick Lober, vice president and general manager, Defense and Intelligence Systems Division, for Hughes. "Continuing the Hughes tradition of innovative satellite networking solutions, the waveform utilizes advanced software-definable SCMA technology enabling high-throughput, secure and efficient sharing of bandwidth, paving the way for government organizations to experience superior mobility and portability."
www.hughes.com/
---