The annual Space Symposium provides an ideal opportunity for the Space Foundation to present its top awards. For 2015, the Board of Directors of the Space Foundation unanimously selected Jean-Jacques Dordain, Director General of the European Space Agency (ESA), as the recipient of its highest honor—the General James E. Hill Lifetime Space Achievement Award.

The award will be presented to Dordain at a special industry luncheon on April 15, 2015, during the 31st Space Symposium, April 13-16, at The Broadmoor in Colorado Springs, Colorado, USA.
"Jean-Jacques Dordain's long, distinguished and globally recognized service in the space sector make him an outstanding selection as the 2015 winner of the Space Foundation's highest award," said Space Foundation Chief Executive Officer Elliot Pulham. "Through his leadership, ESA has achieved remarkable success with programs like Gaia, Rosetta, ATV, the International Space Station and many others. This work has helped to improve global cooperation in space, and since 2003, ESA has added five European Member States and six European Cooperating States."
Dordain has been ESA's Director General since July 2003 and was reappointed twice to the position by the ESA Council. When he joined ESA in 1986, he was appointed Head of the newly set-up Department for the Promotion and Utilization of the International Space Station. In 1993, he became Associate Director for Strategy Planning and International Policy. In 1999, he accepted the position of Director of Strategy and Technical Assessment, and in 2001, he became Director of Launchers.
Dordain graduated in engineering from the Ecole Centrale de Paris in 1969, and began his scientific career in 1970 in the field of propulsion and rocket boosters at the French National Office for Aerospace Studies and Research (ONERA). From 1976 to 1983, he was the Coordinator of Space Activities at ONERA until he was appointed Director of Fundamental Physics. During this period, he was among the first five French astronaut candidates to be selected by CNES for the ESA Spacelab 1 program. Throughout his career, Dordain has taught in several prestigious positions.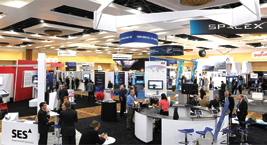 Dordain is a Member of the French Académie des Technologies, an Associate Member of the Belgian Académie Royale des Sciences, des Lettres et des Beaux Arts. He is also a Member of the Air and Space Academy (France); the International Academy of Astronautics and the Association Aéronautique et Astronautique de France. He is an honorary Vice President of the International Astronautical Federation and honorary Chancellor of the International Space University.
Dordain is expected to retire from ESA on June 30, 2015, and his participation at the 31st Space Symposium is expected to be one of his last official appearances.
Tickets for the award luncheon should be purchased in advance by Space Symposium attendees at http://www.spacesymposium.org/register.
31st Space Symposium At A Glance
The Space Foundation's annual Space Symposium has been firmly established as the single most important event to link government, military and industry on both a national and international basis. For 2015, the Space Symposium will offer more choices, more classified programs, more international and government participation and more networking opportunities than ever.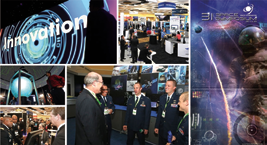 The 31st Space Symposium will also feature the Ball Aerospace Exhibit Center and Pavilion, with more than 160 displays of the world's latest space technology, products and services.
Returning attendees will find many of the same compelling reasons to attend the Space Symposium as in previous years, such as the Technical Track Program, plus some changes for 2015. The Space Foundation continuously revamps the Symposium to give its customers the conference experience they want. There are now two classified events for 2015—Cyber 1.5 and the Space Classified Program.
Cyber 1.5 Conference Is Classified for 2015
On Monday, April 13, the Space Foundation's Cyber 1.5 Classified conference will focus on the evolving security challenges posed in cyberspace. Discussion will include senior leadership views on Department of Defense and industry cyber activities, with emphasis on hot button issues, human capital development and international dimensions.
U.S. citizenship and a TS/SCI security clearance are required to attend Cyber 1.5. TS/SCI clearance must be received and verified by the Space Foundation by April 3, 2015.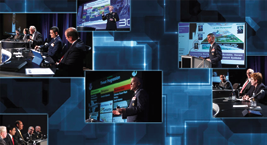 See details about Cyber 1.5 and registration information at http://www.spacesymposium.org/tracks/cyber-15-classified.
Active Military + Government Attendees
The 31st Space Symposium agenda includes sessions and presentations of special interest to the military, such as featured speaker The Honorable Deborah Lee James, Secretary of the Air Force, on April 16.
The Space Foundation offers reduced pricing for active military and government registrants.
The active military/government rate includes admission to Symposium general sessions, exhibits, receptions, plus one ticket to each Symposium dinner and one ticket to a Symposium luncheon, such as the Space Warfighters Luncheon on April 14. This special rate does not apply to contractors who work for, or with, the government or military.
See military and government registration information at http://www.spacesymposium.org/register.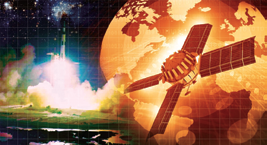 Register Now
Visit http://www.spacesymposium.org/register for secure online registration and complete conference information, or call +1.800.691.4000.
Co-Sponsors
A special thank you to our co-sponsors: Aerojet Rocketdyne; Arianespace, Inc.; Artel LLC; Ball Aerospace & Technologies Corp.; Colorado Space Coalition; El Pomar Foundation; Inmarsat; Intelsat General Corporation; Lockheed Martin; Northrop Grumman; Orbital; Raytheon; Spincraft; Stellar Solutions; United Launch Alliance (ULA).
About The Space Foundation
Founded in 1983, the Space Foundation is the foremost advocate for all sectors of space, and is a global, nonprofit leader in space awareness activities, educational programs and major industry events, including the annual Space Symposium, in support of its mission "to advance space-related endeavors to inspire, enable and propel humanity." Space Foundation World Headquarters in Colorado Springs, Colorado, USA, has a public Discovery Center, including El Pomar Space Gallery, Northrop Grumman Science Center featuring Science On a Sphere® and the Lockheed Martin Space Education Center.
The Space Foundation has a field office in Houston and conducts government affairs from its Washington, D.C., office. It annually publishes The Space Report: The Authoritative Guide to Global Space Activity, and through its Space Certification™ and Space Technology Hall of Fame® programs, recognizes space-based innovations that have been adapted to improve life on Earth. Visit http://www.SpaceFoundation.org, follow us on Facebook, Instagram, LinkedIn, Pinterest, Twitter and YouTube, and read our e-newsletter Space Watch.
---