From NATO to Horizon... two major orders for FlyingFish™
Horizon Technologies has announced two major NATO end user orders for the company's FlyingFish™ airborne SIGINT system totaling more than 14 million euros over the next few years.

John Beckner, CEO, Horizon Technologies, stated, that these orders are significant because they include new fixed and rotary wing platforms as well as new government end users.
He noted that the units were ordered for immediate delivery and will be used as part of NATO and FRONTEX missions.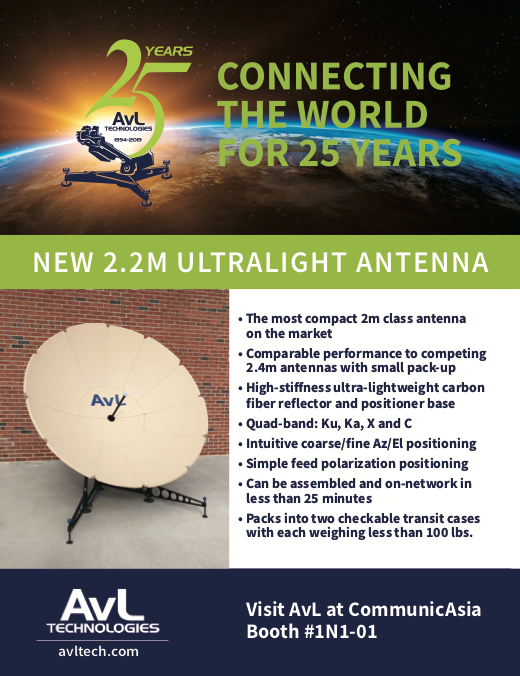 The firm's FlyingFish product line continues to be improved and now monitors three satellite networks. Horizon Technologies offers exportable DO-160G airborne-qualified SatPhone SIGINT systems for a wide variety of fixed and rotary-wing aircraft.
In addition, the company's new remote control software allows for seamless integration into airborne tactical management systems as well as enhanced debrief and exploitation capabilities.
Beckner continued that Horizon Technologies is especially grateful for the strong support provided by the UK Government and in particular the Department of International Trade.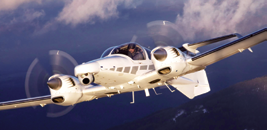 He added that the firm's business is growing faster than ever and is expanding into new areas, such as space with the firm's Amber SIGINT smallsat constellation bringing FlyingFish capabilities to customers as a data service starting in 2020.
The Horizon Technologies quality management system has been certified by the British Standards Institution (BSI) to EN 9100:2018.
www.horizontechnologies.eu
---
Collaboration between Curtiss-Wright and General Dynamics for EW situational awareness applications
Curtiss-Wright's Defense Solutions division is collaborating with General Dynamics Mission Systems to deliver open architecture artificial intelligence (AI) based Commercial-Off-The-Shelf (COTS) solutions for Signal Intelligence (SIGINT) and electronic warfare (EW) situational awareness applications.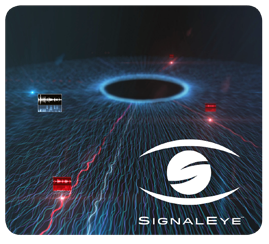 The combination of General Dynamics Mission Systems' SignalEye threat detection software and Curtiss-Wright's Intel® Xeon® D processor-based CHAMP-XD1 module (image below) provides system designers with a deployable COTS solution for RF spectrum situational awareness that automatically classifies signals through the use of machine learning.
The 3U OpenVPX™ CHAMP-XD1 is a rugged digital signal processor (DSP) engine module designed for use in computer-intensive defense, aerospace and applications.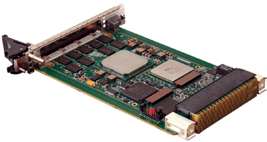 The technology enables developers of High Performance Embedded Computing (HPEC) systems to take full advantage of the unmatched performance of today's leading-edge Xeon D processor architecture.
The 3U VPX processor card is available in a range of ruggedized configurations to deliver optimal performance in the harshest deployed environments, including air-cooled and conduction cooled variants.
---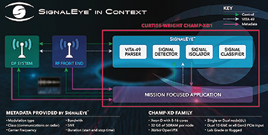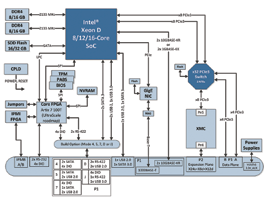 ---
General Dynamics SignalEye™ solution provides spectrum situational awareness by automating the classification of signals through the use of machine learning.
This electronic warfare software provides tactical warfighters and security personnel with a timely, accurate view of the threat in the
RF spectrum.
SignalEye is always on — learning and alerting you to the signals that threaten missions. With SignalEye, the user will know what is normal and what is a threat at the speed a mission requires.
"We are excited to collaborate with General Dynamics Mission Systems to bring the cutting-edge advantages of machine learning to deployed EW situational awareness applications," said Lynn Bamford, Senior Vice President and General Manager, Defense Solutions division. "Our supercomputing class CHAMP-XD1 module is an ideal processor for SignalEye software, easing and accelerating the delivery of RF threat detection to our warfighters."
"The evolving EW and SIGINT threat confronting warfighters today requires an integrated solution," said Bill Ross, Vice President, RF and Broadband Products at General Dynamics Mission Systems. "By combining our SignalEye machine learning software with Curtiss-Wright's CHAMP-XD1 processor, we can provide warfighters with a greater understanding of the RF threats on the battlefield."
---
Northrop Grumman completes rapid smallsat development demo in record time for DARPA
Northrop Grumman Corporation (NYSE: NOC) successfully demonstrated rapid spacecraft development for the Defense Advanced Research Project Agency (DARPA), with the Radio Frequency Risk Reduction Deployment Demonstration (R3D2), which launched on March 28, 2019.
Northrop Grumman led a unique team of commercial suppliers to deliver a 150 kg. smallsat from concept to orbit in 20 months. Traditional satellites of comparable complexity typically take many years to get to this stage.
The significantly accelerated timeline of R3D2 was enabled by DARPA's approach of reducing requirements, reviews, and deliverables, while accepting greater levels of risk than is typical for an operational system.
Northrop Grumman used innovative rapid-development processes and commercial suppliers to keep schedule and risk balanced.
The Northrop Grumman-led team, included Blue Canyon Technologies, provider of the spacecraft bus, and Trident Systems, who designed and built R3D2's software-defined radio. R3D2 was launched from the Mahia Peninsula in New Zealand by Rocket Lab.
Scott Stapp, VP, resiliency and rapid prototyping, said the company's team's success with the R3D2 program is a strong proof of concept that the rapid development of future space capabilities is possible.
He noted that Northrop Grumman looks forward to continuing to lead the cultural change necessary in the industry, by partnering with the U.S. government, commercial suppliers and startups to deliver prototypes and demonstrations for critical national security missions. Taking thoughtful risks and eliminating bureaucracy allowed us to streamline our processes to achieve rapid timelines.
www.northropgrumman.com
---
Department of Homeland Security awards contract to expand cyber-training platform
The Department of Homeland Security (DHS) Science and Technology Directorate (S&T) has awarded a total
of $5,900,000 to the Norwich University Applied Research Institutes (NUARI) to expand the Distributed Environment for Critical Infrastructure Decision-Making Exercises (DECIDE) cyber-training platform.
DECIDE was originally developed in tandem with and transitioned to the financial services sector; this new effort will build similar simulation-based scenarios and exercises specific to the energy sector.
DECIDE allows users to conduct collaborative, realistic, fully immersive, scenario-based exercises where the consequences of each participant's actions feed back into the exercise.
The exercises are designed to help trainees understand the systemic ramifications of their actions and improve communication during potential high-stress threat events.
S&T's cybersecurity mission is to enhance the security and resilience of the nation's critical information infrastructure and the internet by developing and delivering new technologies, tools, and techniques to defend against cyberattacks.
S&T conducts and supports technology transitions and leads and coordinates R&D among the R&D community, which includes DHS customers, government agencies, the private sector and international partners.
"DHS S&T is committed to investing in the security of our nation's critical infrastructure, and that includes ensuring that organizations are properly trained to recognize and respond to potential cyber threats," said William N. Bryan, Senior Official Performing the Duties of the Under Secretary for Science and Technology.
He added, "We are excited to soon make this proven platform available to even more of our private sector partners."
"Bringing players together in a safe, immersive environment where they can run through existing response tactics allows them to identify vulnerabilities and develop mitigation strategies prior to a real-life crisis," said Greg Wigton, S&T program manager.
He noted, "DECIDE offers organizations seeking to bolster their cyber strategies a low-risk, high-value tool, and we look forward to working with NUARI and our energy stakeholders to customize the technology to their unique needs."
https://www.dhs.gov/science-and-technology/decide
---
Orbit Communications has unveiled their new airborne terminal
Orbit Communication Systems Ltd. (TASE: ORBI) has unveiled their new MPT 87 Airborne Terminal.
This advanced, MIL-STD qualified terminal initially features a high gain 87 cm. (34-inch) hybrid, Ku-band antenna, with a Ka-band configuration in development.
The antenna will operate across the full Ku-band and can be easily switched in real-time between different operators and satellites.
The MPT 87 is the latest addition to the innovative MPT terminal family and is planned for initial service operation later this year.
Like all other MPT versions, the MPT 87 will be delivered fully integrated with RF and control electronics, and associated software.
The lightweight, small-footprint terminal couples high performance and reliability.
The MPT modular approach facilitates its adaptation to different aircraft and platforms.
This allows the antenna to address new opportunities and help grow emerging aeronautical communications markets.
Ben Weinberger, Orbit's CEO, noted that following the company's recent announcements of new maritime and airborne SATCOM terminals, developed in coordination with two of the largest satellite operators (SES and Inmarsat), this high-speed terminal fulfills key requirements for one of the leading defense segment customers.
Brian added that the underlying MPT architecture and engineering has allowed them to again expand and tailor their airborne terminal family in a timely and cost-effective manner.
orbit-cs-usa.com/
---
CopaSAT and Kymeta launch a new, flat panel satellite antenna
The disruptive SATCOM-On-The-Move (SOTM) solution delivered through CopaSAT and Kymeta Corporation partnership brings connectivity to commercial and military vehicles and vessels that have, until now, been cut off from such services.
The custom-engineered CopaSAT STORM delivers reliable tactical communications to small, fast-moving vehicles and vessels operating in remote, communications-severed and inhospitable environments.
The CopaSAT STORM is a mission-ready, ruggedized, fully-integrated, Ku-band flat-panel terminal that includes a Kymeta u7 antenna, iDirect 950mp satellite router and a 25 Watt block upconverter (BUC).
The CopaSAT STORM is a mission-ready, ruggedized, fully-integrated, Ku-band flat-panel terminal that includes a Kymeta u7 antenna, iDirect 950mp satellite router and a 25 Watt block upconverter (BUC). It is available in three different configurations including commercial, military and transportable. Advanced options are available that make it possible to add LTE capabilities, a WiFi access point, MANET radio, Newtec modem, as well as numerous mounting options for MRZRs, vehicle luggage racks and more.
Steve Carpenter, General Manager, CopaSAT, said there are so many places, vehicles and vessels where you can't use Commercial-Off-The-Self (COT) SATCOM solutions today. For example, MRZRs, 11meter, rigid, hull inflatable boats (RHIBs) and special operations craft. Legacy solutions don't fit and cannot track fast enough to remain connected with a satellite while the vehicle or vessel is moving at high speed. This has always been a challenge. The CopaSAT STORM addresses the challenge, making all of these applications possible for the first time. It truly redefines situation awareness.
Paul Mattear, VP of Business Development and Sales at Kymeta noted that the CopaSAT team has built an impressive solution that meets the mission critical situations its customers operate in. It is tremendously exciting to see Kymeta™ u7 satellite antenna technology being deployed in highly mobile environments to support data, voice and video across military and government applications that have never been connected before.
www.copasat.com
www.kymetacorp.com
---