The attack on Pearl Harbor in December of 1941 turned the world's eyes to the Pacific and began a new west-ward facing chapter in American history.
We often think of the Pacific as the gateway to East Asia: China, Japan, and the Koreas are the region's most formidable economic and military powers and it is not unthinkable that a hot war could take place in that theater in the future.
---

---
The Pacific is also, notably, a gateway to Russia via the Bering Strait and the Aleutian Islands further to the west. As relations with North Korea teeter, and Russia continues to engage in overt hostilities toward U.S. domestic affairs, there has been a notable increase in activity and, therefore, requirements for satellite communications in this region of the world.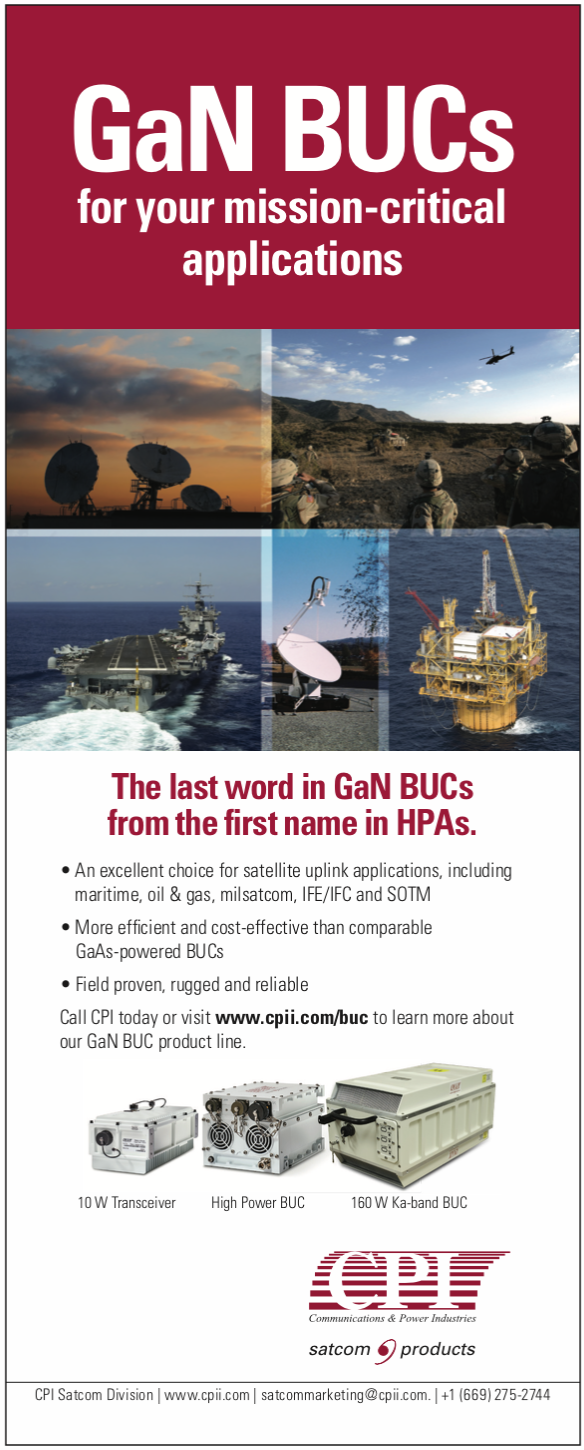 As the most pelagic region on Earth where humans regularly operate, the Asia-Pacific theater has been highly reliant on satellite communications since the technology's arrival. Its vast area, diverse climates, and relatively small population density limit the extent to which the terrestrial networks popping up elsewhere around the globe will be developed. Yet, multinational businesses, national defense and environmental agencies, commercial shipping conglomerates, and aviation communications customers exist all the same.
Without fiber optic network access in remote Pacific locations, users rely heavily on satellite communications to establish a digital connection between headquarters and remote end-points, boost operational efficiency, and improve employee safety and morale. This need increases demand for bandwidth in the Pacific, which is coupled with a renewed U.S. military focus on the region and has led to an increase in Lepton's activities in the area.
Since the company launched their first managed services in the Pacific using a Eutelsat Americas satellite in 2016, Lepton has increased capacity and customer usage fifteen-fold. Lepton customers in the Asia-Pacific region now enjoy broad coverage throughout the region on multiple satellites.
Today, Lepton manages Ku-band networks on Eutelsat 172 B (172 degrees East) and 70B Asia (70 degrees East), and new, managed networks will launch on E174 (174 degrees East) in Q2. The company provides Ka-band services through Inmarsat's GlobalXpress® offering.
Also added is networking infrastructure to a second teleport that covers the Pacific in order to offer redundant ground entry points. Among the chief infrastructure advancements is the establishment of a terrestrial Point of Presence at the secure, state-of-the-art CoreSite Data Center in Northern Virginia, which enables the firm to provide a "native" U.S. Internet experience to government and commercial customers from the Washington, D.C. area.
A Pacific Partnership
Lepton's long-standing partnership with Hawaii Pacific Teleport (HPT), located on the island of Oahu, continues to develop, with new satellite offerings and their expansion to Guam. HPT offers satellite and fiber-based communications, connecting the continental United States with the Pacific region. In selecting global teleports to host Lepton's network infrastructure, the company selected HPT for due to the teleport's robust fiber connections, a wide range of orbital visibility as well as access to the Pacific.
Since HPT's expansion to Pulantat, Guam, Lepton's satellite service offering extends even further west into the Pacific. The presence of an American, state-of-the-art teleport in the heart of the Pacific provides another landing station and access to additional satellite footprints not visible from Hawaii or the U.S. mainland. Lepton is already developing solutions for PACOM military customers with new requirements using HPT's Guam teleport.
As the company's network infrastructure grows, the ability to support the diverse (and interesting) requirements of Pacific region customers increases.
---


City of Utqiaġvik (Point Barrow), Alaska
---
Alaska and the Aleutians
With the lowest population density in the country, and perhaps the harshest weather conditions, Alaska has been the slowest of the 50 states to adopt state-wide fiber communications.
In addition to commercial land-based customers in the state's mainland, Lepton also supports government sites on both the continent and in the state's remotest reaches, the Aleutian Islands chain. Located up to 1,500 miles west of Anchorage, these islands are home to U.S. naval and U.S. Air Force (USAF) stations that date back to WWII.
In spite of the harsh environment of the extreme North and its isolated location, Lepton Global proved for one defense customer a wide beam geosynchronous satellite connection as far as 71 degrees North.
Point Barrow, Alaska
Environmental operations located in some of the most remote areas of Alaska, such as the City of Utqiaġvik, pictured above, provide the monitoring of various geological behaviors such as volcanic activity, ice characteristics and movement analysis, seafloor profiles, and long-term weather forecasts. The teams of scientists located in this region rely heavily on satellite communications to transfer their findings back to mainland headquarters. As missions can be short-term regional studies, or 24/7 year-round research, Lepton offers highly flexible service options.
Defense in the Pacific
Satellite communications also play a role in critical defense infrastructure to protect American shores from the west and across the Arctic.
SATCOM often serves as the only communications link for American military personnel on land and at sea in the region and also provides a transmission medium for seismic and missile sensors situated in-theater.
Defense communications requirements in the Pacific are vast and growing. Over the past 12 months, Lepton has supported military communications-based exercises on the JSAT 2B satellite, provided new communications links for increased service member presence at key islands in the Pacific, developed short-term service solutions with quick deploy terminals for sites only accessible during warmer months, and responded to several large government Requests for Information to bring hundreds of megabits per second (Mbps) to previously neglected military outposts.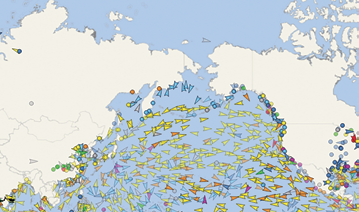 AIS ship tracking snapshot of marine traffic in the northern Pacific.
Credit: Vesselfinder.com.
In addition to the Defense agencies, the U.S. Coast Guard (USCG) plays an essential role in the Pacific with search and rescue missions, enforcement of maritime borders, and spearheading environmental protection studies. The USCG also participates in various missions in the Bering Sea alongside the International Maritime Organization partners, including Russia, Japan, and China1. All of these activities require robust satellite network support.
Lepton has provided services to the USCG since the 2017 disaster recovery missions in Texas, Florida, and the Caribbean, following hurricanes Harvey, Maria, and Irma. Today, the company also supports west coast-based units that deploy to the Pacific for emergency response support throughout the region.
Shipping and Science
In addition to military and defense activities, the Pacific is full of maritime vessels transporting cargo.
Key trade routes run from Shanghai, Singapore, and Hong Kong to the California coastline. In 2017, more than 284,000,000 metric tons of cargo were transported by ships to and from the Pacific ports2. In any given week, more than 100 cargo liner services operate routes across the Pacific Ocean from North America to Asia and Oceania3. Lepton's Ku-band networks support cargo ships roaming across the entirety of the Pacific Ocean and may support up to 80 vessels sailing in and out of the firm's networks in the region at any given time.
Lepton also supports organizations promoting scientific and humanitarian missions throughout Alaska and the Aleutians, on Wake Island and as distantly as Micronesia. These customers collect data in often unmanned remote locations or provide support in emergency response situations, and they all rely on satellite communications as a fundamental part of their mission.
Customer Support Mission
The global SATCOM market has increased in the Pacific Ocean area due to increased military activities and international collaborations, commerce, digital growth, and IoT expansion.
Connecting customers in this region often poses challenges, whether it be traveling to the remotest points of the ocean to install an antenna, or working across many time zones to provide technical support.
Lepton's goal is to provide every customer, regardless of the obstacles, with the highest quality network service and customer support possible. Lepton's team delivers the same award-winning level of support to all customers, from U.S. military users calling home to the scientific community providing critical research data.
To the company, every customer deserves to achieve their mission, share their discoveries with the world as well as stay in touch with their families and loved ones. Lepton is looking forward to the continued growth that 2019 will bring to the firm's networks and customers in the Pacific.
leptonglobal.com
References
1U.S. Center for Strategic & International Studies Maritime Futures and the Bering Strait Region November 29, 2017, 14:00-15:00
2U. S. Department of Transportation MARAD Maritime Administration Report U.S. Waterborne Foreign Container Trade by U.S. Customs Ports 2000-2017, "Container-Ports-2000-2017.xlsx"
3World Shipping Council Trade Routes
Ms. Promyshlyayeva has experience in B2B and B2G business environments. She previously worked for manufacturing and distribution companies and joined Lepton Global in early 2016.
---