In October, Thuraya Telecommunications Company—under the umbrella of the EMEA Satellite Operators Association (ESOA) and the Global VSAT Forum (GVF)—signed a Crisis Connectivity Charter in Geneva.

This Charter was signed with the global humanitarian community represented by the UN Office for Coordination of Humanitarian Affairs (OCHA) and the Emergency Telecommunications Cluster (ETC).
The agreement embodies a commitment from the satellite community to provide connectivity during the response to humanitarian crisis, and beyond. It formalizes terms and protocols designed to accelerate the ability of emergency response teams to access satellite-based communications at times of disaster in 20 high-risk countries identified by the ETC within Thuraya's coverage area.
This Charter takes Thuraya one step further towards educating and working with governments and NGOs to deliver secure, reliable, portable, easily deployable and user friendly solutions in the event of any disaster. As an end-to-end satellite-based response, the door is now opened for more coordination among satellite operators, government and humanitarian agencies. This charter will allow the humanitarian community to plan more effectively—refining and improving the NGO response to disasters.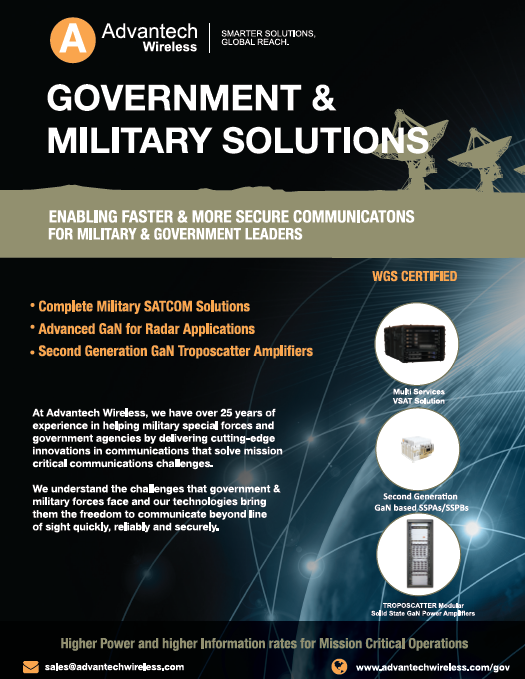 The intent at Thuraya is to create dependable solutions based on a deep understanding of military operations, Search and Rescue (SAR) requirements and the environment out in the field. It is critical for those deployed in remote and often dangerous locations to be able to make timely and informed decisions regarding operational capabilities, emergency management, situational awareness and SAR activities. The mission is, after all, to save and improve lives.
A well-known fact is that, during an environmental or manmade crisis, terrestrial networks become unreliable for a number of reasons, including broadband congestion or infrastructure destruction. In these situations, NGOs and governments frequently turn to MSS operators for the provisioning of what could be their only means of communicating with the outside world and for coordinating relief and appropriate responses. Satellite communication in these situations is more reliable. Thuraya is often the first deployed provider of communication services during such crises.
Developed in partnership with TrustComm, the Thuraya solution allows customers to benefit from a fully managed end-to-end service with a US demarcation point for all voice and data traffic. Thuraya's implementation of a five year investment program in the firm's well-configured network has enhanced all capability and redundancy features.
Starlight was built to improve performance and offers land or sea-based communication solutions and is shaped to add enhancements that specifically fit government and commercial users and offers guaranteed access to the network, thereby serving as a pivotal resource for users in remote locations.
Thuraya's commitment to support security operations, as well as SAR activities, is also highlighted in an end user portfolio of highly capable terminals (voice and data). These are portable, easily deployable, reliable and effective in meeting the requirements of disaster management responders, SAR agencies, military, NGO, and civil service sectors.
Similarly, the company's recent launch of the DigiMed solution bridges an information gap by allowing real-time teleconferencing to occur between doctors and patients at the scene of an emergency. This solution provides critical voice communications for relief teams, weather, and mapping services—all crucial elements for those working in disaster areas.
The introduction of High Throughput Satellites (HTS) has increased available capacity against legacy satellite systems. HTS has significantly helped to drive down costs for end-users and has enabled Thuraya to create services normally offered over terrestrial networks. Cutting edge products, such as the SatSleeve+ to enable iPhone and Android users to convert their smartphones into satellite phones in areas that don't have terrestrial cellular connectivity, have been introduced.
Technology bridges the digital divide and is often used as a route to improving education, health, economic status and security. In Guatemala, for example, mobile phones inform mothers as to how they may experience healthy pregnancies. In Kenya, women receive financial services via their mobile phones. In Nigeria, citizens use BudgIT, a mobile app, to assess whether governments are keeping to their spending promises. The link between relief and government sectors and the life-saving equipment developed for those working in these sectors must continue to serve those facing dangerous, life-threatening situations.
Government and relief users require technology that is simple and seamless and which can function in the dusty terrains of North Africa or in the rainy tropics of the Philippines. Such sectors rely on the commercial satellite industry to provide the best service at the best price, and we, as mobile satellite service operators, are duty-bound to deliver on this.
www.thuraya.com/
---
Thuraya deployed vital communication links in the Central African Republic to connect SOS Children's Villages and extended their outreach to foreign aid donors.
The Central African Republic (CAR) ranks 185th (out of 187) in the United Nations Human Development Index, which assesses health, education, standard of living, child welfare, and other factors. One of the world's poorest countries, the CAR is heavily dependent upon foreign aid.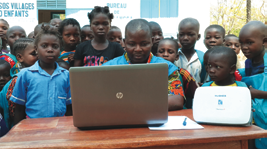 The country has more than 935,000 Internally Displaced People (IDP)—most are women and children. Food insecurity is rampant, access to water and sanitation is limited, and there is a high risk of diarrhea, typhoid, cholera and AIDS.
Nearly 50 percent of the population is younger than 14 years of age. The ongoing civil war has made conditions extremely unsafe for young people. More than 370,000 children are now orphans. The majority of them are kidnapped and forcibly recruited to fight for armed militias. In 2013, some 650,000 children were unable to attend school, due to the closure and occupation of schools by fighting groups.
Situation
SOS Children's Villages has been supporting and sheltering children in the CAR since the early 1990s. In a country deeply affected by child poverty, a high infant mortality rate and dysfunctional family structures due to AIDS and political strife, the work of SOS Children's Villages is of critical importance. In 2013, the group commenced emergency relief operations in the cities of Bangui, Bouar and Bossangoa. To date, their programs have covered the needs of more than 65,032 beneficiaries.
The SOS Children's Villages' activities currently involve health, nutrition, WASH (Water, Sanitation and Hygiene), education and the protection of women and children. The villages provide family based, alternative care to 258 orphans. There are two medical centers that deliver primary healthcare assistance to women, children and chronically ill patients.
The NGO has also established kindergartens and child friendly spaces, in addition to launching mobile education services to ensure children who are trapped in the violence can continue their education. Their volunteers work directly with families and communities to effectively protect and care for their children. More than 1424 parents and children benefit from these programs.
The SOS teams operate within troubled regions where the ICT (Information Communications Technology) is weak. Even the slightest delay in the delivery of emergency services could spell disaster for thousands of children and parents for whom SOS is the only lifeline. In such an unstable environment, SOS Children's Villages needed a reliable communications network to coordinate and survey relief operations and logistics as well as monitor the whereabouts of their field workers. In addition, they also need a steady communications channel to reach out to foreign donors to create ongoing awareness regarding their humanitarian work.
Solution
SOS Children's Villages represented by its Gulf Area Office approached Thuraya to deliver satellite connectivity to their villages. Thuraya donated a number of Public Calling Office (PCO) units, SatSleeve satellite adapters and IP satellite broadband terminals. The PCOs deliver voice, fax, data and SMS services in remote locations that are beyond the coverage of terrestrial GSM networks. The SatSleeves are combined with iPhones and Android smartphones to make calls in satellite mode when local telecom networks fail. The IP mobile satellite terminals can be deployed anywhere within Thuraya's coverage area for Internet connectivity.
"Thuraya equipment facilitates communication between all of our sites at any time, especially where Internet service by local operators is impossible," said Julie Begbia, National ICT Coordinator at SOS Children's Villages CAR.
Results
Thuraya has enabled daily coordination among SOS Children's Villages and other relief organizations in the CAR.
"We now have safety and autonomy everywhere when we are on the ground, even where cellular networks do not work," said Elie Koyela Ngnindou, Family Strengthening Program Coordinator and focal point of Emergency Response Program for SOS Children's Villages in Bossangoa.
Thuraya IP terminals are regularly used to share pictures of damages sustained during attacks by armed guerrillas. They also dispatch documents and reports to international funding partners to raise appeals for emergency relief; and they create awareness about SOS Children's Village activities, infrastructure and communities.
Thuraya SatSleeves and PCOs have united families and brought communities closer. They have also expedited emergency response, connecting people in times of emergencies and distress, when communications is needed most, to help save lives.
Nicole Nasser, Gulf Area Office Managing Director for SOS Children's Villages appreciates the contribution. "We thank Thuraya for their generous donation as we nurture the children and families in these remote communities. Thuraya's satellite equipment and services will benefit our teams providing vital care in terms of education, development and community building. We are also coordinating efforts between the communities to ensure they are prepared for any emergencies. Every bit of support we receive will enable us to build sustainable communities for the future."
---