Cobham and Inmarsat launch their helicopter SATCOM solution
Cobham Aerospace Communications and Inmarsat have launched their SB-Helo X-Stream™ helicopter SATCOM solution for Cobham AVIATOR SP systems — the new system will improve communications through rotor blades by reducing packet loss by as much as 40 percent.

Few solutions exist in the market to transmit data such as video imagery to a satellite network in the same way as is possible from fixed wing aircraft. This is due to the interference caused by the rotors, which leads to intermittent, jittery data streams and distorted video at the receiving station.
After extensive testing, Inmarsat and Cobham have developed a protocol in network Quality of Service (QoS) selection, as an enhancement of the Swiftbroadband X-Stream™ service.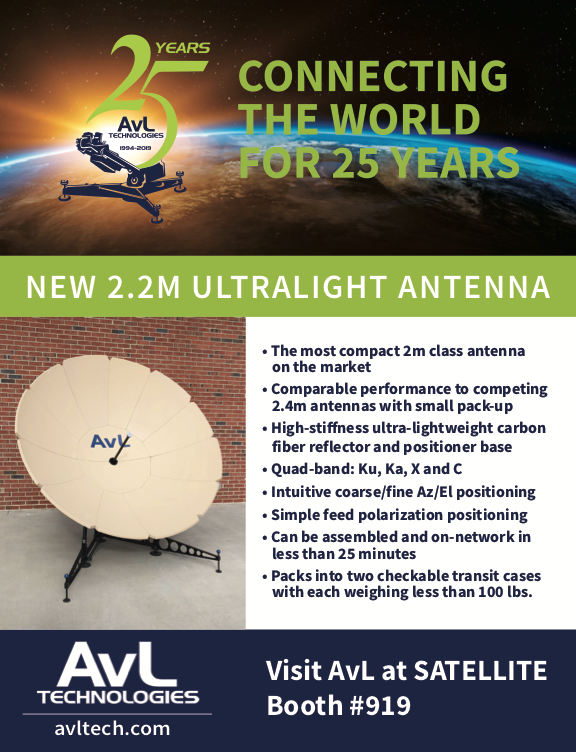 This is one of Inmarsat's streaming services that offers guaranteed, on-demand, high-streaming data rates over its L-band network.
This allows data from rotary wing aircraft to be transmitted to the Inmarsat satellite network, via dedicated modulation schemes. The increased resilience of the data pipeline passing through the rotors means that the transmission of high intensity data, like video, will see an improvement in throughput of around 37 percent.
The free of charge software update will allow a helicopter operating from a remote location to transmit a significantly improved video or
data stream.
This capability is crucial for organizations operating rotary wing aircraft in specialized roles such as search and rescue, medical evacuation and military forces.
Todd McDonell, President of Global Government at Inmarsat, said the company is happy to announce the availability of the SB-Helo X-Stream, an enhancement of the Inmarsat X-Stream service that meets the needs of this growing sector of the government market in an efficient and cost-effective way.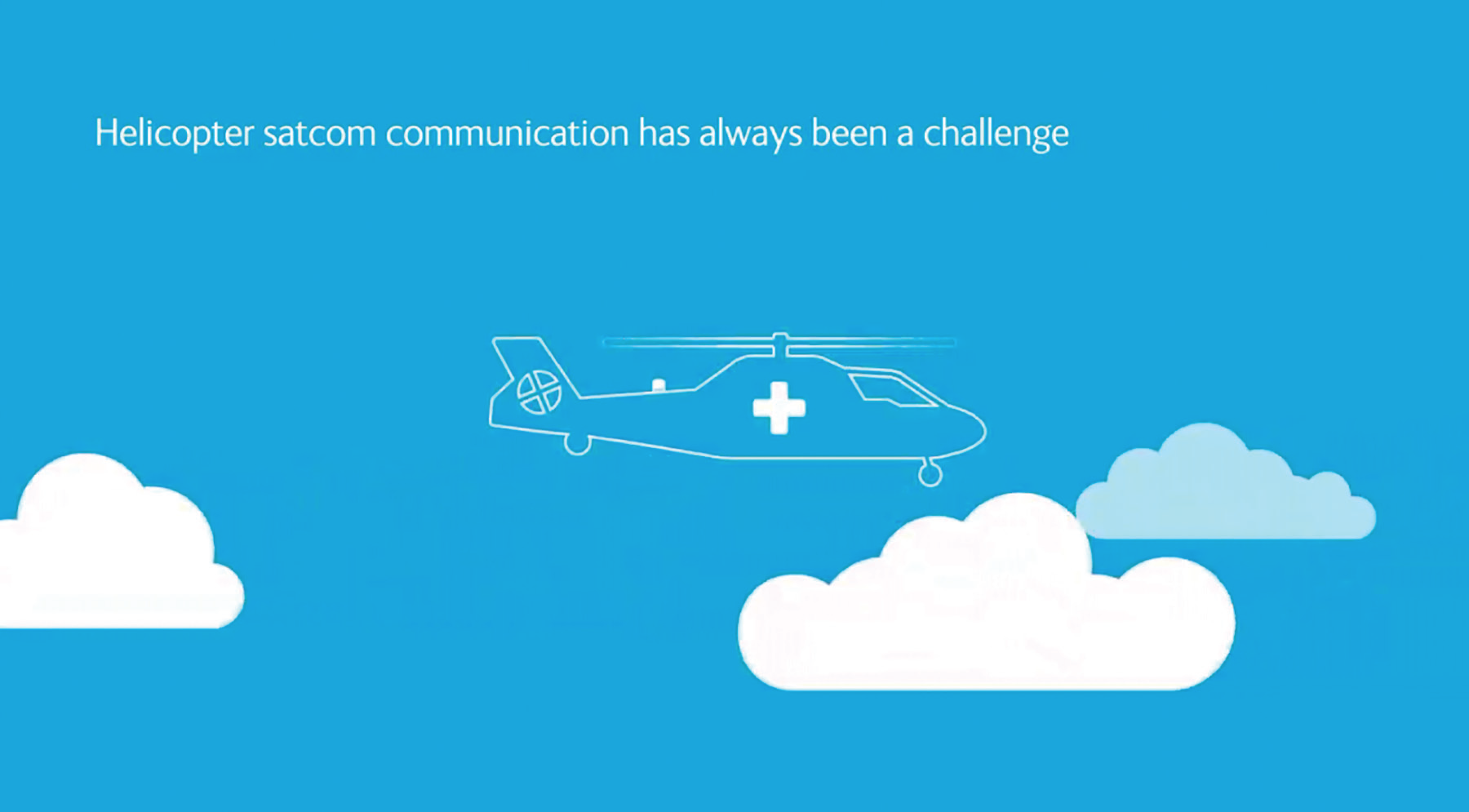 A Cobham product video is available at
www.youtube.com/watch?v=tqCG0kiGFL0&feature=youtu.be
McDonnell continued that having worked with Cobham in the development of this new protocol, Inmarsat is pleased with the results the company has seen from the trials and foresee that this cost-effective solution will be greatly sought after in the growing government helo market.
Willem Kasselman, VP Sales, Marketing and Support at Cobham Aerospace Communications, added that the launch of this new system represents a breakthrough for Cobham, solving a long-standing problem in helicopter SATCOM communications. The partnership between Cobham Aerospace Communications and Inmarsat is an important one for us and we look forward to building on this announcement and expanding and improving other related services over the coming months.
www.cobham.com/
www.inmarsat.com/service-collection/swiftbroadband/
---
Maiden flight of Kratos' new UAV a success
Kratos Defense & Security Solutions, Inc. (NASDAQ:KTOS) has completed the maiden flight of the company's XQ-58A Valkyrie unmanned air vehicle (UAV).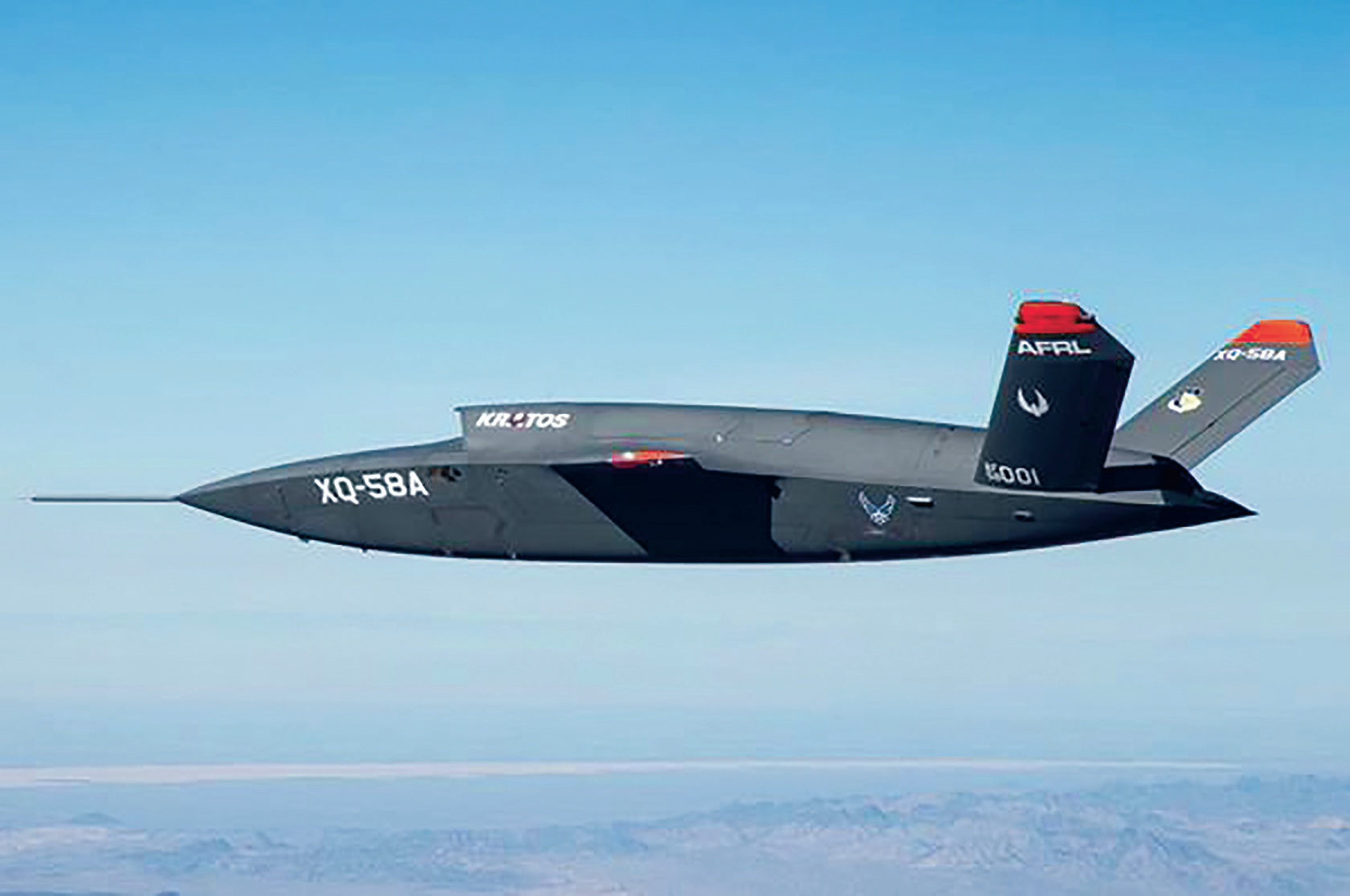 This milestone flight occurred on March 5, 2019, at the Yuma Proving Grounds in Arizona — the U.S. Air Force Research Laboratory (AFRL) partnered on the development of the XQ-58A Valkyrie.
The XQ-58A demonstrator is a low-cost UAV.
During this first flight, the vehicle completed all test objectives during a 76 minute mission.
The Valkyrie is a runway independent UAV capable of long-range flights at high-subsonic speeds.
The joint effort falls within the AFRL's Low Cost Attritable Aircraft Technology (LCAAT) portfolio,
which has the objective to break the escalating cost trajectory of tactically relevant aircraft.
www.kratosdefense.com
www.wpafb.af.mil/afrl/
---
The build is on for Northrop Grumman's OmegA rocket
In a small Mississippi town, a group of scientists and engineers recently gathered to discuss their next project: building large aerospace composite structures for Northrop Grumman's new OmegA rocket, which is being designed to launch the U.S. Air Force's most critical spacecraft for U.S. national security missions.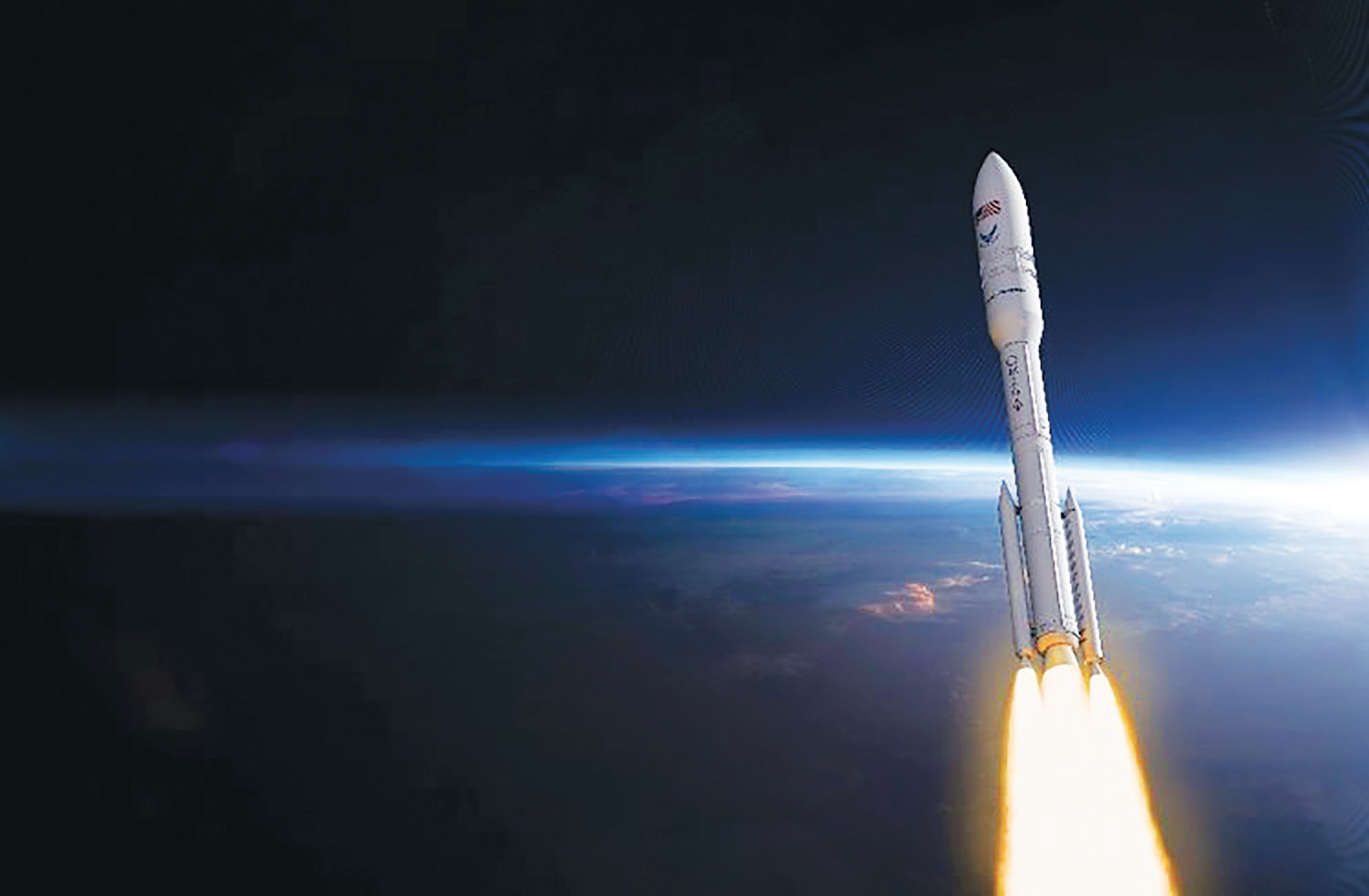 OmegA will be Northrop Grumman's first heavylift
rocket, adding to the company's current lineup of
small- and medium-class vehicles. This artistic
rendition is courtesy of the company.
The kick-off meeting took place in Iuka, Mississippi, home to Northrop Grumman's large-scale composite rocket structure manufacturing facility where the company is building components up to 18 feet in diameter for the rocket. These include the nose cone, connecting sections between the rocket stages and other large composite structures for OmegA.
The Iuka facility has a rich 20-year history of manufacturing composite rocket structures for Northrop Grumman's Antares and Pegasus rockets, as well as United Launch Alliance's Delta IV and Atlas V vehicles. Iuka employees have manufactured more than 630 structures, including 432 that have successfully flown to space. The remaining structures are scheduled for upcoming Atlas V, Delta IV and Antares launches.
Composite structures are extremely important in rockets and are the unsung heroes to the space industry. This innovative technology provides components that are strong enough to withstand the Max-Q dynamic forces during a launch as the vehicle fights against the physics of gravity and aerodynamic loads that happen as the rocket is leaving the Earth's atmosphere, all while weighing considerably less than their metal counterparts.
When launching a rocket, the total weight of the launch vehicle significantly impacts how much the rocket can carry into space. The lighter the rocket, the more performance capability it has to carry critical payloads into space.
Northrop Grumman is building OmegA in partnership with the U.S. Air Force through a shared cost program that enables the government to gain the best value in a new rocket. The team building OmegA includes rocket scientists, engineers and technicians who, on average, develop a new rocket every year.

Northrop Grumman's Iuka facility employs more than
170 engineers, technicians and other personnel.
With more than 770 launches in the company's profile – including space and satellite launches, targets, interceptors, hypersonic and suborbital rockets —– this team is a proven resource for the Department of Defense (DoD).
Outside of the work being performed in Iuka, this all-American rocket is being produced completely on American soil. The program is based out of Northrop Grumman's Chandler, Arizona, facility, where the company manufactures the rocket's thermal protection, flight systems and avionics. Northrop Grumman builds the first and second stage motors in Promontory, Utah, and the strap on boosters in Magna, Utah.
The cryostage manufacturing is taking place in Michoud, Louisiana, and Aerojet Rocketdyne's West Palm, Florida, facility supplies the upper-stage RL-10 engine. OmegA's launch operations will take place from Kennedy Space Center in Florida, and Vandenberg Air Force Base in California.
The OmegA team is currently preparing for a ground test of the first stage motor this spring, followed by a ground test of the second stage in the fall. The rocket's first mission remains on track for launch in 2021.
Rick Straka, VP, aerospace structures, Northrop Grumman, said using the company's expert team and innovative, flight-proven technology, the Iuka facility has more than 20 years of experience manufacturing large launch vehicle structures. The company is excited to build on that heritage with the addition of OmegA composite structures to the firm's product line here in Mississippi. He added that for many, designing and building complex rockets is a once-in-a-career activity. For the company's team and customers, it is what the firm does all the time.
www.ngc.com
---
DARPA revamps SBIR/STTR programs
Small Business Innovation Research and Small Business Technology Transfer (SBIR/STTR) are the principal set-aside programs for small business participation in federal research and development funding, yet the requirements for administering and managing these programs have not changed significantly in decades.
To keep pace with discovery in science and technology worldwide, DARPA now intends to release SBIR/STTR opportunities on an out-of-cycle basis, separate from the three pre-determined announcements traditionally issued directly through the Department of Defense (DoD). The change is expected to reduce the overall time from opportunity announcement to contract award.
Prior to the change, the timeline for SBIR/STTR funding opportunities was managed independently of DARPA's primary technology programs, which resulted in small businesses being isolated from the benefits associated with integration into established program communities. Under the terms of the pilot program, however, DARPA will institute timesaving measures to speed program integration, such as Direct to Phase II authority, which allows the agency to bypass Phase I research requirements once performers provide satisfactory documentation of feasibility, and/or proof of scientific merit, technical merit, and commercialization potential.
DARPA will also seek to identify SBIR/STTR Phase II awardees with a compelling go-to-market strategy for participation in a newly created commercialization accelerator. The DARPA accelerator will provide additional funding to employ one entrepreneur-in-residence or business development lead who will offer the awardee direct support for activities including, but not limited to, customer engagement planning, market analysis and mapping, competitive analysis, techno-economic analysis, IP securement strategy development, and financial plan creation.
"It's essential to change our acquisition practices to mirror the commercial marketplace if we hope to attract revolutionary companies that normally avoid working with the federal government," said Dr. Steven Walker, director of DARPA. "This move will provide DARPA the flexibility to operate at a much faster pace than traditional SBIR/STTR contracting cycles have historically allowed."
Congress established the Small Business Innovation Research (SBIR) Program in 1982 to provide opportunities for small businesses to participate in federal government-sponsored research and development. Since that time, DARPA has leveraged SBIR awards to promote and sustain small business innovation as well as foster the development and transition of critical national security capabilities.
www.darpa.mil/work-with-us/for-small-businesses
---
Viasat improves global connectivity for military aircraft
Until recently, the U.S. Department of Defense lacked the ability to adapt and adjust to new mission demands requiring broadband satellite communications (SATCOM) while in-flight.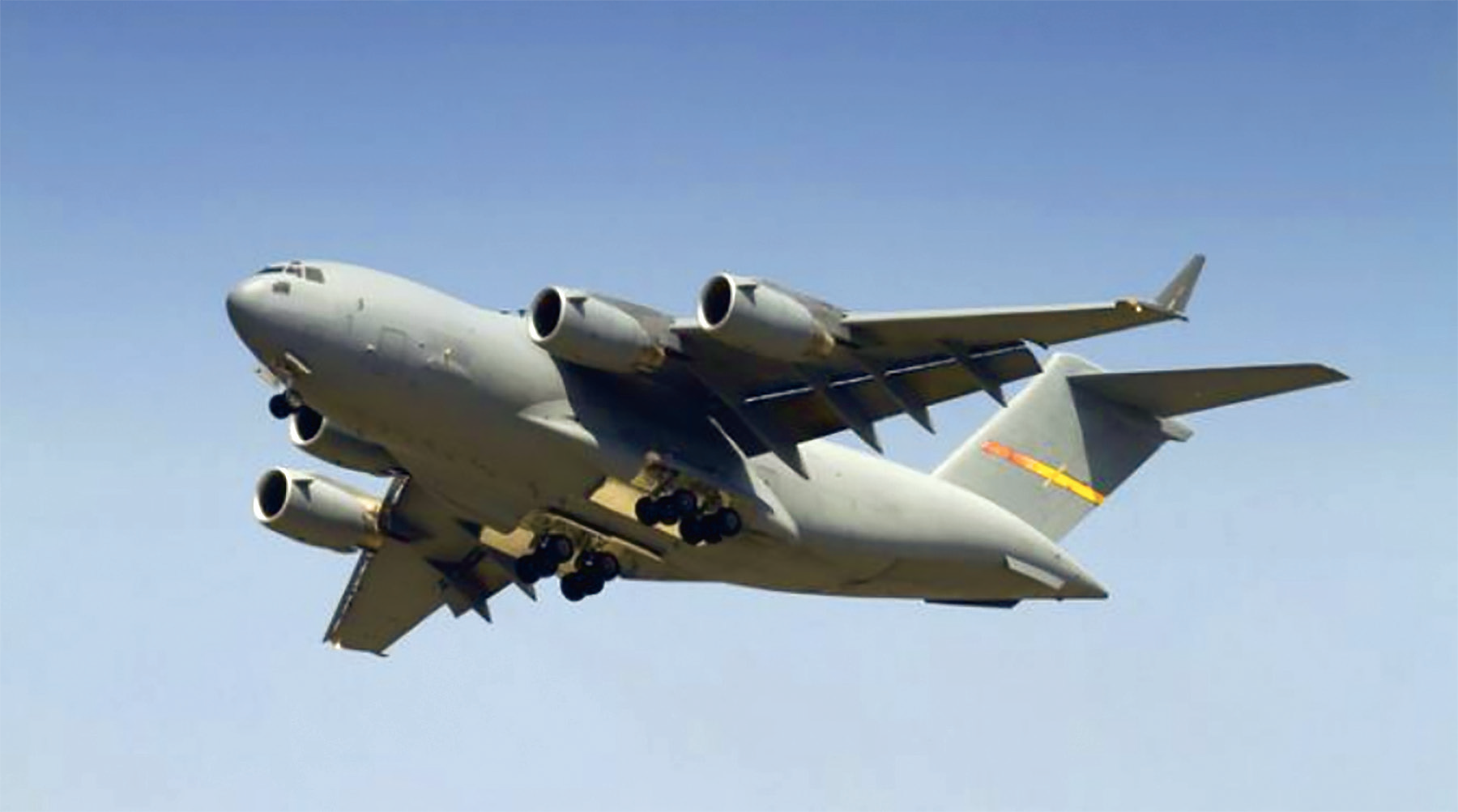 Military aircraft like the C-17 Globemaster benefit from
Viasat's KuKarray terminal, which allows nearly ubiquitous
connectivity across different satellite networks.
With information and service capabilities changing frequently during the course of a conflict, it's critical warfighters and military leaders have the ability to securely communicate, access HD video streams and transmit vast amounts of data while in transit.
Viasat answered the defense market's need for flexible, robust, and resilient Beyond Line of Sight (BLOS) communications.
On a cold November 2018 afternoon at Viasat's Fort Bragg, N.C. office, the company's second-generation KuKarray (KuKa2) terminal became the first of its kind SATCOM terminal to successfully demonstrate something unique: the ability to access and operate over multiple, commercial SATCOM services on a variety of geostationary (GEO) and medium earth orbit (MEO) satellite networks.
The KuKa2 terminal also demonstrated operations on two separate steerable beam SATCOM networks, one operating in MIL-Ka and the other in Non-Geostationary Ka-band. Data rates of 90 Mbps to the terminal and 40 Mbps from the terminal were achieved on both networks.
In the demo room — filled with military warfighters and government representatives — members of Viasat's Government Systems leadership team demonstrated the KuKa2 terminal is the only solution currently capable of providing wide-body aircraft, including the C-17 platform, with the near ubiquitous, secure, resilient and high-speed broadband SATCOM services military personnel need for en route mission planning; in-flight communications; senior leader and VIP communications; airborne command and control (C2); and cloud-based data transfers across multiple satellite networks.
In discussions with U.S. Combatant Commanders, they've asked for assured, resilient and protected BLOS communications that preserve the U.S. C2 advantage and deliver improved performance, added resiliency, and solutions that will optimize existing assets to adapt to emerging threats. By delivering access to multiple satellite networks, Viasat's KuKa2 terminal meets the requests of the company's government customers today and also provides the capabilities needed to prepare for the missions of tomorrow.
The KuKa2 terminal builds on the performance of Viasat's first-generation KuKarray terminal, which has proven to be enormously successful across commercial and government markets.
"We hear from a number of senior leaders across branches of the military that high-performance in-flight broadband connectivity is now critical for operations that require warfighters to adjust to situations in near real-time in order to make accurate decisions in a timely and decisive manner," said Ken Peterman, Viasat's president of Government Systems. "The KuKa2 terminal exemplifies our ability to deliver global in-flight technology solutions that will provide access to a range of advanced capabilities required for critical missions, such as real-time HD video feeds and active cyber defense applications."
Specific to government users, Viasat's KuKa2 terminal is capable of providing worldwide broadband satellite access through Viasat's Hybrid Adaptive Network (HAN) architecture concept.
Viasat's HAN allows users to operate across commercial and government purpose-built SATCOM networks, creating an end-to-end, networked solution that mitigates congestion, intentional and unintentional interference and cyber threats through the implementation of multi-layered resiliency in highly contested environments.
Matt LeTourneau, business area director of Viasat's communications, command and control global broadband solutions added, "By providing wide-body aircraft, including the C-17 military transport platform, with the ability to access near-ubiquitous, resilient and secure in-flight connectivity across GEO and MEO satellite networks, our KuKa2 terminal will significantly enhance mission capabilities, save lives and provide the means necessary to maintain the tactical edge required to succeed across today's data-driven battlespace.
"While others in the industry may claim to deliver similar capabilities, Viasat's KuKa2 terminal is the only mobility product of its kind on the market today that has been fielded and operationally proven to meet the global in-flight broadband connectivity demands of U.S. government customers," LeTourneau said.
The KuKa2 terminal has completed the Federal Aviation Administration D0-160G certification process as well as the extremely rigorous U.S. Air Force Materiel Command C-17 Modified Airworthiness Certification Criteria and is also designed to meet the U.S. Army Forces Strategic Command Wideband Global SATCOM Mil-Ka and other satellite vendor certification requirements to provide access to future high-capacity satellites.
www.viasat.com
---
National Security Space Launch program established by USAF
The U.S. Air Force Space and Missile Systems Center's (SMC) Launch Enterprise Systems Directorate Evolved Expendable Launch Vehicle program name has been officially changed to the National Security Space Launch (NSSL) program.
The 2019 National Defense Authorization Act (NDAA) directed the name change from EELV to NSSL effective March 1, to reflect consideration of both reusable and expendable launch vehicles future solicitations.
In 1994, the NDAA directed the Department of Defense (DoD) to develop a modernization plan for space launch capabilities. In response, the Air Force initiated the Space Launch Modernization Plan, also known as the Moorman Study, that identified options and cost for the future of space launch.
On August 5, 1994, President Clinton signed a National Space Transportation Policy as a partial response to assigning responsibility for expendable launch vehicles to the DoD.
The final result was SMC's EELV program to develop a family of launch vehicles for medium t
heavy payloads. The NSSL program is designed to continue to procure affordable National Security Space launch services, maintain assured access to space and ensure mission success with viable domestic launch service providers.
---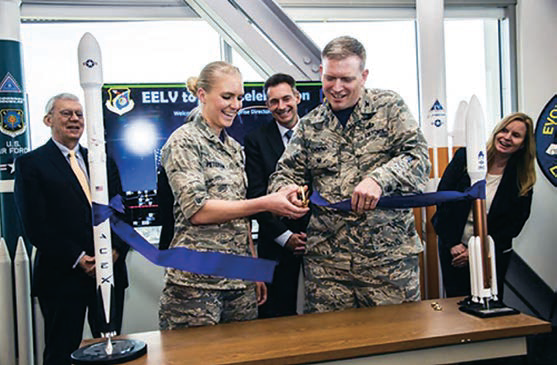 Colonel Robert P. Bongiovi, director of the Space and Missile
Systems Center's Launch Enterprise Systems Directorate, is
joined by 2nd Lt. Lauren Peterson, youngest officer in the
directorate, to mark the creation of the Evolved Expendable
Launch Vehicle Program Heritage Center during a ribbon
cutting ceremony. Observing from left to right are retired Air
Force Col. Richard W. McKinney (1st EELV Program Director),
retired Maj. Gen. Susan K. Mashiko (3rd EELV Program
Director, partially obscured), retired Col. Gary N. Henry
(7th EELV Program Director) and Dr. Claire Leon (9th EELV
Program Director). The EELV program has been replaced by
the National Security Space Launch Program, after a name
changing ceremony held March 1 at Los Angeles Air Force Base
in El Segundo, California.
Photo is courtesy of the U.S. Air Force — Van De Ha.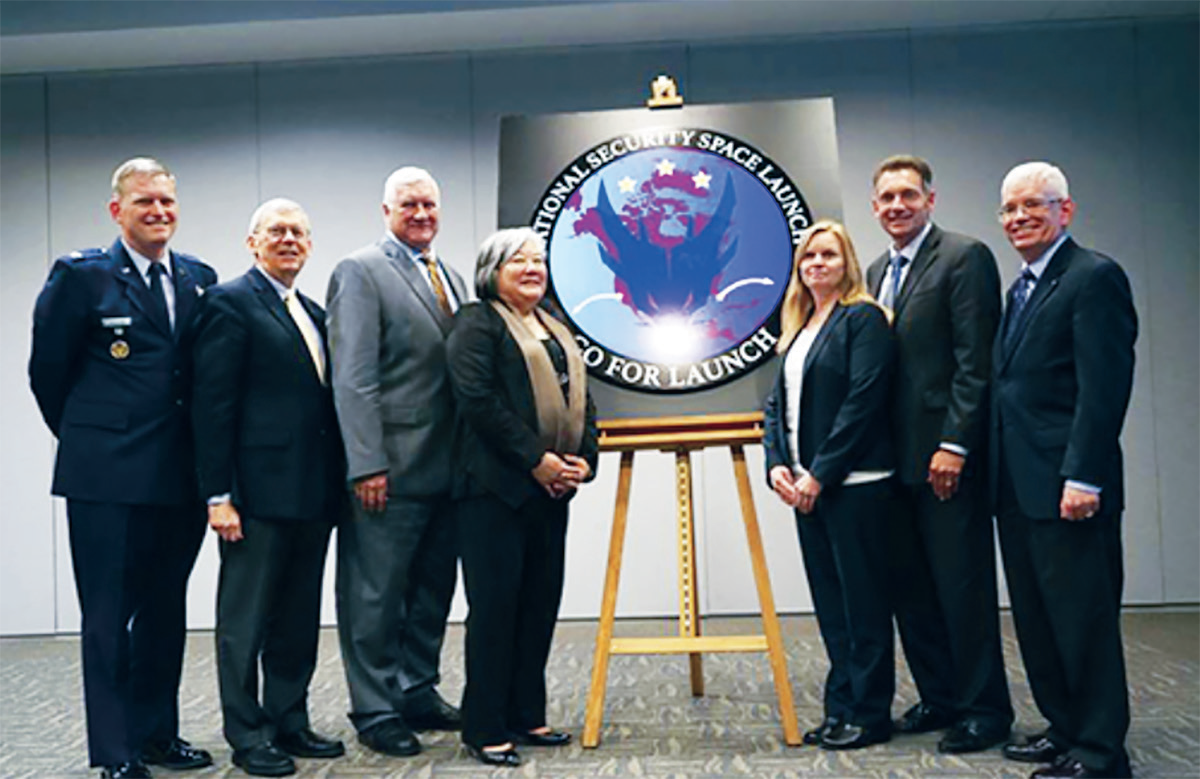 Col. Robert P. Bongiovi, director of the Space and Missile
Systems Center's Launch Enterprise Systems Directorate, is
joined by past Evolved Expendable Launch Vehicle program
managers and directors after unveiling the new logo of the
National Security Space Launch program. The NSSL program
replaces the EELV program after a name changing ceremony
held March 1 at Los Angeles Air Force Base in El Segundo,
California to honor the past, celebrate the present and embrace
the future.
Photo is courtesy of the U.S. Air Force photo — Van De Ha.
---
The program is driven to provide launch flexibility that meets warfighter needs while leveraging the robust U.S. commercial launch industry, which has grown significantly during the past five to seven years.
Colonel Bongiovi said that as the NSSL program embarks on a new chapter making launch services more agile and effective for the warfighter, it honors more than 25 years of EELV history — the program boasts a remarkable legacy of the successful launches of 75 National Security Space missions, placing more than $50 billion of space warfighting assets on orbit.
He added that as NSSL commences, it is focused steadfastly on the future as this is one of the most critical times in the national security space history. The program is committed to 100 percent mission success and providing the most innovative, flexible, and affordable services to meet National Security Space mission needs and maintain U.S. dominance in space.
Air Force Space Command's Space and Missile Systems Center, located at the Los Angeles Air Force Base in El Segundo, California, is the U.S. Air Force's center of excellence for acquiring and developing military space systems.
SMC's portfolio includes the global positioning systems, military satellite communications, defense meteorological satellites, space launch and range systems, satellite control networks, space based infrared systems, space situational awareness capabilities, and space superiority.
---
DISA preparing warfighters for future, multi-domain conflicts​
As stated by U.S. Navy Vice Admiral Nancy A. Norton, the director of the Defense Information Systems Agency (DISA), the agency needs to "set the globe."
"Setting the globe" means anticipating warfighters' future needs and approaching the agency's combat support mission with global mindset instead of a theater-specific strategy. This planning method aligns with the joint force readiness requirements laid out in the 2018 National Defense Strategy (NDS) and the DoD Cyber Strategy, said Norton.
During the past 18 months, DISA's Operations Center has led an agency-wide effort to examine DISA's ability to support the warfighter against a near-peer competitor in an all-domain, trans-regional fight, said DISA's chief of plans, Army Lieutenant Colonel Blair Sawyer. Sawyer said DISA is currently involved in four major planning efforts supporting two combatant commands and said the agency has largely provided analysis and products to support the new globally integrated campaign and contingency planning concept directed by the Chairman of the Joint Chiefs of Staff.
This new planning concept helps integrate the joint force for engagement with long-term strategic competitors, principally China and Russia — as well as other competitors, such as North Korea, Iran, and violent extremist organizations. It also defines proposed tactics to fight and win global conflicts in the future. Developing these plans requires a holistic and integrated review process designed to improve unity of effort and mission assurance, while shifting the focus of planning from theater-specific to a global problem-focused approach, said Sawyer. He then commented that transitioning to this proactive thought process is especially important in today's environment.
Continuously advancing technologies have signaled a paradigm shift in how battles and future wars are fought and won — the agency must shift with them.
Sawyer noted that DISA primarily builds its customers' peacetime capabilities for day-to-day command and control. The agency's mission now is to go to those customers and ask, 'What will you need in regard to these capabilities in a wartime environment?' For example, if a command processes 400,000 emails worth of data each day across the theater in peacetime, then this requirement will drastically increase in a wartime environment.
DISA is linking the business development side of DISA to the planning side, said Phil La Perla, civilian deputy of the cyber operations directorate., adding that bringing all the planners together in a joint planning group gives everyone a common operational picture and situational awareness for warfighter requirements.
disa.mil/
---