One of the most widely appreciated analysis firms with a 20-year track record is Futron. The Company provides premier Decision Management Solutions and products to a variety of complex technology industries. Futron offers architectures and solutions that transform data into valuable intelligence for informed decisions, to substantially improve judgments in business, program, and project management and engineering. We thank Futron for allowing us to reprint one of the most critical segments of their recently published 2009 Space Competitiveness Index (SCI) — Global Military Space. Again, this is but one single index within their exhaustive report.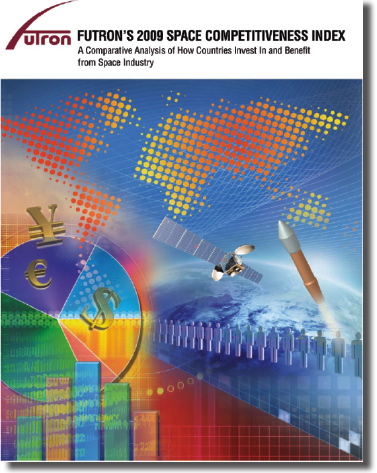 This year's report greatly expands upon their landmark and inaugural 2008 study and examines, in greater depth, 10 nations currently leading in space and space-related activity: Brazil, Canada, China, Europe (considered as a single entity), India, Israel, Japan, Russia, South Korea, and the United States. Futron's 2009 Space Competitiveness Index evaluates these nations across 50 individual metrics that represent the underlying economic determinants of space competitiveness in three major dimensions: government, human capital, and industry.
GLOBAL MILITARY SPACE
Militaries and intelligence forces fully realize the value of space capability and consequently, invest significant resources in developing and utilizing space-based assets. The clearest validation of its importance is the sheer number of military or dual-use satellites — 232 out of a total 903 satellites at the end of 2008. Investment in military space also drives innovation, research and development of new space technology. As a case in point, the procurement by the U.S. military of so-called communications on the move (COTM) products and services has resulted in technological innovation that is now migrating into civilian and commercial applications. Protecting these technologies via export controls has evolved into a controversial tug-of-war between the need to project technological advantage and the need for continued R&D and the generation of product sales. Just as the debate of U.S. export controls heats up, Israel, a leading exporter of defense and space products, has introduced new export regime.
For many countries, spending on military space outpaces investment in civilian and commercial activities; in other segments such as launch, PNT and Earth observation, platforms are dual-use in nature. Since military space spending continues to constitute a significant portion of space investment, organizational resources, and governmental focus, the purpose of the Global Military Space Competitiveness Index is to understand and quantify the relative position of military activities of leading space powers.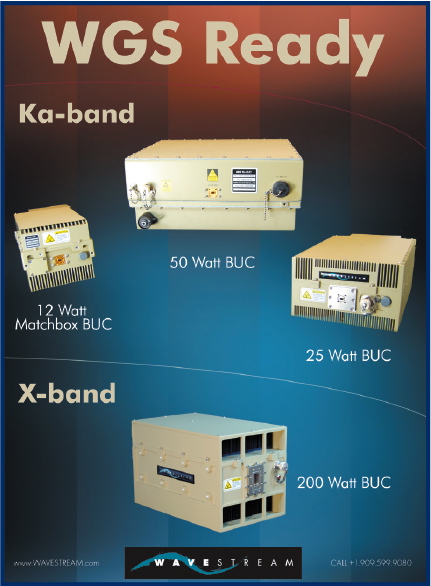 Military programs and assets provide distinct force-multiplying capabilities to armed forces, and, consequently, military organizations worldwide have steadily increased reliance on space assets for communications, surveillance, and tracking. This increased usage can create asymmetric threats whereby a weaker power or near-peer could exploit the space dependence of its stronger adversary as a force equalizer.
Given the importance of military space, understanding the relative positioning of a country's military space program — from strategy and doctrine to spending, technology, and assets — is a critcal component to understanding a country's relative space competitiveness overall.
The interaction between the military space sector and its civilian and commercial counterparts is multifaceted and varies from country to country. In addition to its pure national security benefits, military space can also facilitate development of the commercial and civil space sectors both directly and indirectly.
Military space investment can also yield advantages in other areas of national space competitiveness, including advanced technology development and the creation of spin-off industries such as GPS and imagery services. Increasingly, militaries and intelligence forces seek partnerships and collaboration — both domestically across government agencies as well as via international joint assets, interoperability, and sharing information outputs. This trend in military doctrine supports the broader belief that space must be recognized as and treated as a shared resource,
e.g.
, a global commons. The growing issue of space debris, as highlighted by the first-ever collision of satellites in early 2009, now poses a strategic military threat. As a result, governments will seek to identify a solution that spans military, civilian and commercials users. Related, is the need for enhanced space situational awareness. When combined with tighter militaries could offset costs and optimize military space capability through increased reliance on international relationships and more partnering with friends and allies.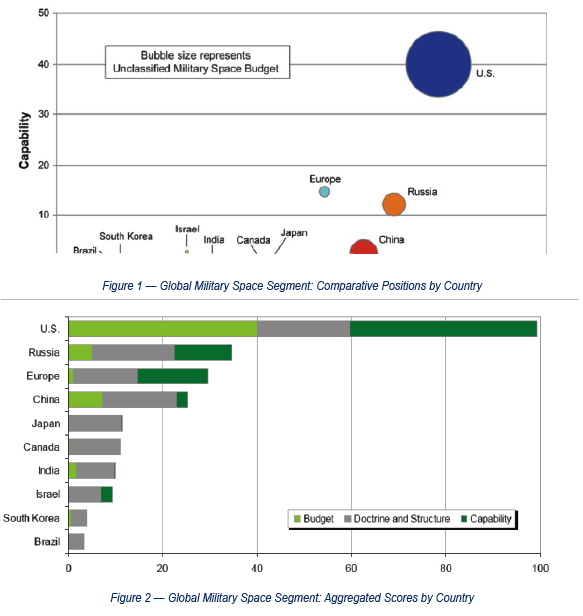 Military space has recently received renewed attention. The prospect of anti-satellite weapons has moved to the forefront since China (in early 2007) and the United States (in early 2008) deployed missile technology to destroy satellites. These activities, considered alongside the unprecedented use of space to support war fighting by the U.S.-led coalition in Iraq and Afghanistan, have caused officials the world over to take notice. Meanwhile, countries in all regions continue to fund and develop systems to boost their own ability to compete in the global military space segment. Using a combination of quantitative and qualitative assessments, this section of Futron's 2009 Space Competitiveness Index provides a focused analysis of the comparative positions of the 10 leading space participant nations in the global military space segment. The analysis identifies the current key trends underlying military space competitiveness as follows:
The U.S. leadership in military space remains significant based on a significant head start, large budgets, organizational capacity, asset base and capability
U.S. military space leadership position will likely be reduced as near-peer challengers Russia and China continue to commit increased resources for military space
The U.S. could offset the gains of near-peer rivals by developing and deepening military relationships with friendly governments and allies, particularly with Europe, Japan and India
Passage of Japan's new space law, when combined with North Korean ballistic activity will result in increase focused on military space
Europe has codified a coordinated military defense regime, which in the near-term could result in increased collaboration through and with NATO
India has procured new military space assets from Israel and, continues to institutionalize military space doctrine and command structure
Israel has emerged as the leading provider of Indian military space technology (and indeed a variety of military technology exports)
To reduce vulnerability from anti-satellite weapons, blinding, and orbital debris, there will be near term development and procurement of technologies related to space situational awareness, "hardening" technology, and directed energy weapons
Other "winning" military space technologies include COTM, Earth observation for intelligence and counter-terrorism, and the integration such as sensor networks and unmanned vehicles on the ground, air and sea
Political and economic limits reinforce military reliance on the commercial and private sector for a broadening array of military space services, and within U.S. and European spheres a large proportion of military space technology is derived from the private sector
Futron
seeks to use this focused segment analysis as a baseline for ongoing discussions regarding the relative competitive positions of national military space actors.
About The Global Military Space Segment Index
Futron's
Military Space Index
currently employs three drivers to compare military space power among the 10 leading space participant countries. In subsequent versions of its Space Competitiveness Index, Futron will add additional metrics as more data becomes available or unclassified. We welcome feedback and suggestions on specific additional indicators.
Together, the three metrics listed next provide a high-level perspective into how national military space actors use their resources to maximize competitiveness. These three metrics are:
Military Budget: The amount of money allocated for military space activity within a country's national budget (adjusted for PPP), which offers a relative ranking based on a quantitative measure of the resources made available for military space activity. Military Budget is weighted at 40 percent of the model findings
Military Doctrine and Structure: A qualitative indicator measuring consistent policy, strategy, planning, thought, and applicable organizational hierarchy for the development, operation, and application of military space. Military Doctrine and Structure accounts for 20 percent of the model outputs
Military Capability: The number of operational military satellites in orbit, plus military satellites planned for launch in the next year. This figure provides a quantitative indicator of a country's military space capability. Military Capability is valued at 40 percent of the model.1
Futron selected these three metrics as they provide both quantitative and qualitative comparisons of the issues necessary to create a competitive program in this sector. When the decision is made to implement military space activity, the first critical step is to allocate funds. Thus, the budget metric seeks to quantitatively rank the estimated military space spending that is imperative for creating competitiveness in this sector. Funding priorities change based on the maturity of the country's military space organization and asset base.
The second metric in the segment examines the existence of military space doctrine and structure—the policy, strategy, and hierarchy which defines how each country conducts its military space activities. Assessments of military space doctrine and structure, while qualitative, allow an evaluation of the extent to which military space budget and capability are used towards defined military space goals.
Space capability, the final metric, includes factors such as organizational development, ground assets, in-orbit assets, applied technologies, and processes such as command and control. Collectively these assets bridge the entire use of space by the military, from the satellite operator to the spacecraft to the ultimate user. For the purpose of this study, assets are limited to the number of space-borne assets that a country has in orbit; future reviews may include ground assets as well.
While Futron extensively researched the space military segment for our 2009 Space Competitiveness Index, an overarching assessment of this sector requires further examination and a more thorough reflection of competing schools of thought on military space power theory. Themes or questions that remain to be discussed or examined in future focused military space segment analysis include the following:
What are the limits of space-based force multiplication? A recent, public assessment on the limitations of space assets by the Israeli Air Force during the recent Gaza offensive highlighted both the importance and the limits of space capability.
What is the asymmetric strategic threat of militaries that highly leverage space assets? Our assessment does not directly assess such asymmetric implications
Futron's military space analysis includes the assets of quasi-civilian organizations involved in national security operations, intelligence, counter-terrorism, secure communications, and paramilitary operations
Where sufficient information on dual-use assets—those that combine military-civilian or commercial-military space capabilities—was available, Futron incorporated these dual-use into its focused segment analysis, scaling their capabilities accordingly
Although "competitiveness" still applies in the military world, the outcomes of this analysis could be compared to "superiority" or "effectiveness" when discussing the disposition of different nations
While Futron is confident in the underlying facts and analysis of our findings, we view our framework as basis for additional assessments and study.
Segment Findings
Using the metrics of military space budget, capability, and doctrine and structure as a baseline, the two figures on Page 30 compare the 10 countries analyzed in Futron's 2009 Space Competitiveness Index in their respective military space segments, highlighting both the current leadership position of the United States as well as the relative positions of its near-peers. While the U.S. retains military space preeminence, near-peers such as China and Russia continue to gain ground.
Military Space Budgets
Military space budgets are estimated from unclassified official sources and select non-official sources, or based upon overall national space spending or overall military budget trends. A clear distinction between military space and civil space spending is often blurred in the case of dual-use programs and applications. The ranked comparison, therefore, represents a best-estimate examination of military space funding in each of the 10 countries.
Futron estimates that the top 10 space powers spend more than PPP-adjusted US$71B annually on space, with the U.S. spending nearly US$50B. The percent of military spending allocated for space ranges from below 1 percent for Brazil, India, and Japan up to nearly 100 percent in the case of the Israel space budget. Our estimate for the U.S. is around 60 percent. These figures, of course, are estimates due to the classified nature of some spending, the complexity of dual-use assets, and spending on multinational alliances such as NATO and NORAD.
Europe represents a special case for the military space budget metric, as there is a collective European budget as well as individual country budgets. The total European military space budget metric examined all relevant budgets, whether national or collective, and assigned a ranking that balanced aggregate European military space spending against the need to compare Europe — as a militarily collaborative and politically integrated supranational region — equitably against other individual nations that feature a centralized military space budget. It is also important to note that Europe, under the auspices of the European Defense Agency, for the first time in 2008 publicly allocated money for European space initiatives. The rankings for this metric follow below.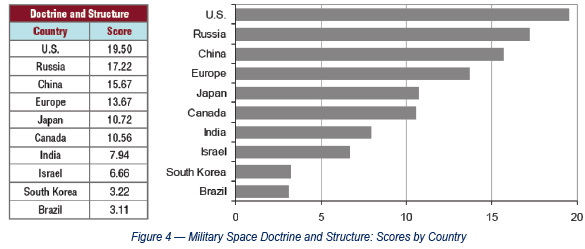 Military Space Doctrine And Structure
The military space doctrine ranks countries according to whether they have a developed doctrine, strategy, or policy that is used to coordinate a country's military space activity. Some military space actors, such as the U.S., Europe, and China, have rather clear-cut doctrines and policies, while others have less formalized coordination mechanism within the government that are sometimes not codified or are not publicly available. Secondary doctrines, such as overall military doctrines — or a nuclear doctrine with space linkages, as in the case of India — can also assist in prioritizing and coordinating the military space activities of a given country.
This metric also examines a country's organizational structure for military space — to the extent that one exists — and compares whether that structure indicates a greater or lesser competitive position. For countries that have well-developed military space units, two models of organization are prevalent. The first model is dispersal of units and activities throughout different parts of the government, typical of the various commands, units, and offices within the U.S. The second model is centralizing all military space activities within a single unit, typical of Russia's independent space forces.
In evaluating the competitiveness of a country in space, it is challenging to assess which model provides a government with the most effective organization. Questions of efficiency, bureaucratic politics and processes, successful adoption of lessons learned, and implementation of programs all play a role in this determination. As these gradations are beyond the scope of this inaugural edition of Futron's Space Competitiveness Index, this ranking considers the centralized Russian-style model to provide an organizational framework for military space activities that is the competitive equal or nearequal to the more dispersed U.S.-style model.
During 2008, several countries enhanced their military capability — and ranking — by developing new military strategies and/or doctrines as well as making organizational changes.
Japan passed a new law that enables military space activity, and quickly crafted a strategic report highlighting military space objectives. Canada reconstituted its military space organization and began updating its military strategy. Finally, Europe made some operations improvement is the way the continent defines, invests and procures military space assets. Not surprisingly, these activities positively impact each country's rankings.
In terms of doctrinal innovation, the United States military is the furthest along in two pioneering advancements: the use of hosted payloads; and operationally responsive space (ORS). The concept of hosted payloads disaggregates the traditional satellite value-chain and manufacturing process by placing military payloads on commercial and civilian platforms. By focusing on the payload only, military planners are able to orbit assets more quickly and cheaply.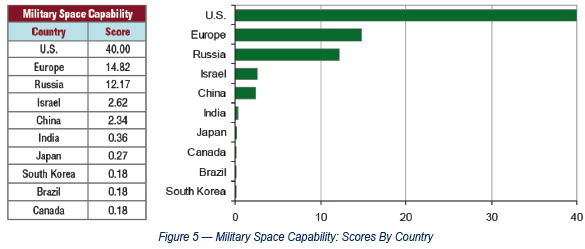 Time is condensed because the military payload are simply added to satellites currently in the planning or production phase — and presumably already have a scheduled launch slot. Ideally, using standardized interfaces, these payloads could be incorporated into "whichever" satellite is available. Cost is reduced because the secondary military payload shares a satellite bus, launch and some operational costs with the primary payload operator. The U.S. military has already piloted this concept and is discussions with several commercial and civilian entities to embed additional hosted payloads.
The ORS concept, which is driven forward by an independent office within the U.S. military, focuses on rapidly providing assured space power and assets to military commanders in a timely period. The end state of the ORS concept is capability to address emerging, urgent, and/or unanticipated via rapid augmentation, reconstitution and exploitation of assets. The ORS doctrine would use small satellites, gap fillers, standardized components, open architectures, etc., to quickly field space assets. The ORS doctrine differs from traditional processes for requirements setting, procurement, cost, and capability.
Europe has a unique doctrine and organization situation due to the complexity of European institutions and their overlapping relationships with a collection of countries. Within this institutional framework, European companies tend toward highly collaborative and supranational relationships, as well as individual country membership in NATO and the European Defense Agency (EDA). Futron includes these factors in our analysis of organizational structure, both has fundamental benefits as well as complications. The benefit of shared assets reduces costs and augments soft and hard power, but at the same time, decision-making is fragment as there no centralized military space command for Europe.
Against this analytic backdrop, Figure 5 above reveals the rankings in the military space doctrine and organizational structure metric.
Military Space Capability
The number of operational satellites serving military applications is a quantitative metric that counts those satellites believed to be currently active and serving a primary military function. Dual-use satellites and the unclear status of certain satellites posed minor challenges in counting.
For example, China does not clearly delineate its satellite functions in terms of military, civilian, or commercial use as other countries do, so the count of active Chinese military satellites may overlap with the count of Chinese satellites for other user types. The model of a commercial satellite being used by the military — not uncommon in the U.S. experience — is often reversed in the case of China: some Chinese satellites that are officially for military or classified are, in fact, employed for civilian or commercial purposes. Similarly, European military space assets feature a high degree of operational overlap among national, European-level, and NATO-level authorities.
It is important to note that several countries do not officially have military space assets, including Canada and Japan. For the purpose of the military space capability metric, European assets are aggregated into a unified capability, even though in actuality, specific resources are national, regional, or NATO assets, or some combination of the three. Despite such counting challenges, Futron was able to make comparisons among countries that it believes reflect space competitiveness in the metric of military on-orbit assets with high fidelity. The results are as follows.
Military Space Summaries By Country
The following section provides in brief information on military space for each country in the Space Competitiveness Index.
BRAZIL
Officially headed by the
Comando-Geral de Tecnologia Aerospacial
, or
CTA
(
Brazilian General Command for Aerospace Technology
), there is little apparent official articulation of military space doctrine — although arguments by policymakers in favor of space spending have featured the military advantages of independent space access. In practice Brazil's military space activity is very limited, focusing on international security issues such as border control and contraband. Toward that end, the military uses dual-use Earth observation products to monitor its large border and the Amazon, e.g., use of the two-satellite CBERS constellation, a joint China and Brazil program. The military's communications requirements are met via the dual-use
Brasilsat B-2
satellite.
CANADA
After several years of drift, the Canadian government has reinvigorated its military space strategy, policy, and planning — and plan significant future developments. The previous policy effort, now more than 10 years old, responded to military requirements associated with the first Gulf War. Essential to the current plans are the reconstitution of the
Directorate of Space Development
(
D Space D
) in 2008.
The Canadian military see space as both force multiplying, as well as central to the country's integration with NATO and its special relationship with the United States, which include integrated participationin NORAD.
D Space D
will coordinate a number of on-going programs such as the
Joint Space Support Program
(
JSSP
), the
Sapphire Program
, the
Near Earth Orbit Surveillance Satellite
(
NEOSsat
), the
Military Maritime Messaging Satellite
(
M3MSat
), and
Project Polar Epsilon
(
RADARSAT-2
). The government also understands the national defense implications — and benefits — of the
RADARSAT Constellation Mission
. The Canadian military space policy has two primary objectives: exploit space as a medium to enhance military capability, domestically as well as in partnership, and project international leadership through an integrated capabilities-based policy of responsive space. While formalized, the Assistant Deputy Minister for Policy is leading an effort to finalize a new military space policy. D Space D has some 25 officers and contractors representing each of the branches of the Canadian armed forces.
CHINA
Over the last several decades, China has consistently and effectively invested in developing military space capability through a robust program focused on developing technological capability and expanding regional coverage. While many Chinese programs are dual-use, China has built a sophistical organizational infrastructure supported by an research and development facilities, a robust industrial base, and has publicized its technical prowess in areas of launch vehicles, sensor capability, command and control know-how, anti-satellite technology, and a variety of other essential — and advanced — military space technologies. Supported by a strong organization and doctrine — most of which remains secret — the Chinese military is likely to continue with its high level of investment in space platforms and capabilities. While the force multiplication of these assets impact regional power — and gain ground with leaders of military space capability — in the near-term will lag the United States and Russian in terms of overall space capability.
EUROPE
While European military space capabilities lag their U.S. allies, there is growing realization in the significance of space assets, and importantly, a commitment to minimize the gap through increased investment, coordination and planning. Following an agreement between the
European Commission
(
EC
), the
European Space Agency
(ESA)
and the
European Defence Agency
(EDA)
, and supported by national initiatives, European militaries are keen to improve the broadest range of space capabilities — from communications and Earth observation to positioning, navigation and timing. In late 2008, the EDA sponsored a joint workshop with participants from 20 countries coordinate development of space technologies ensure non-dependence of strategic space technology, and position itself as a major space power and credible international partner. The EDA has several ongoing planning processes for military communications satellites, emerging satellite technology trends, industry trends, and a utilization study. Additional areas of EDA interest in include:
multi-spectral imaging systems
(
MUSIS
), space situation awareness, and data relay system.
On the communications front, coordination between NATO allies is driving consolidation of satellite communications systems. Currently, NATO, France, Germany (planned), Italy, and the U.K. maintain dedicated military communications satellites. The need for further coordination, coordination, has been supported by experience in Iraq and Afghanistan, where shortages in communications capacity, problems of interoperability and high cost of independent systems are pushing continued integration of allied communications platforms. Similar to the U.S., Europe is also increasing its dependence on commercial providers, with the U.K. having developed a public private partnerships with Paradigm, a subsidiary of EADS) to own and operating the
SkyNet 5
communications satellites.
Funding — rather than technology, organization, or market structure — is the limiting factor to Europe's
military space capability, and the current financial crisis magnifies the issue and threatens announced increases in investment. Estimates for European military space spending range from €500M to €1B (US$705M to US$1.4B) annually — significantly less than the U.S.; the largest budgets includes France, Italy and Germany which is investing in reconnaissance satellites. To meet their strategic needs, based on recent comments from the French Defense Minister, Europe will need to double its spending in the near term.
As a way of stretching money further, a number of European countries are pooling their assets. The U.K.'s
SkyNet 5
, France's
Syracuse 3
, and Italy's
Sicral
satellites will jointly provide NATO's new communications satellites and NATO has inked a long-term lease of about a third of Syracuse 3A's nine transponders of super-high frequency (SHF) transmissions under a contract with France, Britain, and Italy. France and Italy are also looking at a largely military dual use geosynchronous satellite called
Athena-Fidus
. It would be capable of very high rates of data transmission and could augment or even replace some of the Syracuse and Sicral satellites.
In a development that parallels the U.S. organization of the
Defense Information Systems Agency
(
DISA
), the EDA is preparing the establishment of a
Procurement Cell
to coordinate the EU Member States' orders of commercial satellite communications services. The
European Satellite Communications Procurement Cell
will be a three-year pilot project (2010 - 2012) to gain practical experience with centralizing commercial SATCOM procurement at the EU level. The cell's activities could reach a business volume of at least €30M (US$42M) per year.
A central booking office would initially be hosted at EDA's premises. It would manage the technical and financial aspects of the requests and orders placed by the Member States with the capacity and service offers by satellite operators and telecom companies. After the end of the pilot period, the SATCOM Procurement Cell activities are intended to be transferred to an appropriate entity for permanent operations for the EU Member States. The U.K. uses an outsourced model with Paradigm, and this business model may spread to other countries such as France, and Germany. It is estimated that only 20 percent of European military communications capacity is procured commercially.
INDIA
Military space in India is tied to a large revamp of the country's armed forces that includes significant new investment and organizational change. As India procures new air, ground and sea platforms, satellite communications requirements will dramatically increase, which in turn could drive equipment markets for COTM. Increased interest in and purchase of UAVs are core the country's planned projection of power and capability along its frontier. Purchase of commercial space segment by the military, however, for two critical reasons: India's commercial satellite communications market is closed, so international commercial providers have not focused on the market; and second, India's military requirements in the near term are likely to remain in region.
During 2008, India announced plans to create an
Integrated Space Cell
, a nodal agency within the Government of India that coordinates space-based military and civilian systems. A key factor in the creation of the Cell was China's anti-satellite test. The Cell, formed in June 2008, is under the command of the
Integrated Defence Services Headquarters
, and is responsible for coordinating activities of
ISRO
and the
Indian Armed Forces
. On the EO front, India has targeted enhanced military capability — a process that is distinctly tied to the country's growing military relationship with Israel. India has both launched military satellites for Israel,
TECSAR
, and launched a similar Israeli-built, Indian-operated,
RISAT-1
payload in early 2009.< br />
ISRAEL
Israel's military space activity focuses mainly of the
Shavit
small launch vehicle and the
Ofek
reconnaissance satellite series. In the past two years, Israel has begun to transition both its launch and satellite development programs toward partnership with India. The future of Israeli military space investment is highly contingent and as of early 2009, the question was in effect tabled by Israeli decision-makers pending the outcome of the Israeli elections.
JAPAN
Japan's
New Basic Space Law
(August 2008) overturned a 40-year prohibition on any military space activity. The Basic Law for Space Activities, which formally allowed Japan to use space for national security purposes and is the result of a series of meetings conducted from September through December by a
Japanese Ministry of Defense
(
MoD
) committee chaired by
Seigo Kitamura
, Japan's senior vice minister of defense, according to
Takashi Sekine
, director of MoD's International Public Affairs Office. The law also required the formulation of a report, the
Basic Guidelines for the Development and Use of Outer Space
, which was published in January 2009. While short on detail, the report is a first step in identifying systems and technologies that Japan will seek to develop as part of its emerging military space strategy. The document identifies a number of space capabilities including:
More and higher-resolution imaging satellites to complement the nation's existing fleet of fourInformation Gathering Satellites (IGS)
A dedicated military communications satellite
A missile warning satellite — or a missile warning payload hosted aboard another satellite — to support the nation's Aegis ballistic missile defense system
Small, low-cost satellites and rockets that can be launched on short-notice, perhaps from aircraft
A signals intelligence satellite
An independent navigation and positioning capability
Satellite protection and space situational awareness capabilities
As these changes cascade, the new space law will have a dramatic impact of Japanese military space activity. Driven in part by activity in North Korea, the government's new policy allows for the use of space in national self-defense. This change in policy comes on the heels of broader changes in the Japanese military mission that place new information and communications demands on the military.
As Japan's forces evolve in the near term, there will invariably be increased demand for advanced communications, which may drive military purchase of commercial capacity for overseas missions. Also in response to policy changes, there have been a number of inter-governmental discussions about dual-use assets and programs. The full impact of this new military space doctrine will take several years to understand, but over the next several years, the Japanese military will place increasing importance on and resources in military space activities.
RUSSIA
Russia maintains a long-standing history and organization of military space activities, included an integrated command and control hierarchy with the military establishment. The
Russian Space Force
, a centralized military command structure overseeing some 40,000 personnel, supports the country's long-standing military space doctrine. Central to Russia's space doctrine is a
Kosmos
series of military surveillance and communications satellites. Overall, however, military doctrine lacks transparency and there is discourse surrounding Russian military doctrine.
The Russian military — like the U.S. military — is highly dependent on space-based communications services. Russia employs a satellite-based early warning detection system. Russia's
GLONASS
system is central to military space strategy, providing positioning, navigation, and timing services. Russia also operates the
Strela
LEO constellation and the
Raduga
GEO network. Overall, the Russian military has approximately 38 active satellites providing communications, PNT, and reconnaissance services.
SOUTH KOREA
Futron research was not able to locate any publicly available reports that articulated South Korean military space doctrine or official military space policy. That said, the South Korean military is likely to become a major implementer of COTM technology, particularly in response to recent North Korean missile activity. South Korea does operate a dual-use communications satellite,
Koreasat 5
(
Mugungwha 5
), launched in 2006. The payload reported carries 12 military relay terminals and 24 commercial terminals, with military coverage from the Malacca Strait to the central Pacific Ocean areas.
UNITED STATES
The U.S. has a developed, transparent, and evolving military space doctrine, aligned with a complex operational structure. There is an ongoing discourse surrounding unclassified portions of military space doctrine and related subjects — such as
Space Power Theory
— although significant portions of the strategy remain classified. U.S. military doctrine is somewhat integrated into the country's larger national space strategy. In general terms there is emphasis on retaining a national lead in space situational awareness, military reconnaissance, and responsive space in order to combat
anti-satellite weapons
(
ASATs
) and asymmetric threats. The focus is on development of state-of-the-art technologies to maintain comparative national advantage in space. In addition, the U.S. military space doctrine is the one that overtly aims at "leading" the world.
Without going into detail of the complexity of the U.S. military space organization, several important happenings occurred during 2008 and early 2009. First is the establishment of the
ORS Office
, which as discussed, represents a potential paradigm shift that could cascade throughout the entire military space organizational. Second is the cancellation of two large military programs —
BASIC
, which was focused on high-end observation satellites, and the termination of the US$26B transformational satellite program,
TSAT
; the military, instead, will purchase two more advanced extremely high frequency satellites as alternatives. Looking forward, these decisions will facilitate the continued and increased reliance on commercial vendors for imaging and communications solutions, as well as expand plans for hosted payloads and ORS activity. The U.S. is also a leader in the use of COTM as well as the use of commercial satellite capacity, and it is estimated that some 80 percent of U.S. communications activity is procured commercially.
Future Global Military Segment Study Goals
The purpose of the Global Military Index is to distill the debate about military space and the balance of space-based capabilities in both war and peace. In the future, Futron plans to enhance its focused analysis of the global military space segment in the following ways:
Expand capability metric to include ground and application technologies, as well as new technology development and the quality of the assets
Improved information on worldwide military space budget trends, with a focus on distinguishing between the often non-exclusive relationship between military and civil government activity
Identify a group of leading experts to provide additional qualitative insight and analysis to support the data
Identify appropriate metrics to measure the value of human resources with respect to military space capacity through skills, training, and career progression
Identify ways to quantify asymmetric military space vulnerability
Review information regarding defense spending on space R&D efforts
Thanks from Futron...
Futron Corporation would like to thank those people and organization who supported (and
continue to support) our ongoing efforts to characterize global space competitiveness, including those providing information on background and confidentially. Futron would like expressly thank a few external contributors in particular:
Canada-based
AppSpace Solutions
, for providing insight into Canada's space sector. The mission of AppSpace Solutions is to assist space industry leaders and organizations in making informed decisions about spacecraft applications. The company is led by
Wayne A. Ellis
, BSc, MSc, CD, who has more than 20 years of Canadian military experience, primarily in space systems education and applications. He has designed, developed and delivered space-related educational content for audiences from grade school children to senior government officials, and has provided space expertise to multiple levels of the Canadian military.
Dr.
Young-Keun Chang
, for reviewing the sections on North and South Korea. Dr. Chang is a professor in the Department of Aerospace and Mechanical Engineering and a director of the Space System Research Lab at
Korea Aerospace University
, South Korea. He is also a Program Director of National Space R&D of
Korea Science and Engineering Foundation
(
KOSEF
), a government-funded institute. Dr. Chang was previously a principal researcher responsible for the development of
KOMPSAT-1
in
Korea Aerospace Research Institute
(
KARI
). His current projects include development of nano- and micro-satellites, including
Hannuri-2
and
Hannuri-3
, and training future aerospace engineers at Korea Aerospace University.
Dr.
Raz Tamir
and Dr.
Meidad Pariente
s for providing insight into the Israeli space sector. Both Dr. Tamir and Dr. Parientes work on the
AMOS
satellite program and are founding members of the
Israeli Nanosatellite Association
(
INSA
). Additional support came from Mr.
Tal Inbar
of the
Fischer Institute of Space Studies
as well as from Mr.
Daniel Rockberger
, a mechanical engineer and graduate of the
International Space University
.
Futron would also like to thank others that provided confidential feedback to our 2009 edition, and we look forward to comments and suggests from our readers to enhance the Space Competitiveness Index in the future.