Simon Kershaw joined Astrium in August 2011 as the Executive Director of Government Communications, Astrium Services, following a career in the UK Ministry of Defence.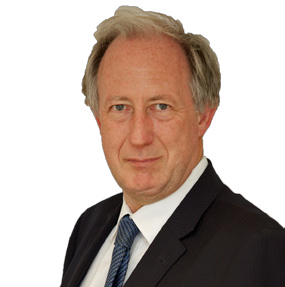 Educated at King's Canterbury and Oxford, Simon started his professional career with the Royal Air Force Signals Engineering Establishment where he was responsible for the systems design of secure communications systems. In 1982, he deployed to Ascension Island and the Falklands as part of the initial wave of the reconstruction team.
Moving into the acquisition sector, he led a range of CIS programs, including the PFI pathfinder Defence Fixed Telecommunications System (DFTS). He was responsible for the HR aspects of the move of the Procurement Executive to Bristol and of the formation of the Defence Procurement Agency. He led the formulative work on the Future Strategic Tanker Aircraft project, and also led the team which delivered the groundbreaking and successful Skynet 5 project.
He was a member of the 2007 course of the Royal College of Defence Studies where he gained an MA in International Affairs. He then undertook an operational posting as Head of the multinational MOD Advisory Team in Baghdad, where he was also a personal advisor to the Iraqi Minister of Defence.

More recently, Simon was Head of MOD's Defence Security and Assurance Services, which includes MOD's information systems security accreditation function. He led the MOD contribution to the development of the UK National Cyber Security Strategy. He is a Fellow of the IET.
MilsatMagazine (MSM)
The Skynet 5 contract was signed 10 years ago. How have things progressed during the last decade?
Simon Kershaw
When we signed Skynet 5 in October of 2003 to provide all Beyond Line of Sight (BLOS) MILSATCOMs to the UK Ministry of Defence, it was a huge honor—as well as an enormous challenge.
At that point, it was the UK MOD's highest value and most complex PFI (Private Finance Initiative) project. We had a vast array of milestones and budget targets and we knew that the world was watching us—after all, we were pioneering something completely new—the complete provision of MILSATCOMs from a commercial company.
We had to plan the entire system, design and build the satellites, the ground infrastructure, in-orbit delivery and then, of course, deliver what we had promised—a seamless, one stop shop for all of the UK MoD's needs. Ten years ago no one could have predicted what has since happened since 2003, with the UK forces being deployed in large numbers across the world, giving us even further challenges as we had to prove we could adapt and react to provide the services we had promised to deliver.
Ten years into this crucial project and all of the key milestones have been achieved on time and within budget. That is thanks to teamwork—we adopted a partnering approach to Skynet 5, making certain we worked side by side with the UK MoD all the way—even co-locating our teams with them. Importantly, we also kept all our suppliers and other partners close in what we called the "Skynet Enterprise." This was key for the delivery of all parts of the program and avoided costly and unproductive disputes.
Since Skynet 5 has been in service, we have also been successful in securing third party contracts over the past 10 years. Customers using the Skynet services today include NATO, Belgium; France; Germany; the Netherlands; Portugal as well as the U.S. Department of Defense. Astrium Services is proud to provide a beneficial, common means of secure communications for the UK and its allies.
MSM
What are the particularities of the Skynet fleet?
Simon Kershaw
The features and benefits of a SATCOM network designed specifically for military operations using secure satellite links in X-band are vastly different when compared to other commercial frequency solutions. The Skynet 5 fleet of four satellites are the most powerful, commercially controlled, military X-band satellites launched to date.
The satellites were specifically designed to mission critical, sensitive command and control communications systems, where loss of communications is not an option. The high power 160W transponders give 50.5dBW peak EIRP in each transmit spot beam and 41dBW peak EIRP in each global beam. This makes the satellites ideal for supporting smaller, low powered tactical terminals that are deployed across multiple theaters of operation.
Each Skynet 5 features a high performance On Board Active Receive Antenna (OBARA) which can shape multiple uplink beams, fully steerable downlink spot beams, and allow for flexible switching between any uplink beam and at least two different downlink beams. The OBARA also provides space based geo-location capability and protection that nulls out hostile interference against direct attacks with built-in nuclear hardening, anti-jamming capability and laser protection.
However, it is not just about the satellite—the full Skynet system is compliant to NSA, NATO STANAG (interoperability standardization agreement) and MAC1 standards.
MSM
Which countries can obtain your Skynet X-band services?
Simon Kershaw
All NATO friendly nations are able to buy Skynet's X-band and UHF capacity as well as additional available satellite services that include anchoring, backhauling and in-theater support.
MSM
You have extended your capacity with Skynet 5D being operational since March—now Anik G1 has been declared operational by Telesat; what will this change for your customers/end users?
Simon Kershaw
We are the only operator in the world providing near-global coverage reserved exclusively for government and military use. Currently, from 180 degrees West to 135 degrees East with 75 X-band transponders, our constellation has a total of 2.2 GHz capacity. We now offer more available capacity for our customers and a continuous coverage at X-band, than any other operator—this is crucial for our customers as it allows the end-user to have seamless maritime operations, integrated transit and deployment conops (contingency of operations), all supported by our expert MILSATCOM operations.
More importantly, the new satellites give Astrium Services the opportunity to provide unique and bespoke customer solutions for the ultimate in secure SATCOM. This includes tailored beam and transponder leasing solutions, which deliver significant benefits to Astrium Services customers.
MSM
Why is it important to extend your coverage over the Pacific ocean?
Simon Kershaw
In addition to the added flexibility of being able to provide more seamless operations for X-band users, over the past few years we, and the commercial MILSATCOM market, have seen a higher interest and engagement from South American countries. With the addition of Anik G1's X-band coverage to the constellation, Astrium Services is pleased to say that it can now provide services to areas and markets such as South America. As some of the largest MILSATCOM users in the world, the additional coverage will also allow us to address the U.S. and Canadian governments' growing requirements, particularly in regard to the naval, maritime and border security markets.
MSM
Could you say more about the agreement recently signed with Yahsat Military Ka-band service to the U.S. government?
Simon Kershaw
Astrium Services Government, Inc., a subsidiary of Astrium Americas, now offers UAE-owned Yahsat Mil-Ka-band services to the U.S. government. Yahsat's Mil-Ka-, which is compatible with the Wideband Global Satellite (WGS) constellation, provides any U.S. government or Department of Defense end-user with greater global coverage and reliability in the frequency band, which suitably augments both Astrium Services' and the U.S. DoD's milsatcom portfolio.
Astrium Services will provide end-to-end services using Yahsat Military Ka-Band capacity in order to meet DoD requirements on contract vehicles such as the Defense Information System Agency's Future Commercial Satellite Communications (COMSATCOM) Services Acquisition (FCSA) program. This deal will effectively strengthen Astrium Services' commitment to be the leading provider of COMSATCOM and MILSATCOM services to the U.S. government.
Astrium was the prime contractor for the construction of the Yahsat satellite fleet and Astrium Services were prime for the design and deployment of the Yahsat military ground segment, so we are fully aware of the capability of the system and how it can be best utilized for the customer.