---

The Space Report 2020 Q2 provides a comprehensive analysis of the 2019 global space economy and examines in detail government and military spending by dozens of nations worldwide.
Space Foundation's Research & Analysis team spent months gathering data from space agencies and governments around the world, compiled the data, and evaluated trends by nations, agencies, and sectors. According to that research, the global space economy climbed to $423.80 billion in 2019, up 2.2 percent over 2018 and expanding 73 percent over the past decade.
The gains shown in the last decade do not capture the economic instability that has rocked global markets since January 2020, when the coronavirus grew into a worldwide pandemic. While markets have shown initial effect in the first half of 2020, comparative annual analysis will not be available until 2021.
---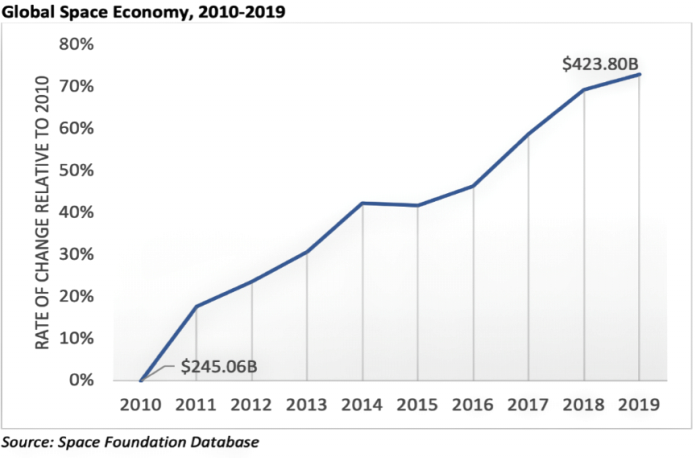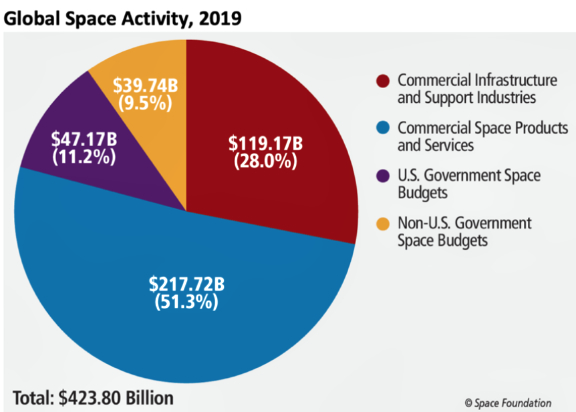 ---
Space Economy
Commercial revenue climbed to $336.89 billion in 2019, up 6.3 percent from $328.86 billion in 2018. A large driver of that activity was in space infrastructure and support industries, which climbed to $119.17 billion — a 16.1 percent increase over 2018's $102.66 billion. The 2019 total marks the first time since 2016 that the sector exceeded the $100 billion mark.
Space products and services, a sector of commercial space revenue, totaled $217.72 billion, easing up 1.7 percent from 2018's $214.18 billion.
Nations and international government organizations collectively contributed $86.9 billion to the global space economy. This is a 16 percent increase over the last decade.
U.S. government space budgets totaled $47.17 billion last year. Despite significant policy and program priorities, U.S. space budgets grew 1 percent during the last decade.
NASA funding in 2019 increased by 3.7 percent, growing to $21.5 billion from a 2018 total of $20.7 billion. The 2019 total is the highest real-year figure in NASA history.
Non-U.S. government spending in 2019 totaled $39.74 billion, a 7.7 percent increase from 2018 and a 54 percent increase over the decade. Civil-sector spending, which represents 76 percent of non-U.S. space spending, totaled $30.2 billion, a 10.6 percent increase over 2018.
---
---
Space Workforce
Space Foundation research also determined that in 2019, European countries were investing financially and in workforce development as well.
The European space workforce included an estimated 47,895 employees working on design, development, and manufacturing of space assets. This is 6.2 percent larger than 2018, when the workforce included 45,117. The workforce in the U.S. grew by 2 percent in 2019 to 183,000. India's space workforce employed 17,222 people in 2019, an increase of 2.4 percent from 2018. In Japan, total employment for 2018, the latest year data is available for private industry, was 10,390.
U.S. Hiring in 2020
The U.S. Bureau of Labor Statistics provides monthly reports that include some broad data relating to more general job sectors that contain specific space industry jobs as identified by codes established by the North American Industry Classification System (NAICS).
Based on 12 NAICS codes that have some broad affiliation with the space industry, U.S. job loss from December 2019 to May 2020 has totaled 241,600, according to data from the U.S. Bureau of Labor Statistics.
Two NAICS codes more specific to the space industry — Guided Missiles, Space Vehicles and Parts (NAICS Codes 336414,5,9) and Search, Detection and Navigation Instruments (NAICS Code 334511) — have grown by 1,400 jobs from December to May. Inquiries to some of the larger launch companies also reflect hiring increases during the pandemic.
Space Infrastructure
Spacecraft deployment numbers rose by five in 2019, increasing slightly to 466 last year. These spacecraft were deployed from 97 successful launches, including from the International Space Station (ISS). Commercial missions saw the largest share of deployments, accounting for 54 percent of launched spacecraft (251). Spacecraft on commercial missions increased 48 percent from 170 spacecraft launched in 2018.
The next-highest share went to civil government missions, with 25 percent (114) of spacecraft deployed for that sector in 2019. That is a 5 percent decrease from 2018's 30 percent share of civil government spacecraft, or 138 spacecraft out of the 461 that launched in 2018.
The military mission segment accounted for only 11 percent (53) of all spacecraft deployed in 2019, which is down when compared to 2018's 17 percent share, with 78 deployed.
---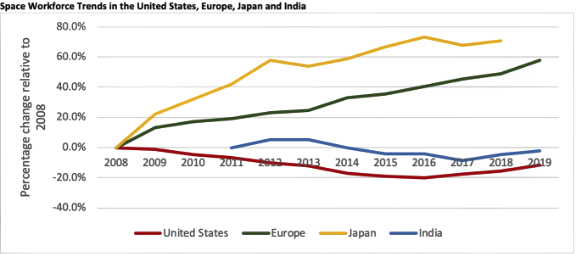 Source: U.S. Bureau of Laborr Statistics, Eurospace, Society of Japanese Aerospace Companies, India Departmen of Space. Note: 2019 employment
data for Japan Aerospace companies was unavailable. Click to enlarge.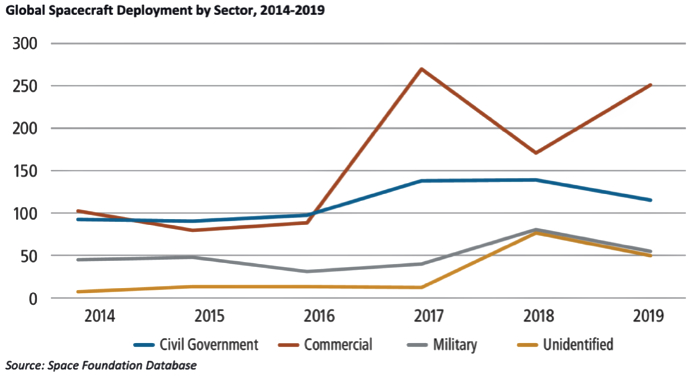 ---
2020 Launch Update
Despite a global pandemic, launches for the first half of 2020 were on par with previous years. The 41 successful launches were just slightly below the five-year average of successful launches which is 43.2.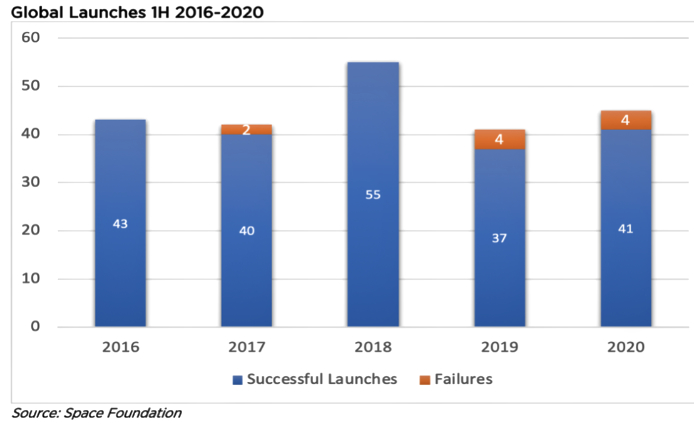 Click to enalrge.
The Space Report is widely recognized as the definitive body of information about the global space industry. It contains worldwide space facts and figures and is illustrated with photographs, charts and graphs detailing the benefits of space exploration and utilization, the challenges facing the space sector, opportunities for future growth, and the major factors shaping the industry. The Space Report serves as a resource for government and business leaders, educators, financial analysts, students, and space-related businesses. For over a decade, The Space Report has chronicled the growth of the space community from around the world.
Space Foundation's Research & Analysis team produces The Space Report, and earlier this year transitioned its annual summary into quarterly updates of global space activity. This new format makes it possible to provide the most up-to-date information on space infrastructure, facilities, launches, and programs. Similar to other major economy-measuring indicators that inform our awareness of what is happening around the world, the quarterly installments of The Space Report are designed to improve our discussions and understanding of the reach, impact, and health of the space community.
Each quarterly issue of The Space Report is available for purchase by the public for $250. For significant savings, all four quarterly issues can be purchased as a bundle for $499. For continuously updated information or historical data on the topics covered by the report, please subscribe to The Space Report Online. The online service also provides subscribers with searchable access to all the research conducted for The Space Report dating back to 2005. The full PDF is available for free to subscribers of The Space Report Online.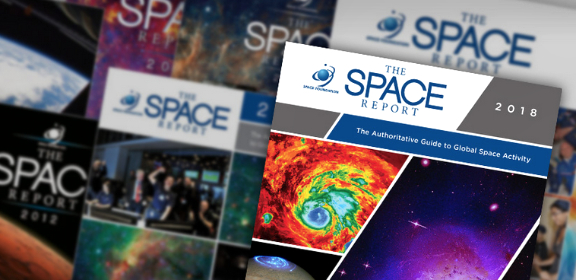 To purchase The Space Report 2020, or to subscribe to The Space Report Online, go to thespacereport.org/pricing. The annual single-user subscription for The Space Report Online is $3,500. A corporate subscription (for as many as 10 users) is available for $4,500. University and government agency libraries can purchase an unlimited online subscription for $3,500.
For more information about the availability, pricing, and delivery of The Space Report, please contact TheSpaceReport@SpaceFoundation.org.
For questions related to The Space Report content or the space industry in general, or to request customized research by our Research & Analysis team, please contact Research@SpaceFoundation.org.
---