In a market which already relies on satellite communications, the integration of high-speed connectivity is a highly exciting prospect.
The
Unmanned Aerial Vehicle
(
UAV
) sector is categorized as one of the military and defense industry's most interesting and promising markets. Having grown dramatically over the past decade with proven success on the frontline in theatres such as Iraq and Afghanistan, pilotless aircraft, along with the systems that support them, are now well established with demand set to increase throughout the next 10 years and beyond.
Unmanned Aircraft play a crucial role in military operations, covering vast areas of land and sea, carrying out critical operations and collecting data that may be imperative to the success of the mission. The obvious advantage is that pilotless aircraft can undertake live-fire operations that would otherwise be too dangerous for manned aircraft, therefore eliminating all risk to aircrews.
Core to the success of
Unmanned Aircraft Systems
(
UAS
) has been the continual development and advancement in the various technologies that make them operationally viable. Systems have become more sophisticated in support of increasingly complex and challenging requirements. In this respect, the development of satellite communications is no different than other technologies, and for the aeronautical market has been a major factor in the extension of missions further afield, particularly as the need for satcom data links has become critical to the advancement of UAS operations.
A huge amount of information can be obtained in the sky, which has resulted in unmanned aircraft becoming increasingly significant for day-to-day operations. Satellite communications systems onboard UAVs are used to relay imagery, voice and additional sensitive data to ground control stations for analysis which may be imperative to the success of a mission and the safety of ground forces.
Based on this, satellite communication has become essential for an extensive range of military applications including command and control, logistics and UAV video and data transmissions. And to meet the increasingly demanding requirements of more complicated, longer range
BLOS
(
Beyond the Line Of Sight
) operations, high-speed connectivity is needed.
Broadband For The Sky
Introduced in October 2008,
SwiftBroadband
is Inmarsat's broadband-for-the-sky service, designed to meet the demand for more bandwidth across all areas of aviation. The service is set to have a major impact on the UAV market, providing high-speed IP connectivity of up to 432 kbps per channel as well as enhanced management control. SwiftBroadband also provides specific high performance packages for military applications, while also facilitating secure and reliable access to command and control information resources on the ground, enabling improved situational awareness.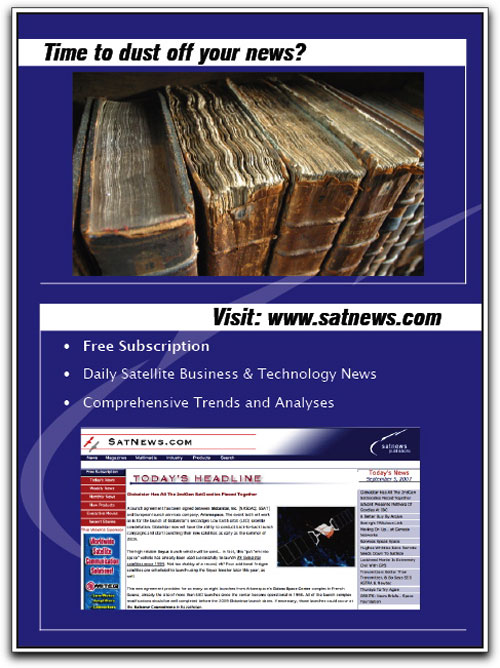 Furthermore,
Inmarsat SwiftBroadband
brings significantly greater bandwidth capability and 'always-on' IP connection combined with the availability of compact, light-weight avionics. The service allows for video streaming, imagery and other data to be moved over the internet much more efficiently, as well as enabling a new, higher level of quality in voice over the AMBE for channels embedded within the SwiftBroadband service. In addition, the SwiftBroadband service cost could be as much as 70 percent less expensive over the previous
Swift64
service.
As a leading satellite equipment manufacturer for the aeronautical, land mobile and maritime sectors,
Thrane & Thrane
has a well-established relationship with global military and defense markets, with several UAV market references. The company's latest addition to its aeronautical product family, Aero-SB Lite, is one of the market's first SwiftBroadband solutions. Enabling real-time video, voice and data links between aircraft and ground control stations, the system is suitable for a wide range of UAV applications.
Having provided systems such as
Aero-M
to high profile UAS programs for several years, Thrane & Thrane is well placed to develop SwiftBroadband solutions.
Aero-SB Lite
provides a number of critical benefits, where traditional LOS (Line of Sight) methods, such as microwave and radio transmissions, no longer meet the requirements of the mission.
For instance, the SwiftBroadband solution can be used for transmitting video and other sensitive data gathered by sensors onboard the aircraft, via satellite to a variety of ends. In addition, UAVs can also use the voice capabilities of Aero-SB Lite as a voice relay to the ground, and can also allow for encrypted voice when necessary.
Low Profile Solutions
The Aero-SB Lite system remains in line with Thrane & Thrane's strategy to provide very compact and lightweight solutions. The complete package, which includes an
Intermediate Gain Antenna
(
IGA
), weighs 17 pounds. This makes it the lightest system of its kind on the market to date. It also incorporates a router, built in WiFi, PBX, Beam Steering Unit, high power and low power noise amplifiers and diplexer in a small MCU
Line Replaceable Unit
(
LRU
).
It is the size and weight of the system, combined with the amount of bandwidth that can be offered to a platform that is critical to the success of SwiftBroadband and in turn Aero-SB Lite.
In order to gain increased intelligence, UAVs will be challenged to fly further and for longer periods of time. To achieve this, systems onboard must be compact and lightweight, while at the same time enabling real-time communication so that the speed at which information is received is improved.
Looking ahead, the unmanned aircraft market has huge potential for growth over the next 10 years. As an imperative support mechanism for UAV and UAS, satellite communications are likely to benefit from continued growth of the industry. It is clear that the unmanned aircraft market is one of the fastest growing segments in the aeronautical industry, highlighted by strong interest and record breaking attendance numbers at this year's
AUVSI
held in Washington D.C. The growth potential here is phenomenal and looks poised for a protracted period of evolution and development.
At Thrane & Thrane, we are extremely excited about what the future holds for UAV & UAS and SwiftBroadband, and have no doubt that our products are set to benefit as the quantity and type of unmanned platforms and missions continues to grow globally.