According to NSR's Government & Military Satellite Communications, 15th edition report, the outlook for Government and Military SATCOM Markets will exceed $71 billion in retail revenues over the next ten years.

With 2018 posting a net-positive gain in revenues over 2017, there are a lot of reasons to be optimistic about the prospects of this market, finally. Setting aside conversations around "Space Force," or the unexpected allotment of funds toward WGS 11/12, or the additional MILSATCOM procurement happening in Europe, or... well, the list can go on and on and 2018 was the year where a lot happened.
Among all these events, which in isolation could move the needle by themselves, is a changing landscape of macro-economic events.
Defense spending is on the rise, across the globe. Not only is U.S. defense spending guidance up over previous levels set under the rules commonly called 'sequestration,' but NATO saw more countries reach their 2 percent GDP targets and additional spending activities are occurring in the Middle East and Asia-Pacific.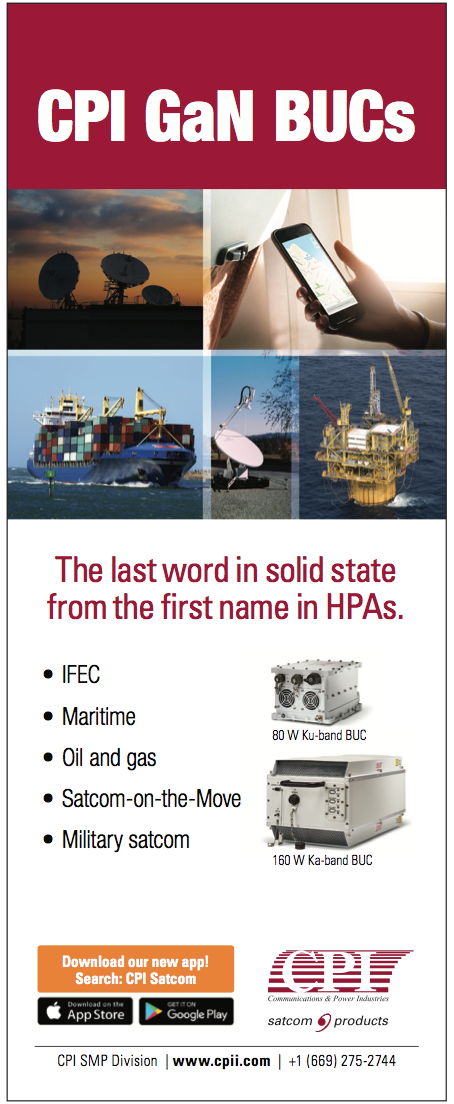 This defense spending is just a simple reallocation of funds toward current operations but is focused on the acquisition of new capabilities — all of which will be 'state of the art' technologies developed among the landscape of the data-focused era. Combined with a new, data-driven approach to combat operations which relies heavily on distributing information across all levels of military forces, and there is a strong need for robust, reliable communications infrastructure in next-generation doctrine.
Today, land-mobile and unmanned platforms drive the market by nearly any measure from capacity demand to revenues generated. That will largely remain true as we look towards the next few years.
What continues to change is under that curve – a market rapidly adopting HTS-based architectures across a variety of frequencies and orbits. New ground terminals are helping rewrite some of the complexities of choice that end-users face, multi-band terminals are becoming a fiscally-reasonable option.
Network designs are becoming more complex, while the integration with military networks is shifting from the RF to IP layer. Simply, investments are being made on the ground from both commercial and government sides of the market to leverage the changing infrastructure in space.
Programs aimed at addressing these complex networks are already underway.
The Flexible Model Interface program is only one such example. However, with complex networks comes an even larger task in securing the RF and IP layers. Already, commercial players are investing significantly in cybersecurity programs, and some requirements by commercial players such as Oil & Gas, electrical Utilities, Banks, and other critical commercial industries are higher than Gov & Mil customers. To address the security layer, Protected Tactical Waveform and other link/RF-layer encryption developments will continue to be pursued over the next few years – and provide additional opportunities for commercial providers.
Yet, as we look forward to future growth opportunities in HTS from GEO to MEO to LEO, FSS Ku-band will still be a significant source of revenues for the commercial industry. As the U.S. Government and Industry discovered during the Wideband Analysis of Alternatives process, which is helping to shape future broadband satellite communications procurement for the U.S. Government, there are a significant number of terminals out there in the field. And, it costs a lot of money to replace them. A lot of money. As such, FSS Ku-band will generate $3.1 billion in retail revenues by 2027, the largest chunk of the current and future market opportunity.
With legacy FSS Ku-band being a significant source of revenues for commercial providers, 'gov-like' frequencies will be one of the growth-drivers. FSS X-band is projected to go from around $890 million today, to more than $2.2 billion by 2027. Driven by renewed spending on MILSATCOM networks (and subsequently terminals), interoperability with and augmentation of sovereign MILSATCOM capabilities are key. Moreover, the acquisition of commercial networks and capabilities is being 'baked-in' from day-one, with nearly all major operators of MILSATCOM networks having commercially-provided communications featured in their next-gen roadmaps.
Alongside X-band, GEO-HTS Ka-band offered by the likes of Inmarsat, ViaSat, and others will yield $6.6 billion in cumulative revenues over the next ten years. With nearly all gov-owned SATCOM networks having some flavor of Ka-band capacity and expanding commercial coverage in Ka-band across GEO/MEO/LEO, the capacity continues to be a bright-spot of emerging growth opportunities. Overall, the digitalization of warfighting all point to the needs for more connectivity in more places across more frequencies and orbits.
However, not all waters of Gov & Mil markets are rosy – narrowband applications will be an area of challenges – with higher throughput options available to similar terminal
form factors.
FSS C-band will also be a market of issues, as the terrestrial wireless seems almost certain to gain some usage of the frequency in major markets.
Bulk leasing will be a positive-gain of retail revenues over the next ten years, but the number of those opportunities are only expected to decrease as additional capacity is procured via a managed service offer.
Bottom Line
While the industry is focused on the resurgence of proprietary MILSATCOM capacity, there are a lot of reasons for optimism. Networks are becoming more complex, the terminal landscape is changing, and there is a renewed focus on defense spending across the globe.
The role of the commercial sector will be to help stitch together these 'networks of networks', just as they do for cruise ships, airlines, and other sectors across the world.
If the WGS program is any indication, additional MILSATCOM supply only means one thing — the higher requirement for data at the tactical edge of the network. And, with that higher demand for data will come the greater need for commercial providers to build, deploy, and operate these more complex networks.
www.nsr.com
Brad Grady is the Lead Author of NSR's Government and Military Satellite Communications reports, in it's 15th Edition. Focused on the opportunity for SATCOM players in the Gov & Mil market, the report focuses on tracking the capacity, segments, and regions driving growth over the next ten years. Based in Washington DC, Brad also leads NSR's research on the Maritime and Energy markets, bringing commercial insights and best-practices across both Gov & Mil, and Commercial Mobility markets. Brad can be reached by emailing info@nsr.com.
---