Orbital Micro Systems (OMS) was founded with a vision to build state-of-the-art Earth Observation (EO) systems and algorithms to solve difficult environmental and climatological problems affecting multiple industries that range from military/agency/government (MAG) to commercial market segments.
OMS saw an upswing in demand for services and its unique satellite-collected EO dataset in 2020 and is well-positioned to accelerate growth in the coming year. Building on momentum from its successful commissioning of the IOD-1 GEMS satellite (artistic rendition to the right) in the second half of 2019, the Boulder, Colorado- based company secured multiple contracts and awards this past year with government and commercial customers.
---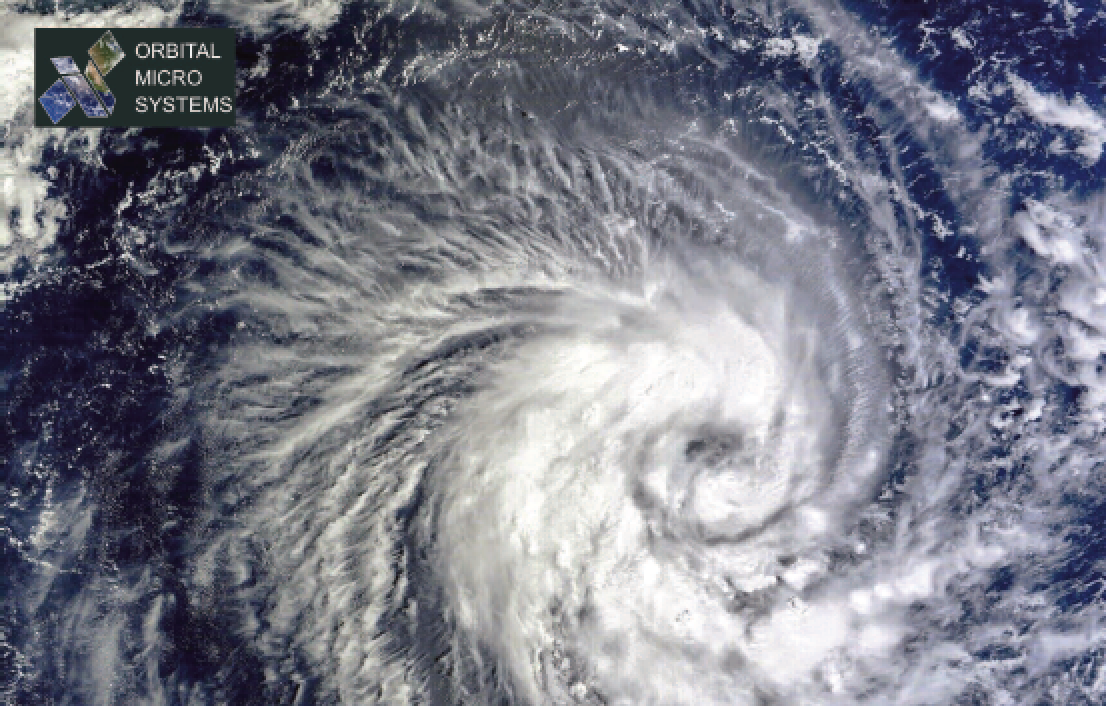 OMS' Global Environmental Monitoring System (GEMS) is a partially deployed constellation of LEO satellites which will offer global weather observations at revisit rates approaching 15 minutes when fully commissioned.
IOD-1 GEMS is equipped with the first, commercial, passive microwave radiometer on-orbit, providing regular weather observations which augment data available from government-operated satellites. Filling some of the temporal and geographic observation gaps left by existing satellites, the OMS satellite has captured unmatched observations of weather structures and storms such as Super Typhoon Hagibis. The company is currently producing the flight hardware for its GEMS2 satellites that will possess additional capabilities.
Military Awards and Recommendations
As a member of the Catalyst Space Accelerator sponsored by the Air Force Research Laboratory (AFRL), OMS identified opportunities with the U.S. Air Force and U.S. Navy for data from its GEMS constellation. Subsequently, the company received a $1.8 million Phase III Small Business Innovation Research (SBIR) contract award from the Air Force Life Cycle Management Center (AFLCMC) under the Commercial Weather Data Pilot program. In addition, working with AFRL, the company received a $750K Phase II SBIR contract to further support the development of its novel WeatherLock forecasting algorithm.
The company was also awarded a $1.5 million Phase II SBIR contract for the development and build of flight hardware for GEMS2 and enabling demonstration of the OMS Weather Record product that uses real-time anomaly detection and Machine Learning (ML) to analyze microwave brightness temperature data and issue severe weather alerts within minutes of detection.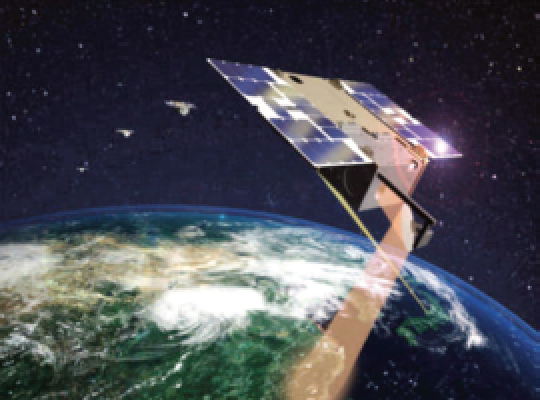 Having garnered significant support across multiple agencies, OMS was nominated by the U.S. Space Force to participate in the 2021 Defense Exportability Features program to explore the opportunity for exportation and standardization of GEMS microwave sounding data, WeatherLock, and Weather Record products to serve the needs of allied militaries as well as the U.S. Department of Defense (DoD).
In addition, OMS' reputation for excellence in satellite instrument design and microwave radiometer calibration brought them a sub-contract award through Ball Aerospace for the Weather Satellite Follow-on Microwave (WSF-M) mission to support the calibration of a key instrument subsystem for a U.S. Space Force project.
Throughout the year, OMS continued to work with its military customers on key projects, achieving positive results such as passing Critical Design Review (CDR) for its GEMS2 sensor and CDR for its Weather Record technology demonstration.
Global Footprint
Through its work with complementary programs sponsored by industry, government and defense partners in the U.S. and the U.K., OMS has been successfully creating new services and technologies that benefit multiple users and industries.
The company has been selected to provide the primary payload for a multi-payload, multi-stakeholder international project under the U.K. Satellite Launch Program. Working with prime contractor Lockheed Martin, OMS will deliver its GEMS2 instruments for the first launch from U.K. soil.
The company has also made strides in applying ML and Artificial Intelligence (AO) to the rapidly expanding volume of EO and weather data being gathered by satellite-based and terrestrial sensors. The company has established the International Center for Earth Data (ICED) in Edinburgh, Scotland, with the mission to normalize fair market access to high-quality earth observation data from multiple public and private sources.
ICED provides an alternative framework for handling high volume, complex remote sensing data and algorithms and commercial data transactions. ICED operates under an open source philosophy that respects the IP rights of data producers and algorithm developers while reducing barriers to the use of public and private data sources.
Through ICED, multiple disparate datasets — including the unique GEMS data — are aligned and gridded in time and geolocation, empowering analysis for multiple applications in government, military, commercial transportation, and insurance use cases.
Most notably, OMS empowered its UK partner company, Weather Stream, Ltd., in July of 2020 as a separate entity with a mission to drive global business development for weather intelligence products, including GEMS data and access to ICED. Weather Stream is headquartered in the U.K. and serves global clients.
The Years Ahead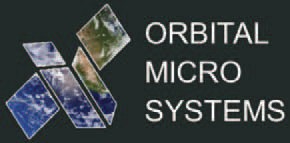 OMS is well-positioned to complete the GEMS constellation by 2025. The organization expects it will have a growing, positive impact on the industries that rely on timely and accurate weather data, along with helping military and government agencies achieve operational goals. The next year should see the company continue its expansion, satisfy more contract milestones and accelerate the delivery of unique and impactful solutions.
https://www.orbitalmicro.com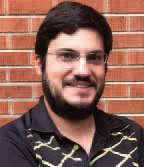 Michael Hurowitz serves as Chief Executive Officer and Chief Technology Officer for Orbital Micro Systems (OMS). In these roles, he sets the strategic direction for the organization and oversees the company's numerous research and development programs. Michael is privileged to lead a world-class team of engineers and scientists who constantly innovate to bring the companies vision to life. Hurowitz brings nearly 20 years of early stage technology transfer and product development experience to the OMS leadership team. Prior to co-founding OMS, he worked with numerous university spin-out companies in multiple roles from early stage employee to co-founder.
To date, Michael has worked with over 100 startup companies, 35 Fortune 500 companies, 25 university research groups, and 15 federal agencies. Michael is deeply passionate about helping scientists turn their ideas and research into commercial products and services. He serves as a volunteer mentor for the University of Colorado Venture Partners team. Hurowitz holds a Bachelor of Science degree in Engineering Physics and Public Affairs from the Colorado School of Mines and is an instructor at the University of Colorado.
---