---

---
Inmarsat To Develop On-Orbit Telemetry Relay Service For UK Space Agency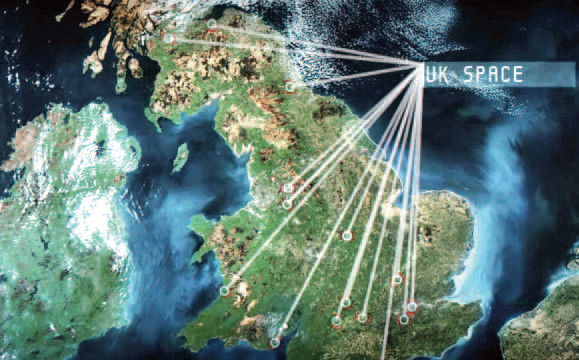 Mitsubishi's H3 Heavy
Lifter rocket.
The UK Space Agency has awarded a National Space Innovation Program (NSIP) contract to Inmarsat to develop an on-orbit telemetry relay service for rockets called "InRange."
Inmarsat's InRange service will reduce the dependency of space launch providers on traditional, expensive ground-based monitoring systems infrastructure for their rockets and will provide a more cost-effective, flexible solution, available globally via Inmarsat's geostationary L-band satellite network.
Inmarsat is working with Japan's Mitsubishi Heavy Industries (MHI) to ensure the InRange service develops to meet the challenging environmental conditions experienced by launch vehicles. Safran Data Systems (France) and Haigh-Farr Inc. (USA) are also partners in this project and focus on the L-band transmitter and antenna design.
This contract is valued at £258,000, with matched funding from industry taking the project total to £422,096.

Nick Shave, Vice President of Strategic Programs at Inmarsat Global Government, said, "Inmarsat's highly robust L-band satellite network is ideal to provide telemetry services for launch providers globally. The space launch market is an exciting new sector for our network and team to work on. This innovative project will allow us to solve problems and create efficiencies in the design of a reliable and secure telemetry solution for launch service providers and launch site operators."
Yasrine Ibnyahya, Senior Director of Advanced Concepts and Technologies at Inmarsat, added, "Inmarsat remains dedicated to supporting launch vehicle innovation by enabling new launch trajectories from anywhere in the world while reducing dependencies on ground networks."
Iwao Igarashi, VP and GM of Business Development, Space Systems at MHI, noted, "MHI is delighted to work on this innovative project with Inmarsat, Safran Data Systems and Haigh-Farr Inc. We hope that this project will promote further collaborations between UK and Japan in the space development industry."
---
Arianespace Signs Avio For 10-Vega C Launcher Builds
Arianespace has signed an agreement with Avio, prime contractor for the Vega and Vega C launchers, to start production of a batch of ten new Vega C rockets, to be launched starting in 2023.
The agreement was signed in Rome on March 19, 2021, by Stéphane Israël, CEO of Arianespace, and Giulio Ranzo, CEO of Avio, during a meeting between Bruno Le Maire, French Minister of the Economy, Finance and Recovery, and Giancarlo Giorgetti, Italian Minister of Economic Development.
Vega C launchers produced within Batch 4 will serve institutional and commercial missions from 2023 onwards; in particular, they will contribute to the fulfillment of strategic objectives selected by European institutions, either collectively through ESA and the European Commission, or for national purposes. Therefore, 2021 will see Arianespace contracted for launch services for the next nine Copernicus satellites within the Multiannual Financial Framework 2021-2027 of the European Commission.
Vega C is a new-generation light launcher, perfectly suited to the launch of both commercial and government payloads. Because of its high performance and versatility, Arianespace provides the best possible solution to orbit small and medium spacecraft into a wide range of orbits (Sun-synchronous, ballistic, transfer to the Lagrange point L1, etc.), for Earth Observation (EO), science, education, defense and other applications. With Vega C, Arianespace will offer enhanced performance and greater payload volume for future customers at the same price as for launches by Vega.
"Arianespace is delighted to have signed this agreement with our long-standing partner Avio, confirming the ramp-up of Vega C, in particular to meet European government requirements," said Israël. "Through this long-term supply, Arianespace kicks off its order for a fourth batch of Vega launchers, the first comprising only upgraded Vega C launchers. A number of European Earth observation and science programs, most notably Copernicus, will fully benefit from the greater competitiveness of Vega C. More than ever, Vega is establishing its role as the second pillar of Europe's space access capabilities, along with Ariane."
Ranzo commented, "We are delighted to receive a new batch order for Vega C, which confirms Arianespace's customers' interest and trust in the new launcher product, which is the result of an effective cooperation among several European industries under Avio's leadership."
---
Market Revenues Of $1 Trillion Plus For Space + Satellite Markets… An NSR Report
The new NSR Global Space Economy report finds a cumulative space and satellite market revenue opportunity of more than $1 trillion between 2019 and 2029.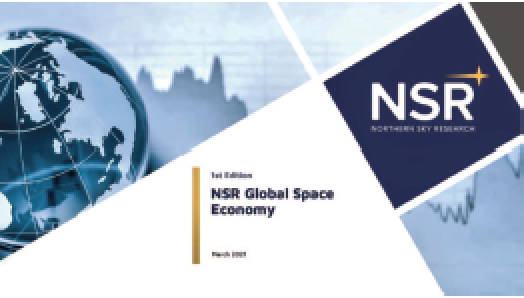 There is an expanding need for space-based services to satisfy needs in orbit and on earth fueled by expanding requirements for everything from space-enabled Big Data Analytics missions, to commercial crew missions to the ISS, to "classical" connectivity use-cases.
While there is a developing space-based, space-consumed economy underway; building connectivity services for Earth-based needs still dominates the market landscape. Either in direct connectivity for broadband access or mobility markets or building/launching communications satellites; connectivity-focused use-cases dominate the NSR Global Space Economy revenue picture.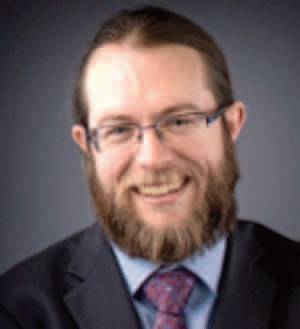 Author: Brad Grady,
NSR Principal Analyst
"Classical/traditional connectivity requirements are the largest revenue source for the NSR Global Space Economy analysis," said report author and NSR Principal Analyst Brad Grady. "Right now, the entire sector is in a period of transformation – from largely complex, bespoke technology to a proliferated, distributed, serialized technology stack. Software-defined and software-centric, mass-produced, and a network-of-networks are proliferating across all segments of the Space Economy."
From mass-produced LEO-based satellites, to the growing "___ as-a-service" business models in the Space & Satellite Applications segment, the sector is in a period of fundamental transformation.
This commercialization of space is unlocking new use-cases, new end-users, and overall driving a $1 trillion opportunity. Ranging from science and technology missions where space agencies are a 'customer amongst many' to terrestrially-competitive satellite internet services, the Space Economy is on the cusp of significant growth.
The Space Economy transformation is well underway, but connectivity remains the core revenue driver.
---
Experimental Research Rocket Launched By USSF + SMC From Wallops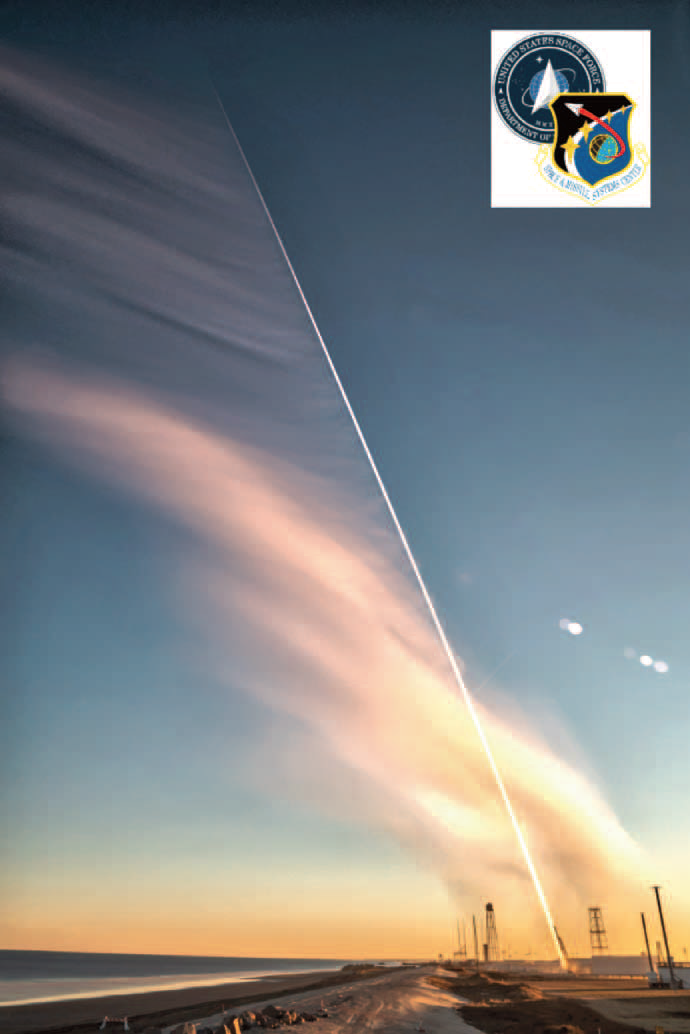 Photo of a Talos Terrier Oriole sounding rocket
launch, courtesy of NASA.
The U.S. Space Force (USSF) and the Space and Missile Systems Center (SMC)'s Launch Enterprise (PDF) successfully propelled an experimental research payload for the Air Force Research Laboratory (AFRL) aboard a Terrier-Terrier-Oriole (TTO) Sounding Rocket from NASA's Wallops Flight Facility (WFF) in Virginia early on March 3, 2021.
The successful mission was full of many firsts for SMC's Small Launch and Targets Division. This was the first USSF small launch mission for 2021, the first AFRL dedicated partnership launch from WFF, the first sounding rocket launch under the Sounding Rocket Program-4 (NSROC) contract, and the first USSF sounding rocket launch with Space Vector Corporation.
The TTO vehicle was built by Space Vector, a small business, and Kratos Space and Missile Defense who were responsible for the integration, interface and mission planning for the launch.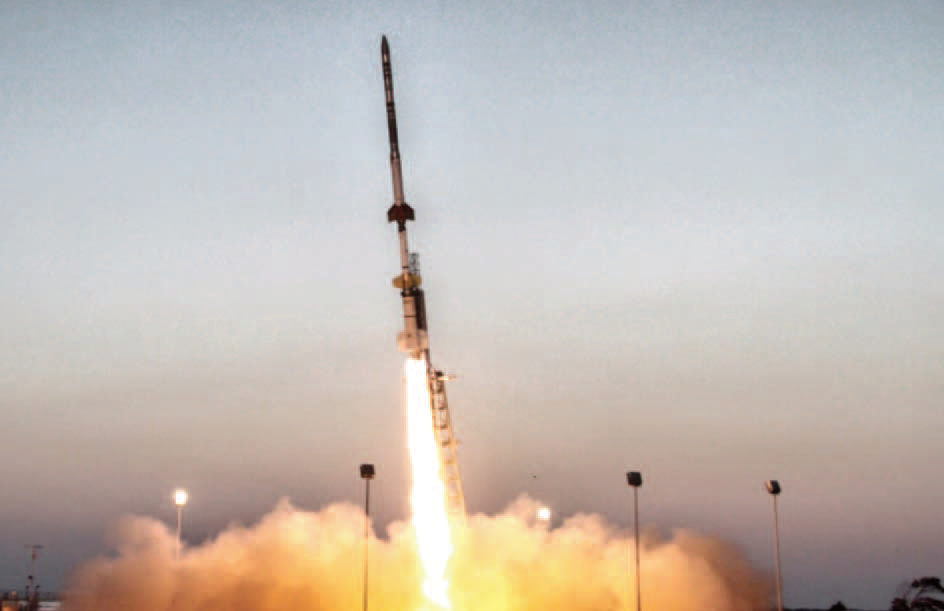 Photo of a Talos Terrier Oriole sounding rocket launch,
courtesy of NASA.
"This mission is a great example of the innovation in SMC contracting and using Small Launch contracts to expand our capability and provide
support in launching experimental missions," stated Lt. Col. Ryan Rose, Chief of the Launch Enterprise's Small Launch and Targets Division and Mission Director for this launch.
"Congratulations to the entire government and industry team on successfully executing this important mission, and launching in only 16 months from contract award during the challenging conditions presented this past year."
---
They Go Up So Fast… Rocket Lab's Six Smallsat Launch Success — Including One For The US Army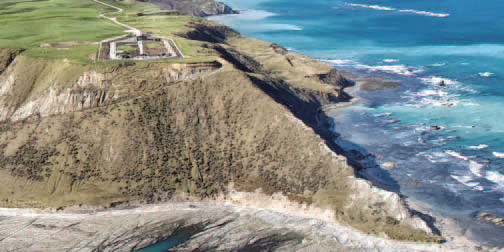 Rocket Lab's Launch Complex 1 in New Zealand.
Rocket Lab has successfully launched their 19th Electron mission and deployed six spacecraft to orbit for a range of government and commercial customers.
The mission, named 'They Go Up So Fast,' also deployed Rocket Lab's latest in-house manufactured Photon spacecraft to build flight heritage ahead of the upcoming CAPSTONE mission to the Moon for NASA. The mission launched from Rocket Lab Launch Complex 1 on New Zealand's Mahia Peninsula at 22:30, March 22, 2021 UTC, successfully deploying an EO satellite for BlackSky Global through Spaceflight Inc.; two Internet of Things (IoT) smallsats for Australian commercial operators Fleet Space and Myriota; a test satellite built by the University of New South Wales (UNSW) Canberra Space in collaboration with the Royal Australian Air Force; a weather monitoring cubesat for Care Weather Technologies; and a technology demonstrator for the U.S. Army's Space and Missile Defense Command (SMDC). The mission took the total number of satellites deployed to orbit by Rocket Lab to 104. After Electron successfully launched to an initial 550 km circular orbit, the rocket's integrated space tug or Kick Stage deployed the first five satellites to their individual orbits. The kick stage is a powerful extra stage on Rocket Lab's Electron launch vehicle, designed to circularize the orbits of smallsats, taking them exactly where they need to go — image is courtesy of Rocket Lab.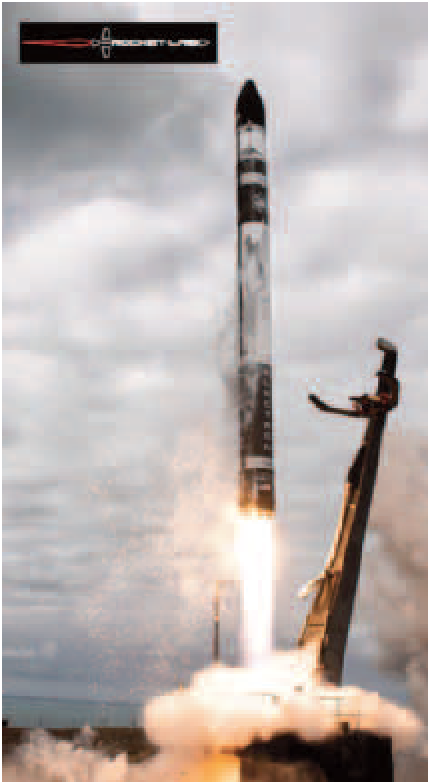 The Kick Stage's Curie engine was then reignited to lower its altitude and deploy the final small satellite to a 450 km circular orbit.
With its relightable Curie engine, the Kick Stage is unique in its capability to deploy multiple satellites to different orbits on the same small launch vehicle.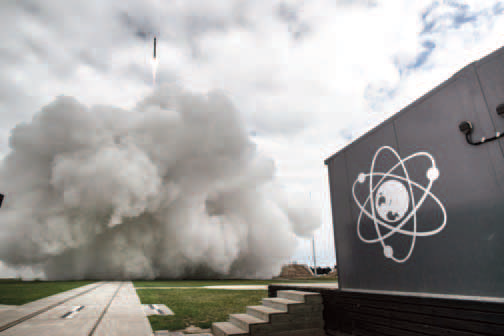 Rocket Lab kick stage, with the four silver spheres of the new Curie engine seen in the middle. Image is courtesy of the company.
Following the deployment of the final customer payload on this mission the Kick Stage was reconfigured to Photon, Rocket Lab's in-house built spacecraft. Photon Pathstone is equipped with new power management, thermal control and attitude control subsystems that will be used for the CAPSTONE mission to the Moon for NASA later this year. Photon Pathstone is also testing on-orbit new deep-space radio capability, an upgraded RCS (reaction control system), as well as sun sensors and star trackers.
---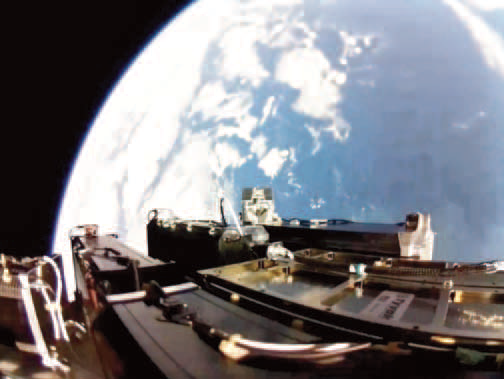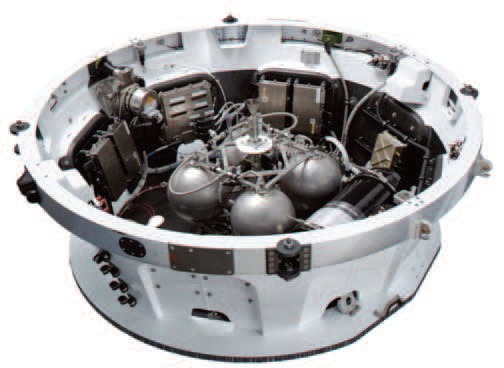 Rocket Lab kick stage, with the four silver spheres of the new
Curie engine seen in the middle. Image is courtesy of the company.